Curator's Corner
The "Things" of Art
I really like introducing you to artists I've just begun to appreciate, especially if their work is a breath of fresh air on an otherwise dreary day. That certainly applies to the work of Ufan Lee. As I learned more about him I gained an instant appreciation for his point of view.
---
Like many artists I have learned about, he is far from a one-dimensional spirit.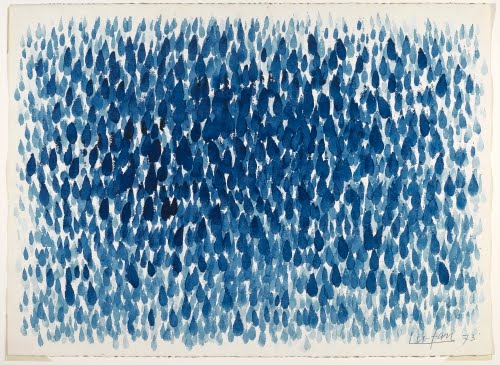 Lee U-fan (or Ufan, born 1936, Korea), Untitled, 1973. Gouache on paper, 30" x 22" (76.2 x 55.9 cm). Brooklyn Museum. © 2016 Lee Ufan. (BMA-5308)
Lee Ufan (Korean Lee Woo-Hwan) was born in Gyeongsang province, now in South Korea. He is an artist, philosopher, poet, and an art theorist. He was raised in a traditional Confucian-style home where he was given a classical training in what has been considered traditional scholarly pursuits, which includes calligraphy, poetry, and painting. He studied art at Seoul National University, interrupting his studies in 1956 to visit relatives in Japan. There he studied Western and Japanese philosophy. After graduating in 1961, he decided to return to art, preferring visual expression to writing.
His early emphasis was sculpture, and installation in avant-garde, constructed works. He was one of the founding members of a group of modernist artists who form the Mono-ha movement, the first indigenous Japanese example of modernism. Mono-ha emphasized the use of natural raw materials arranged in random ways. "Mono-ha" means "School of Things." The movement was a contrast to, and critique of, the Western movements of the period (such as Pop Art, Minimalism, and Conceptualism) that were tied to aesthetic manifestos. Mono-ha emphasized a comprehensive experience of media by way of their abbreviated or momentary arrangement. The movement was a pivotal moment in the development of modern art in Japan and South Korea.
Lee's paintings from the early 1970s through 1984 (called From Point and From Line), similar to this work, were based on the traditional respect for brushwork in Chinese, Korean, and Japanese painting. Many of his paintings are monochromatic, much like traditional landscape painting. There is definitely, in this work, the sense of respect for a particular brush stroke, and the blank background as contrast. In many of his works, Lee broke with tradition in the use of canvas rather than paper.
If this fascinating artist's work reminds me of anything, it's the work of a fabulous African American artist who started painting abstract works after she retired from teaching—Alma Thomas: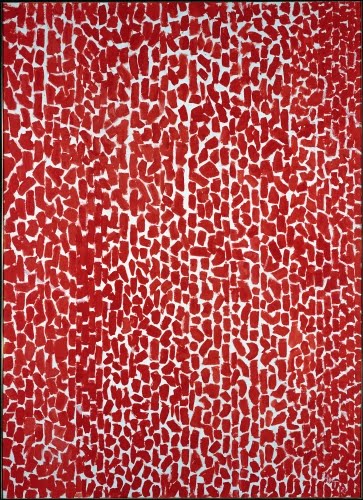 Alma W. Thomas, (1891–1978 US), Red Rose Cantata, 1973. Oil on canvas, 69" x 50" (175.3 x 127 cm). National Gallery of Art, Washington, DC. (NGA-P0641)
Correlations to Davis programs: Explorations in Art Grade 4: 6.35; Explorations in Art Grade 6: 5.25; A Global Pursuit: 4.2, 4.5; Experience Painting: 2; Exploring Visual Design: 8; The Visual Experience: 13.6