Curator's Corner
Still Life and Our Culture of Abundance
I got so excited the other night while watching Antiques Roadshow. A person brought two little still-life paintings from 1865, and I said to myself, "Oh, those look like John Francis's work." And they were! If the Baroque period was the high point of Dutch still-life painting, then the 1800s were for the US.
---
There are just so many artists who specialized in still life, and I'm purposely ignoring trompe-l'oeil still life because illusion is more important than anything else in those works. Because of the domination of the Peale family during most of the 1800s, artists like John F. Francis are not given the art historical accolades they deserve, so I'm on it!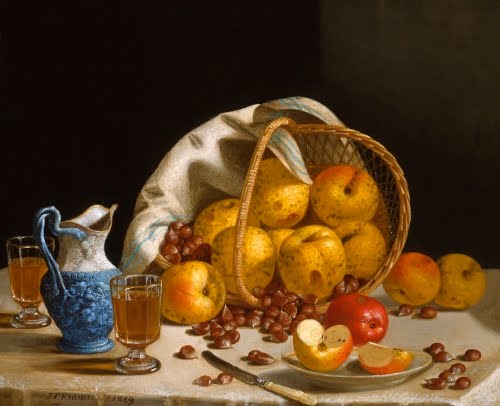 John F. Francis (1808–1886, US), Still Life with Apples and Chestnuts, 1859. Oil on canvas, 25" x 30 1/8" (63.5 x 76.5 cm). © 2017 Museum of Fine Arts, Boston. (MFAB-360)
Francis was born in Philadelphia and had to have been aware of the paintings of the Peales who specialized in still life: Raphaelle (1774–1825) and James (1749–1831). His training, however, is unknown, and it is generally assumed that he was self-taught. Interestingly, at the time Francis began painting, still life was still a (relatively) newly accepted painting subject—portraiture and history painting were still considered "the finest" compared to landscape, still life, and genre.
Francis became a portrait limner—an itinerant painter with little formal training—during the 1830s and 1840s. He never strayed too far from Philadelphia, however. About 1850, he began to add still life to his body of work. By 1854 he was painting still life almost exclusively. I'm not sure if he ever saw Dutch Baroque still-life paintings, but he preferred to paint sumptuous "banquet pieces" like these. Like the Dutch Baroque artists, he intensely scrutinized the textural appearance of the food in his still life, and did not eschew showing fruit that was past its prime.
I've seen these Francis works at the MFA. Although they appear as sharply painted as Peale still life, they are actually more painterly. Another difference from the Peales is compositional. Francis's still-life works are typically staged on a white tablecloth that is slightly askew from the picture plane, as opposed to the parallel, undressed shelf of Peale still life. While many are on neutral backgrounds like these, some are set with landscape backgrounds.
All in all, still-life paintings like these of the mid-1800s speak to me of the (perceived) "bounty" of America. The middle class American art patrons—just like their 1600s Dutch counterparts—wanted these luscious paintings in their dining rooms to reflect to their guests not only their good artistic taste, but also their own prosperity. I get a kick out of seeing these paintings up close. Francis used pale blue for his highlights on the glasses and fruits in these baskets instead of the usual white.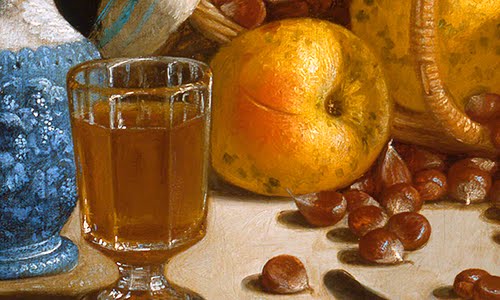 John F. Francis, Still Life with Apples and Chestnuts, detail, 1859.
Here's another beautiful example: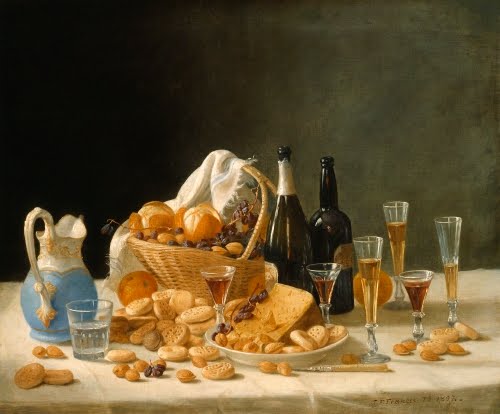 John F. Francis, Still Life with Wine Bottles and Basket of Fruit, 1857. Oil on canvas, 25 1/8" x 39 7/8" (63.8 x 76.2 cm). © 2017 Museum of Fine Arts, Boston. (MFAB-367)
Correlations to Davis programs: Explorations in Art Grade 2: 2.6; Explorations in Art Grade 4: 6.36; Explorations in Art Grade 5: 2.8, 2.7-8 studio; Explorations in Art Grade 6: 1.6; Experience Painting: 6