Curator's Corner
Thanksgiving Thought: Rubens Peale
Thanksgiving always gets me to thinking about early America, particularly about the many changes that happened in our country at that time, which very few of us ever think (or know) about. I'm sick to death of people staring at their stupid phones. I would love for people in this country to be wide-eyed with wonder at new things in nature (and art), rather than the latest app. That was the key behind what I believe is the most important early American dynasty of artists, the Peale family. I've talked about them before, but when you look closely, you see that they are really important players in the development of American art, as well as appreciation of natural history. This post is really about Rubens, not Rembrandt.
---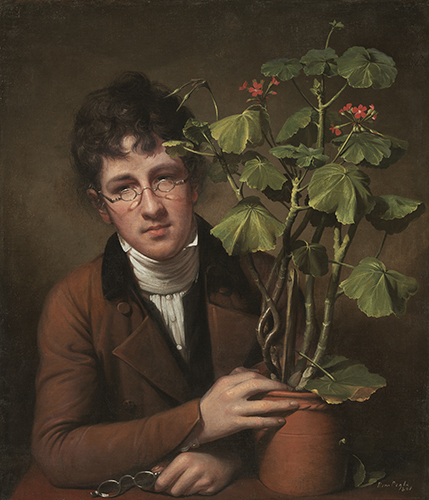 Rembrandt Peale (1778–1860, US), Rubens Peale with a Geranium, 1801. Oil on canvas, 28 1/8" x 24" (71.4 x 61 cm). © 2019 National Gallery of Art, Washington, DC. (NGA-P0381)
Did you know that the geranium was introduced into America by Thomas Jefferson (1743–1826), our third president? They were discovered in southern Africa by European conquerors and shipped to Europe. When Jefferson (an ardent botanist and naturalist) saw them in France in 1786 while he was an ambassador (1785–1789), he sent samples to the US. After that, it gained popularity in American gardens.
Rubens Peale was the fourth son of the patriarch of the first American artistic dynasty, painter and naturalist Charles Willson Peale (1741–1827), and his first wife Rachel. Because of weak eyesight, Rubens was not initially successful at painting. Like his father and brothers, however, he was interested in naturalist studies and realism, becoming the director of his father's Philadelphia Museum (later known as the Peale Museum) from 1810 to 1821, and then the Baltimore branch of the Peale Museum.
Rubens opened his own branch of the Peale Museum in New York in 1825 at the time of the opening of the Erie Canal, renaming it the New York Museum of Natural History in 1840. The museum went into debt during the financial Panic of 1837, and he sold the collections to P.T. Barnum's American Museum in 1843. Retiring in 1837, he moved to Woodland Farm in Schuylkill Haven, PA, where he devoted himself to naturalist studies, and ultimately painting, for the rest of his life. He took up painting again in 1855, preferring still life to portraiture, much like his uncle James (1749–1831), who had pioneered the American version of the genre in 1810.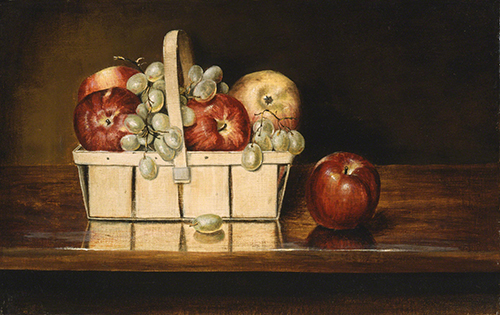 Rubens Peale (1784–1865 US), Basket of Fruit, 1860. Oil on canvas, 14" x 22" (35.6 x 55.9 cm). © 2019 The Museum of Fine Arts, Boston. (MFAB-145)
Before the 1810s, still life was almost non-existent in American painting. However, with the increased patronage of a prosperous, though less sophisticated, middle class, still life was a welcome alternative in comparison to expense full-size portraits. Still life also filled the bill for Americans' desire for accurate realism in art.
Still life represents Rubens's keen interest in particular details in nature with a specificity given to each species. Within 5 years of taking up painting still life, he had developed the clarity of composition, masterful depiction of lights and darks, and realistic sense of volume that reflected the influence of his brother Raphaelle (1774–1825), sister Margaret Angelica (1795–1882), and cousin (son of James) Anna Claypoole (1791–1878).
This still life also shows his mastery of realistic reflections and a realism that verges on and prefigures the late-1800s fad for trompe-l'oeil (fool the eye) realism. The shelf on which the objects sit is painted as an extension of real space. The imperfect nature of the depicted fruit reflects Dutch Baroque still-life realism, as well as his keen interest in natural matters.