Curator's Corner
Respect for History
Never underestimate the aesthetic power of an ancient culture's art. That can certainly be said of the stranglehold ancient Greek and Roman culture has had on Western art since the Renaissance (ca. 1400–1600). Japan, too, certainly has many artistic traditions that have endured in significance through the centuries. The difference is that these ancient traditions often undergo period reinterpretations far from the original form of the art, which is hard to say about Western "classicism."
---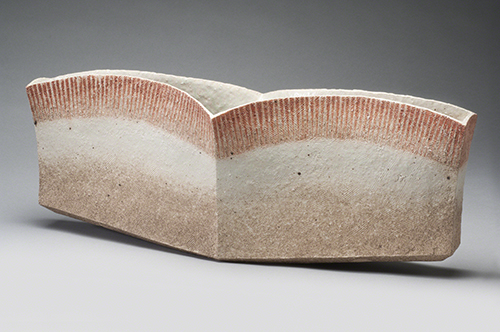 Kako Katsumi (born 1965, Japan), Vessel, 2012. Stoneware, overglaze enamel, 6" x 20 7/8" x 7 7/8" (15 x 53 x 20 cm). Philadelphia Museum of Art. © 2019 Kako Katsumi. (PMA-8253)
The Jomon culture of Japan had a long history (active by 11,000 BCE, flourished 3000s–200s BCE) and produced tons of gorgeous ceramics. Kako Katsumi is inspired by the ceramics of that culture (and others, in my opinion), putting an elegant, clean, sophisticated, and modern spin on the ancient aesthetic.
You can probably see the color aesthetic that Katsumi used in his vessels of the early 2010s in comparison to the Jomon vessel. It has the same earth-tone simplicity as the Jomon, with a contemporary form. Katsumi's work calls forth reflection on even older prehistoric art work such as simple cave paintings and patterns in a red ochre color.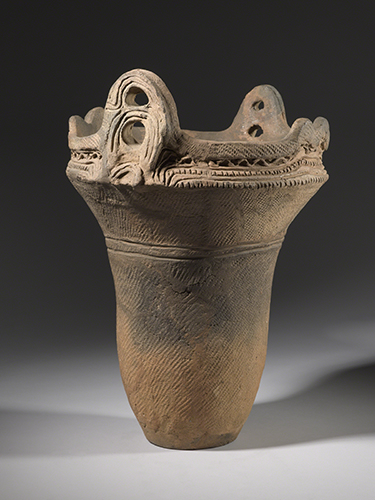 Jomon Culture, Beaker, ca. 2500 BCE. Earthenware, height: 15 7/8" (40.3 cm). © 2019 Brooklyn Museum. (BMA-5329)
Katsumi is a third-generation ceramic artist born in Kyoto. He learned the traditional styles from the major kilns in Kyoto, mostly very decorative. If his work reflects the influences of any of those kilns, it would be that of the Tamba/Tachikui yaki ware of Sasayama in Hyogo Prefecture, west of Kyoto. He moved from Kyoto to that region so that he could experiment with more individual creativity.
The artist worked initially with an electric kiln, later turning to a wood burning kiln that helps give his pieces an earth-red hue that fades into a sandy coloration. He became renowned for his interpretation of tea bowls ("chawan"), which are of utmost importance in the tea ceremony. He currently is also producing larger scale ceramic works in sculpture.
Take a look at his gallery on his website: www.kakokatsumi.com/home/gallery-1/. Now tell me if his work doesn't resemble this example from the Momoyama Period?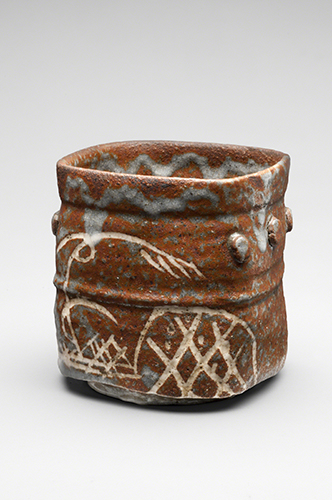 Momoyama Period (1568–1615), Food container. Shino ware, 3 3/8" x 3 3/8" (8.6 x 8.6 cm). © 2019 Philadelphia Museum of Art. (PMA-7091)