Curator's Corner
A National Treasure
Every so often it dawns on me how artists can be more than the production of their art. They can evolve to be a great gift from their country, their culture, and act as representatives of humankind's indomitable spirit in general.
---
Not to be immodest, but, the world would be a better place if artists ran it. Otherwise, why would busted-down philosophies like Nazi Germany, the "Cultural Revolution" in China, and the Khmer Rouge's reign of terror in Cambodia target artists, intellectuals, writers, etc.? Yary Livan, a master of Cambodian ceramic art, has brought his culture's tradition to New England and has been sharing it with students since 2001.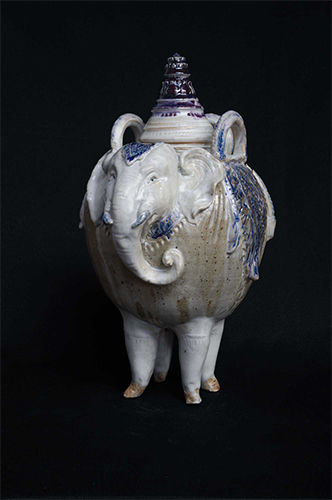 Yary Livan (born 1954, Cambodia/US), Elephant Vessel, 2006. Glazed white stoneware, 9" x 10" x 10.5" (22.9 x 25.4 x 26 cm). Collection of the Artist.
Were you aware that archeologists think that Cambodia may have been the origin of rice cultivation and bronze casting in southeast Asia? Archeologists have also found evidence of ceramics being produced in Cambodia as early as 4000 BCE. At the height of its power during the so-called Angkor Period (ca. 790–1200s CE), the Khmer culture controlled a region that included most of Southeast Asia including Laos, Vietnam, and part of Thailand.
Traditional ceramics as far back as the pre-Angkor period were wheel thrown and decorated with incised patterns. Glazed ceramics appeared during the 800s CE. The production of ceramics in animal form or with animal decoration became prominent between the 1000s and 1200s. Archeological evidence indicates that indigenous ceramic production declined after that period because of increases in the import of Chinese wares.
Traditional Cambodian ceramics continued to be produced into the 20th century, primarily for household use and storage. The vast range of vessel designs—both household and ritualistic—was depicted often in bas-relief on Angkorean temples. The Royal University of Fine Arts in Phnom Penh was a major source of education in traditional Cambodian ceramics up until the turmoil of the 1970s.
Yary Livan studied ceramics at the Royal University starting in 1971. When Pol Pot and his stooges took over Cambodia in 1975, not only did they force city dwellers into the country to cultivate rice on communal farms, they also targeted artists (and other groups) for either execution or imprisonment. Because the Khmer Rouge had to build new communal dwellings and prison camps, they needed roof tiles. Livan's mother suggested to the authorities that Livan knew how to build wood-burning kilns to produce roof tiles, and so he survived the Reign of Terror (1975–1979).
During the 1980s and 1990s Livan was in a series of refugee camps. Amazingly, for that entire period he did not pursue his art form. In 2001 he was granted political asylum in the US and went straight to Lowell, MA. In 2002 he became a visiting ceramic artist at Harvard and in 2005 he began teaching ceramics in the Lowell public schools.
In 2012 he built a traditional wood-burning kiln in association with Middlesex Community College where he became an adjunct professor. Livan has stated that a wood-burning kiln can achieve effects not possible with a gas-fired kiln. He also admits that glazes often do not come out of the kiln the same color twice.
Elephants have been revered animals for more than 2000 years in Cambodia. They were used not only as work animals when building large temples such as Angkor Wat (1100s), but they were also ridden in royal processions (with gold-covered tusks!) and in battle. They hold as honored a position in traditional Cambodian culture as they did in Indian culture. It's no wonder that Yary Livan produces works that feature the elephant. The work below is from the heyday of the Angkorean period, but it does not quite have the elegance or delicate workmanship of Livan's piece above.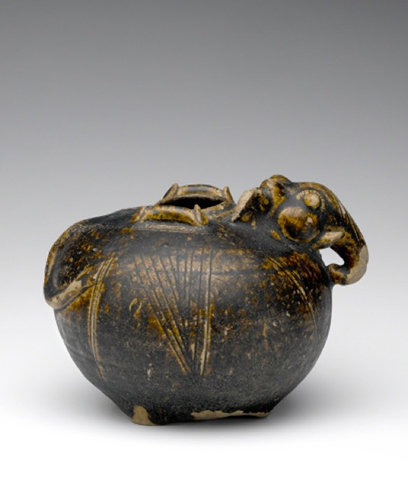 Cambodia, Elephant vessel, 1000s–1100s CE. Earthenware, height: 4 3/4" (12.1 cm). © Brooklyn Museum. (BMA-3518)
If you are anywhere near New England, I highly recommend that you check out this exhibition of Yary Livan's ceramic art at the Ayer Lofts Art Gallery in Lowell, MA. I've seen many of his works and to say that the glazes and beautiful incised and applied decoration are mind-blowing is an understatement. The subtlety of his glazing is absolutely a delight to see. I am particularly a fan of an eggplant-color of glaze that he achieves.
Livan was made a National Endowment of the Arts Fellow in 2015. That's not why I recommend you see his art work. It's because he's just a darned amazing ceramic artist that will thrill you with his shapes and glazes. This is why I consider him a national treasure. I think he may be the only Cambodian ceramic artist working in the US in traditional Cambodian ceramics and a wood-burning kiln.
Correlations to Davis programs: Explorations in Art Grade 1: 1.5-6 studio; Explorations in Art Grade 3: 6.35, 6.35-36 studio; Explorations in Art Grade 6: 2.10, 2.9-10 studio, 4.23-24 studio; A A Personal Journey 3.1, 3.4; Community Connection: 5.2, 2.6; A Global Pursuit: 8.5; Experience Clay: 4, 5, 6; The Visual Experience: 10.6, 13.3; Discovering Art History: 2.2, 4.5