Curator's Corner
Happy New Year
Since I'm feeling lazy this week, I'm showing you Japanese New Year cards (surimono) again. I think they're lovely, and who wouldn't want to receive one of these color woodcut prints? I really wish I could read the wayō shodō (Japanese cursive script, remember my blog post last October?), but it is actually just beautiful to regard.
---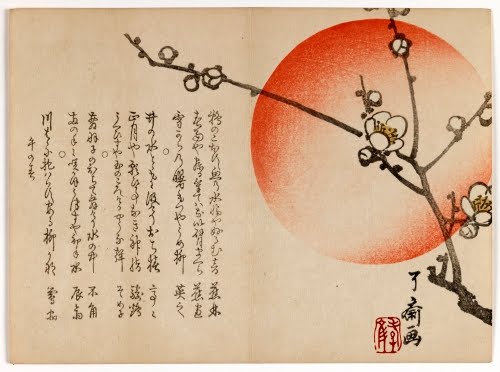 Yoshimura Kōbun (1793–1863 Japan), Surimono with Plum Branch and Rising Sun, 1858. Color woodcut on paper, 7 1/8" x 9 3/4" (18.1 x 24.8 cm). © Brooklyn Museum. (BMA-2634)
The rising sun is a natural symbol for the dawning of a new year. The plum blossom, a symbol of purity and steadfastness because it brings forth beautiful flowers after a cold winter, is part of the traditionally displayed "gate pine" (kadomatsu), an arrangement of pine branches, bamboo, and plum branch decorating the inside and outside of houses at New Year. Traditionally, this arrangement was thought to be a temporary dwelling place for the deity who would bring bountiful crops come spring. Yoshimura was a print artist and painter in the late ukiyo-e golden period. He primarily depicted landscapes and animals.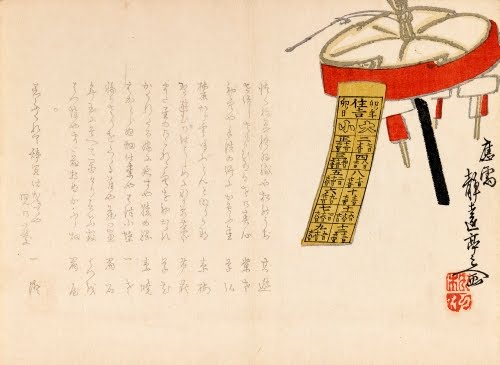 Unknown Japanese artist, Surimono with Lst of Auspicious Calendar Dates, 1867. Color woodcut on paper, 7 1/8" x 9 3/4" (18.1 x 24.8 cm). © Brooklyn Museum. (BMA-2701)
This card features a traditional Japanese umbrella that was sometimes used during festivals. I'm not sure if that is a prayer slip hanging from it, but the lists to the left are auspicious calendar dates for the coming year. Traditionally, there are auspicious dates in Japan for every activity, sometimes based on the day/month numbers (such as 7 July or 8 August). These days cover everything from auspicious days for weddings, business meetings, births, and even deaths.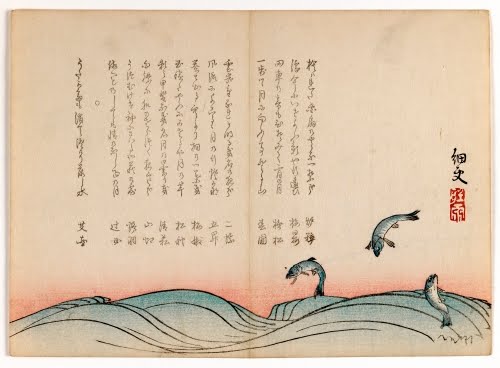 Unknown Japanese artist, Surimono with Carp Leaping in Water, ca. 1860. Color woodcut on paper, 7" x 9 7/8" (17,9 x 25.1 cm). © Brooklyn Museum. (BMA-2630)
What better symbol for the new year than the noble carp (koi)? After all, this fish does symbolize courage, persistence, success, and strength of character, based on its habit of swimming upstream and up waterfalls in order to mate (learn more in my post about the Noble Carp). I always love the delicacy of the use of color in some of these ukiyo-e type woodcuts. The hint of an orange glow in the sky is gorgeous.
Correlations to Davis programs: Explorations in Art Grade 4: Connections; Explorations in Art Grade 5: 5.29, 5.30; Explorations in Art Grade 6: 5.28; A Personal Journey: 4.2; A Community Connection: 1.2, 8.2; A Global Pursuit: 7.5; Communicating Through Graphic Design: 1; The Visual Experience: 9.4, 13.5; Discovering Art History: 2.2, 4.4