Curator's Corner
Pioneering Digital Artist
Did you ever consider that in the 1970s and 1980s computer art was in the same position as photography was in the 1800s—not considered "fine art?" But things have changed in the 21st century—digital art and computer-generated art are accepted as fine art. Does your school teach the tools for producing digital art? Have you held any group shows?
---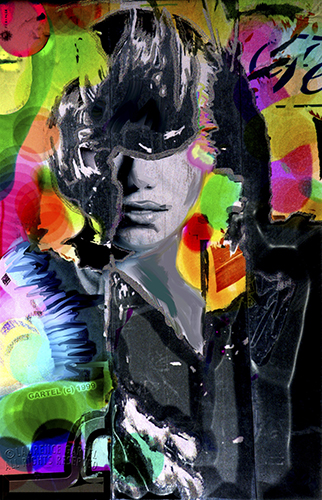 Laurence M. Gartel (born 1956, US), Faccia, 1999. Ink Jet print, 50" x 40" (127 x 101.6 cm). © 1999 Laurence M. Gartel. (GAR-183)
Laurence Gartel is a pioneer in the field of computer art. In the 1970s, he produced some of his first examples of electronic art using tools he had built and modified himself. At the age of twenty-nine he had learned forty-two different electronic systems for creating art. Combining actual painting and photo-manipulation, he produced a unique art form a decade before corporate-produced software allowed the general public to emulate his technique. He started working with video synthesizers in 1976, 10 years before the introduction of Paintbox, and Amiga. Gartel is unique for having entered the paintbox style of work so early, and having persisted through the evolution of this technology to the present day.
By the age of seventeen Gartel had trained himself in the skills of computer graphics. This interest led him to the Media Study/Buffalo center where he met Nam June Paik. Paik virtually invented the medium known as "video art." While Paik was concentrating on presenting things in motion, Gartel is interested in creating complex combinations of still images.
Gartel taught alternative processes at the School of Visual Arts upon earning a degree and was a founding instructor of the school's computer graphics lab in 1982. The revolutionary Commodore Computer's Amiga series was the most advanced system for graphics and video. As an Amiga guru, Gartel taught Andy Warhol how to use graphics technology. Apple Computer hired Gartel to experiment with their first color screen prototype. By 1985, Gartel's work was used to illustrate magazines, record covers, calendars, and posters. In 2004, Gartel was given a thirty-year retrospective at the Coral Springs Museum of Art in Florida. His work is represented in the collections of the Museum of Modern Art, Long Island Museum, Princeton Art Museum, and the Norton Simon Museum of Art. Gartel has also given workshops around the world.
Connections Across Curriculum: Just over 30 years after Gartel started producing digital art, it is hard to imagine creating digital art from the ground up. The artroom can now be a key contributor to not only developing creative thinking skills, but also learning a number of computer systems and programs. From understanding computer basics to working with animation, the artroom is more connected to a well-rounded education than ever. Not surprisingly, there are many websites on this subject. Art Education 2.0 is a social networking site that allows educators using new technologies to connect. The blog Digital Art Education is also very informative and provides a lot of interesting links.