Curator's Corner
Contemporary Colorist
Since most autumn foliage colors are waning, I thought I'd provide you with some eye candy of color in the form of a gorgeous painting, and an artist I just recently learned about. I've become a big fan of Sheila Isham since we acquired images of several works of hers from the Albright-Knox Art Gallery in Buffalo. Being primarily a colorist myself in my own painting, I always appreciate artists who celebrate the joy of pure color in their work. What a nice way to celebrate autumn!
---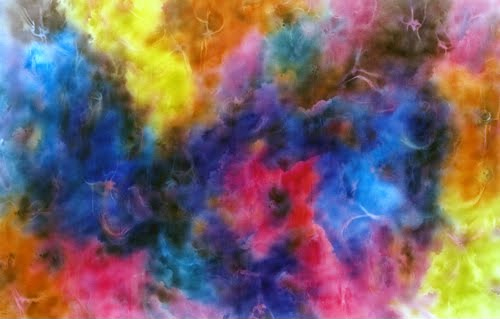 Sheila Isham (born 1927, US), Ta Yu—Possession in Great Measure, Fire from Heaven, 1973. Acrylic on canvas, 93 ½" x 143 ½" (237.49 x 364.49 cm). Albright-Knox Art Gallery, Buffalo, NY. © 2010 Sheila Isham. (AK-1037)
Sheila Isham's life is almost as colorful as her paintings. After receiving a BA at Bryn Mawr College, she became the first woman to enroll in the West Berlin Academy of Fine Arts. While in Berlin, she encountered German expressionist painting for the first time. After four and a half years in Berlin she and her career diplomat husband moved to Moscow. In Russia, she immersed herself in traditional Russian art, as well as that of the avant-garde artists of the early twentieth century. Check out the work of these two early Russian modernists and see if you can't note the aspects of their work that inspired Isham.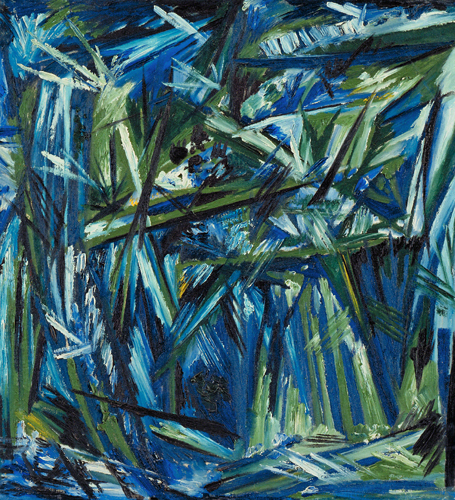 Natalija Goncharova (1882–1963, Russia), Rayonism: Blue-Green Forest, 1911 (dates 1913 on front). Oil on canvas, 21 5/8" x 19 11/16" (55 x 50 cm). The Museum of Modern Art. © 2012 Natalija Goncharova/Artists Rights Society (ARS), New York. (MOMA-P2088goars)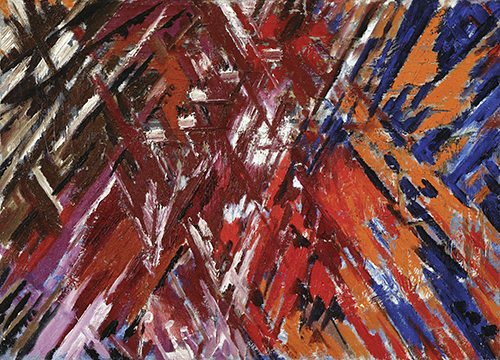 Mikhail Larionov (1881–1964, Moldova/France), Rayonist Composition: Domination of Reds, 1912–1913, dated 1911. Oil on canvas, 20 7/8" x 28 3/8" (53 x 72 cm). The Museum of Modern Art, New York, © Estate of Mikhail Larionov/ARS, New York.
After Moscow, Isham and husband moved to Washington, then Hong Kong. In Hong Kong, Isham studied classical Chinese culture and calligraphy. She appreciated the abstract possibilities of calligraphy and has incorporated that sense into many of her paintings since. Later, she also went to India to study sculpture. When Isham returned to New York in the late 1960s, she immediately began producing abstract paintings. At the time, Op Art and Pop Art were the fad in the art world, and her abstract, colorful paintings were not appreciated by critics. However, like the abstract expressionists, Isham focused primarily on color. While inspired by the spiritual ideals of eastern art, she does not consider color to be intellectual, but rather intrinsically emotional.
This work reflects her Chinese experiences. In essence, the fire in heaven helps a person curb evil and further good. In many paintings after this, Isham features animals. The receding and advancing fields of luscious color remind me of the wispy clouds in Chinese traditional painting from which dragons appear.
Correlations to Davis Programs: Explorations in Art Grade 3: 2.12; Explorations in Art Grade 4: 3.14, 6.35; A Personal Journey: 7.1, A Community Connection 9.1; A Global Pursuit: 9.1; The Visual Experience: 5.8, 7.2, 9.3, 9.11, 16.7; Discovering Art History: 3.2, 17.3