Curator's Corner
An Important Art Colony School
I will soon be on my way to Provincetown for vacation. Some of my favorite things to do with my husband in Provincetown are looking at the art in all the galleries and finding out where certain artists had studios during P-town's heyday as an art colony and breeding ground of Abstract Expressionism.
---
In 2009, I saw an exhibition of the drawings of Hans Hofmann's (1880–1966) students at the Provincetown Art Association Museum. It was brilliant. Hans Hofmann had a major impact on the direction of abstraction in American art, particularly the Abstract Expressionists. I'm going to try to find his studio in P-town when I'm there!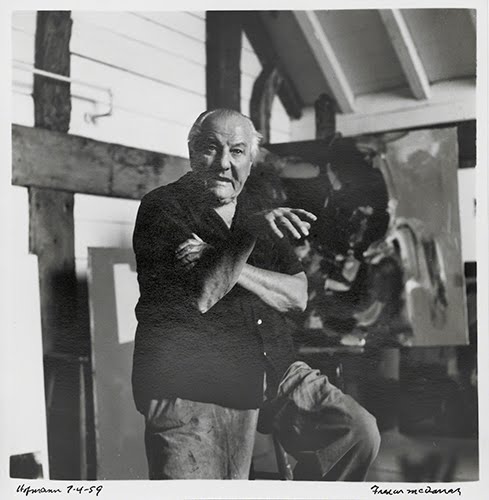 Frederick McDarrah (1926–2007, US), Hans Hofmann, Provincetown 7/4, 1959, 1959. Gelatin silver print on paper, 8" x 8" (20.3 x 20.3 cm). Image © 2018 Albright-Knox Art Gallery, Buffalo, NY. (AK-1487)

Fred McDarrah was a groundbreaking photographer who documented the rise of American modernism. He also captured many cultural and art movements of the 1960s such as the Beat Movement, Abstract Expressionism, the Civil Rights Movement, Gay Rights Movement, Pop Art, and the anti-Vietnam War protests. Born in Brooklyn, he practiced photography while a paratrooper in World War II (1939–1945). In 1955, he became a staff photographer for The Village Voice newspaper when it began. His photographs essentially became a voice for an American subculture that revolutionized American thinking in many ways, not just about abstract art.
In 1915, Hofmann opened an art school in Munich, where he achieved a reputation as a great teacher; a reputation that led to his invitation to teach in the US in 1930. He taught in the US from 1932 on, first in California, then at the Art Students League in New York, and finally his own School of Fine Art (1933). He established a summer school in the venerable art colony of Provincetown in 1934.
In Provincetown, he initially leased a barn (Miller Hill) and then taught in Days Lumberyard, studio space for artists starting in the early 1900s. In 1945, he bought property at 76 Commercial Street, now a private home on the main drag in P-town. Among the students who came to his Provincetown school were many of the Abstract Expressionists. It is thought that everyone who made important contributions to American modernism took at least one lesson with Hofmann while he was in P-town.
Hofmann's greatest concern as a teacher was a solid pictorial structure. This was based in part on the architectonic principles of Cubism and partly on the color abstract of Orphism, the painting style of Robert Delaunay (1885–1941). These two styles impacted Hofmann the most when he was in Paris in the 1910s. He developed a personal theory of "push and pull" in abstract painting, where solid elements seem to float above painterly shapes. He used color to help imply space in cools and warms that recede and project on the picture plane. His school in Provincetown, like the one in New York, emphasized painting almost exclusively.
If you can't picture the idea of "push and pull" based in color usage, then here's a prime example. If this wasn't influenced by New York, I don't know what is.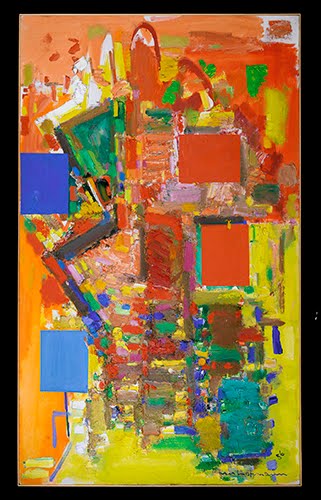 Hans Hofmann (1880–1966, Germany/US), Towering Spaciousness, 1956. Oil on canvas, 84 ¼" x 50" (214 x 127 cm). Brooklyn Museum. © 2018 Estate of Hans Hofmann/Artists Rights Society (ARS), New York. (BMA-5291hmars)
In 1958, Hofmann closed both of his schools and turned them into studios. This was due to the fact that he wanted to concentrate on his own painting, as well as competition from the avant-garde art school that had evolved at Black Mountain College in North Carolina. Black Mountain College, run by Josef Albers (1888–1976) and Anni Albers (1899–1994)—both former faculty of the Bauhaus in Germany—emphasized the Bauhaus curriculum that taught the integration of fine arts with industrial design and other disciplines.
Here are just a few of Hofmann's students of whom you might have heard: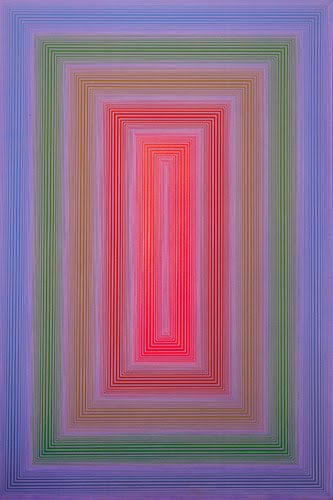 Richard Anuszkiewicz (born 1930, US), Dusk, 1970. Acrylic on canvas, 72" x 48" (182.9 x 121.9 cm). Albright-Knox Art Gallery, Buffalo, NY. © 2018 Richard Anuszkiewicz/Licensed by VAGA, New York. (AK-115azvg)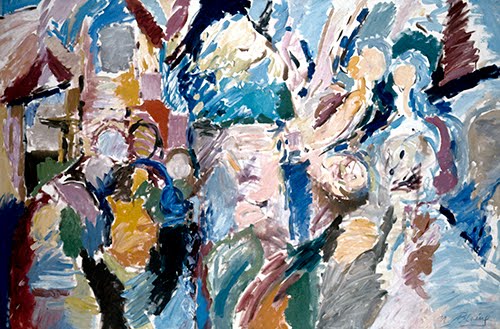 Nell Blaine (1922–1996, US), Outdoor Festival, 1954. Oil on canvas, 41" x 62 3/16" (104 x 158 cm). Davis Art Images. Photo courtesy of the late Artist. © 2018 Artist or artist's estate. (8S-16935)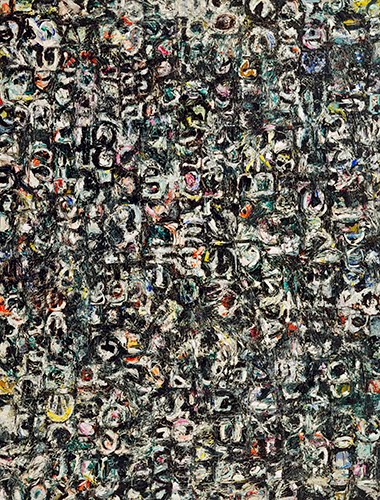 Lee Krasner (1908–1984, US), Untitled, 1949. Oil on composition board, 48" x 37" (121.9 x 93.9 cm). The Museum of Modern Art, New York. © 2018 Pollock-Krasner Foundation/Artists Rights Society (ARS), New York. (MOMA-P2861krars)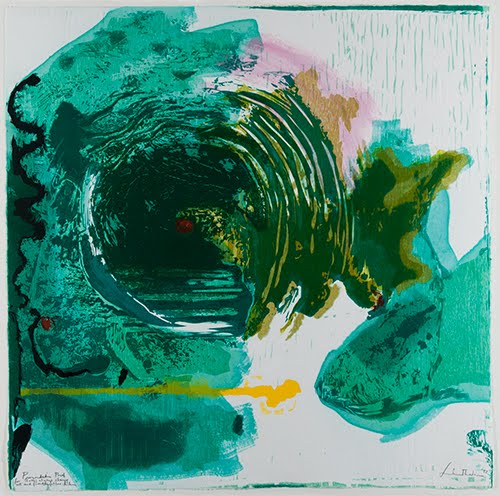 Helen Frankenthaler (1928–2011, US), Radius, 1992–1993. Nine-color woodcut from six blocks on hand-made paper dyed with six colors, sheet: 28" x 28" (71.3 x 71.3 cm). Philadelphia Museum of Art. © 2018 Estate of Helen Frankenthaler/Artists Rights Society (ARS), New York. (PMA-8308fkars)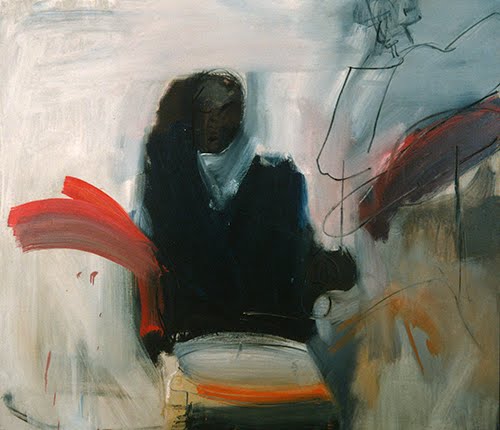 Larry Rivers (1923–2002, US), Drummer, 1960. Oil on canvas. Spencer Museum of Art, University of Kansas, Lawrence. © 2018 Estate of Larry Rivers/Licensed by VAGA, New York. (SMA-64rivg)