SchoolArts Room
Voices/Choices
How can we give our students more choices to find and express their individual voices through their art? And where can you find guidance to bring this about in your art room? Davis Publications, the parent of SchoolArts Magazine, has just published The Open Art Room by Melissa Purtee and Ian Sands. The book evolved from a monthly column in SchoolArts called The Open Art Room, in which Melissa and Ian alternate as authors.
---
"A student's style, emotion, and opinion form that student's voice."
The Open Art Room, Melissa Purtee and Ian Sands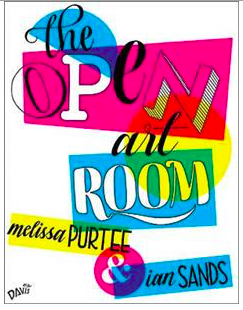 The Open Art Room presents three levels of student choices to consider incorporating into your art room. The first is teacher directed, where the teacher makes the decision or sets specific limitations. The second is modified choice, in which students are given a limited range of options from which to choose. The third is full choice where the student is responsible for making all-important choices. The approach you choose to use is your choice whether you are considering transitioning from a traditional teaching style or exploring choice-based options.
A term used in Choice that may be new to you is bootcamp. Bootcamps are mini-lessons of quick skill-building activities that introduce media and techniques. These one or two day experiences typically start with whole group instruction and guided practice. It is very likely that you already introduce media and materials this way.
There are no hard and fast rules about implementing choice but there are some approaches you can easily incorporate in your teaching. Consider giving project prompts that are based on themes, big ideas, essential questions, or artistic behaviors, and provide more choices of media, materials, and techniques. Look for the student voices/choices in our articles this month. They are intended to inspire you.