SchoolArts Room
Visiting Josefina Aguilar in Oaxaca
On our folk art trip to Oaxaca, Mexico, next July, we will visit many folk artists in their homes. Josefina Aguilar and her sisters are Oaxaca's most important female clay artists. Museums, galleries, and tourists collect their colorful, imaginative sculptures.
---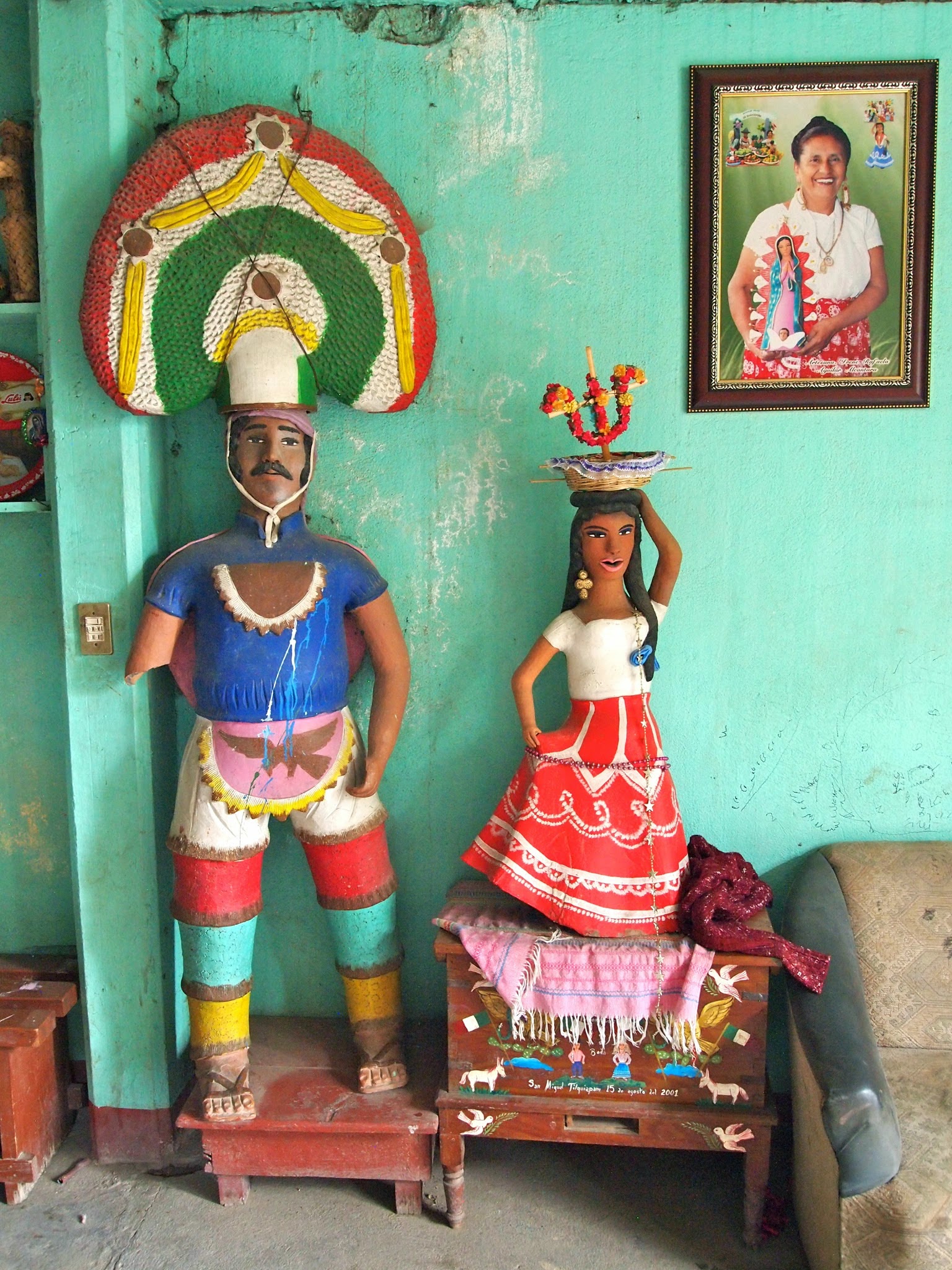 At the Aguilars
Nelson Rockefeller discovered Josefina in the early 1960's on one of his trips to Oaxaca. Since then Josefina has made frequent visits to the US to exhibit her work and demonstrate her techniques and has been featured in many books of Mexican folk art.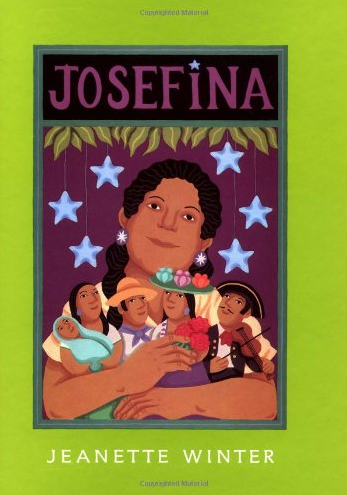 Jeanette Winter's book about Josefina
Jeanette Winter, one of my favorite author/illustrators, has a book about Josefina (she has also done one on Georgia O'Keeffe) with charming illustrations.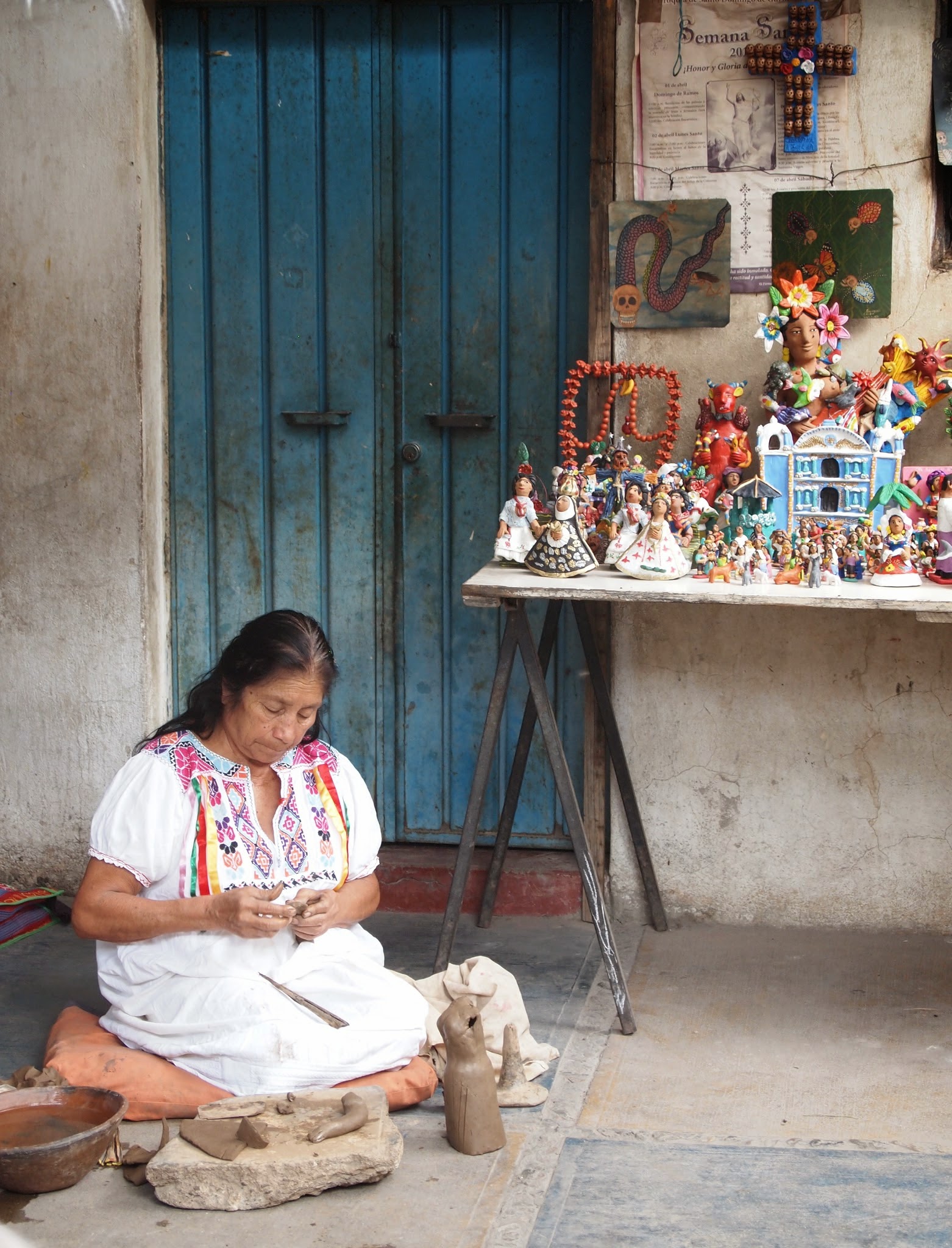 Josefina works on the outdoor courtyard of her house.
When you visit Josefina, you will find that she prefers to work sitting in her outdoor courtyard. She is almost blind now, but still creates artwork that is as beautiful as ever.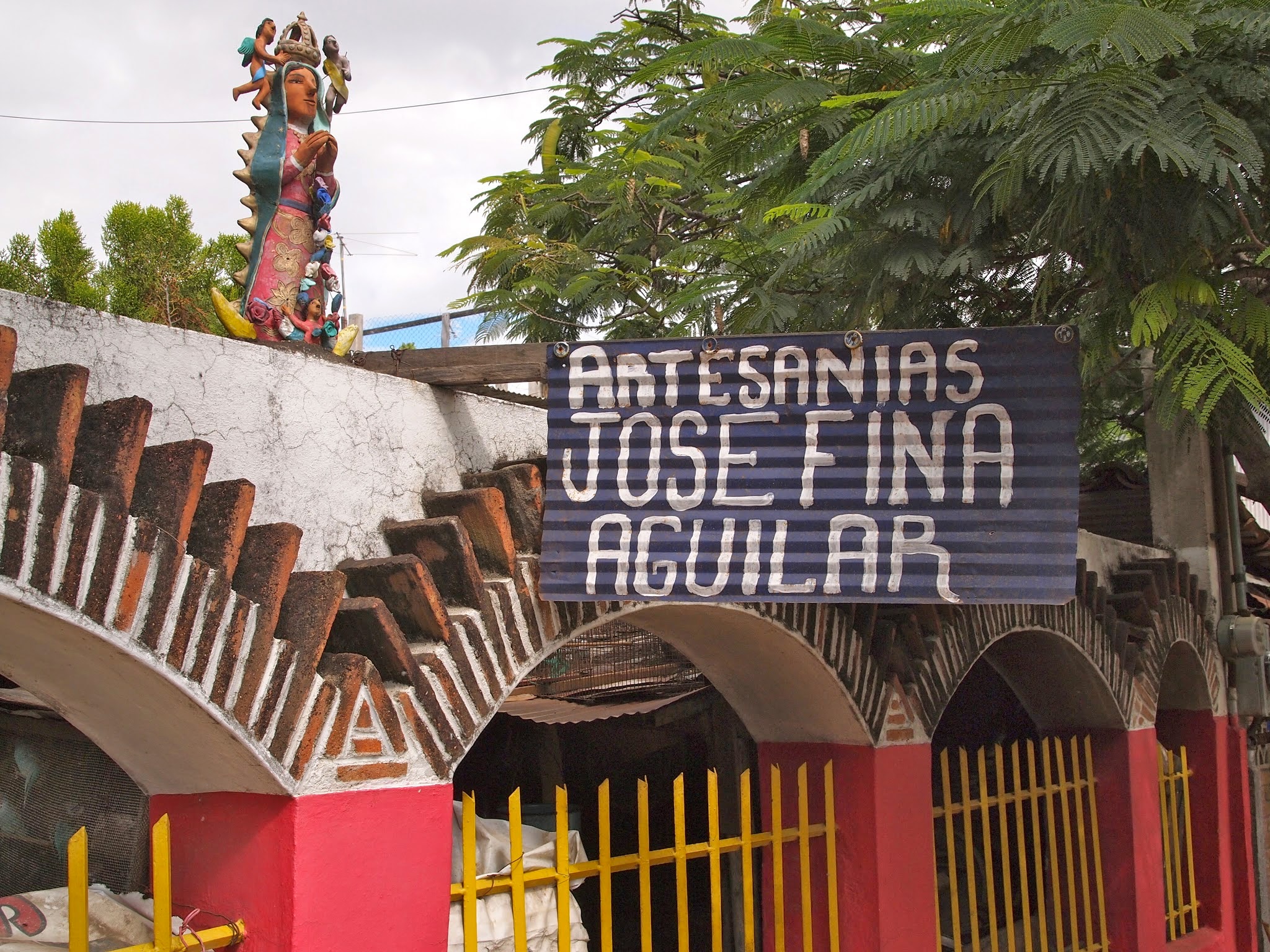 Josefina's home
When you see this sign, you know you have arrived at the right place. Josefina's sister and other relatives are also artists and their houses are side-by-side.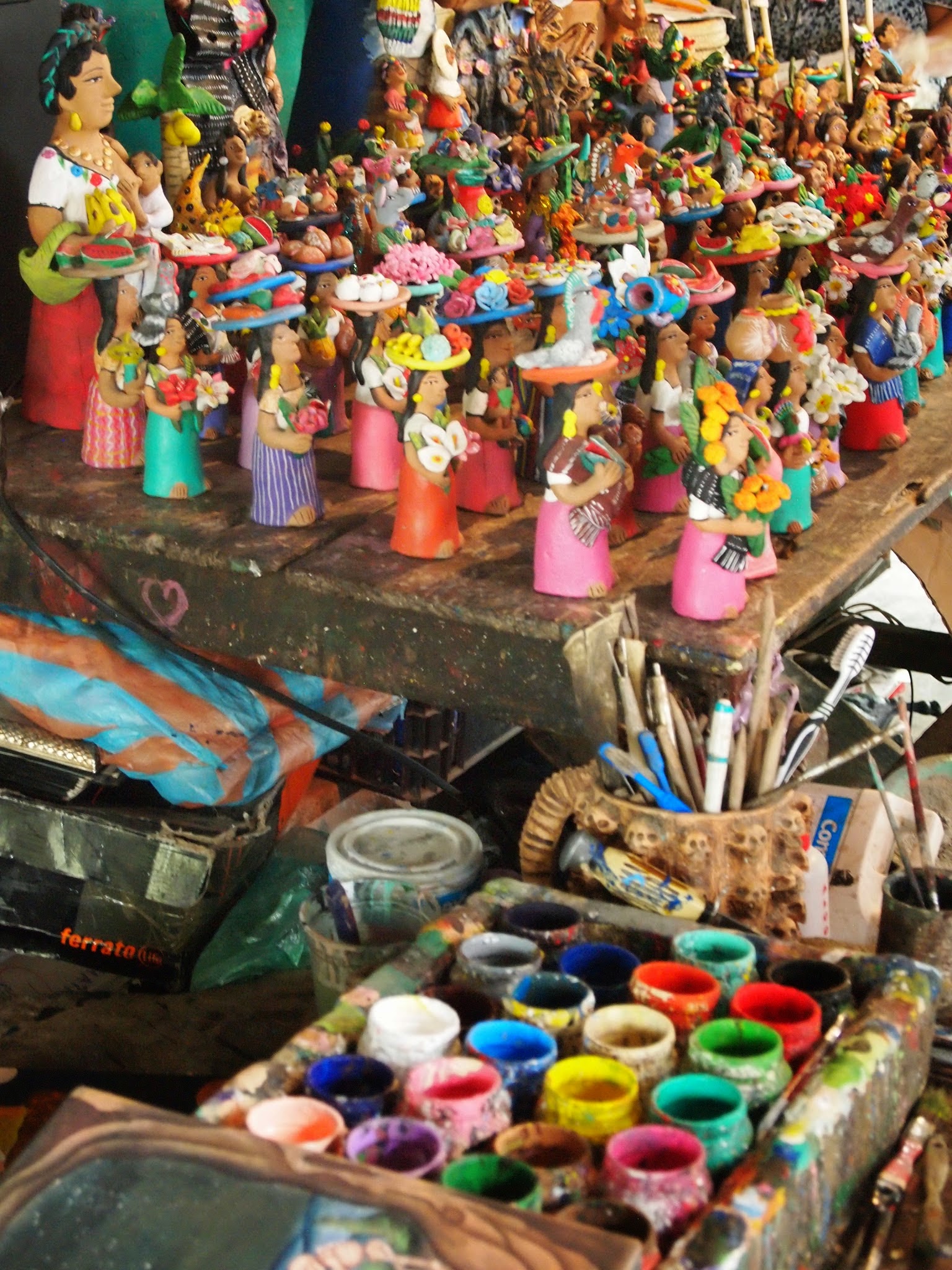 Josefina's artwork in different stages.
Josefina's entire family contributes to her work, preparing the clay, firing the kiln, and painting the pieces.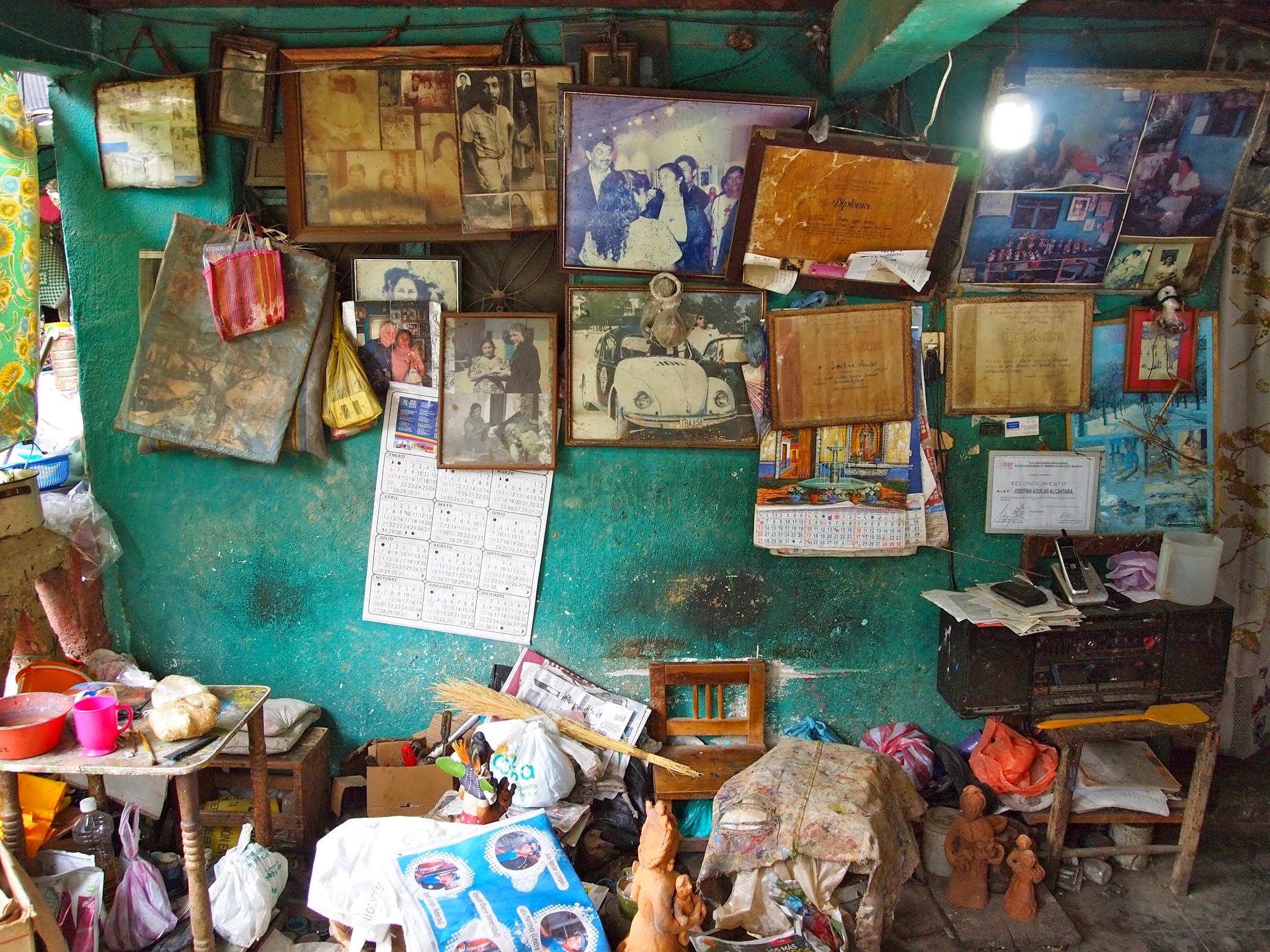 At Josefina's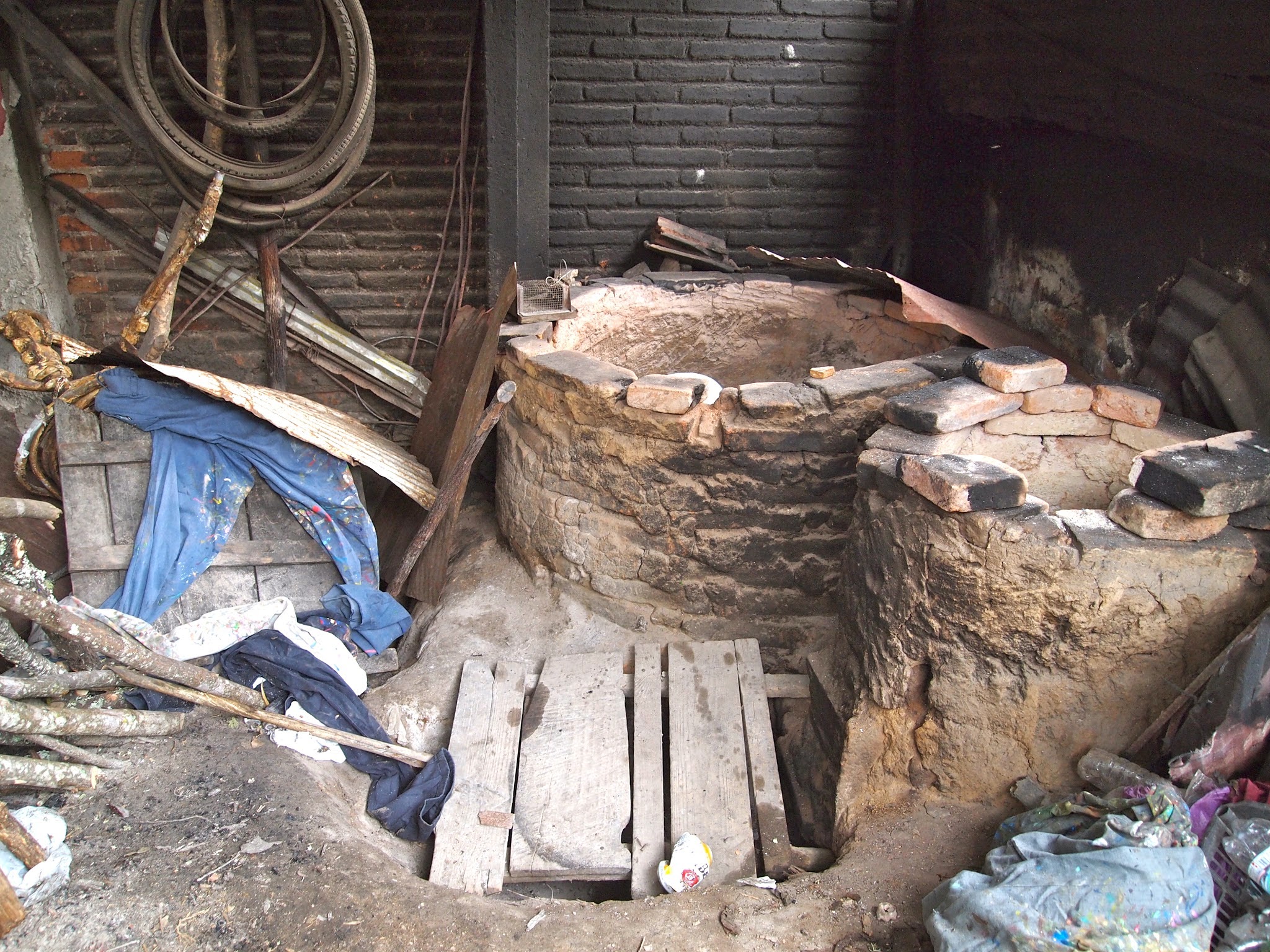 The kiln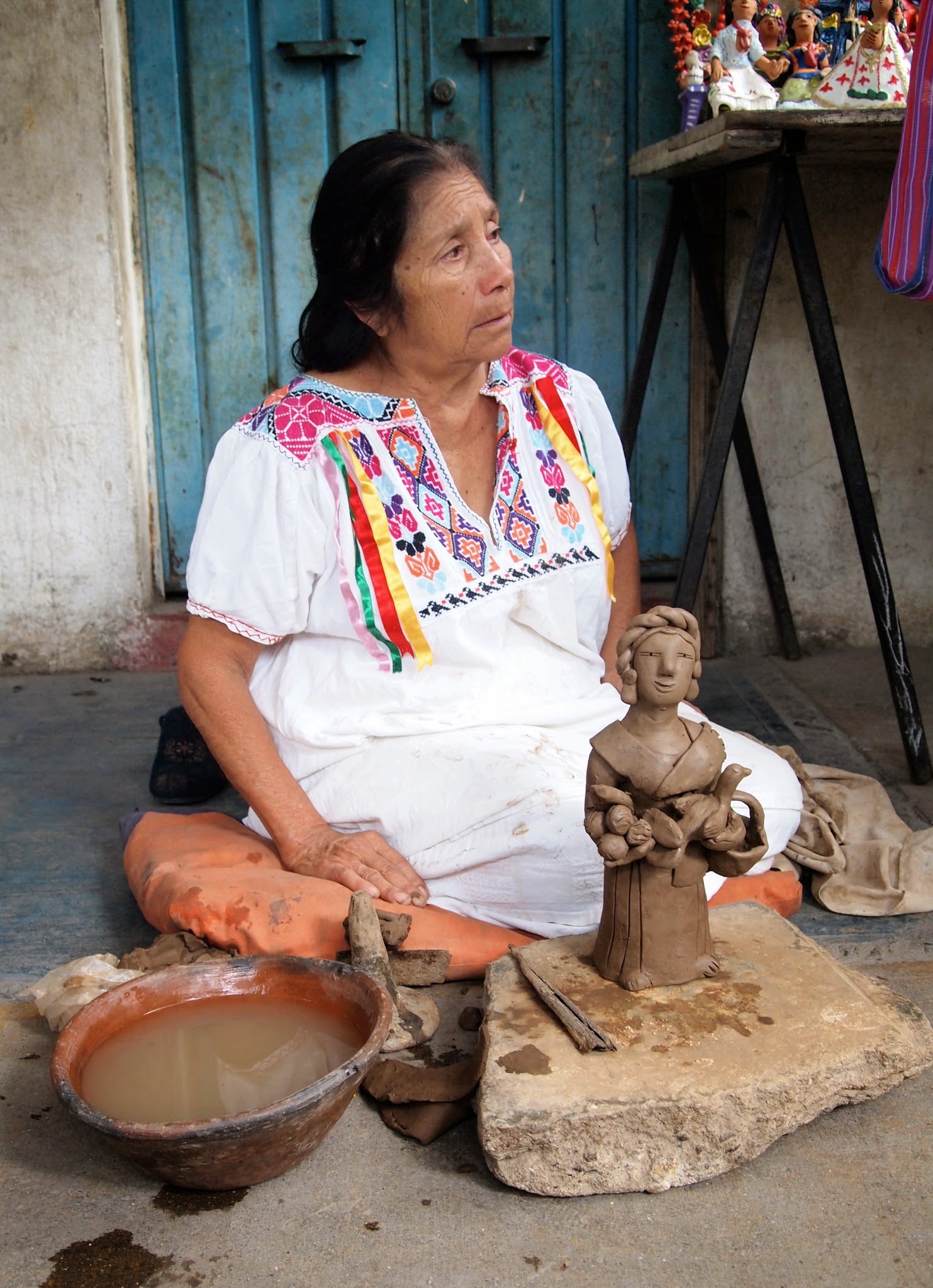 Josefina and a demonstration piece.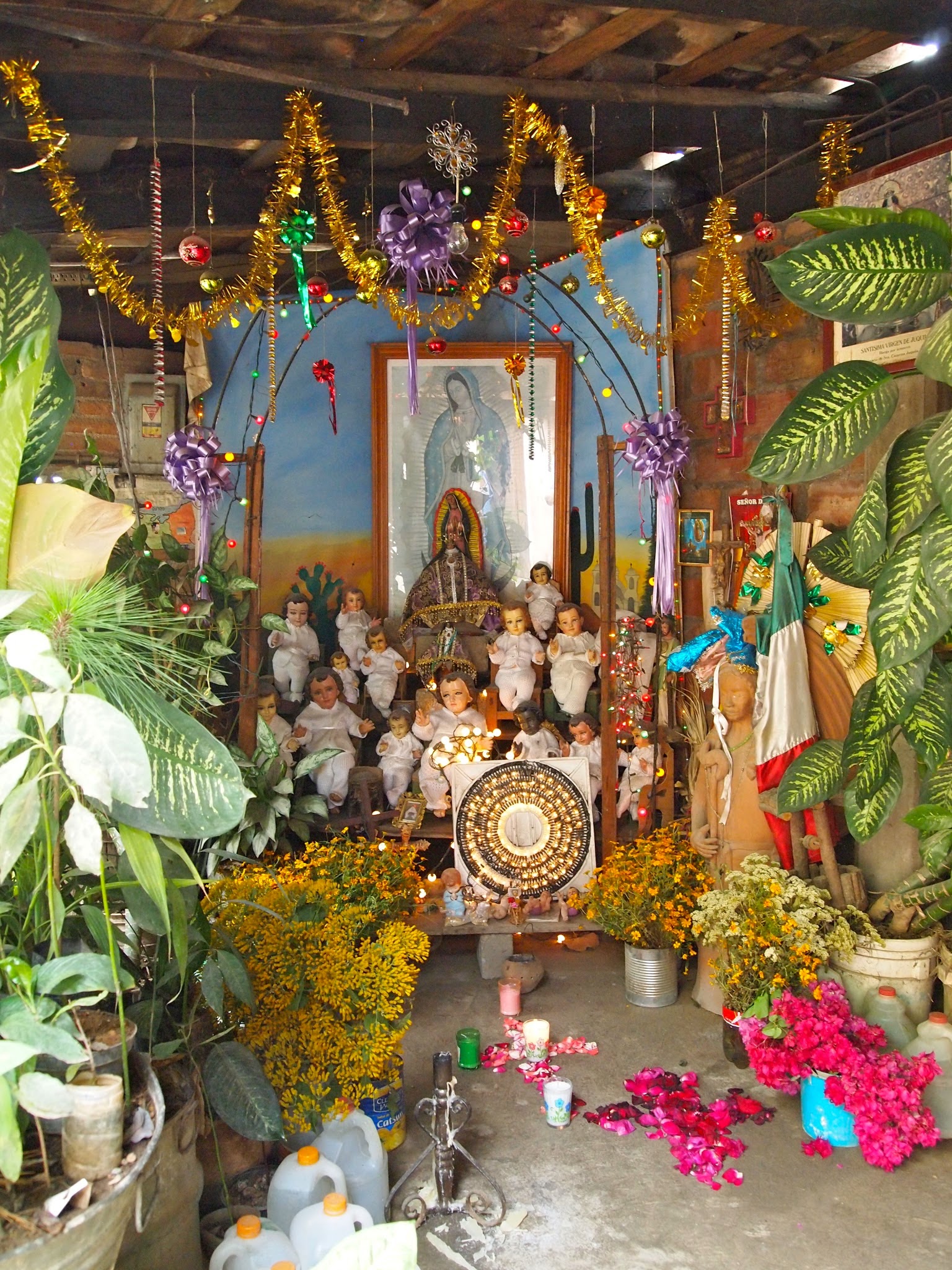 Home Day of the Dead ofrenda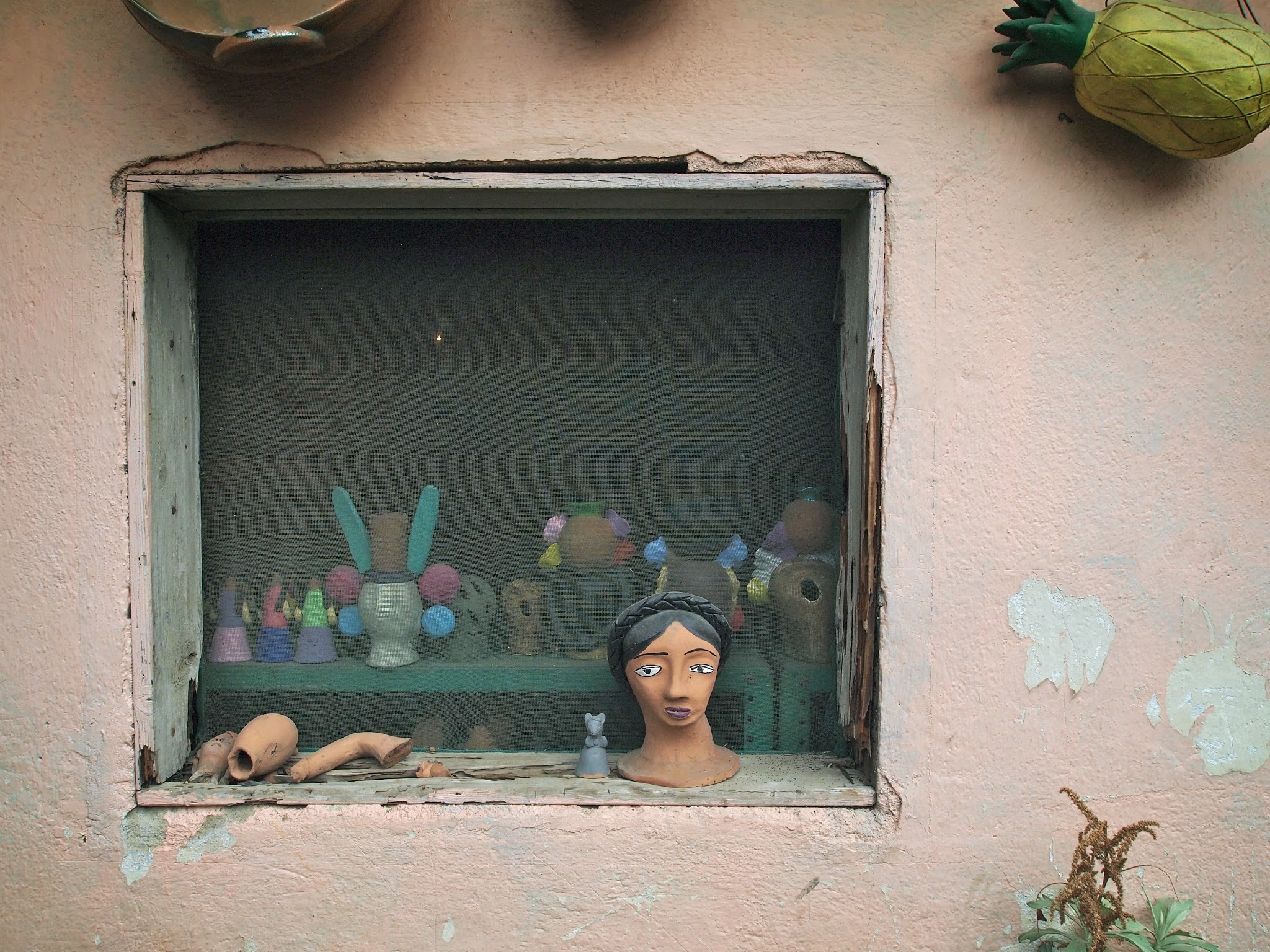 At Josefina's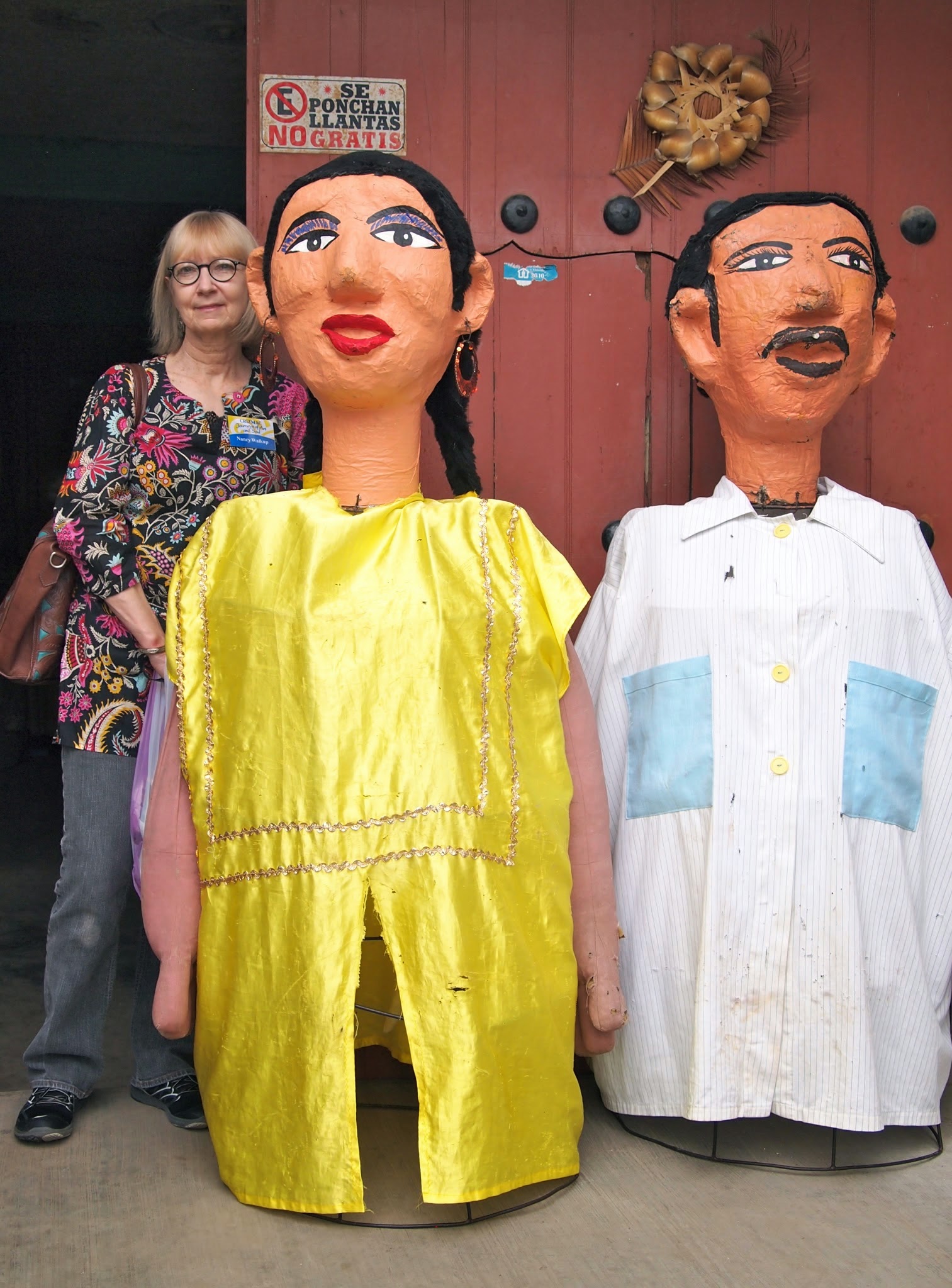 Giant puppets
You, too, can be in this picture. Come join SchoolArts Magazine and CRIZMAC on a wonderful journey to Oaxaca, Mexico, to meet and visit renown folk artists like Josefina in their homes and studios, June 26-July 2, 2015.
Oaxaca City, designated a UNESCO World Heritage site in 1987, is rich with historic colonial architecture, exquisite museums, and vibrant folk art traditions. In addition to exploring the amenities of the city, you will visit thriving folk art villages where talented artists create fabulous woodcarvings, textiles, and pottery. You'll have the opportunity to visit the homes of the master Zapotec and Mixe artists to watch them demonstrate and discuss the techniques and traditions that make their work so special.
Opportunities to immerse yourself in the rich history and traditions through visits to museums and the stunning archaeological site of Monte Alban will deepen your understanding of the native people. Your tour leaders, Stevie Mack, president of CRIZMAC and Nancy Walkup, editor of SchoolArts Magazine provide an intimate and rewarding travel experience, sharing with you the people and places that have made Oaxaca so special. The magic of Oaxaca is guaranteed to inform your art and capture your soul as well!
• Six nights at the Marques del Valle Hotel
• Transfers from the airport to hotel (for those traveling on scheduled arrival & departure dates)
• Land transportation to seminar events • Museum and site admissions
• Artists visits and demonstrations • Server tips for group meals
• Cost based on double occupancy rooms, single rooms available for an additional fee
Enrollment will be made on a "first-come, first-served" basis. A $500 deposit is required to guarantee your space. Register by January 15, 2015 and receive a $50 gift certificate for CRIZMAC merchandise as an early booking bonus. Gift certificates will be included with your final tour documents. Registration and deposit payments may be made through www.schoolartsmagazine.com/travel. Final payment is due on or before March 26, 2015.
Questions? Email Nancy Walkup at nancywalkup@mac.com or Stevie Mack at steviemack@crizmac.com.