SchoolArts Room
The Questions Remain the Same
This past weekend a friend gave me two bound volumes of SchoolArts from 1957 and 1958 and I have been enjoying browsing through them.
---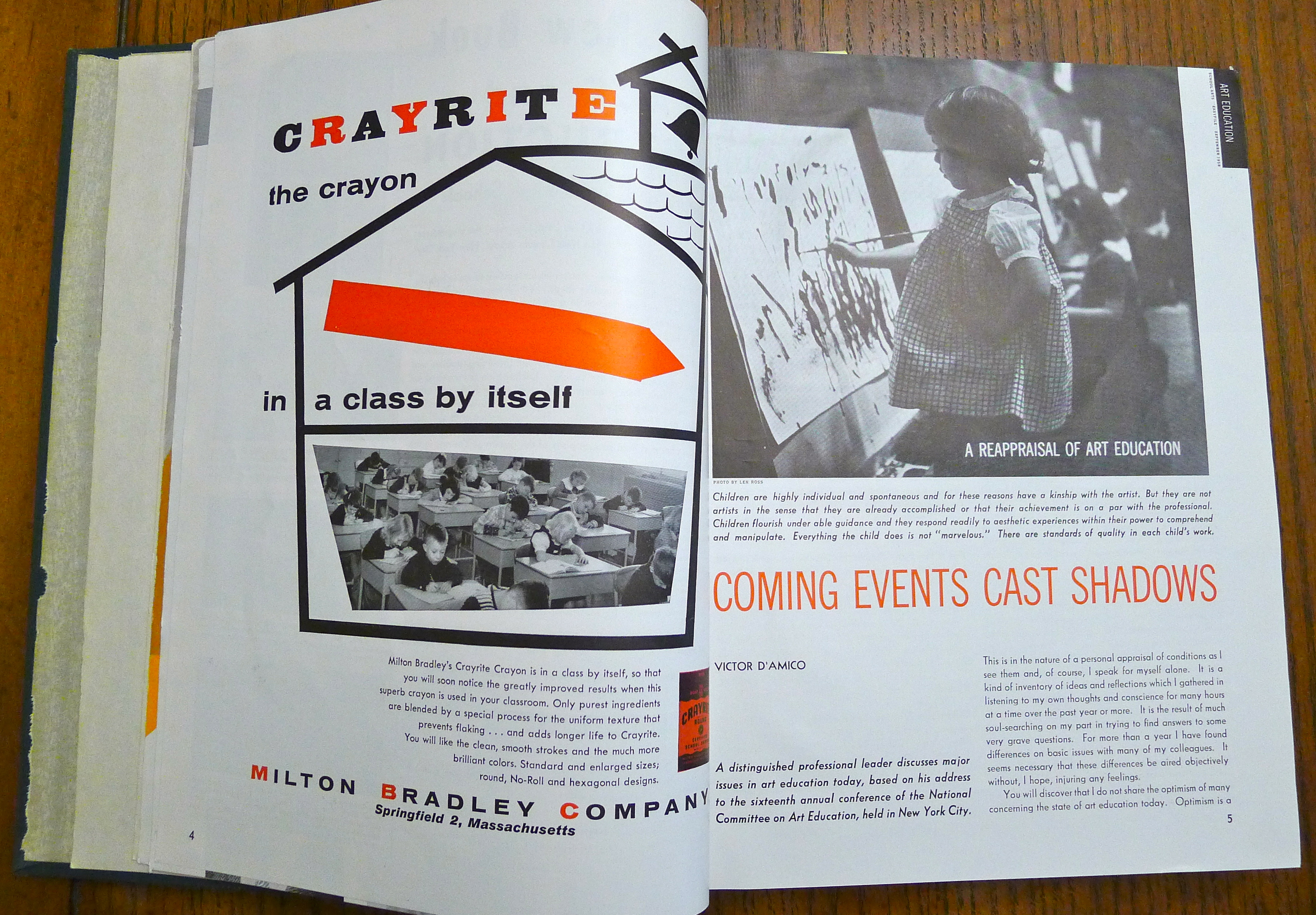 It is quickly apparent that issues in art education have not changed that much in the past 54 years. I thought I would share a section from an 1958 article by Victor D'Amico called "Coming Events Cast Shadows." It was based on a presentation he made at the 16th annual NAEA conference, held in New York City:

Who Should Teach Art?

Next is the important question: "Who shall teach art to the young child, the classroom teacher or the art teacher?" There is a strong conviction on the part of many educators that the classroom teacher is preferable because she knows her children better. The self-contained classroom with one teacher in complete command, having its little art corner equipped with a smattering of every kind of material, often an easel or two, and the inevitable bulletin board neatly displaying a sampling of artwork for all to see, is held as the ideal. I cannot subscribe to this self-contained classroom, either in idea or in fact. At a time when children are exposed to a universal concept of space, where their measure is sputniks and rockets, where we are endeavoring to acquire a world feeling of brotherhood, it just doesn't make sense to confine children to a single room or to one individual.

It is debatable whether the classroom teacher knows the child better because she is with him a larger portion of the time. Unless she is educated in developing the artistic nature of children, she is not the adequate person to lead the child in this respect. Most grade school teachers are not equipped to teach art and few colleges even today include a sufficient amount of art in the preparation of elementary school teachers. The question resolves itself into, who has more experience, and not as a choice between the class teacher and the art teacher, per se. The child has a right to the best art instruction possible. Until the day when classroom teachers are adequately prepared, we must seek the help of qualified art teachers.

What do you think? I'll share more of the article in my next few posts.