SchoolArts Room
The Joys of Collaboration
You may be surprised to learn that SchoolArts Magazine is primarily put together by a collaborative of just a handful of people. But our collaboration reaches far beyond our staff. Our articles are written by art educators for art educators and chosen from submitted articles. That is where our strength lies.
---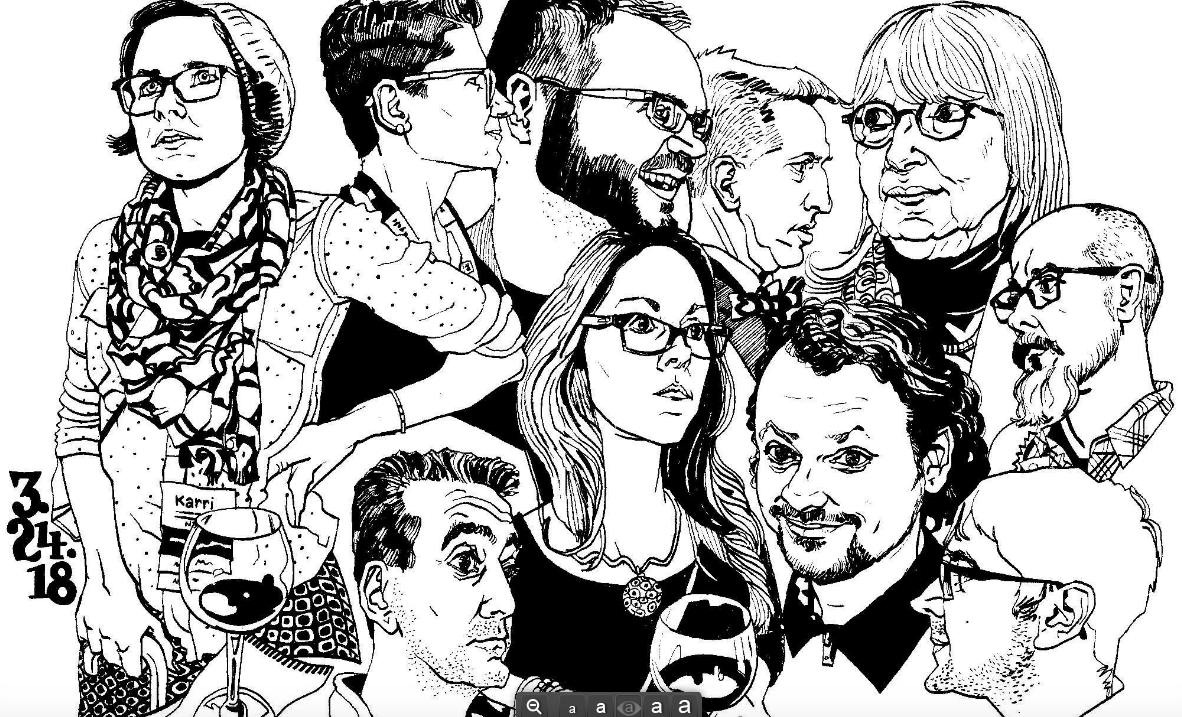 The fun for me in collaboration is, one, working with other people just makes you smarter; that's proven. Lin-Manuel Miranda

The image on this page was drawn by Rama Hughes at the 2018 National Art Education Association conference. Our staff and many of our authors were in attendance to celebrate our on-going collaboration. (Recognize anyone?)
Our collaboration this month is enhanced by the contributions of our co-editor for this issue, Craig Roland, Professor Emeritus, School of Art + Art History, University of Florida, Gainesville. Many of the articles in this issue were written at Craig's invitation (helping us encourage and publish authors new to us).
As usual, we have studio lessons for every grade level. Our studio lessons this month include; Collaborative Monster Challenge by Nicole Romanski (pre-service teachers collaborate with kindergarteners) Inspired by a Living Legend by Patricia Kennedy (artist Isaiah Zagar inspires student collaborative mosaic projects) Welcome to the Sumi Ink Club (an appealing group drawing experience Safe Shadows by Kari Giordano (responding to challenging social issues through art) Community Transformations by Melissa Hoener (service learning projects to benefit the community) The Peace of Cake Cupcake Factory by Ty Manning (an engaging project that involved the entire high school); and The CommUnity Project by Dan Andrews (giving away art to foster community connections).
In addition, we offer The Art All-State Model by Kristi Oliver (collaborative art-making experience between teens and professional artists); and Jumping for Joy by James Rees (working with an artist, students, and the community to create a mural for an early childhood center).
All of these articles illustrate the enthusiasm, thoughtfulness, and inventiveness of art teachers who help their students work together and develop awareness and understanding of themselves and their communities through art. Where there is collaboration, delightful things can be achieved.