SchoolArts Room
The Importance of Respect
One of the best presentations I've ever been a part of was Aprendiendo del Arte/Learning from Art with Trina Harlow, Cilau Valadez, and Agustin Cruz Prudencio, at the KSU College of Education in Manhattan, Kansas. We gave six well-attended collaborative presentations over two days at different locations to KSU students and teachers, sponsored by a SGA Diversity Grant and the National Art Education Association Student Chapter.
---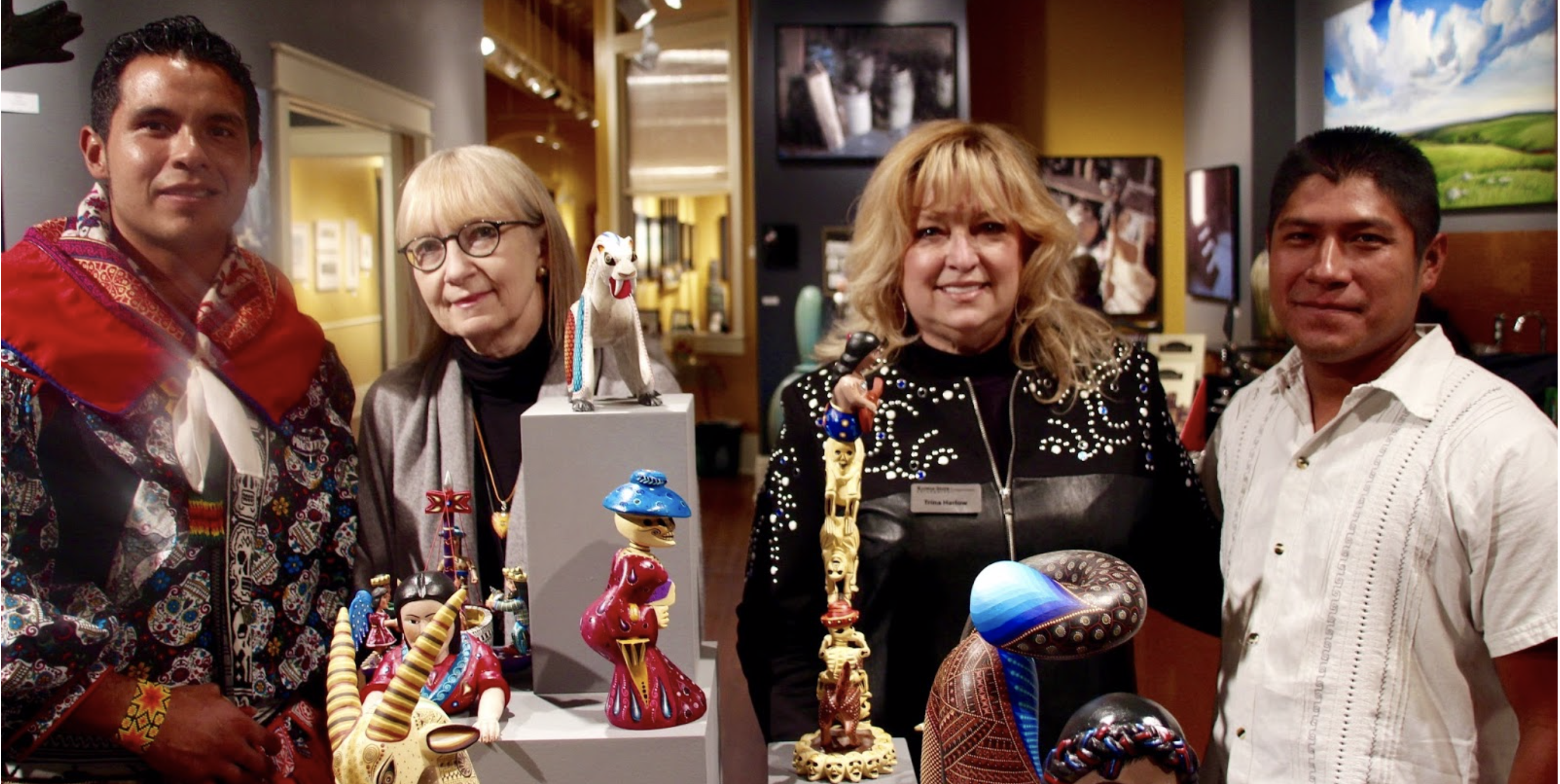 Cilau Valadez, Nancy, Trina Harlow, and Augustin Cruz Prudencio at an evening gallery reception that featured the artists' work.
Cilau is an artist from the Huichol culture in Mexico and Agustin is a wood carver from Oaxaca. Both are master folk artists eager to share their cultures and artworks with all. Both learned their skills in apprenticeships with their fathers, a traditional way that folk art is developed. Our presentations featured approaches to teaching about respect for cultural diversity and the folk arts and traditions of Mexico. We got to see some snow (a first for Agustin) and the temperature fell to 11 degrees, but we couldn't have had better participants in our presentations.
Our four-part collaboration grew over time from our annual
SchoolArts
/CRIZMAC summer seminars in Santa Fe, Folk Art Extravaganza (about world folk art), and Tres Culturas (about the three primary cultures of Santa Fe), as Cilau and Augustin have presented to our groups a number of times. I believe we were so successful in our Kansas endeavor because all four of us believe so strongly in the value of promoting respect and understanding for the traditions and contributions of diverse cultures.
How do you provide opportunities for your students to develop respect for diverse cultures, perspectives, and traditions of art? In our increasingly global society, respect for others' traditions, beliefs, and ways of life may be more needed than ever.
Please consider joining SchoolArts and CRIZMAC this summer in New Mexico, for similar experiences with the multitude of cultures there. You don't have to be an art teacher or even a teacher to join us. All are welcome. Learn more at schoolartsmagazine.com/travel.