SchoolArts Room
The First Storyteller
If you join SchoolArts and CRIZMAC this summer in Santa Fe for our Celebration of Pueblo Art and Culture, you'll get to see the most famous, first one made by Cochiti Pueblo artist Helen Cordero at the Museum of International Folk Art.
---
According to Barbara Babcock, author of The Pueblo Storyteller: Development of a Figurative Ceramic Tradition, published by the University of Arizona Press, 1990. Helen's story is as follows:
"When Helen Cordero began making clay figures in the late 1950s, she was 45 years old, the six children she had raised were grown, and she was doing beadwork and leatherwork with her husband's cousin, Juanita Arquero, to make a little extra money. Most of the profits, however, had to be used to buy more materials.

"Why don't you girls go back to the potteries?" Fred Cordero's aunt, Grandma Juana, asked. "You don't have to buy anything; Mother Earth gives it all to you."
And so, Juanita, who had learned to make pottery as a child, "started up again" and Helen spent six months learning the ancient art from her. Juanita was already an accomplished potter, and in comparison, Helen's bowls and jars didn't look right. "They just kept coming out all crooked, and I was ready to quit," said Helen. "I didn't think I would ever get it right."
Juanita suggested that Helen try figures. "It was like a flower blooming," said Helen. Small frogs, birds, animals and, eventually, "little people" came to life in abundance.
One of the first times Helen showed them at a Santo Domingo feast day, folk art collector Alexander Girard of Santa Fe bought all of the "little people" (standing male and female figures, 8 to 9 inches high) that she had; he asked her to make more and larger figures and bring them to him. Shortly thereafter he commissioned a 250-piece Nativity set.
Girard then asked Helen to make an even larger seated figure with children. Perhaps he was thinking of the "Singing Mothers"--figures of women holding or carrying a child or two that several Cochiti potters were making. Helen went home and thought about Girard's request. "I kept seeing my grandfather (Santiago Quintana). That one, he was a really good storyteller, and there were always lots of us grandchildren around him."
He was a valued friend and collaborator to several generations of anthropologists and observers of Pueblo life: He wanted his traditions preserved and maintained, and he went to great lengths to ensure that "they got it right." When Helen remembered her grandfather's voice and shaped that first image of him telling stories to five grandchildren, she made two significant modifications in the Singing Mother tradition: (1) She made the primary figure male, rather than female, and (2) she placed an unrealistic number of children on him. Subsequent Cordero storytellers have had as many as 30."
from The Collecter's
Guide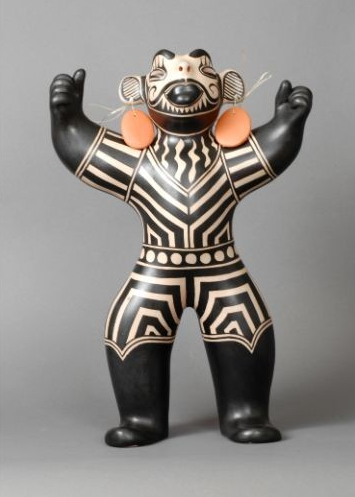 In a transformational way, Virgil Ortiz, also from Cochiti Pueblo, is now making contemporary clay figures that reflect today's popular culture.
Why not share this story with your students when they are making clay figures? If you would like to try clay storytellers with your students, Julie Voigt has a lesson plan
here
.