SchoolArts Room
The Celebration that is Indian Market in Santa Fe
In a town that seems to have a different festival every weekend, the Santa Fe Indian Market tops them all.
---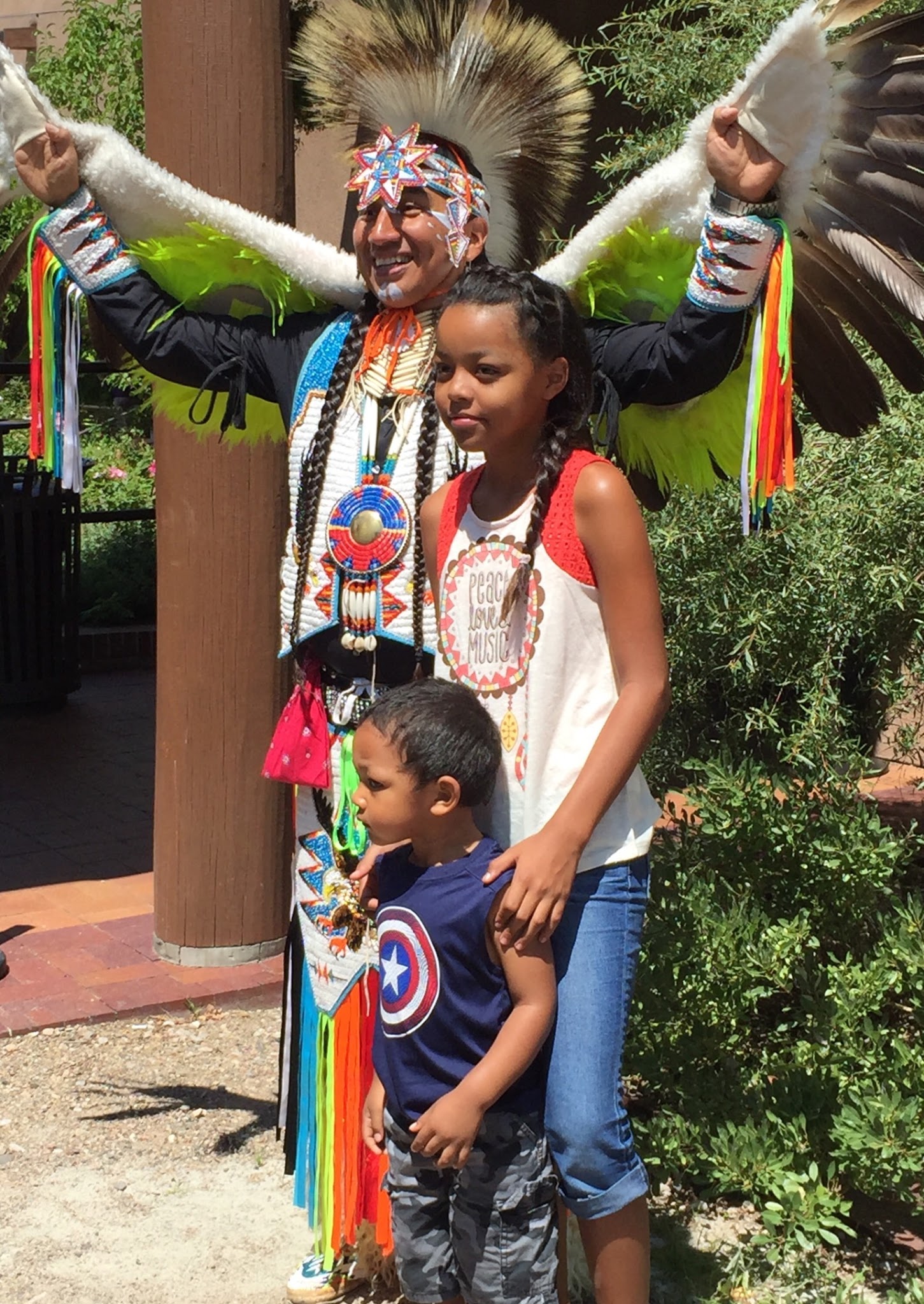 Posing for photos.

The whole of Santa Fe is involved in Indian Market in some way or the other and it is a great place for people watching. The mission statement of the Santa Fe Indian Market is to bring

Native arts to the world by inspiring artistic excellence, fostering education, and creating meaningful partnerships.
I followed this man on the left in his sparkly fabric mashup of tradition and contemporary Indian regalia to ask if I could take his photo.
Of course he said yes!

This child was a spectator at the Native American fashion show on the plaza but looked dressed for a performance. You might notice the iPhone.

Most downtown streets are lined with artists' booths for the Market. Native American artists from all over the US can apply to be accepted into the Market. It is quite an honor to be juried in.

This booth was next to our friend Dawn Dark Mountain's booth. She won a blue ribbon for 2D art. The painting on the right is hers.

The Five & Dime is right on the Plaza and is famous for its Frito pies, served in a Frito bag.
Just an image I liked on a magazine box.

For the first time, there was a Zuni Market at the Scottish Rite Temple. Dances and other performances continued all day. These dancers balance clay pots on their heads as they dance.

These is plenty of food available at the Market. This booth was selling the official New Mexico state cookie, the biscochito.

Museum-quality Native American artwork is evident in every booth. Artists prepare all year for this show.

There was lots of Native American fashion design on view. Two fashion shows and numerous booths showcased Native American design. Here a designer and her models pose for photos.
These lovely ladies were in the Sunday fashion show.

There were opportunities throughout the Market to experience Native American music and dance.

We took some time at the Museum of Fine Arts to enjoy the lovely courtyard and Jesus Moroles' fountain.

This street that lines the Plaza ends at the St. Francis Cathedral you can see in the distance.

After the fashion show at the Santa Fe Convention Center, we stopped to admire Roxanne Swentzell's spectacular installation in the main lobby. Our SchoolArts/CRIZMAC group had gotten to see Roxanne working on this when we stopped by her Tower Galley one summer.
Indian Market is definitely a place to see and be seen.