SchoolArts Room
The Art of Advocacy
I still remember when I first realized that I alone was responsible for advocacy for my art program. At the beginning of my first teaching position I naively assumed my principal would be pleased to know of an upcoming special event in my room and that she would contact the local newspaper about it. I quickly learned that lesson (and how to write press releases) and eventually developed a professional relationship with the local arts editor.
---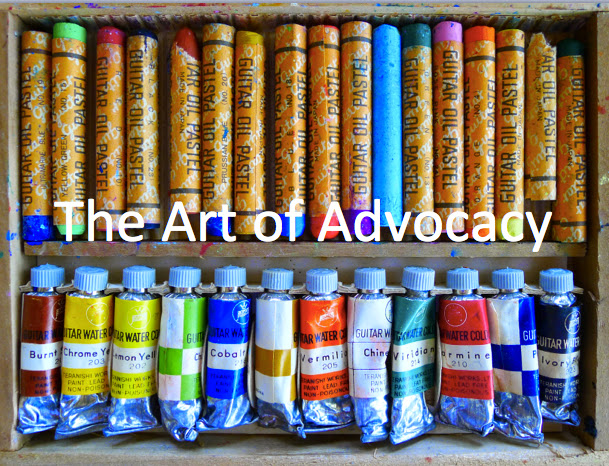 Nowadays the Internet, email, and digital photography make it much easier to share and publicize your art program. And don't be shy about it; you are doing it for your students. Effective advocacy efforts share your students' successes with administrators, fellow teachers, parents, other students, and the community and can only benefit your program.
Advocacy is the process of showing support for or bringing attention to an important issue, idea, or event. As an art teacher, no doubt you are responsible for displaying your students' artwork in your halls and display cases. One simple way you can immediately make these exhibits more effective is to accompany the artwork with short student artist statements or teacher explanations of the project's objectives or processes.
After first checking with your principal and/or district public relations representative, contact your local media for special exhibits or presentations, especially if they will provide colorful photo opportunities. You might just end up on the front page of your local newspaper. If the newspaper or district doesn't send a photographer, take pictures yourself and send them in with a press release (who, what, when, where, and why).
And speaking of photographs, I recommend always having a good digital camera with you at school and using it every day. Take photographs of students working, of both the process and the product. For publication purposes, try not to show students' recognizable faces. Shoot over their shoulders or from across the table. You will find lots of ways to use these photographs online and in print but they need to be high-resolution images for print reproduction (300 dpi). Images used online can be lower resolution (72 dpi).
The next advocacy step is to look beyond your school and into the community. Look for local public exhibition venues such as arts festivals, public libraries, banks, hospitals, businesses, billboards, and the like. Don't be afraid to ask; you'll be surprised by how many people will say yes.
Do you have a blog or a website for your art program? If not, you might consider starting one, as they can be an incredible resource and advocacy tool. Blogs can serve as advocacy for your art program, share your teaching philosophy, goals, and objectives, provide a place to share your students' artwork with a worldwide audience, generate discussions with other art teachers, and more. You can start a free site with Blogspot.com, Weebly.com, or Wordpress.com. These all have sample templates and lots of help to get you started.
NAEA offers an incredible wealth of advocacy resources for you online. Many can be printed out or emailed to administrators or parents. They include advocacy white papers and position statements and such gems as Elliot Eisner's Ten Lessons the Arts Teach. NAEA also offers many ways to connect with other elementary art educators: a listserv, a Facebook Elementary Division page, Elementary Division Pinterest Advocacy page, and an Elementary Ning interactive website website. Photographs you take in your art room can be shared on many of these sites.
Finally, get published! Whether it is in an art education magazine, a website, or on a blog, getting published is one of the best ways to spread the word about your art program. And don't be shy about sharing. Frame print publications and hang them in your art room. Send copies to your administrators. Successful art advocacy can only benefit your students, principal, school, and program.
For visual examples of many of these suggestions and a presentation you can share, visit this site. SchoolArts Magazine also has advocacy articles on Pinterest here.
—Nancy Walkup