SchoolArts Room
STEAM
Around this time every year, I had a skeleton in my elementary art room. Our school's science lab had a full-sized replica skeleton that no one seemed to use except me, so I would borrow it for the months of October and November (no one ever came looking for it).
---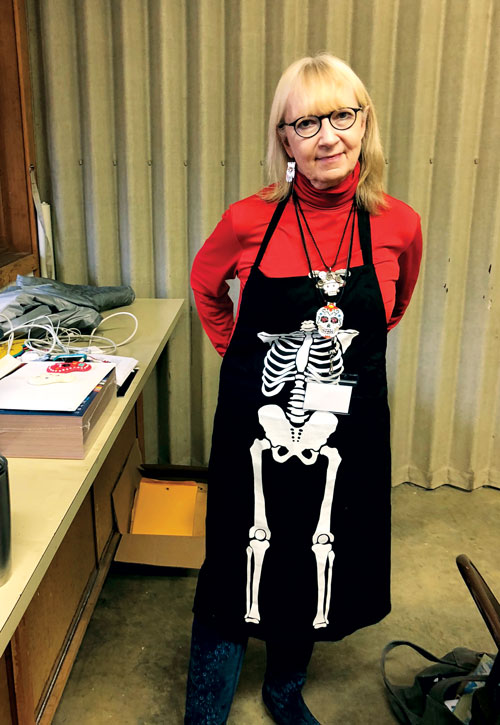 Nancy about to introduce Día de los Muertos (Day of the Dead) lessons with art teachers in Tennessee.
Every year at this time, I was also the director of our school's Día de los Muertos (Day of the Dead) performance. This was a collaboration between classroom teachers, bilingual teachers, the music teacher, the librarian, and me. Celebrated throughout Mexico on November 1st and 2nd, Día de los Muertos honors the memory of deceased loved ones. Images of skeletons (calacas) and skulls (calaveras), often humorous ones, appear as toys, candy, and bread. In preparation for our performance, students in each grade level would explore a different lesson focused on skeletons or skulls, thus my desire for a skeleton in the art room.
Each of these lessons began with a focus on a scientific approach to the human skeleton. To me, these were perfect examples of an educational approach called STEAM. STEAM education refers to teaching and learning in the fields of science, technology, engineering, the arts, and mathematics. In a STEAM program, projects start with art and connect one or more additional disciplines as they naturally apply. STEAM learning also focuses on the 21st century skills of critical thinking, communication, collaboration, and creativity while providing problem-solving experiences for real-world purposes in both a social and academic context.
From the skeleton in my room, students would first learn the names of the different bones and how they functioned in the human body (science). Then they would draw, collage, and paint (art), and then sculpt and build (engineering) humorous skeletons and skulls.
In STEAM, disciplines are integrated within a lesson as they make sense. Over the course of the year in a STEAM program, students would work with all of the STEAM disciplines.
I believe that approaching a STEAM lesson with art is so effective because of its engaging nature and the opportunity it provides and encourages for creativity. STEAM learning just makes sense!