SchoolArts Room
Skeletons for the Mexican Days of the Dead
In Mexico, around the times of the Days of the Dead, November 1st and 2nd, humorous skeletons portraying professions and special interests serve to remind us that, rich or poor, we will all meet the same fate, so we should think about our behavior while we are alive. The skeletons also portray the idea that death is a part of the cycle of life.
---
Bride and Groom
The two days of Los Dias de los Muertos, the Mexican Days of the Dead, represent the most important celebration of the year in Mexico, especially in rural areas. Celebrated on the Catholic holy days of November 1, All Saints' Day, and November 2, All Souls' Day, the occasion is a joyful time of remembrance, family reunion, and feasting, as relatives and friends gather together to honor their loved ones who have died. According to tradition, it is believed that the souls of departed children return on November 1 and the souls of the adults visit on November 2. While some people call this fiesta time "Day of the Dead," the plural form better describes the celebration as it spans several days.
Mexican families save all year to buy the flowers, candles, incense, and special foods needed for the festivities to properly honor their dearly departed. No expense is spared in preparing for the Days of the Dead. Mexican families participate in the construction and decoration of ofrendas (home tabletop displays or altars) to honor their loved ones. Decorations for the ofrenda may include candles, gifts, flowers, incense, papel picado (cut paper banners), photographs, pictures of saints (and often the Virgin of Guadalupe) and offerings of the favorite food and drink of the deceased. Mexican marigolds (called zempascuchitl) and cock's comb are the flowers most associated with the Days of the Dead. The marigold is particularly pungent in aroma as is the copal incense that is burned on the ofrenda and in the cemetery.
Pan de los Muertos (bread of the dead), candies, and toys are made in the shapes of calavera (skulls and skeletons). The skeleton or skull is seen as a promise of resurrection, not as a symbol of death. Calavera toys and papier-mache skeleton figures depict specific professions, musicians, brides and grooms, bicycle riders, and other subjects from everyday life. There are rich traditions in Mexican folk art that incorporate calveras in many ways. The Linares family of Mexico City is well known for their fantastic papier-mache calaveras figures.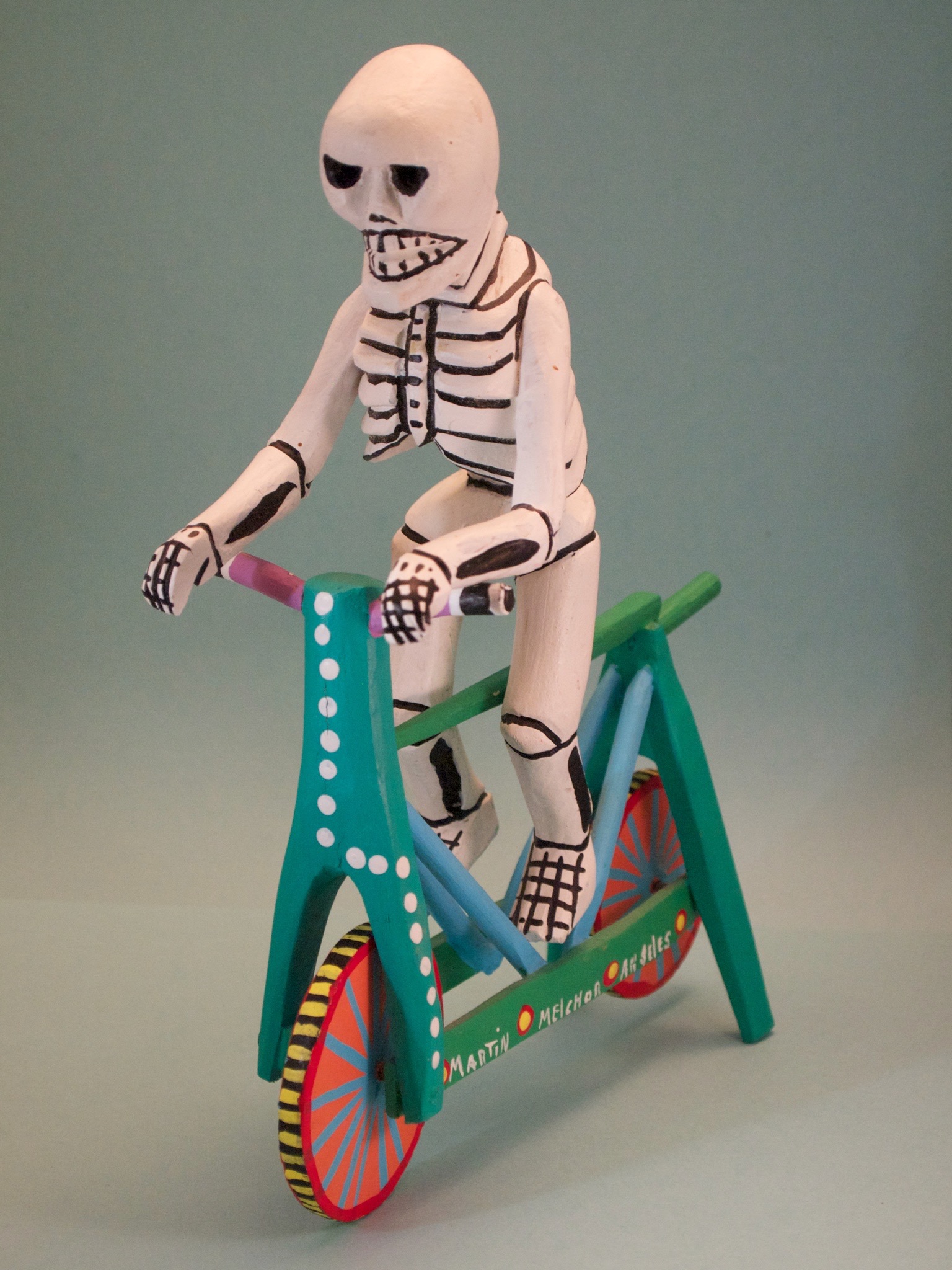 Skeletons might be riding bicycles or skateboards
Objectives
Students will learn about the history and evolution of the Mexican Days of the Dead/Dia de Los Muertos.
Students will understand how their skeletons look and work.
Students will create humorous skeletons using mixed media.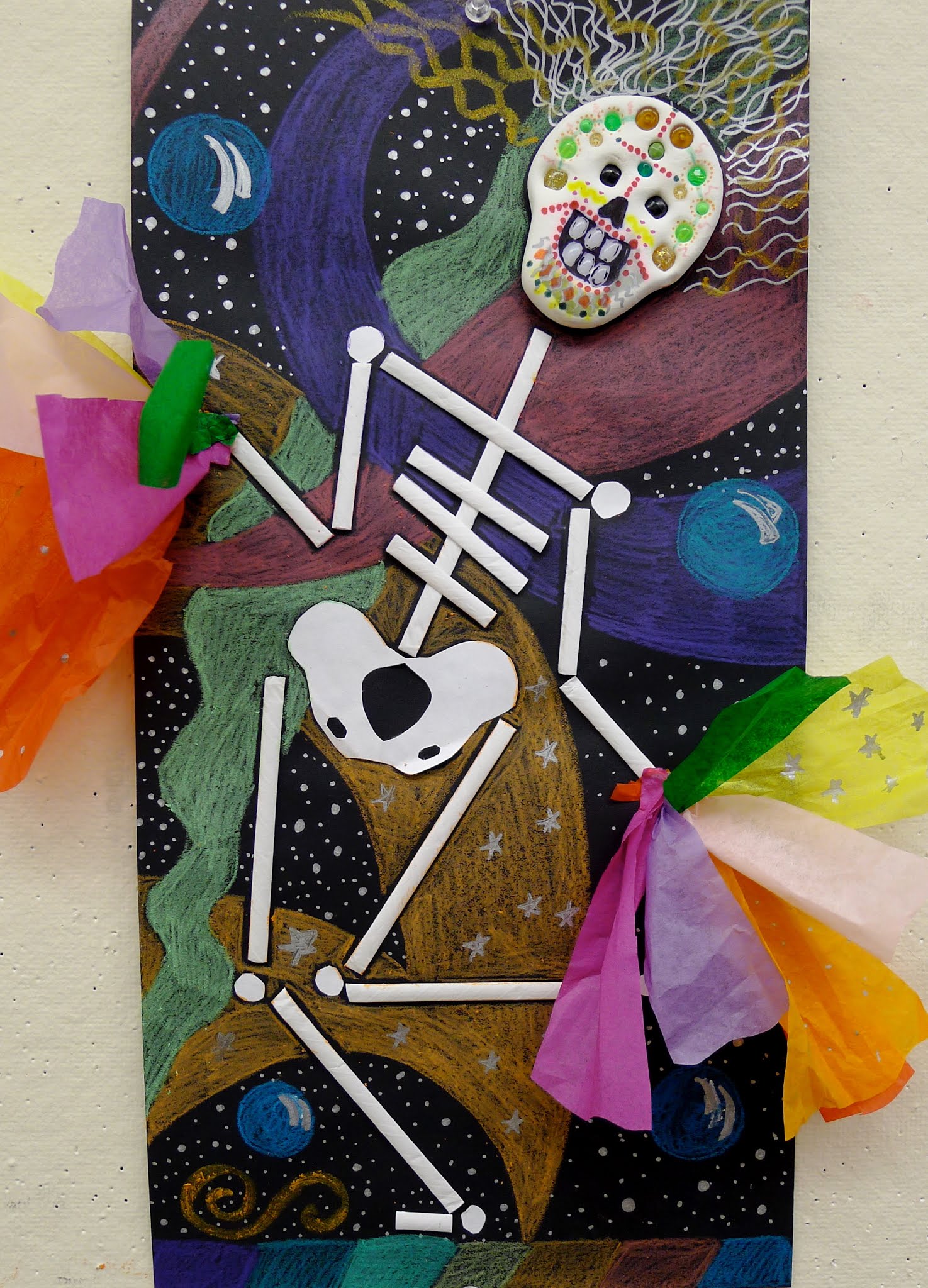 Materials and Resources
white Art Straws (available from art supply companies) or other paper straws
black construction paper, 9" x 18" or 12" x 18"
white and assorted colors of construction paper
colored tissue paper
white and black crayons or oil pastels
pencils
regular scissors
fancy scissors
hole punches
white glue
Model Magic (optional)
beads, sequins, and other decorative items
construction paper crayons or oil pastels
skeleton model or scientific illustrations of the skeleton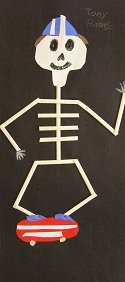 Motivation
Refer to the skeleton or skeleton images and have students stand up and touch and identify the bones on their bodies. Especially focus on the elbows and knees to help students be aware of how those bones are arranged and so you won't get straight arms and legs in their artwork.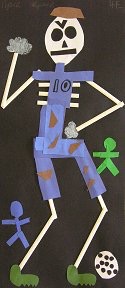 Procedures
Demonstrate making the paper skeletons along with the students. Provide black construction paper for the backgrounds. I like to use 9" x18" papers and encourage students to fill the paper with their skeletons. Students start by making a skull from white construction paper and glueing it near the top of their papers.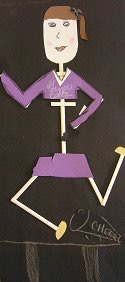 Cheerleader
All bones are made by flattening white paper straws. Have students start the skeleton with a backbone, then add a collarbone, hip bones, and ribs. Younger students can make simpler skeletons.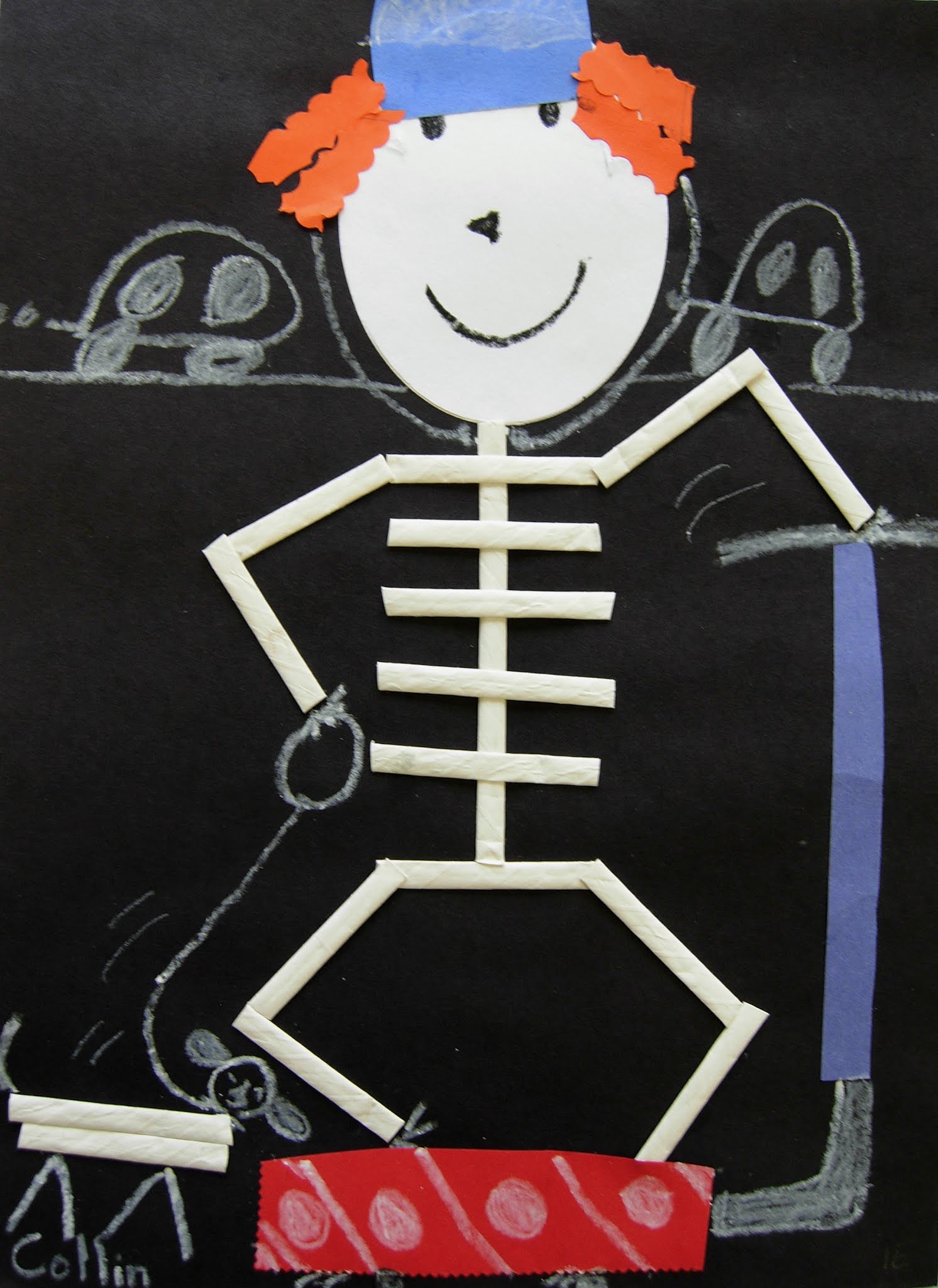 Teacher-made die cut ovals were used for the youngest students.
Next, have students measure and cut two bones each for arm and leg bones. Ask them to add bent knees and elbows to provide more interest and a suggestion of movement.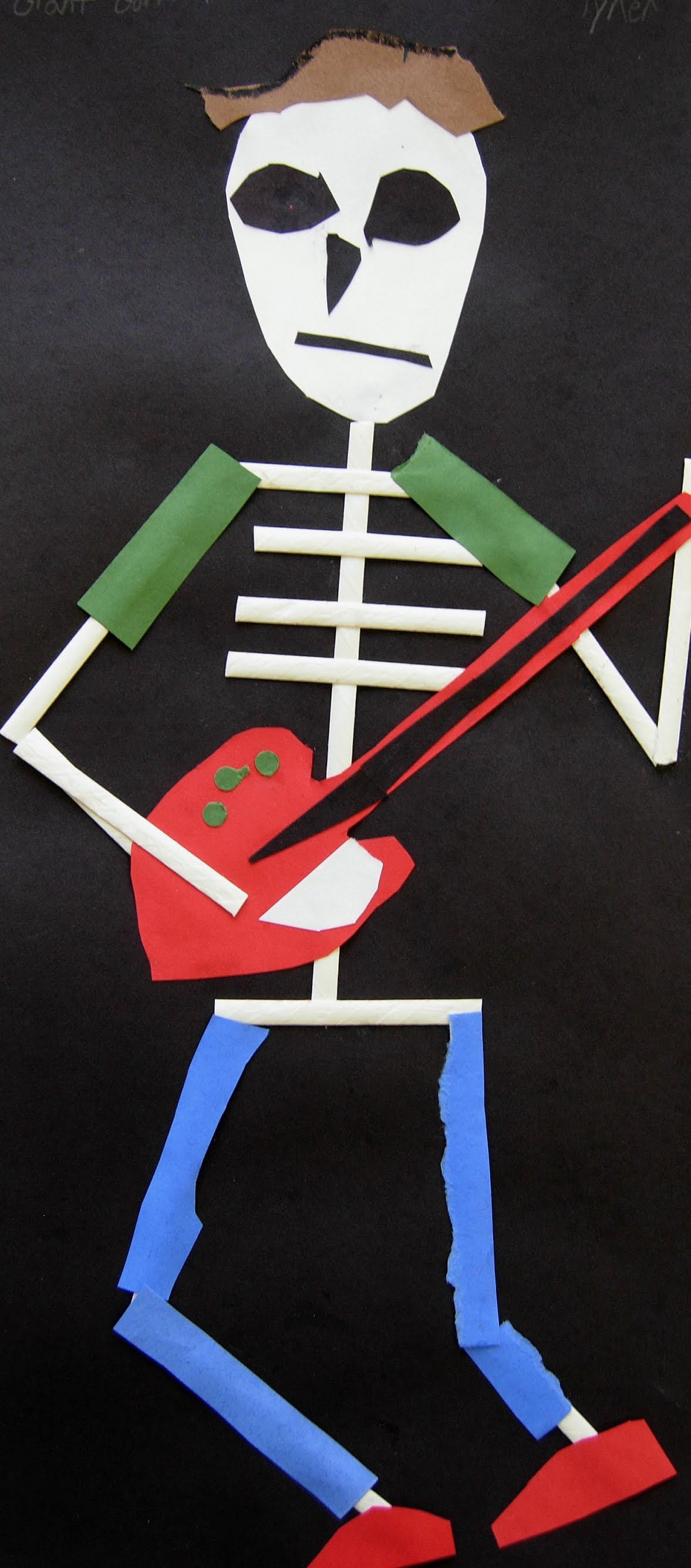 Finally, students can decorate their skeletons and give them personality, using different kinds of paper and decorative items. I encouraged them to leave some of the ribcage showing, so it definitely looked like a skeleton. Students can also decorate the backgrounds of their skeletons.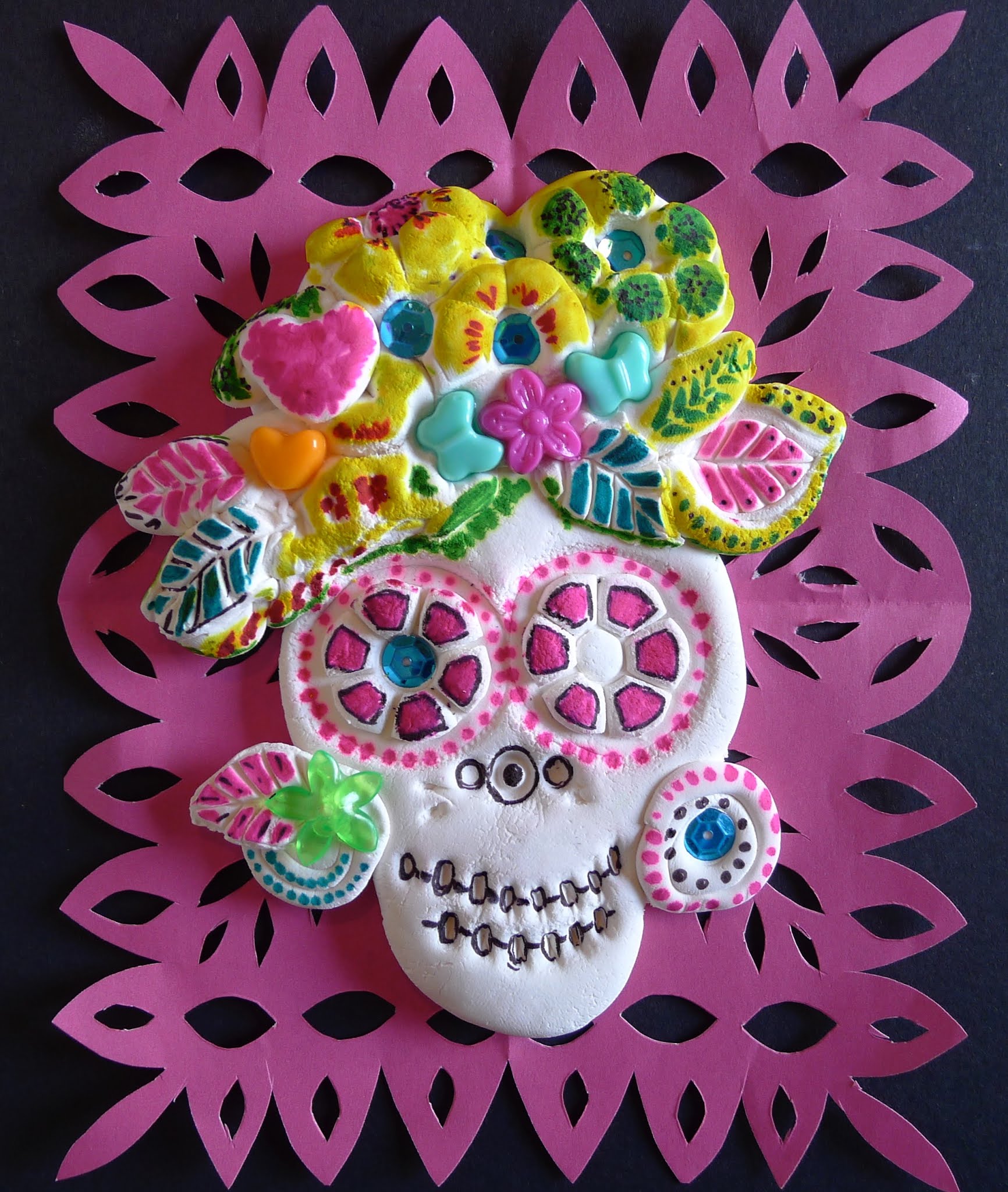 For older students, you may want to have them make their skulls out of white, flattened Model Magic. One individual package each is the perfect amount for students. Details can be added to these with markers and by embedding items such as sequins, buttons, and the like. Have students make the skulls separately and glue them on the background paper only when they are complete. The skull pictured here has a background of perforated paper, called paper picado.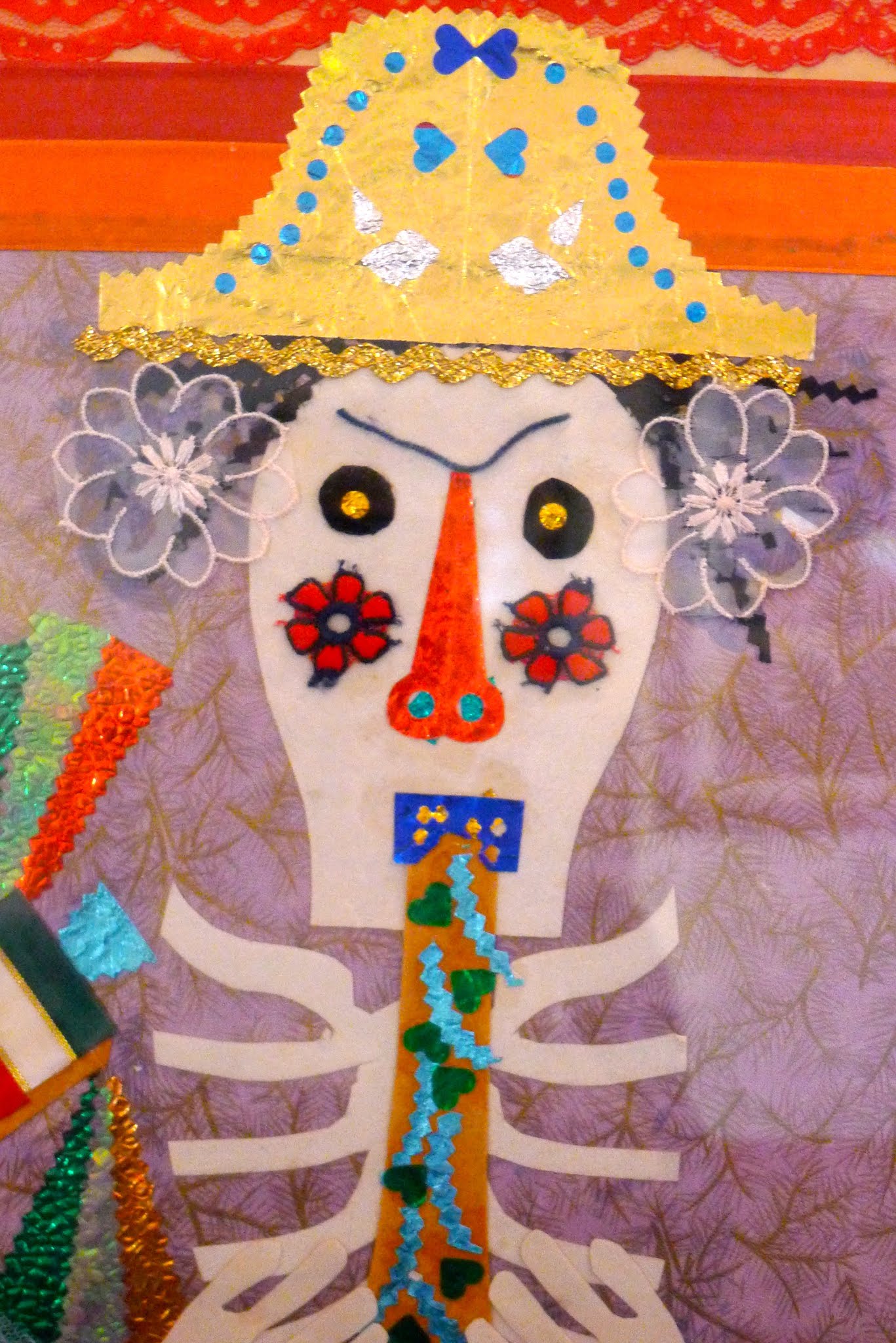 Other materials can be used for creating and decorating the skeletons, as seen here.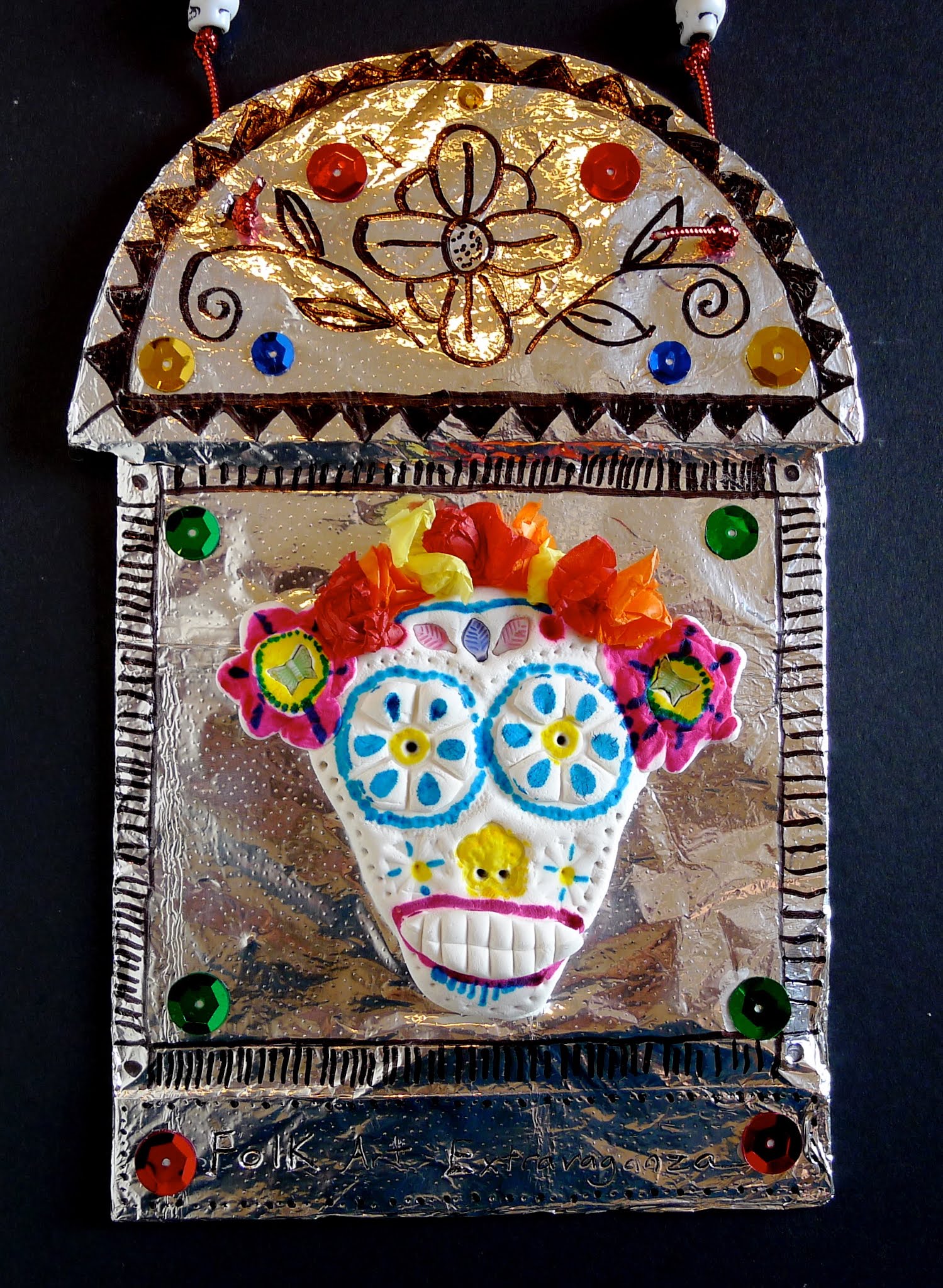 Skulls can also be used in other ways. This skull has a foil and cardboard background and tissue paper flowers.
When you display these skeletons, also post an explanation of the Days of the Dead and the steps your students went through to create them. You will educating everyone who sees the display.