SchoolArts Room
Seeing through You: A High School Lesson from Betsy DiJulio
Depending on when and where you started teaching, you may or may not be familiar with overhead transparencies. Back before laptops and Promethean boards were a twinkle in the eye of our school division, our only option for projecting images was via slide projector or overhead transparency. And I came across a lot of the latter during a recent and overdue office purge.
---
Note - Since SchoolArts Magazine wasn't able to print all the student artwork for Betsy DiJulio's article, I am sharing more of it here
.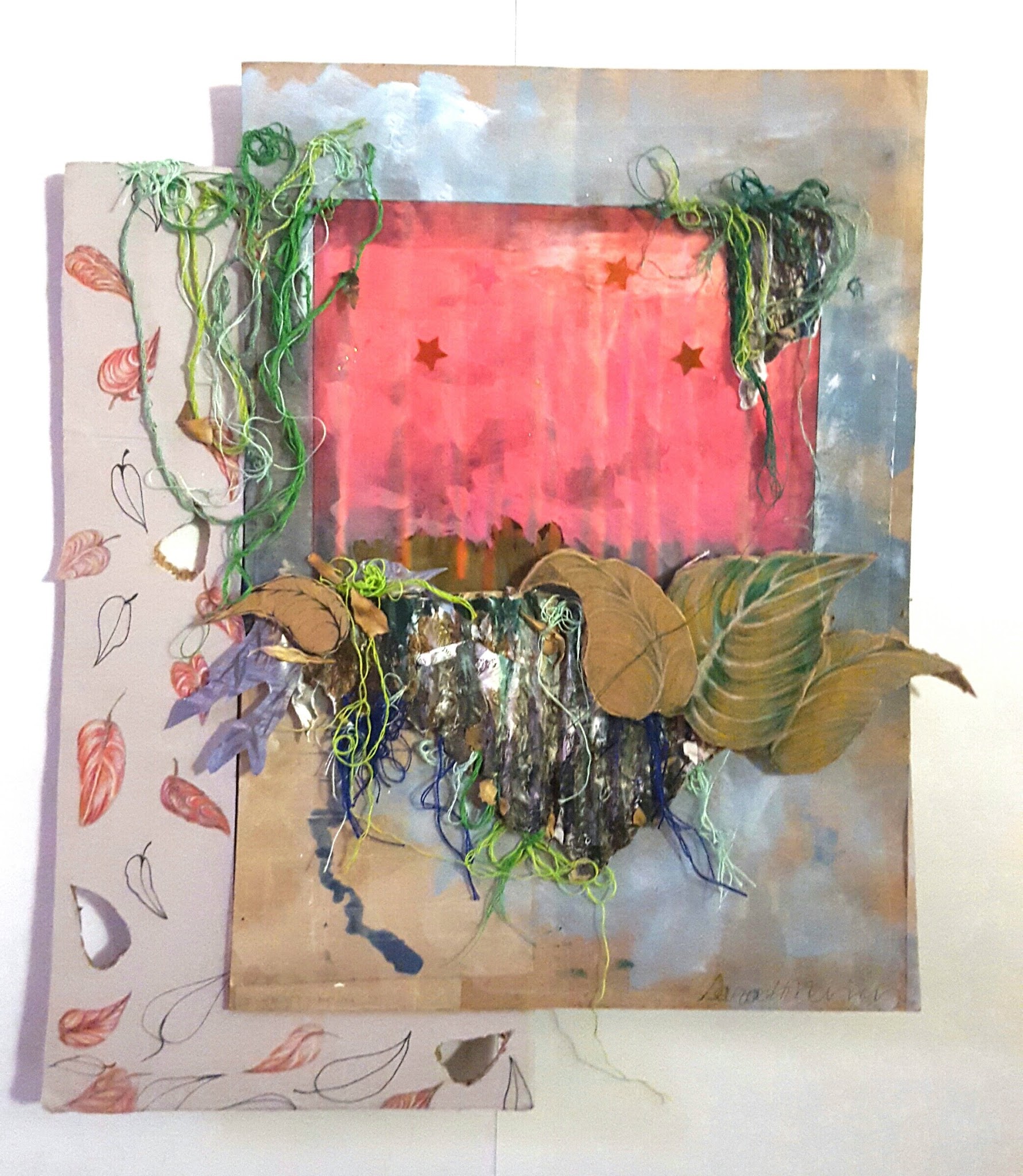 Inspiration from Artist Jason Watson
At around the same time, in response to an image of my own work that I had posted, a local professor suggested I might find an affinity with the work of Jason Watson. Indeed I did. In fact, it resonated so strongly with me that I used Watson's work as a journal prompt for my Advanced/AP Studio class. Almost immediately, it occurred to me that I could borrow from his approach to image making to inspire a new Creative Challenge that would incorporate the transparencies.
With my world recently shaken by the sudden and unexpected death of my adored 56-year old husband from a heart attack—and the equally abrupt and unforeseen deaths of my similarly adored dog on August 24 and mother on October 2—my approach to teaching—to everything—has shifted somewhat. I feel less of a need to control outcomes, presumably because I realize how illusory our feelings of control are anyway.

And I am willing to be even more experimental, a shift that I attribute to a feeling of freedom related to experiencing great loss.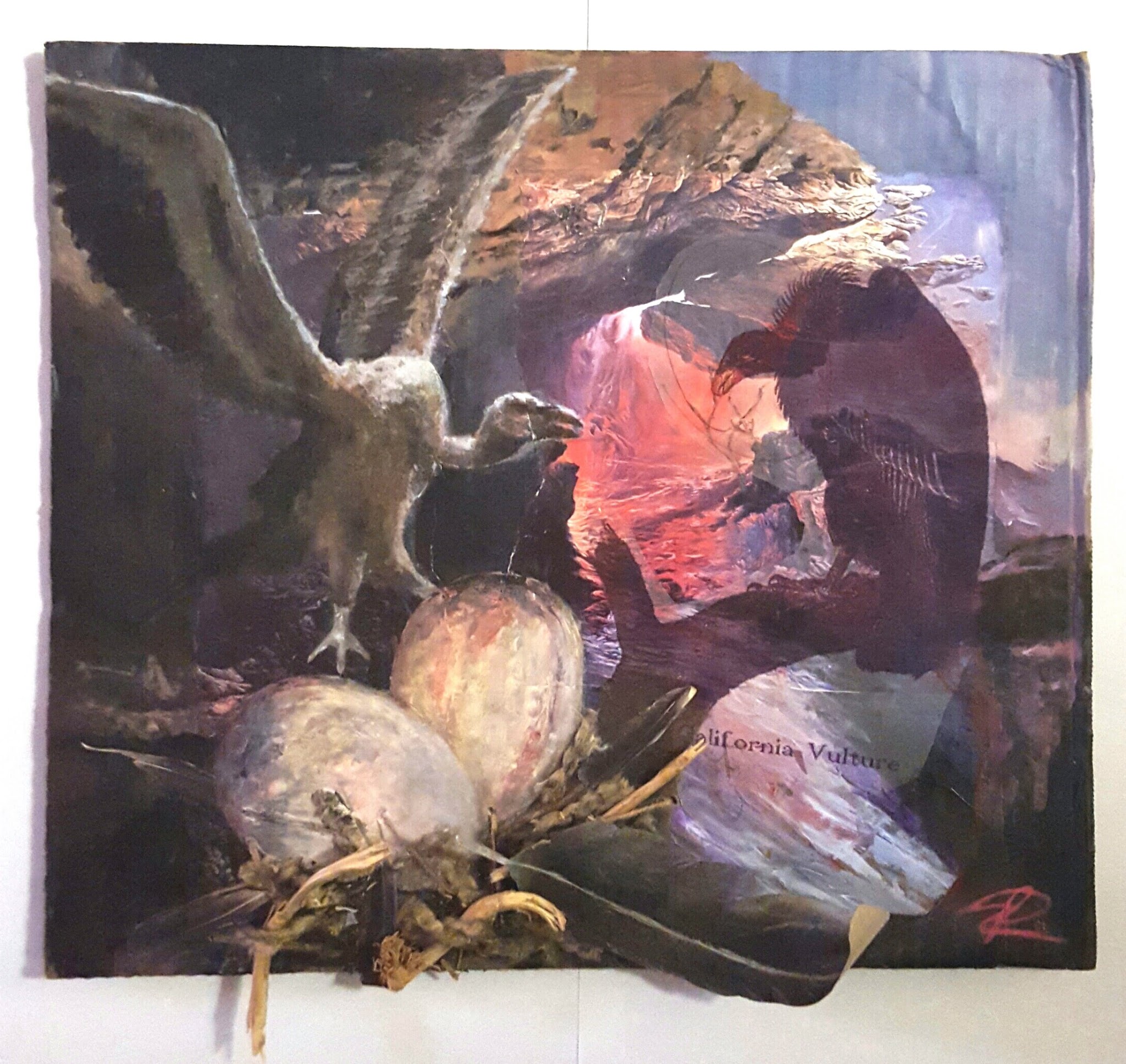 So far this year, in all of the classes that I teach, I have yet to repeat a Challenge from year's past. My mind is restless and distracted, and creating everything new seems to work for both me and for my students with results that, in some ways, are more divergent and less predictable than in the past.
And so, it is against this backdrop that "Seeing through You" was born.
Though I provided plenty of parameters for my students to be successful, I left much about the Challenge unrestricted, asking and answering my own question thusly, "Why am I being pretty open-ended? Because this is an advanced course, and I want you to think, struggle, problem solve, experiment, explore, and make it all work in the end…like the real artists you are!"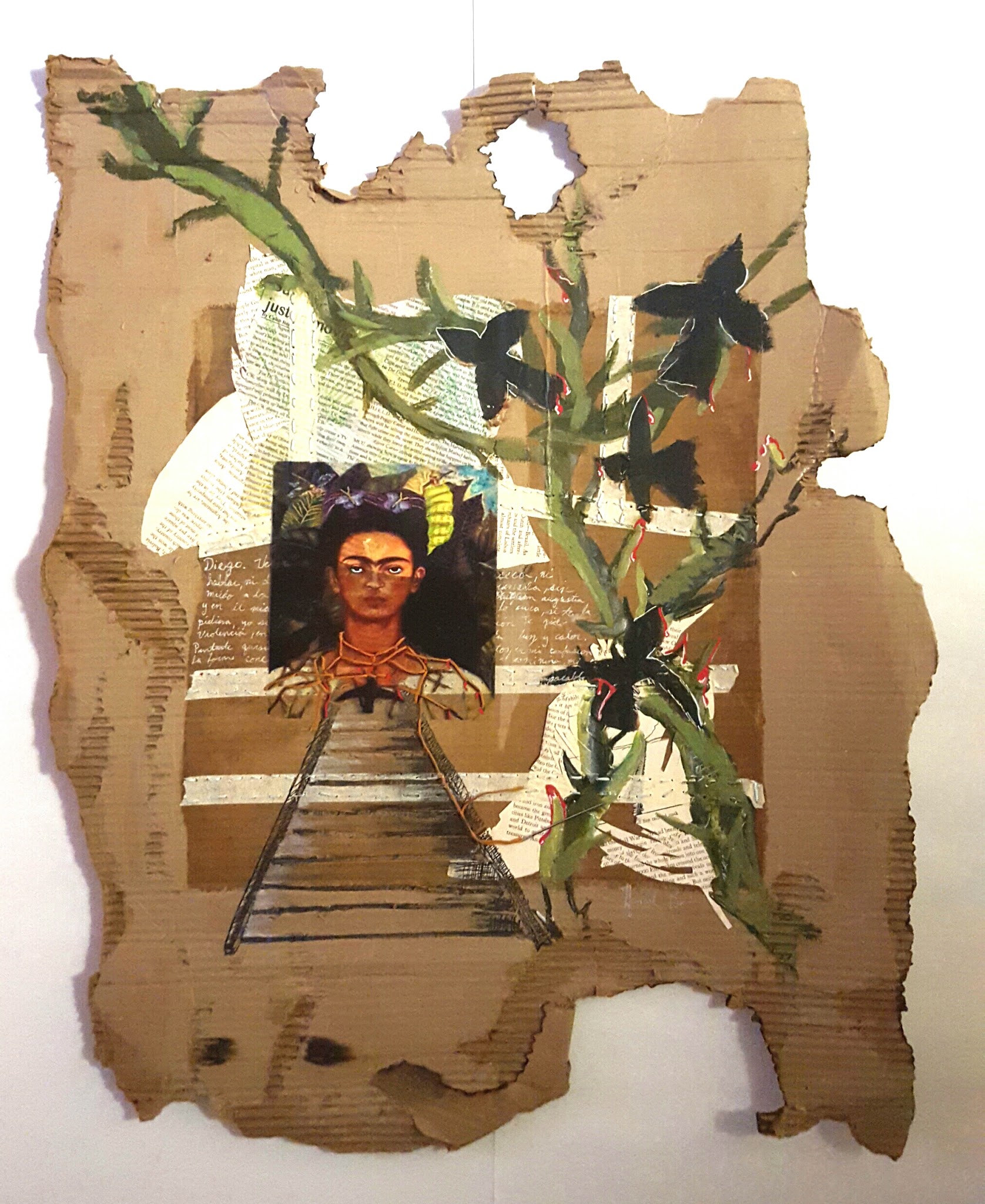 Parameters of the Challenge
To begin, I challenged students to create mixed-media drawings/paintings/collages that explore the concepts of their choice and were inspired by Jason Watson, while avoiding Watson knock-offs. And I explained that the parameters for this Challenge were taken directly from his work for them to address in their own innovative ways. These parameters included supports of their choice, inclusion of the transparencies, at least three collaged objects/images/patterns, at least three hand-drawn or painted objects, "found" object, and other design elements to pull it all together: lines, patterns, text, etc.
To kickstart the planning process, I invited students to choose transparencies that somehow related to them. Then, in their sketchbooks, I asked them to make a list of ten concepts that their transparencies suggested; to circle the three that resonate most powerfully with them, to make three separate lists—one for each concept—of objects that somehow connect to their concepts and, ultimately, to create a thumbnail sketch.
Emphasizing that the thumbnail sketch would serve as a starting point from which other ideas or directions could be built upon, I left them with a couple of final thoughts in regard to how they would know when it was time to stop. I suggested that they use design principles to determine what to do, for the danger with this approach is that, with so many disparate components, the composition becomes chaotic and fails to unify as a harmonic whole. And, to counter that, I advised the students to use their transparencies not only to spawn concepts, but to inspire color palettes, object/image selection, design elements to repeat, and so forth.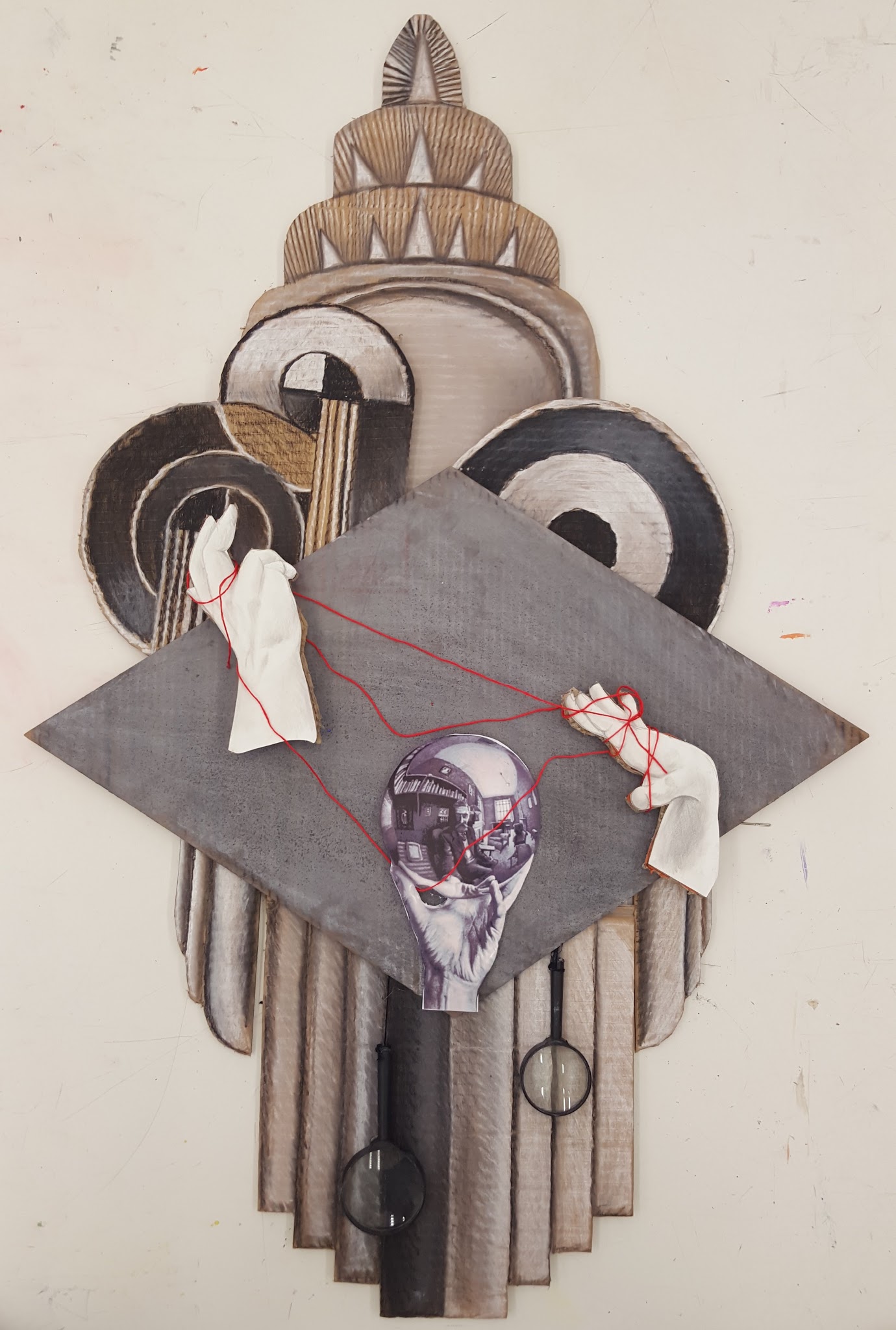 To a person, in a class of 28 students, my students dug into this new experience with enthusiasm, focus, and a sense of purpose, exhibiting willingness to take risks, experiment, go their own way, and produced finished pieces unlike anything they had ever created before.

It was exciting to watch them work, participating mostly to ask a few guiding questions, to reinforce the tenets of strong composition, and to help them understand appropriation within a contemporary art making context.
By struggling to be transparent about my own personal challenges, I was able to create an artistic challenge for my students that encouraged them to "see through" the lens of other artists to their own unique visions.
Sketchbooks, Pencils, and Erasers

Variety of Supports, e.g. Corrugated Cardboard, Tag Board, Found Objects such as Books

Transparencies

Gel Medium or Spray Adhesive

Scissors and/or Xacto Knives

White Acrylic Paint, Palettes, Cups, Brushes, Water

Sketchbooks, Pencils, and Erasers

Variety of Supports, e.g. Corrugated Cardboard, Tag Board, Found Objects such as Books

Transparencies

Gel Medium or Spray Adhesive

Scissors and/or Xacto Knives

White Acrylic Paint, Palettes, Cups, Brushes, Water

Mixed-Media: Gel Pens, Ballpoint Pens, Sharpies, Charcoal, China Markers (white and black), Needles and Embroidery floss, etc.

Found Objects, e.g. Toothpicks, Pieces of Metal, etc.
Betsy DiJulio is a National Board Certified art teacher at Princess Anne High School in Virginia Beach, Virginia, and the VBCPS 2010 Citywide Teacher of the Year.