SchoolArts Room
SchoolArts Themes for 2011-2012
Now that we're approaching a new year, my thoughts turn to themes for SchoolArts Magazine for next year.
---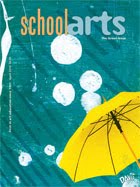 I've decided to draw themes this time from the "big ideas" in Davis Publications' middle school textbooks, A Personal Journey, A Community Connection, and A Global Pursuit. These themes are deliberately broad.
Prospective authors, please make note that each issue is planned four months before actual publication, so we are always working ahead. That said, don't worry too much about fitting a particular theme. It is more important to be passionate about your lesson, idea, or concept. Check out our writer's guidelines and then please let me know if you have any questions.
The themes for 2011–2012 will be:
August/September: Identity and Ideals
October: Responding to Nature
November: Telling Stories
December: Belonging
January: Order and Organization
February: Messages
March: Connecting to Place
April: Making a Difference
May/June: Looking Beyond