SchoolArts Room
New SchoolArts Available
The Aug/Sept. issue of SchoolArts is now available online. Sarah Brooks' student appears on the cover for her article, The Wish Tree Project.
---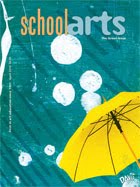 The theme of this issue is Compassion. I continue to be amazed and thankful that just about everyone seems to intuitively understand and accept that art can best express concerns for other people. And lest you think one person cannot make a difference, take note of all the projects detailed in this issue that are the result of one or two people beginning with just an idea and determination. You and your students can make a difference!
With this issue, we are delighted to introduce a number of new features, especially an innovative approach to our pull-out resource, Looking and Learning. Looking and Learning now feature multiple images by a variety of artists and explores "big" or "enduring ideas" expressed through contemporary art and art from other times and places. The feature is being written by Marilyn Stewart's able team of graduate students at Kutztown University of Pennsylvania.
We also welcome new columns by contributing editors Theresa McGee (Tech4ArtEd), Martin Rayala (Design Thinking), and Pam Stephens (Art Teacher's Round Table). Welcome back to school!