SchoolArts Room
Media Arts
Back in March of this year, no one could have predicted the challenges art educators are now facing in this time of remote teaching. Many teachers have had to prepare for face-to-face instruction with new protocols and social distancing measures in place.
---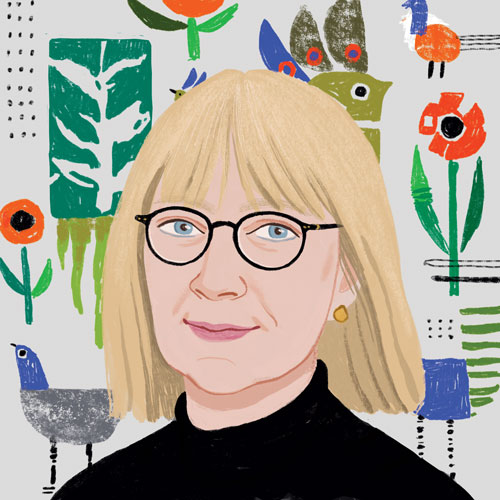 Nancy's digital portrait is by Pervotsvet, an illustrator for the Covatar Project. Covatar creates hand-drawn digital portraits of people and pets while also supporting graphic artists and charities.
Many of these teachers are also teaching remotely while teaching in-person, often simultaneously. Zoom, Canvas, Google Meet, and similar platforms have become critical components of teachers' content delivery systems.
The good news? Though art teachers have been unfailing in their efforts to get traditional art materials to their students learning from home, media arts offer an additional approach to the artist's toolkit. There is no time in our students' lives that this technology didn't exist. Perhaps most importantly, media arts are engaging to our digital natives. As art is a product of the time in which it is made, media arts reflect our contemporary world and students' interests.
The proliferation of smartphones, tablets, and digital cameras provides the opportunity for students to use such devices as media for making art, especially through photography. For example, our two high-school studio lessons this month utilize photography. Diane Wilkin's "Robot Zoo" (p. 34) is a blend of imagination, digital photography, and photo manipulation, and in Joe Medina's article, "Altered Egos" (p. 20), photographic portraits are manipulated and distorted.
Media arts can also be the bridge between digital and hands-on activities. A transdigital project has a physical art-making component as well as a digital one. Kevin Fogelson's "Ready, Student Fun" (p. 30) and Tricia Fuglestad's "Color Monsters" (p. 27) are both examples of that.
As art teachers, we need to learn as much as we can of the digital world, accept help from our students and colleagues to do so, and continue to look for ways to effectively utilize digital technology for learning and creating through art.