SchoolArts Room
Mad About Meow Wolf
If you plan to come to Santa Fe, New Mexico anytime soon, be sure to plan a visit to Meow Wolf, an interactive, artists' collaborative art installation, fun house, and magical mystery tour. Meow Wolf is built inside a refurbished bowling alley, thanks to the largess of George R.R. Martin, author of The Game of Thrones and a resident of Santa Fe.
---
Meow Wolf originally was an art collective, formed in 2008. In 2015, Martin pledged $2.7 million to lease an abandoned bowling alley to be turned into a permanent facility.
It is difficult to describe Meow Wolf but inside is the House of Eternal Return, with clues to a mystery that may have happened there. Each of the rooms or spaces is designed by a different artist, with little apparent continuity between them.
You can move between spaces through a fireplace, a refrigerator door, a closet, a treehouse, and much, much more. Many of the exhibits react to movement with sound. Roni is "playing" the bones here.

You find your own way throughout the spaces, with no specific path to follow. You determine how you navigate the space.

This walk through space repeated the colors and objects found on a much smaller scale in a fish tank in another space.

I went with my husband and two friends this first time. We were lucky to go with Roni Rohr, an extraordinary art teacher and consultant for Meow Wolf's educational spaces, and Willamarie Moore, the new Director of Education at the Museum of International Folk Art.
It was impossible to photograph this well, but you actually go through the fridge door to go to another space. Meow Wolf seems to appeal to just about everyone. It was gratifying to watch the fun families were having throughout the space.


This interesting diorama could be seen only through a small window in a wall. Notice the eyes - eyes seemed to be a repeating motif throughout.

One of my favorite rooms was painted all in black and white, like a cartoon. The shadows were painted, too.
The facility also includes a maker space, where people can rent time and equipment. It looked like a small class was going on while we were there.

In addition, there is a learning center for children and their families with all kinds of art supplies and interactive materials to use.
These giant blue soft forms attracted a lot of use from the children there.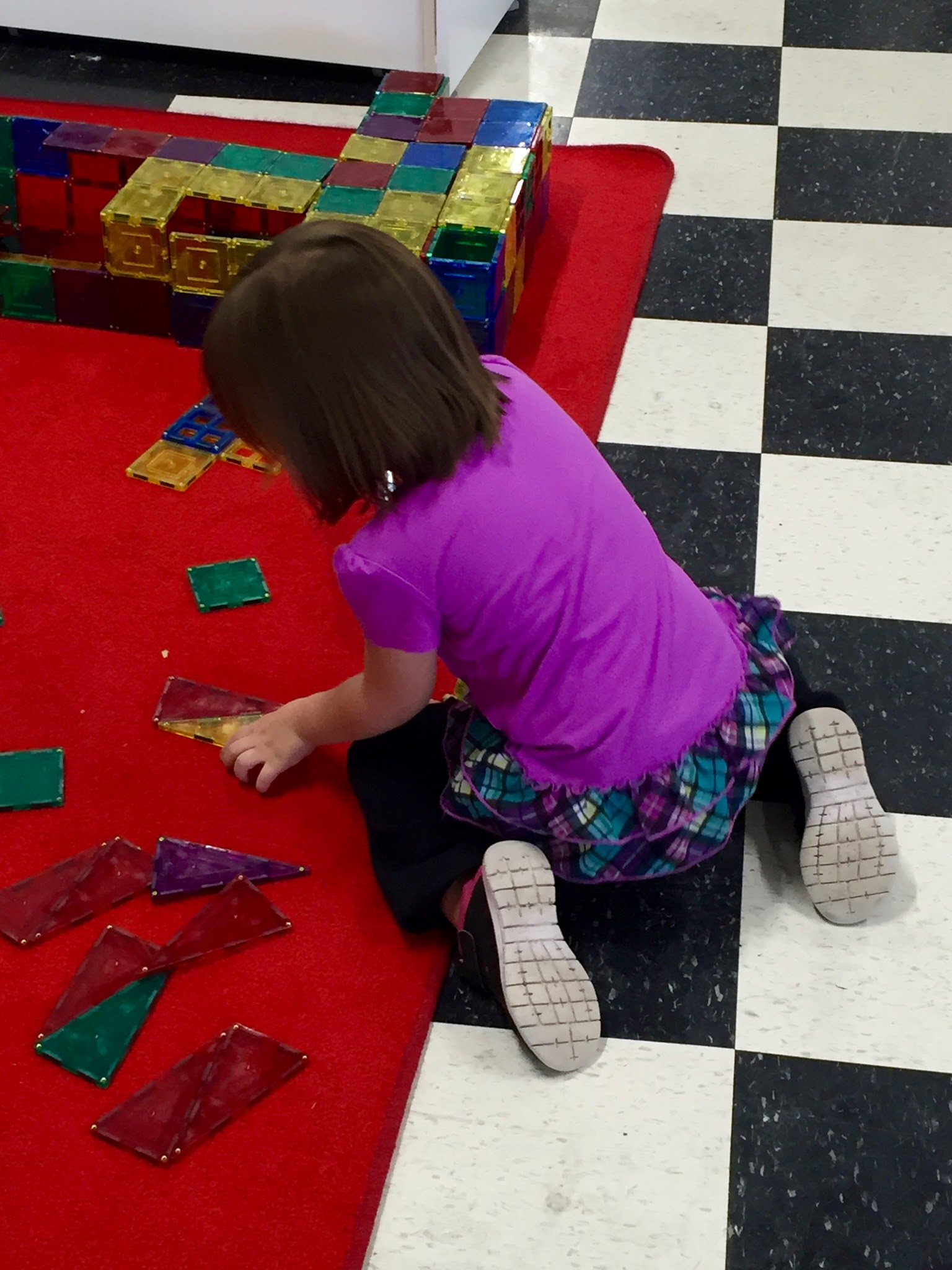 This little girl is playing with plastic squares that are held together by magnets.
Our visit was on a rainy Sunday afternoon so it became rather crowded as the afternoon proceeded. My recommendation is to go on a weekday morning at 10, leave for lunch (they'll give you an wrist band), and then come back for the afternoon. We will definitely be back there soon!