SchoolArts Room
Join Us for a Celebration of Pueblo Indian Art and Culture
Did you know that the Pueblo Indians of New Mexico are some of the few Native American peoples who have never left their ancestral lands? Join SchoolArts and CRIZMAC in Santa Fe in July for our Celebration of Pueblo Indian Art and Culture, July 12-19, 2015. You don't have to be a teacher to join us and family members and friends are also invited.
---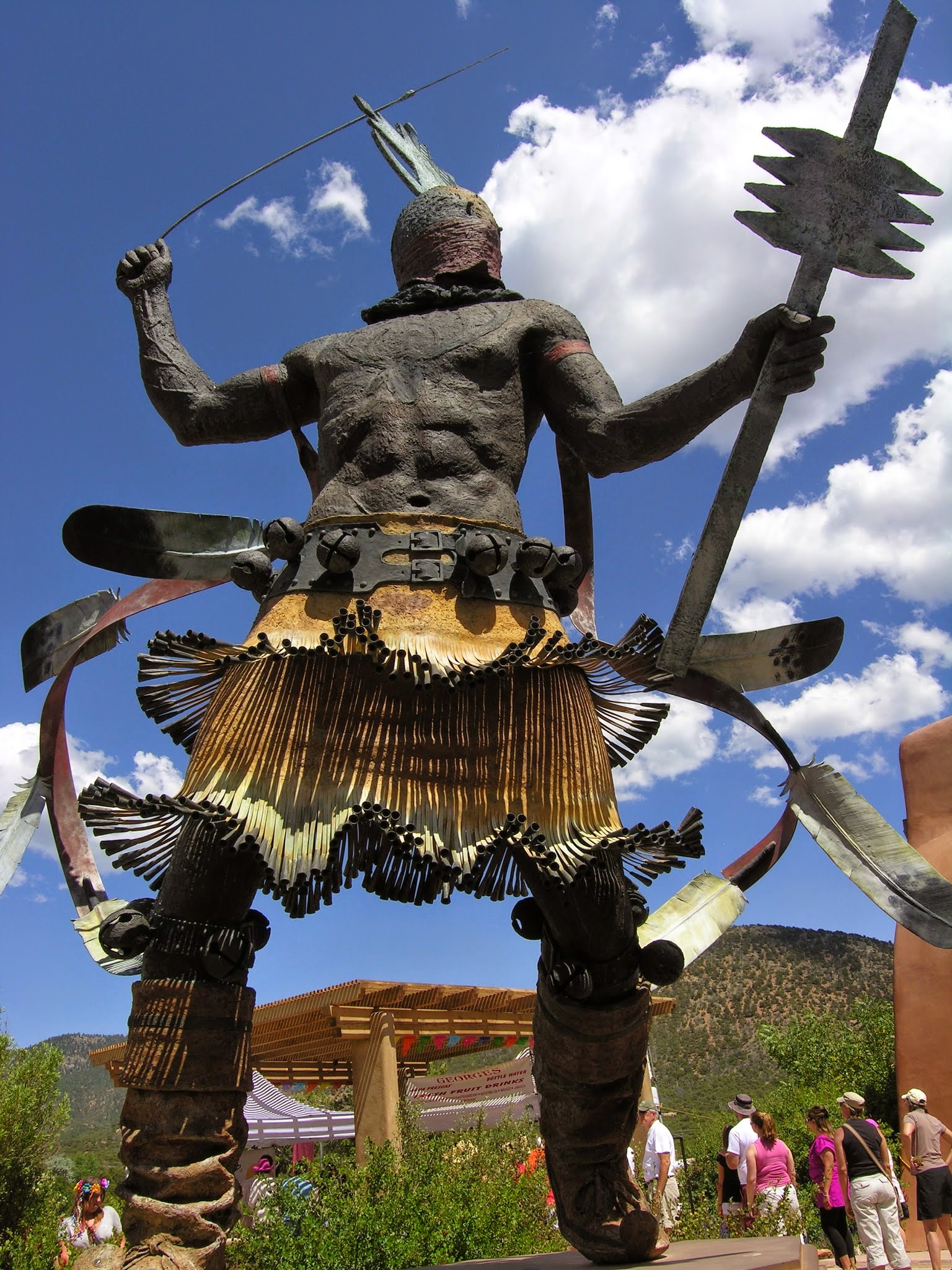 You'll experience the spectacular scenery of New Mexico and learn about the rich cultural history and artistic vitality of the Pueblo Indians. Centuries ago ancestral Pueblo people settled and flourished along the Rio Grande River. Today contemporary Pueblo Indians continue to practice their traditions and live rich artistic lives in the modern world. Some of the activities you will enjoy include visits to renowned museums, tours of historical sites and monuments, visits to the Taos Pueblo, Santo Domingo Pueblo, Pojoaque Cultural Center and Roxanne Swentzell's Tower Gallery. Firsthand experiences with award-winning Native American artists and presentations by Native American scholars, make this a unique, educational, and remarkable trip. You'll join SchoolArts magazine editor Nancy Walkup and CRIZMAC president Stevie Mack for this unique trip, which offers you a rare opportunity to explore behind the scenes the artistic and cultural traditions of the Pueblo cultures.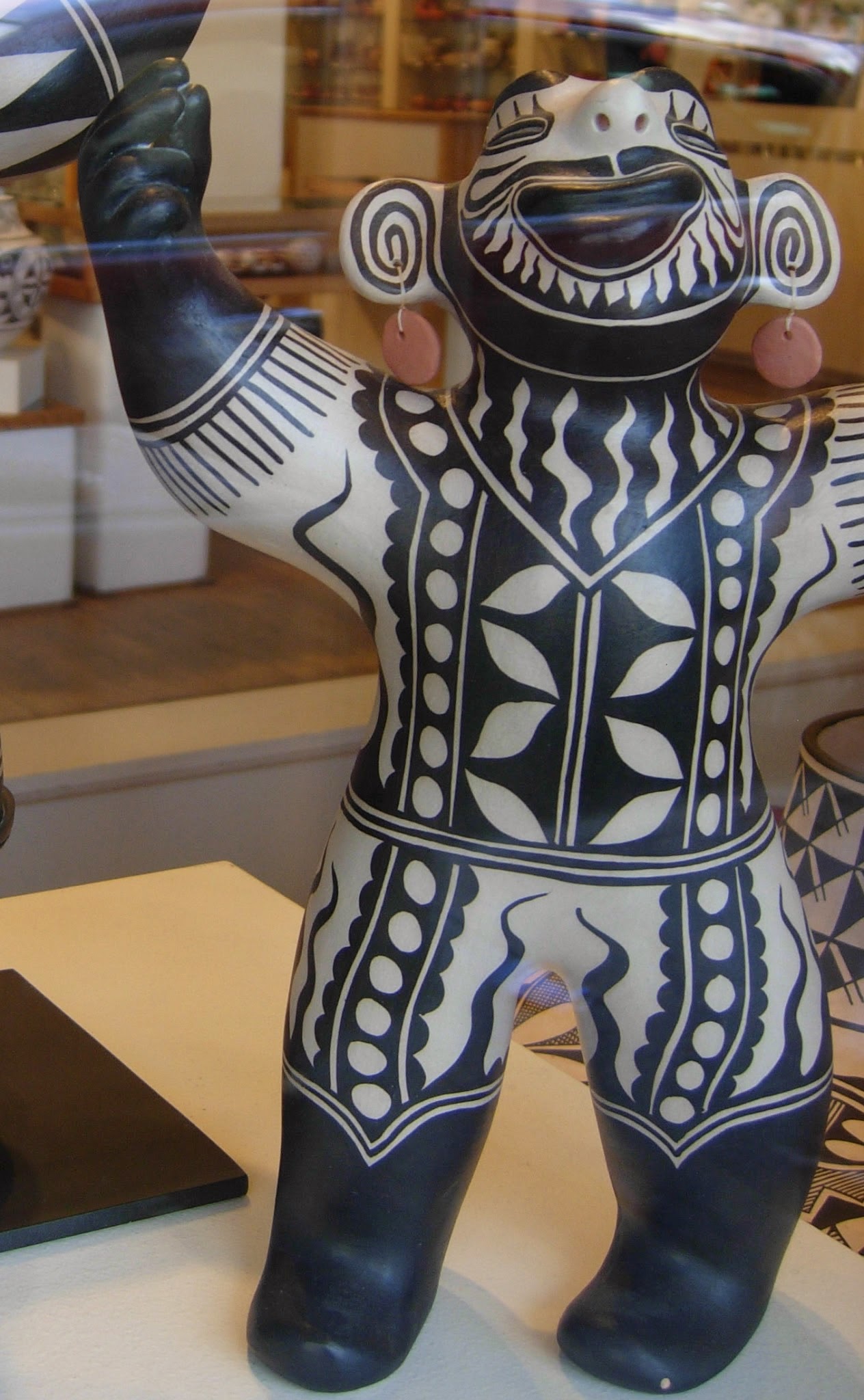 You'll learn about the contemporary work of Virgil Ortiz.
Daily Itinerary

Sunday, July 12: Arrive in Santa Fe, New Mexico and Welcome Dinner
Upon your arrival in the beautiful city of Santa Fe, New Mexico, check into the charming and comfortable Inn of the Governors. Our hotel is well located, within walking distance to the central historic plaza, museums, galleries, restaurants, and incredible shopping. If your arrival time allows, stroll around and familiarize yourself with "everybody's favorite city different."
In the evening,
Stevie Mack and Nancy Walkup will meet you in the hotel lobby
and escort you to a welcome dinner with our group of travelers
(D)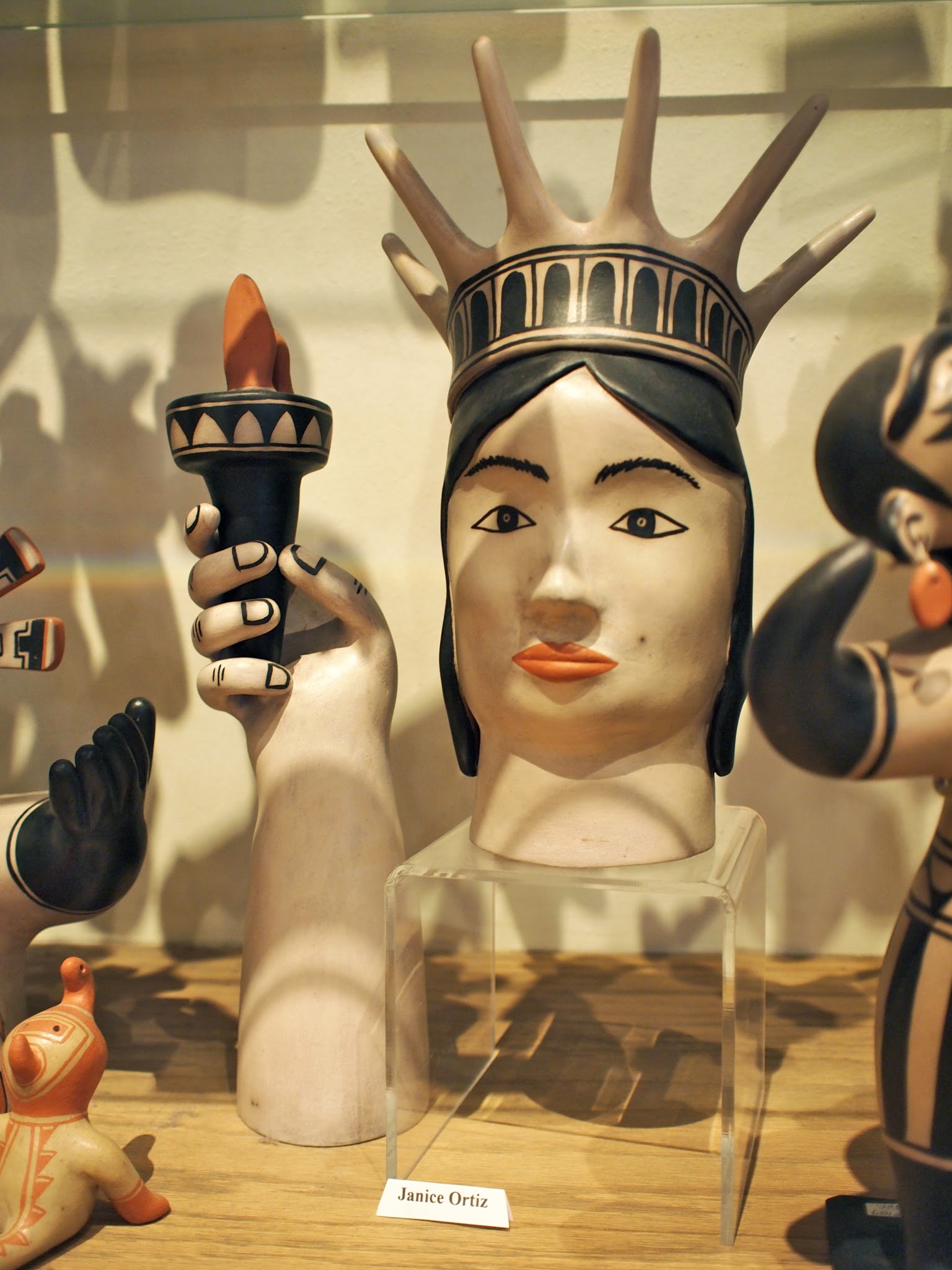 At the Andrea Fisher Gallery
Monday, July 13
: Opening Session; Introduction to Pueblo Indian Art;
Screening of Surviving Columbus
";
Presentation by Pueblo Indian Artist, Teacher, and Historian John Reyna.
Every morning will begin with a hearty breakfast at the hotel. On our first day, trip activities begin with an introduction and orientation to our schedule of the week. You will receive a handout with historical and cultural information about the Pueblo people, including the places and artists we will visit. Educators will receive additional art lesson plans and ideas for developing interdisciplinary curriculum units.
After our introduction we will view the film "Surviving Columbus"
,
a movie that recounts the history and conquest of the Pueblo peoples of New Mexico by the Spanish, from a Native American perspective.
Following lunch
we will have the privilege to attend a presentation on Pueblo Art and Culture by John Reyna, a Native American from Taos Pueblo who works as a teacher, guide, and cultural interpreter. In his thought-provoking lecture he will tackle the challenging issues of stereotypes and prejudice. As a result of this experience, we will all be more aware and sensitive to the issues facing Native Americans. Reyna's talk will be followed by a demonstration by a Pueblo Indian potter.
(B)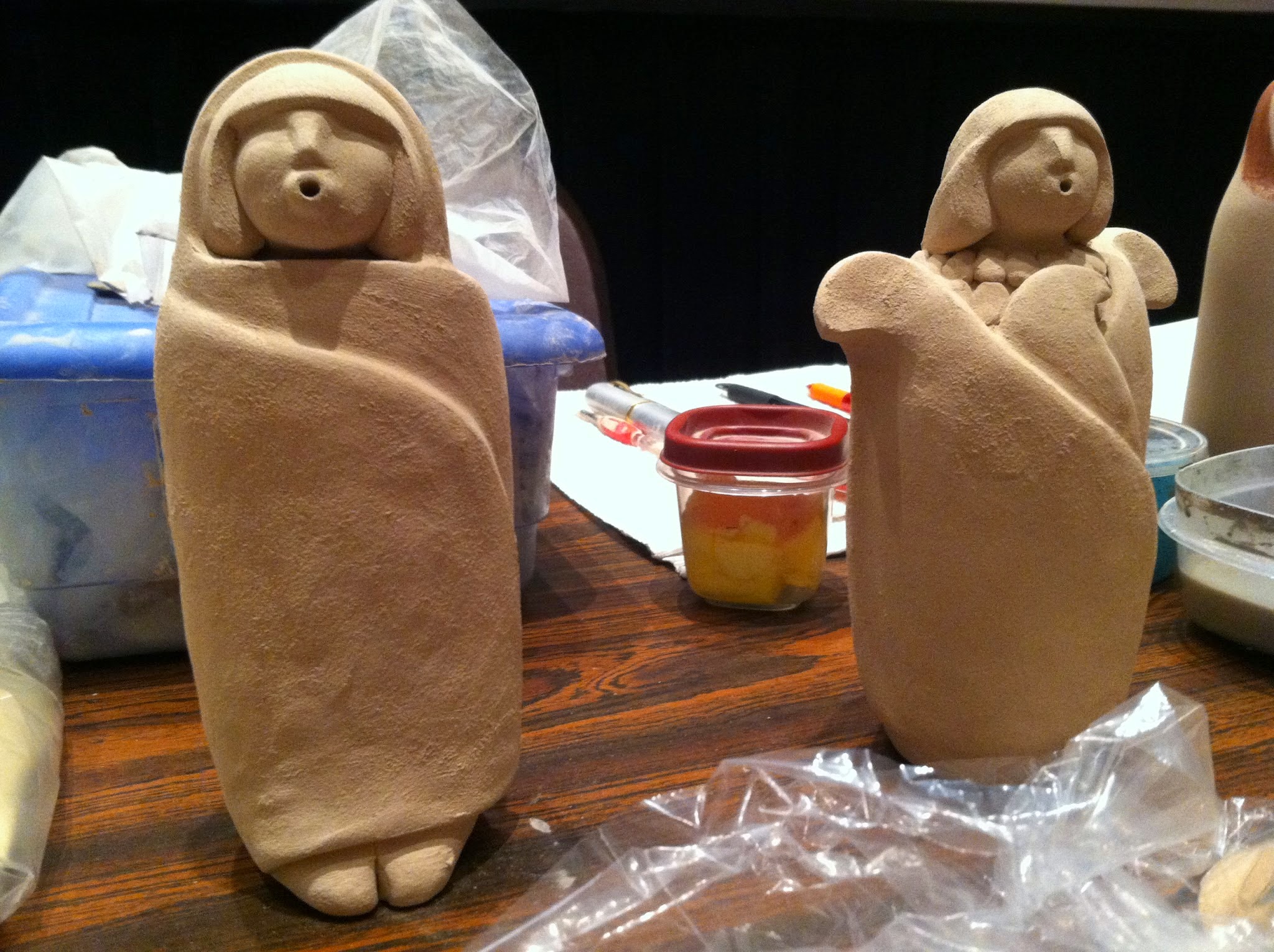 You'll learn about the clay traditions for each Pueblo.
Tuesday, July 14: Museum of Indian Art and Culture, International Folk Art Museum and the Wheelwright Museum of the American Indian
This morning we spend the day at the famous "museum hill" the site of some of Santa Fe's best museums. Our first stop is the visit the world-renowned Museum of Indian Arts and Culture, which houses an impressive collection of Indian Art of the Southwest. We will enjoy a docent tour of the The Buchsbaum Gallery of Southwestern Pottery. This exhibition features nearly 300 vessels created by outstanding ceramic artists of the Pueblos of New Mexico and Arizona, from the inception of pottery making in the Southwest up to the present.
We will also visit the current exhibitions and the educational and enticing museum shop.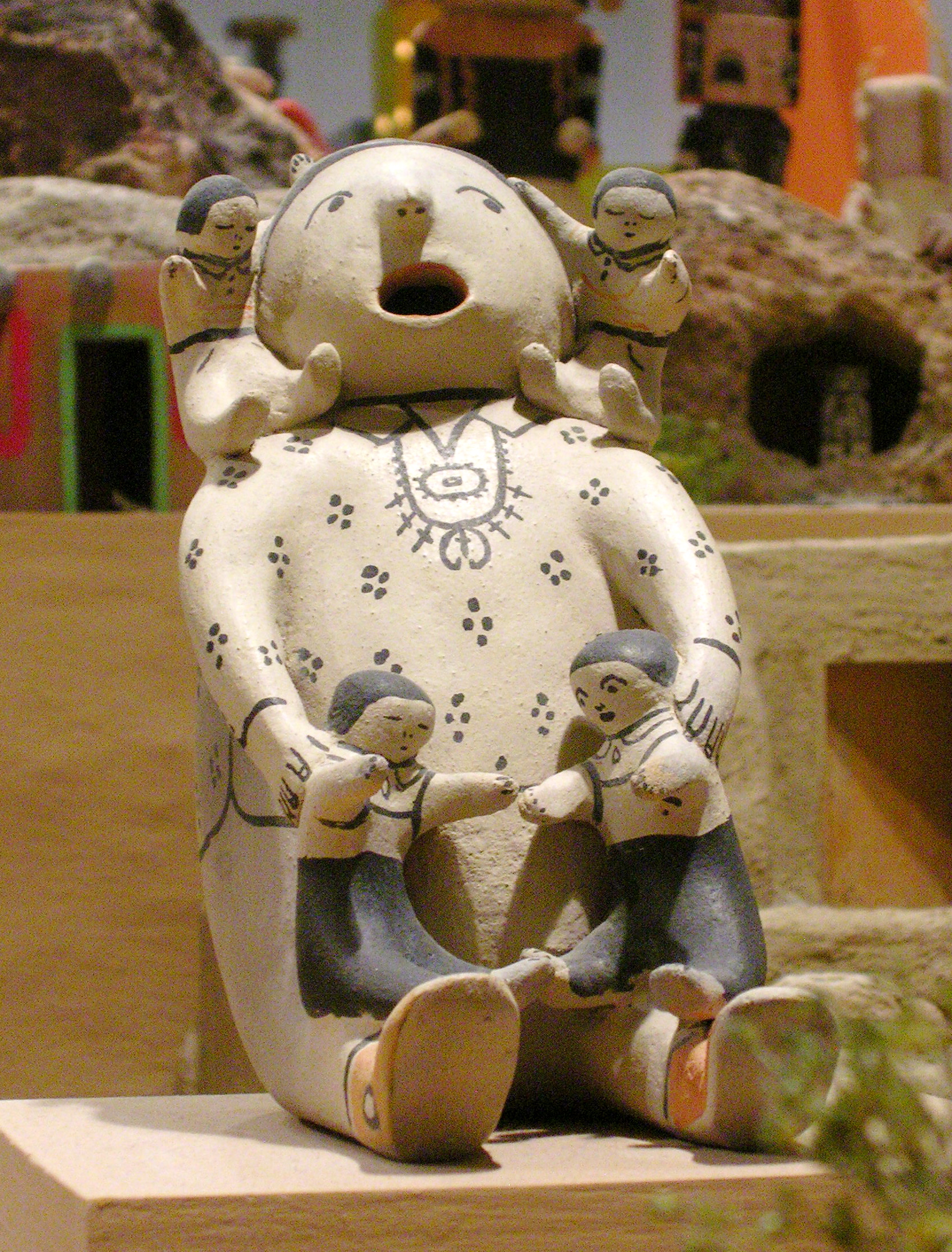 The original Helen Cordero storyteller.
After enjoying lunch on your own at the Museum Hill Café, the afternoon will be spent at the beautiful International Folk Art Museum home to the world's largest collection of
folk art. The collection of more than 150,000 artifacts forms the basis for exhibitions in four distinct wings: Bartlett, Girard, Hispanic Heritage, and Neutrogena. In 2003, the Museum celebrated 50 years of documenting, collecting, preserving and interpreting the creative works of traditional artists from cultures around the world. Time permitting we will stop at the Wheelwright Museum to view the current exhibition. After spending the day at three premier, world-class museums, we will return to the hotel with a few hours remaining for gallery viewing and shopping.
(B)
Wednesday, July 15: Home of Raymond Tenerio, Jeweler, Santo Domingo Pueblo;
After a delightful and satisfying breakfast at the hotel, we will depart for the Santo Domingo Pueblo, located south of Santa Fe. Traditions practiced in the Pueblo have altered little over the years. The native people have closely guarded their ceremonies, placing great emphasis on their ancient religious structures and societies.
While adhering to tribal authority, many of the artists are devoted to
the art of making jewelry.
We are invited to visit the home of Raymond and Gabby Tenerio to experience a morning in a traditional Pueblo home. Raymond, a very accomplished and well-respected artist, will demonstrate traditional and contemporary jewelry-making techniques that are unique to his Pueblo. Following the demonstration, we will enjoy a delicious home-cooked meal by Gabby.
After lunch, we will return to Santa Fe and enjoy the afternoon visiting galleries, shopping or resting.
(B, L)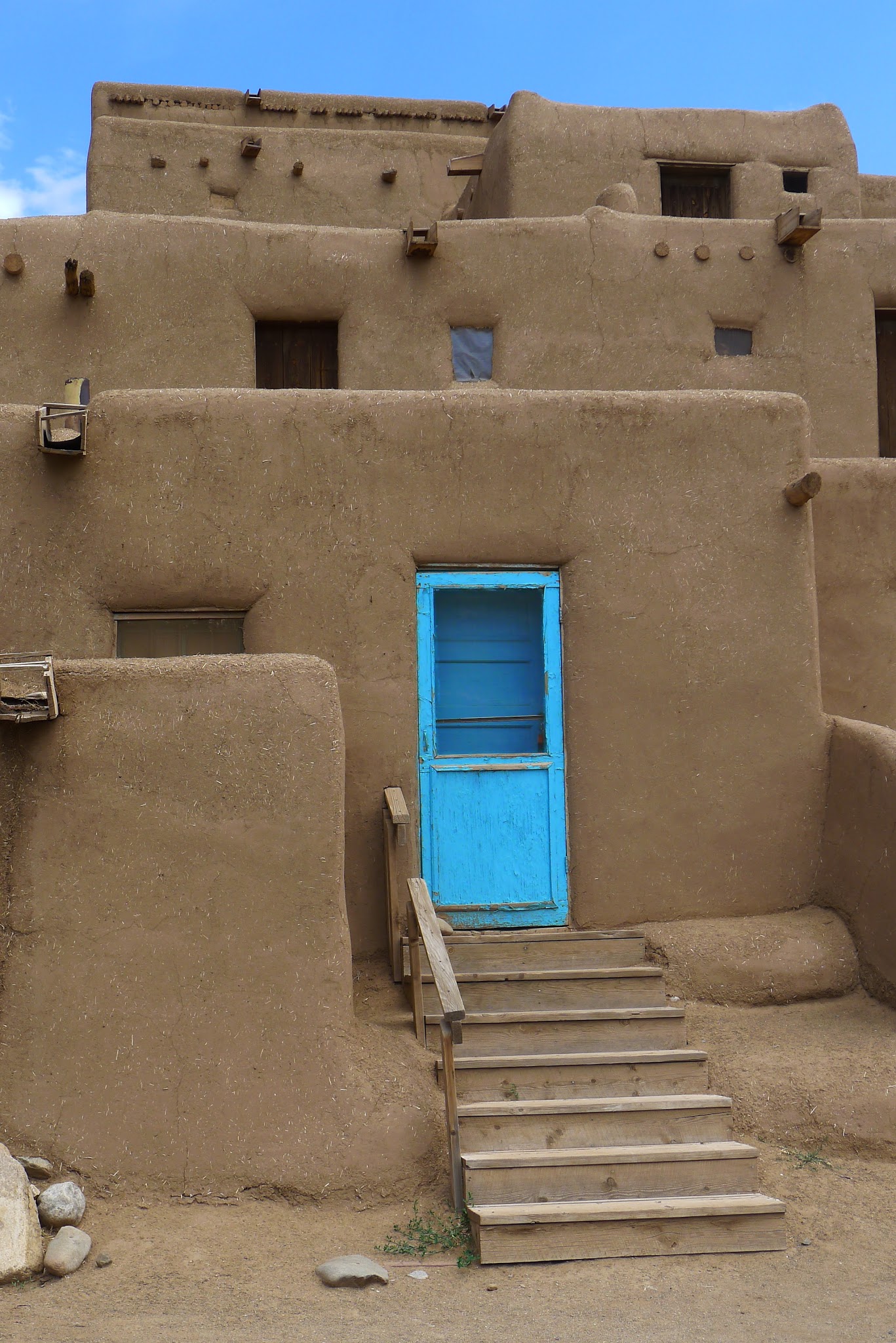 You'll visit Taos Pueblo.
Thursday, July 16: Taos Pueblo, Millicent Rogers Museum
We leave the city limits early and head north to the Taos Pueblo. Our time will be spent touring the pueblo and viewing the only multistory pueblo structure still standing in the U.S.
After our time at Taos, we will visit the central plaza of Taos for lunch on your own.
Our next stop is at the fabulous Millicent Rogers Museum, home to an outstanding collection of
works by Maria Martinez and members of her family, along with many other famed Native American artists.
(B)
Friday, July 17: Poeh Center, Roxanne Swentzell Tower GalleryOn another trip out of town we will visit the Poeh Center, established in 1988 as the first permanent tribally owned Center and Museum. A mechanism for cultural preservation and revitalization, the Center serves the Pueblo communities of the northern Rio Grande and provides a living pathway where tradition travels between the past and present and leads to the future. We will enjoy a lunch (no host) at local favorite nearby the Center.
The Roxanne Swentzell Tower Gallery is our next stop. Designed and built by the artist, the Tower Gallery houses the work of this celebrated, renowned contemporary clay/bronze sculptor. A Santa Clara Pueblo Indian, Roxanne has pushed the boundaries of her tradition and offers us the opportunity to view her breathtaking and evocative work, in clay and bronze.
(B)
Saturday, July 18:
Pablita Velarde Museum of Indian Women in the Arts; Museum of Contemporary Native American Art,
Andrea Fisher Gallery
We'll begin the morning with a visit to the new Pablita Velarde Museum of Indian
Women in the Arts to view the current exhibition. After learning more about Pabilta Velarde and her talented family of artists we will visit the nearby Museum of Contemporary Native American Art. Dedicated solely to advancing the discourse, knowledge and understanding of contemporary Native arts, the Museum's exhibitions, publications and educational programs challenge pre-conceived notions of contemporary art and houses the largest collection of contemporary Native art in the world.
After lunch on your own, our final activity for the is a stop at
the renowned Andrea Fisher Gallery to view a wide assortment of Native American traditional and contemporary pottery by artists from the Pueblos along the Rio Grande.
The collection is so board that it offers us the opportunity to
solidify your learning experience. The rest of the afternoon is free for you to enjoy as you wish. The evening we will
gather for a farewell group dinner.
Sunday July 19: Departure Day
Depart with many new friends, fond memories and a heightened appreciation for the remarkable Pueblo Indian people and their art and culture.
(B, flight time permitting)
Eight nights accommodations at the Inn of the Governors
Daily breakfast, one lunch, two dinners
Land transportation to seminar events
Museum and site admissions
Guides and demonstrations
Seminar handbook
Tours and excursions:
International Folk Art Museum
Museum of Contemporary Native American Art,
Museum of Indian Art and Culture
Pablita Velarde Museum of Indian Women in the Arts
Taos Pueblo
Tower Gallery of Roxanne Swentzell
Wheelwright Museum
Guest lectures and presentations by renowned Native Americans:
John Reyna
Raymond and Gabby Tenerio
Roxnane Swentzell (schedule permitting)
Pueblo Potter
Cost based on double occupancy rooms, single rooms available for an additional fee.
AIRFARE NOT INCLUDED
Every effort will be made to carry out all activities as planned and advertised, however, CRIZMAC and the seminar leaders reserve the right to make any alterations, deletions, or modifications to the itinerary and/or accommodations deemed necessary due to circumstances beyond their control.
Enrollment will be made on a "first-come, first-serve" basis. A $500.00 deposit is required to guarantee your space. Register by February 1, 2015 and receive a $50.00 gift certificate for CRIZMAC merchandise as an early booking bonus. Gift certificates will be included with your final tour documents. Registration and deposit payment may be made by phone, mail, or online at www.crizmac.comor in person at our Tucson Marketplace. Final payment is due 60 days prior to departure.
Cancellations must be received in writing. Participants who cancel on or before May 12, 2015 will receive a full refund less a $200.00 processing fee. If cancellation is made after that point, no refund is given. CRIZMAC will make every effort to operate the tours advertised. In the event CRIZMAC must cancel a tour, participants will receive a full refund of all seminar fees, however CRIZMAC is not responsible for losses due to non-refundable airline tickets or other travel arrangements. Travel insurance, available from CRIZMAC or your travel agent, is highly recommended.
Educators receive a certificate for 44 hours of professional development credit from CRIZMAC Art & Cultural Educations Materials, Inc.
For more questions or to register, please call CRIZMAC at 1-800-913-8555 or 520-323-8555,
www.CRIZMAC.com
$ 1795.00 per person based on double occupancy.
Single Supplement : $750.00
For more questions or to register, please call CRIZMAC at 1-800-913-8555 or 520-323-8555,
www.CRIZMAC.com