SchoolArts Room
Folk Art & Culture of Oaxaca
In addition to exploring the amenities of the city, you will visit thriving folk art villages where talented artists create fabulous woodcarvings, textiles, and pottery. You'll have the opportunity to visit the homes of the master Zapotec and Mixe artists to watch them demonstrate and discuss the techniques and traditions that make their work so special.
---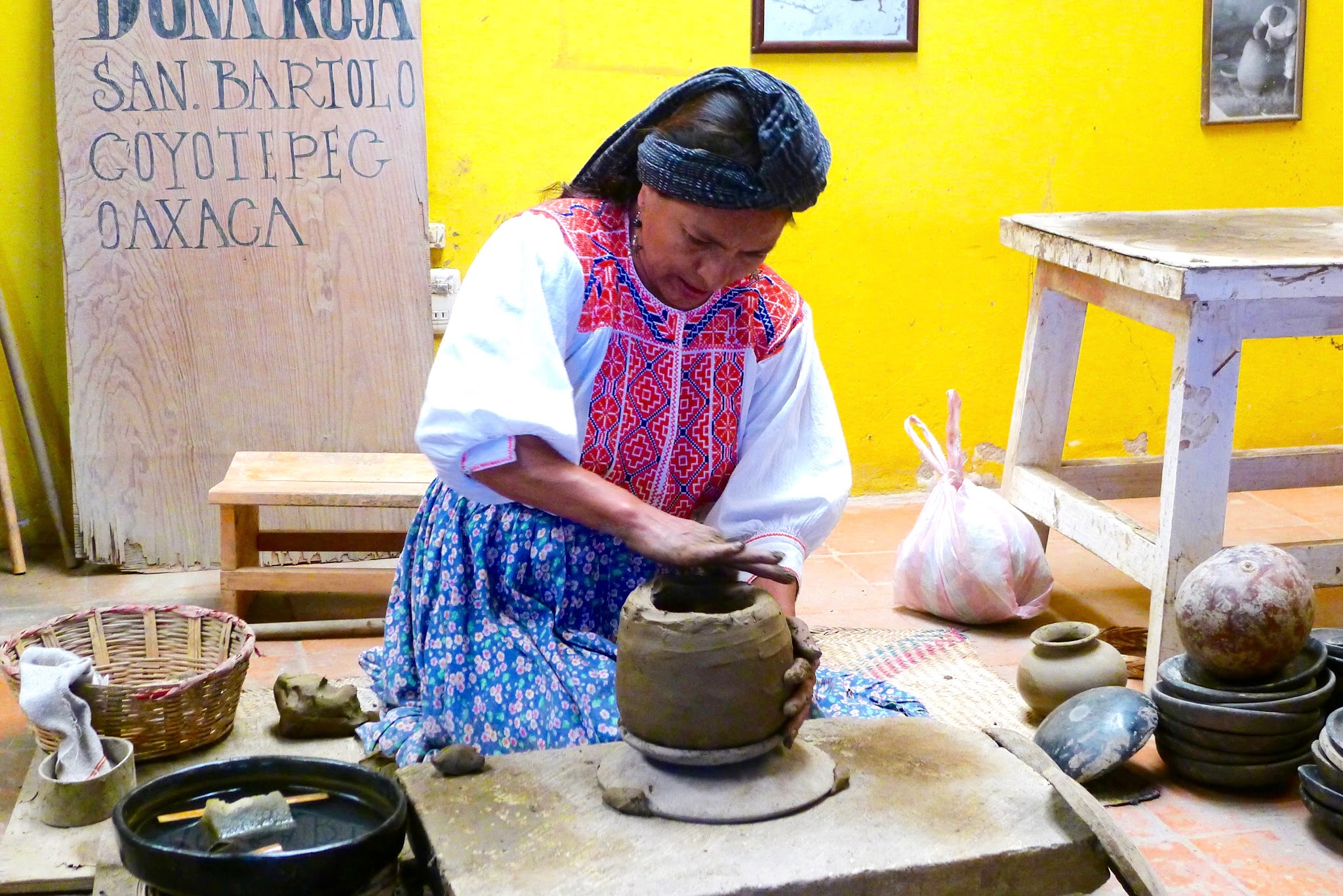 Clay demonstration at San Bartolo Coyotepec.
There is still time to sign up for our SchoolArts Magazine and CRIZMAC Folk Art

&

Culture of Oaxaca, scheduled for June 26-July 2, 2016.
Oaxaca City, designated a UNESCO World Heritage site in 1987 and one of the safest places in Mexico, is rich with historic colonial architecture, exquisite museums, and vibrant folk art traditions.
Opportunities to immerse yourself in the rich history and traditions through visits to museums and the stunning archaeological site of Monte Albán will deepen your understanding of the native people. Oaxaca is also known for its wonderful food and you can eat worry-free in the many fine restaurants around the city.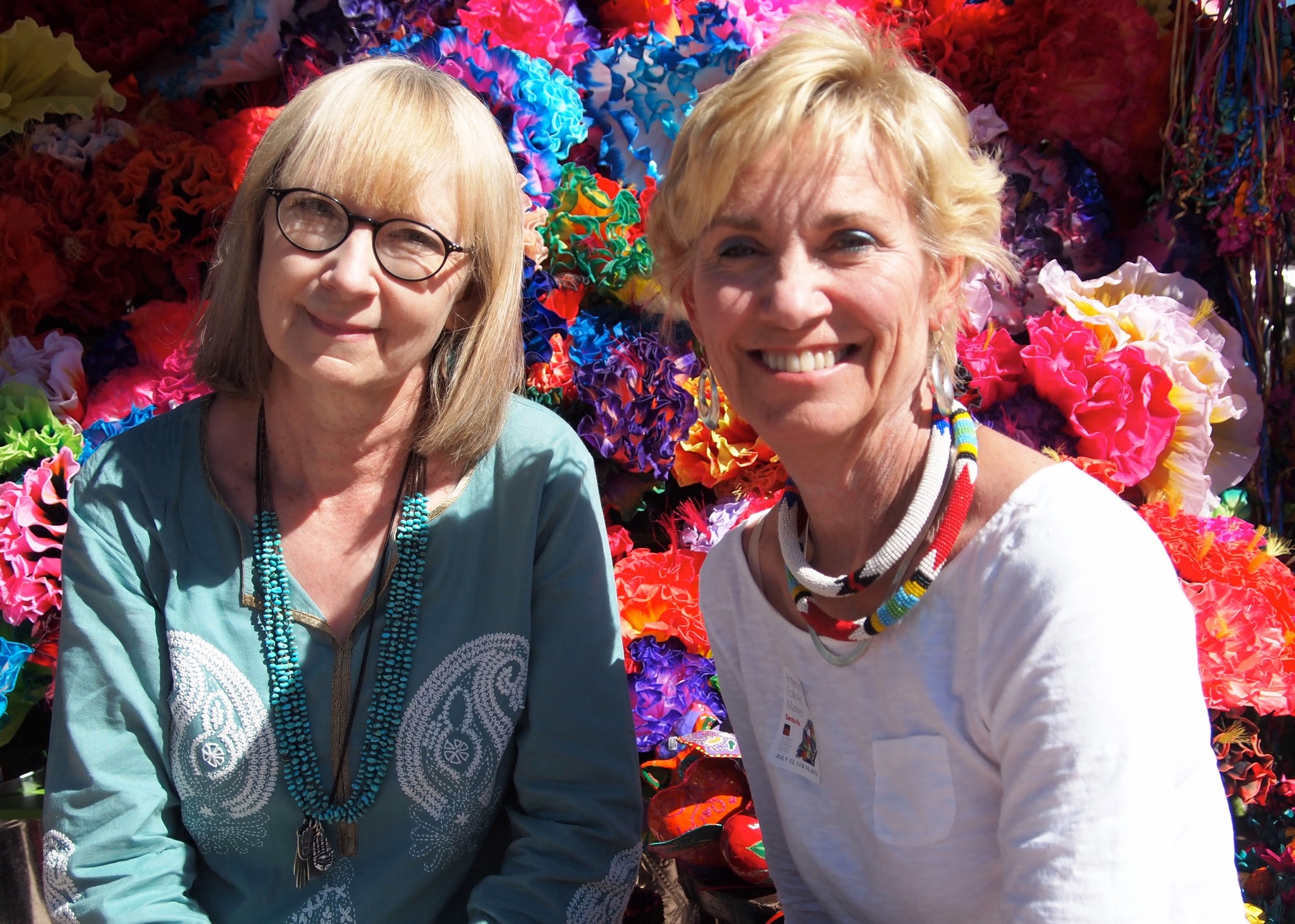 Nancy and Stevie
Your tour leaders, Stevie Mack, president of CRIZMAC and Nancy Walkup, editor of SchoolArts Magazine provide an intimate and rewarding travel experience, sharing with you the people and places that have made Oaxaca so special. The magic of Oaxaca is guaranteed to inform your art and capture your soul as well! All are welcome: folk art lovers, spouses, family, friends, etc.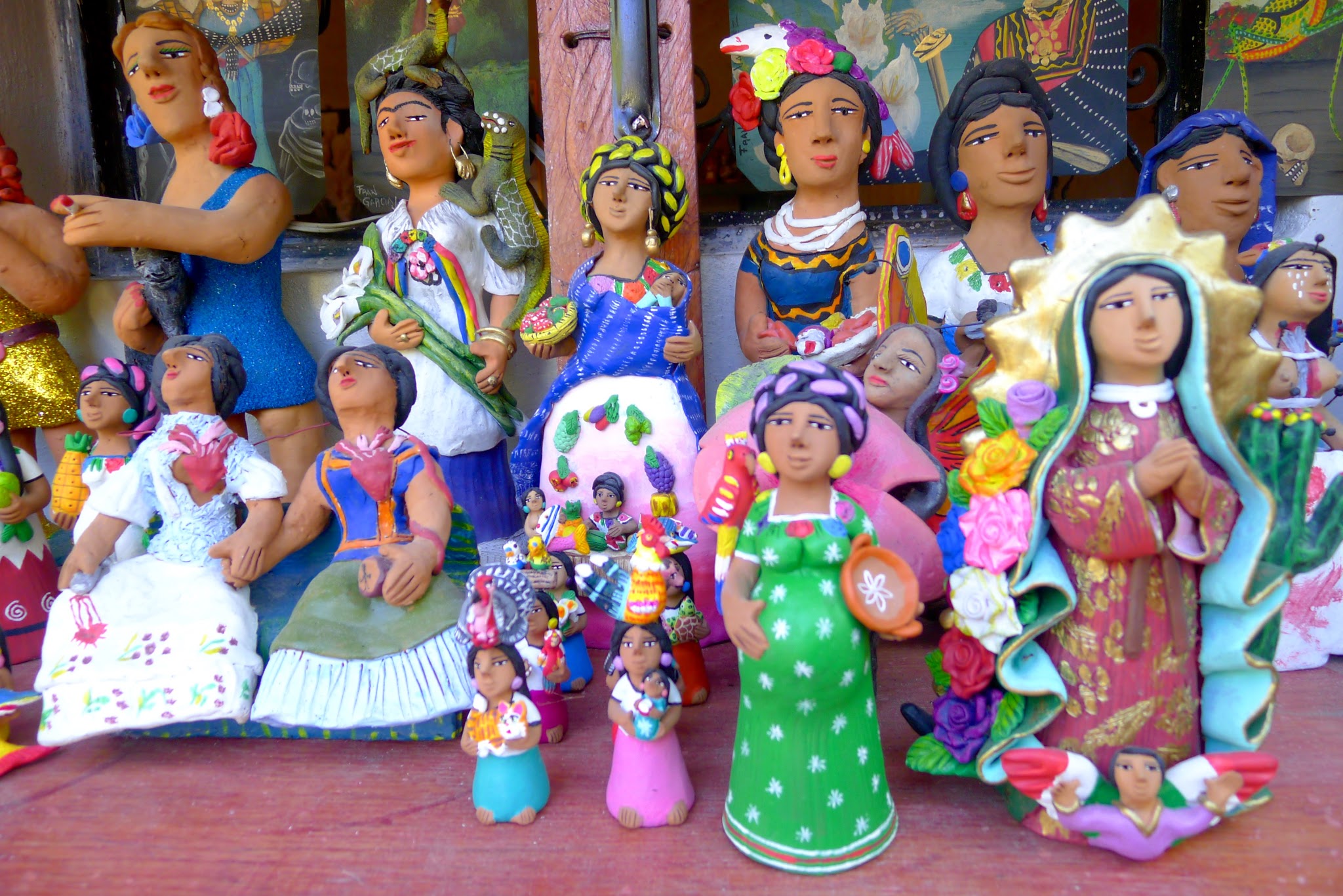 Painted clay sculptures by Josefina Aguilar.
Daily Itinerary
Included meals in parenthesis: B=Breakfast, L=Lunch, D=Dinner
Sunday, June 26: Arrive Oaxaca City, Mexico
Upon arrival in the Oaxaca City airport, you will be met by a tour leader and taken to our hotel located in the historic district. If your arrival time permits, you will be able to explore the sights and sounds of the historic plaza just a few blocks away.
Monday, June 27: Oaxaca City, Santo Domingo Cathedral, Regional Museum
After enjoying a delicious breakfast at the hotel, trip activities begin with an introduction and orientation to the week. You will receive a handout with historical and cultural information about the places and artists we will visit. Educators will receive additional art lesson plans and ideas for developing interdisciplinary curriculum units.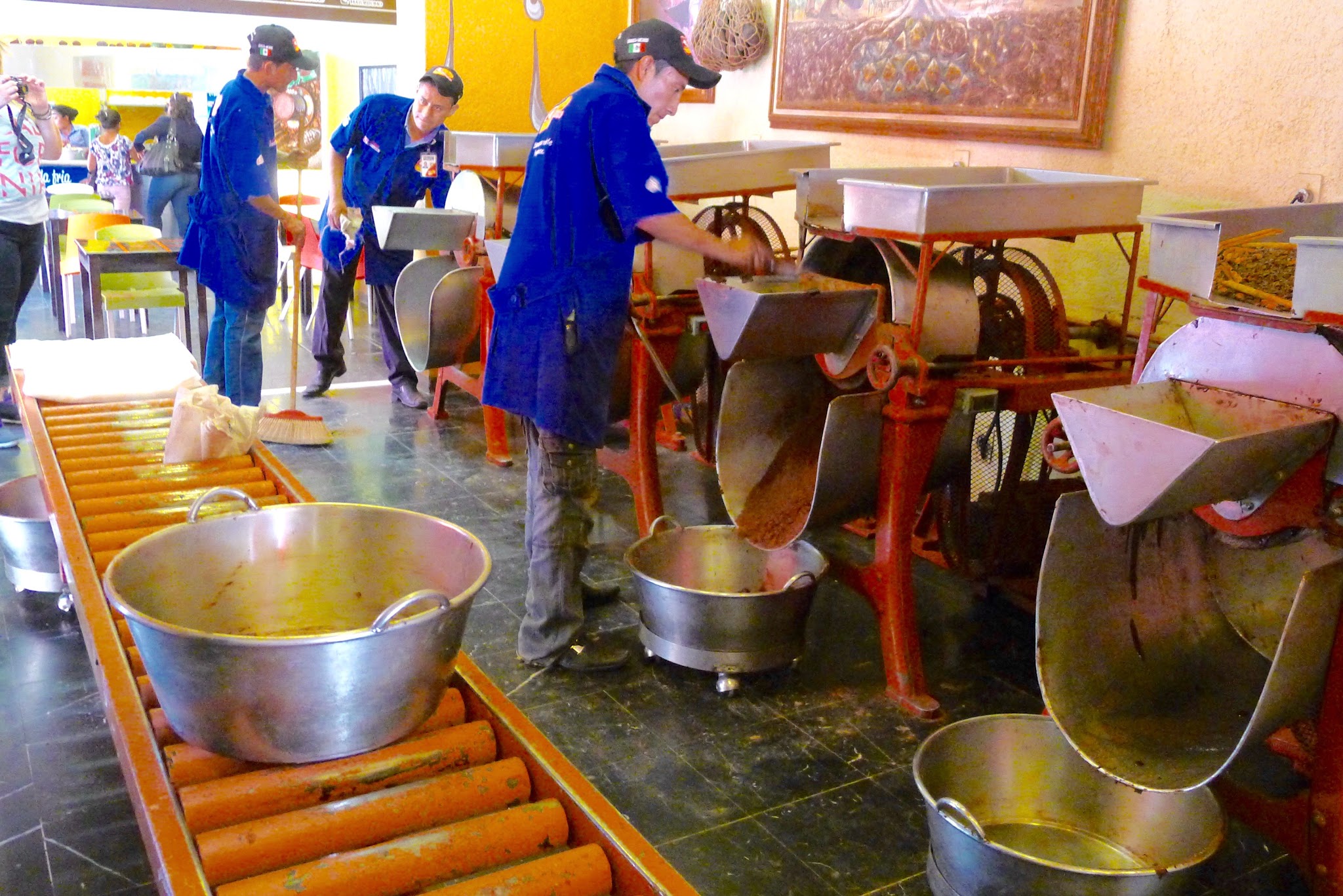 The chocolate factory in the Oaxaca market.
The orientation is followed by a walking tour of the highlights of the historic district, including a visit to the State Government Palace to view a wonderful mural that depicts the history of the region, a stroll through the public market, a chocolate-making store and more.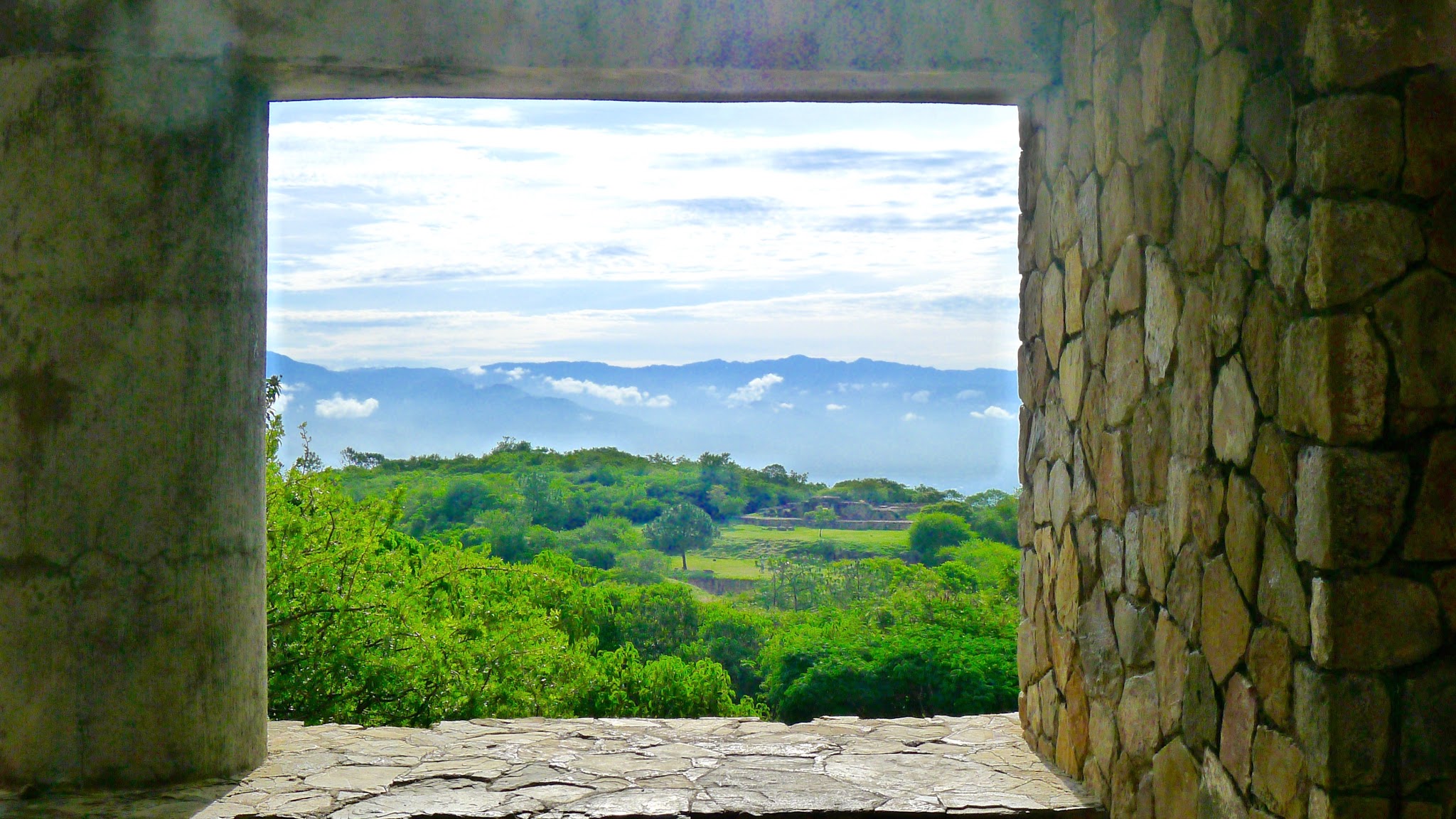 A view of Monte Alban.
After a break for lunch we will continue our journey through the city streets, past galleries, shops, and restaurants, to the beautiful Santo Domingo Cathedral and the Regional Museum, housed in the restored convent of the church. The museum showcases exquisite
Zapotec
and
Mixtec
treasures excavated from Tomb Seven at Monte Albán as well as colonial artifacts and a contemporary art gallery. After our tour, you will have some free time before we enjoy a welcome dinner together at a local restaurant. (B,
D)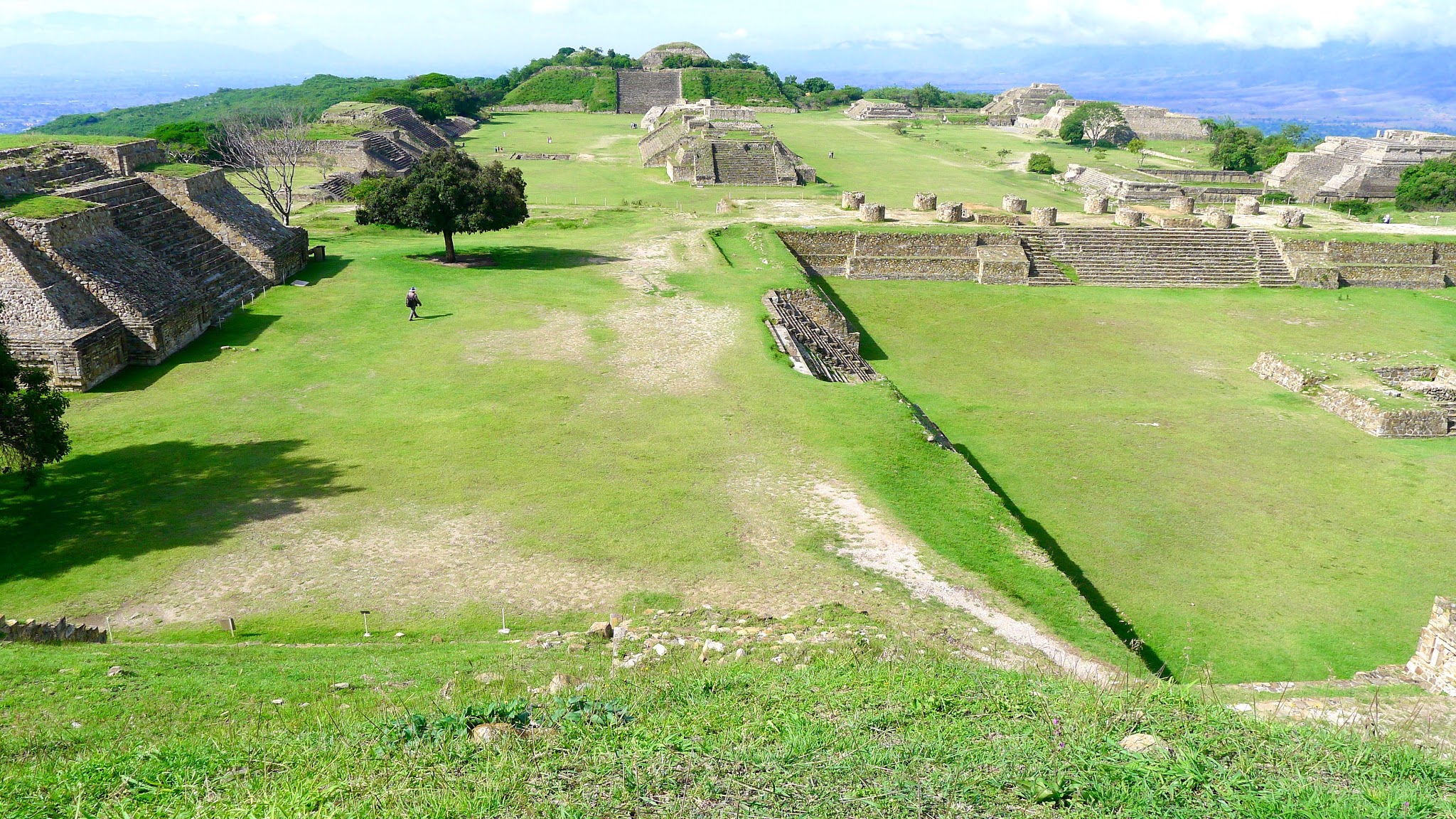 Monte Alban.
Tuesday, June 28: Monte Albán, Atzompa
Today we will leave the city and visit the archaeological site of Monte Albán to view the remains of a great Zapotec and Mixtec center. Built on top of a mountain, the site was constructed around a huge plaza. A small ball court lies in one corner of the plaza where the well-known pre-Columbian ballgame was played. Our guide will share the history of this magical site. The museum at Monte Albán offers a view of the artifacts collected from the pre-Columbian era. We will enjoy lunch at the restaurant overlooking the valley.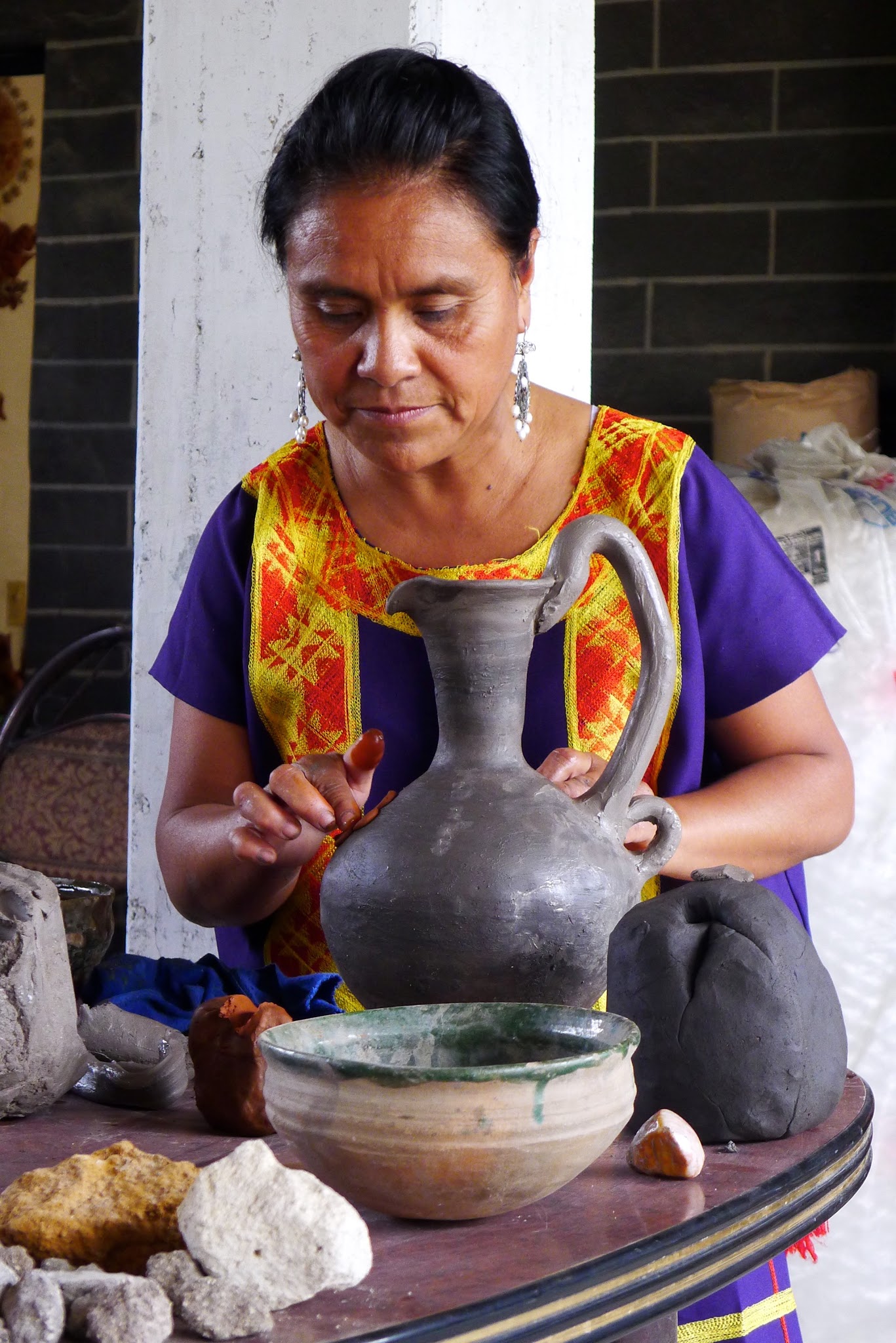 Enedina Vasquez
After lunch we will head for the village of Atzompa to visit the renowned Enedina Vasquez family for a pottery demonstration. Enedina and her family members have earned many prestigious awards and are featured in the
Grand Masters of Popular Art, Oaxaca Vol. II.
(B,
L)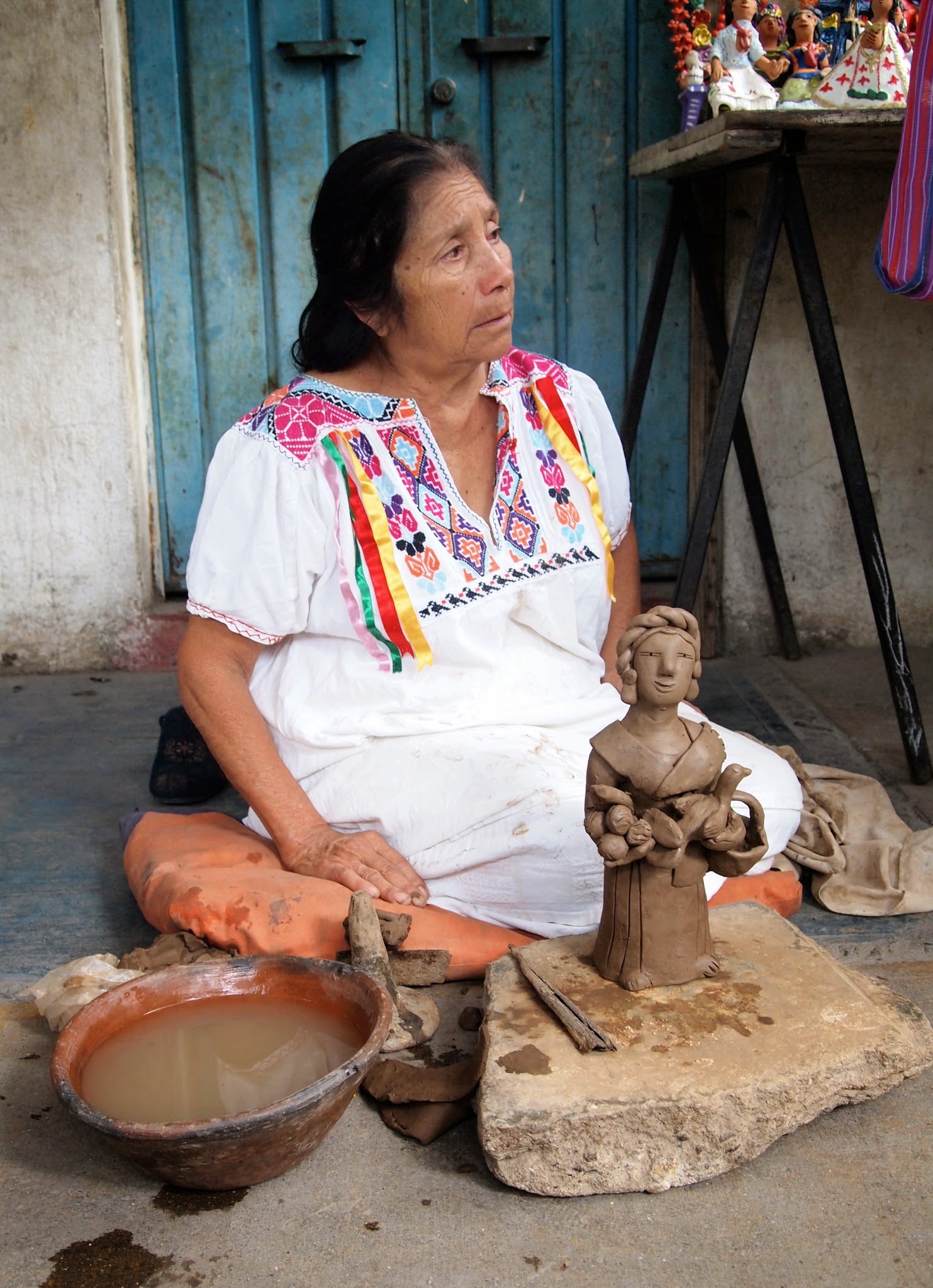 Josefina Aguilar.
Wednesday, June 29: Ocotlán, Santo Tomas,
San Martín Ticajete
After enjoying breakfast, we begin a busy day of visiting folk art villages outside the city of Oaxaca. Our first stop is the town of Ocotlán to visit the home studio of Josefina Aguilar, a very respected sculptor of clay figures. After a demonstration by Josefina, you are free to visit the studios of her sisters, each of whom produces a distinct style of work. The Aguilar family has also earned many prestigious awards and is featured in the Grand Masters of Popular Art, Oaxaca Vol. II.
Next we will visit the home of artist Rudolfo Morales, the Morales Museum and the ex-convent he restored. The collection features Morales' work, sculptures by the Aguilar family and colonial artifacts. Our next stop is the small village of Santo Tomas known for its backstrap loom weavers. The women demonstrate their weaving techniques in the center of town at their local cooperative.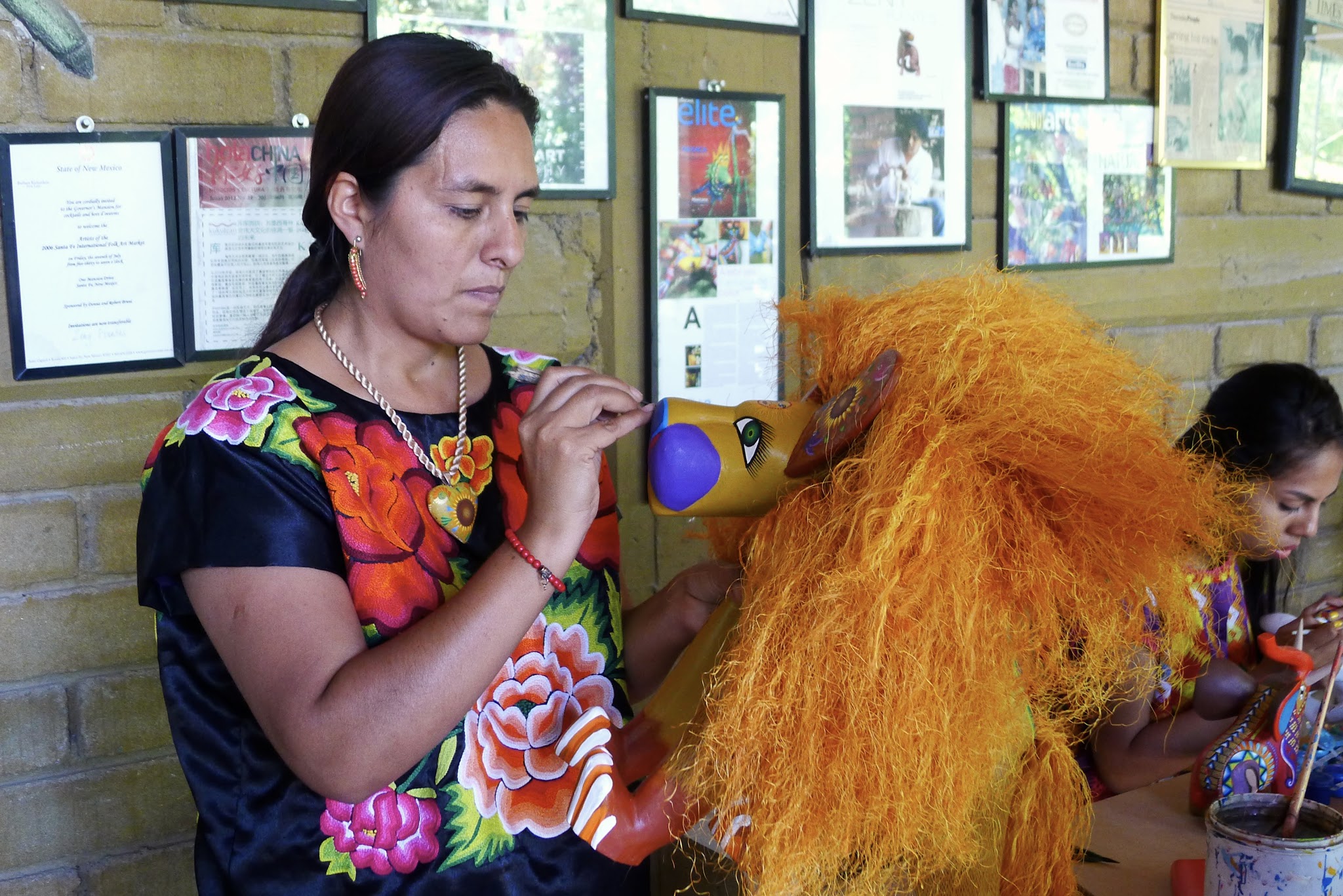 Rina Fuentes
.Our next stop is the woodcarving village of San Martín Tilcajete and the home of Zeny Fuentes. For lunch we will enjoy a traditional meal with the Fuentes family, after which Zeny and his wife Reyna will demonstrate their carving and painting techniques. You will have the opportunity to watch as the family works together to produce their art. The Fuentes family is included in many prominent folk art publications. Zeny is also the featured artist in the CRIZMAC Oaxacan Woodcarving DVD. (B,
L)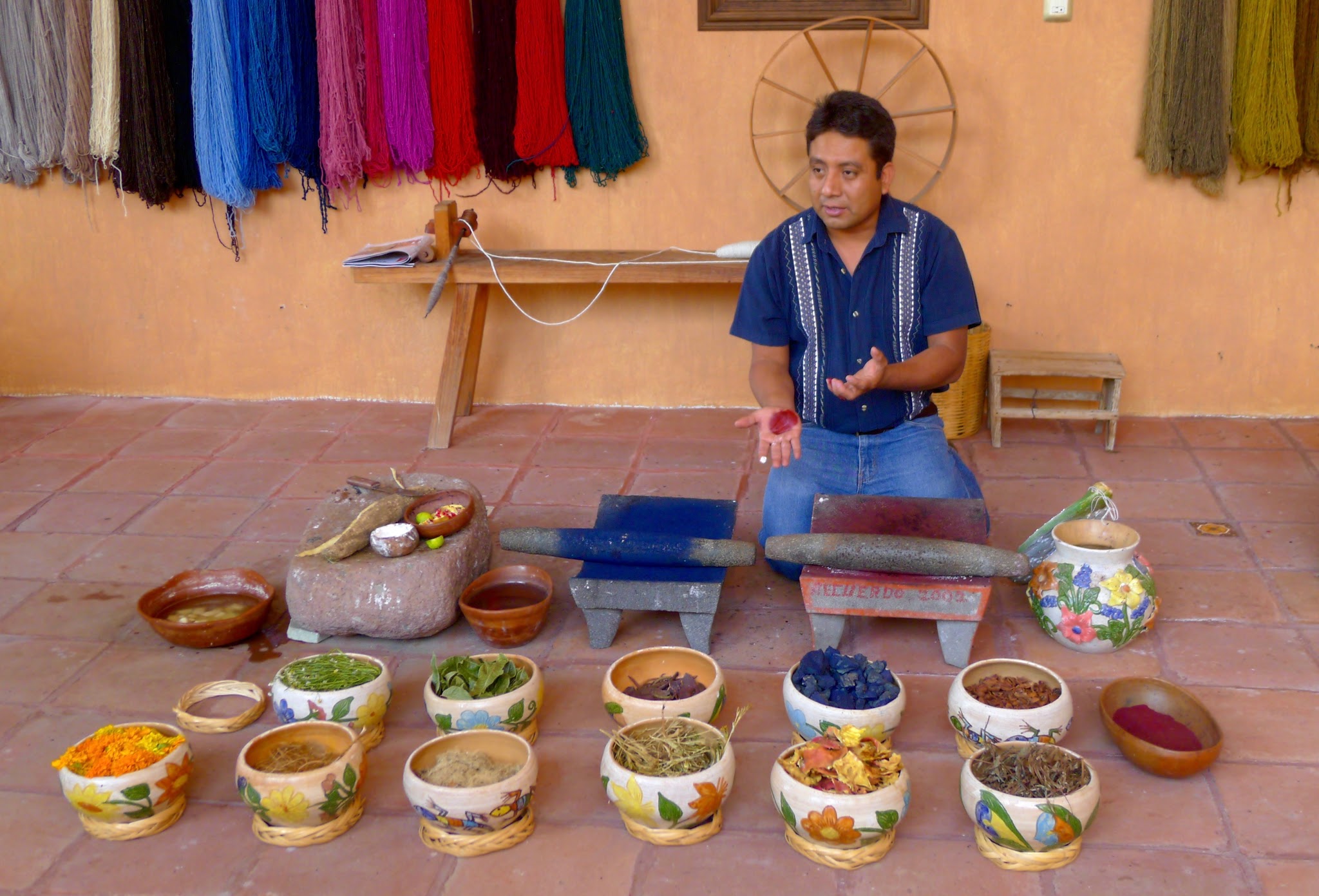 Nelson Perez Mendoza.
Thursday, June 30: Teotitlán del Valle
Today our bus trip takes us to the famous rug-producing village of Teotitlán del Valle to visit the home of Nelson Perez Mendoza. He and his family will give a demonstration of the techniques they use to make the ever-popular wool rugs, including carding, spinning, dyeing, and weaving.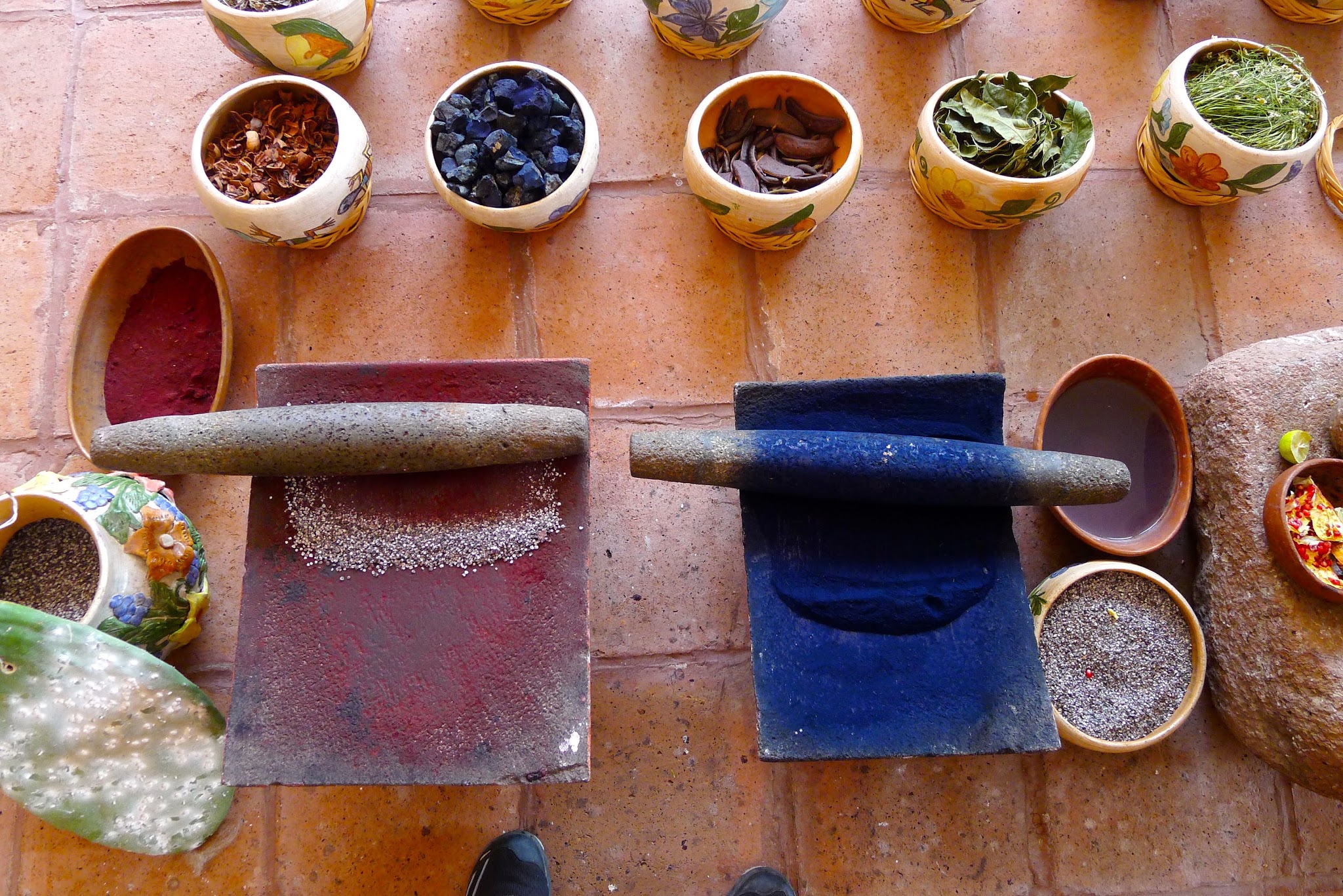 Using natural materials to make dyes for wool yarn.
As you walk the streets of this quiet industrious village, you are able to visit one home after another to view their rugs. A delightful local restaurant is available for lunch on your own. On the way back to Oaxaca City, we will visit the Tule tree, reputed to be the largest tree in the western hemisphere. (B)
Friday, July 1: San Agustín de las Juntas,
San Bartolo Coyotepe
After another hearty breakfast, our destination is the village of San Agustín de las Juntas and the home and studio of the Agustín Prudencio family. We will observe a carving and painting demonstration and learn about their unique approach to woodcarving. Members of the Prudencio family are also featured in the finest folk art publications including the Grand Masters of Popular Art, Oaxaca Vol. II. They have participated in the International Folk Art Market in Santa Fe for several years.
After lunch we will proceed to the village of San Bartolo Coyotepec, famous for the black pottery of Mexico. We will visit the family of Dona Rosa, the woman renowned for her discovery of the processes used to produce the shiny black pottery. Following a demonstration of the building techniques used to create vessel forms, you will have time to explore their studio.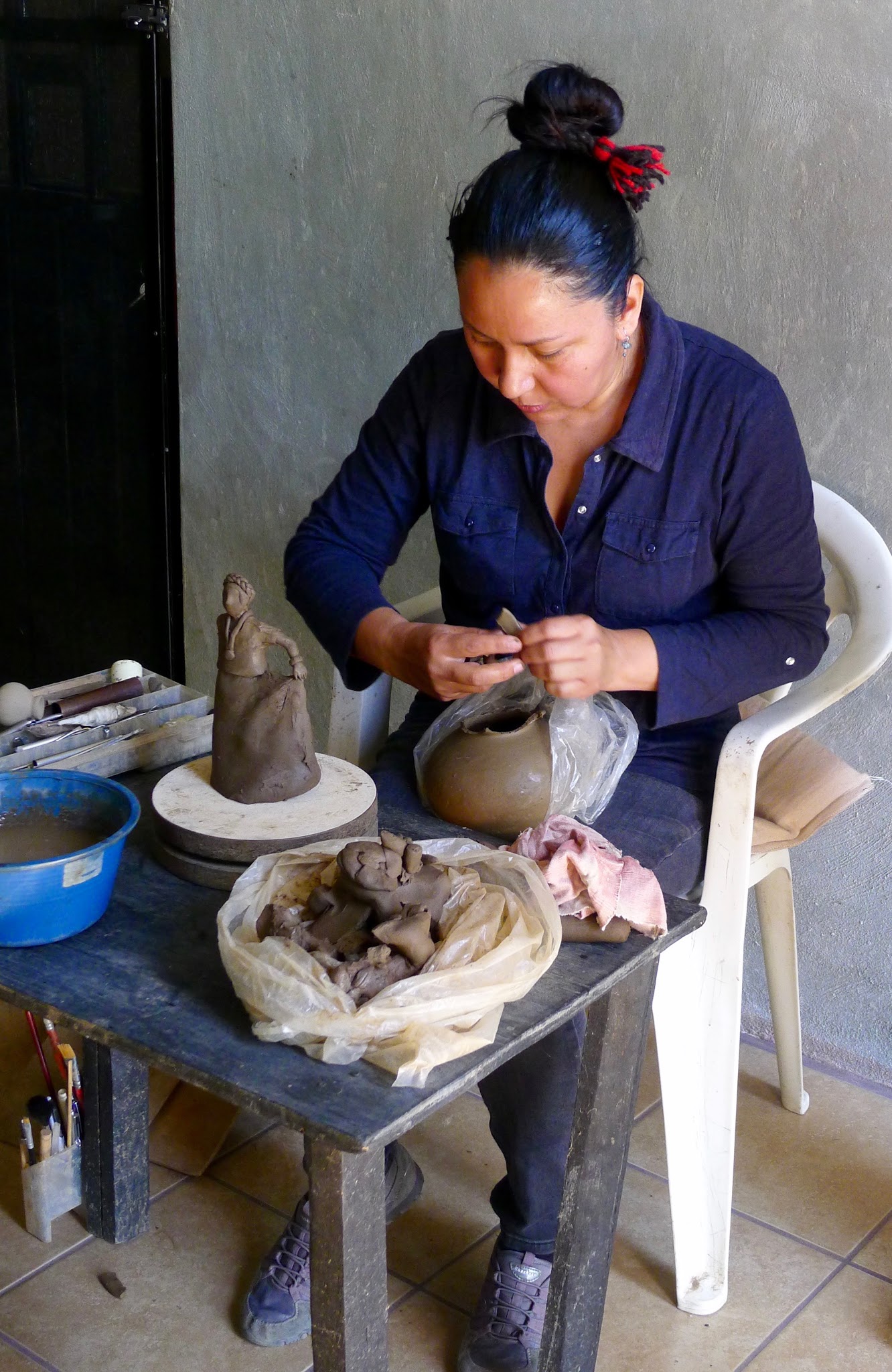 Magdalena Pedro Martínez
Our next stop will be the home of Magdalena Pedro Martínez. Magdalena has been a participant in the International Folk Art Market for several years, where she exhibits incredible black clay figures wearing the regional costumes of Oaxaca. Her sculpture is also featured in the Grand Masters of Popular Art, Oaxaca Vol. II. The rest of the afternoon is free for you to enjoy and pack for your trip home before we have our farewell dinner together. (B, D)
Saturday, July 2: Oaxaca City, Tour Concludes
Depart from the hotel with many special memories and your bags packed with treasures from your trip in Mexico. Transportation to the airport is provided. Breakfast at the hotel is provided, flight time permitting. (B)
Price is $1895 per person, based on double occ

upancy.
Your Journey Includes
• Six nights at a local hotel
• Daily Breakfast, two lunches, two dinners
• Transfers from the airport to hotel (for those traveling on scheduled arrival & departure dates)
• Land transportation to seminar events • Museum and site admissions• Artists visits and demonstrations
• Server tips for group meals
• Tour handbook
• Cost based on double occupancy rooms, single rooms available for an additional fee. (We'll do our best to match you with a roommate if you would like one.)
• AIRFARE NOT INCLUDED
Important Information
Every effort will be made to carry out all activities as planned and advertised, however, CRIZMAC and the seminar leaders reserve the right to make any alterations, deletions, or modifications to the itinerary and/or accommodations deemed necessary due to circumstances beyond their control.
Payment Deadlines
Enrollment will be made on a "first-come, first-served" basis.
A $500 deposit is required to guarantee your space. Registration and deposit payments may be made by phone, mail, or online at www.crizmac.com. Final payment is due on or before March 26, 2016.
Cancellations and Refunds
Cancellations must be received in writing. Participants who cancel on or before March 26, 2016 will receive a full refund less a $250 processing fee. If cancellation is made after that point, no refund is given. CRIZMAC will make every effort to operate the tours advertised. In the event CRIZMAC must cancel a tour, participants will receive a full refund of all monies paid to CRIZMAC, however CRIZMAC is not responsible for losses due to non-refundable airline tickets or other travel arrangements. Travel insurance is highly recommended.
Register Today: www.crizmac.com or (520)323-8555
Professional Development