SchoolArts Room
Honoring Laura Chapman
April 24, 1935–August 17, 2021
Art Education has recently lost one of its most persistent and beloved champions with the passing of Laura Chapman this past August. She was an icon in the Davis family of authors and worked for over 40 years in support of art education advocacy and the development of meaningful art education curriculum, much of it through Davis Publications' elementary textbook series. As you read the comments below, you can see how much she was admired from people whose lives she touched, both professionally and personally.
See Honoring Laura Chapman in the February 2022 issue.
---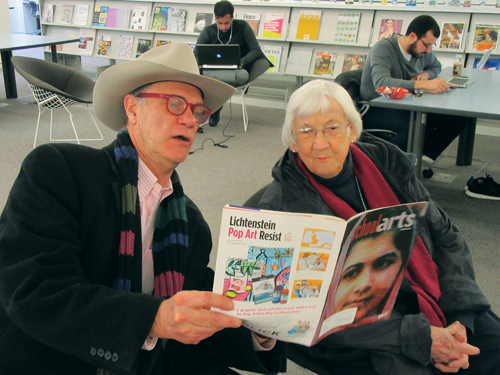 Laura with Wyatt Wade, former President of Davis Publications. Photo by Erika Davis Wade.
There is so much to thank Laura for! Instant Art, Instant Culture! Expression and Response! Policy research par none! Right up to her last address to the NAEA upon being awarded the Eisner Award. She saw technology-based, online learning coming! All that and so much more. Who among us can say that we didn't turn to her for advice? Or listen for her insights? Somehow, she was out there, ahead of us. Thank, you Laura for being with us—and for your wonderful, ironic sense of humor! We will miss you big time! With enormous gratitude, —Karen Carroll
---
We have lost a voice of resonance, deep intelligence, kindness and abiding integrity. Thank you, Laura, and may you rest in the peace you so richly deserve. —Judith Burton
---
Laura was among the most influential art educators of her generation, with direct impact extending well beyond a theoretical discourse and policy debates to everyday practice in the classroom. Laura's Discover Art book series (re-published later as the Adventures in Art) became one of the most readily adopted collections of curricular ideas and lessons actually delivered in many North American schools.
When nearing the completion of my doctorate at the University of Illinois at Urbana-Champaign I was searching for a future academic home in North America, Laura's standing in the field was evident in a question that was a constant across all the interviews: What were my thoughts on her work and its relevance to the future of art education? In my interactions with teachers, I soon discovered that Laura was one of the most followed curricular leaders in the 1990s.
As a professional colleague, I have greatly respected thoughtfulness that grounded Laura's convictions and appreciated her no-nonsense style. She came across as someone who did not actively seek popularity and accepted it as a motivation to further serve the people and causes that she firmly believed in. She will be remembered as one of the icons of art education of her era. —Anna Kindler
---
Laura was a mentor to many, well before we met her in person. Her ideas traveled far and were keenly sought by many of us who were in awe of her incomparable breadth of knowledge and the depth of her thinking. Laura never ceased to give new meaning to what art education is all about, and how we all might do our bit to deliver on the power and promise of who art educators are. —Graeme Sullivan
---
A great loss. Acknowledging, in particular, her important contributions to art education and art educators in Canada and in Aotearoa/New Zealand. Arohanui, Laura. —Graeme Chalmers
---
Laura was a huge influence on many of us. From her earliest scholarship to the more recent, her ideas were touchstones I used to think through my own positions on policy and the changing landscapes of art education. Laura's work changed the trajectory of my thinking on more than one occasion. She was brilliant, generous of spirit and ideas, funny, and curiously humble. I will miss her spirit in this world. —Deborah L. Smith-Shank
---
I met Laura when I was in graduate school, and she came to Iowa to visit when Marilyn Zurmuehlen was on sabbatical. I was Laura's TA and took a class with her. She graciously recommended me for my first position at UIUC. She was always thoughtful and ready and absolutely correct in her advice, though I often failed to follow it. She was a second academic mother to me. Her brilliance in policy and practice was startling, she was always ten steps ahead in the game and always had an eye on the world beyond our small, beloved community, warning us of the encroaching threats to our happy existence. I marveled at her resilience and commitment and energy. Laura is irreplaceable. We have been to lucky to have her. —Tina Thompson
---
Laura was such an inspiration to each of us. Besides her extensive contributions to the field, I was extremely impressed with her service to the NAEF as a trustee.
She had the insight to guide that organization. Her contributions became touchstones for the growth of the foundation. We have lost one of our greatest advocates, but her guidance should lead each of us to continue the mission. —Robert Curtis
---
I am saddened to learn of Dr. Chapman's passing. She was one of the pillars of our field—a steady source of wisdom and insight. She will be missed. —David Pariser
---
Since the very beginning of No Child Left Behind (NCLB), Dr. Laura Chapman has been our field's watchdog of this landmark legislation. Her initial policy analysis of NCLB was published in Arts Education Policy Review (Chapman, 2004). But it was at the NAEA national conference held in Denver, March 2004, that we all packed the audience to listen to Laura as she painstakingly described NCLB in relation to the arts. We all remember her double-slide carousel projections representing her research on, impressions of, and predictions for arts education in response to NCLB. As we all know, with the exception of a few, these predictions eventually all came to pass.
At the time, I was the Fine Arts Coordinator for Fairfax County Public Schools in Virginia, and chair of the Metro Art Supervisors sponsored by the Kennedy Center in Washington, DC. As a result of her Denver presentation, I invited Dr. Chapman to present "No Child Left Behind in Art?" to the Kennedy Center Arts Council of Metropolitan Arts Supervisors and Principal's Arts Education Forum, Wednesday, September 29, 2004. To this event, arts supervisors and principals of the Metropolitan Washington, D.C. area invited their respective superintendents, school board members, and legislative representatives to hear Dr. Chapman's summary and predictions of NCLB.
Though my regard of Dr. Chapman needed no enhancing, I also gained a deeper admiration and respect for Dr. Chapman as I watched her present her findings, fears, and predictions in this setting. It was one thing to "preach to the choir" of art education colleagues at the NAEA conference some 1,600 miles away from where NCLB was enacted, and quite another to address an educational and political audience, including legislators (who had voted for NCLB), in the heart of the nation's Capital. Though I could tell that Dr. Chapman was more tenuous as she began addressing this audience, she warmed to her topic quickly, and by the third or fourth slide was rolling, articulate, ironic, and indignant. It was magnificent to behold!
In part, as a result of Dr. Chapman's presentation, it is my belief that my school district treated the arts much more fairly throughout the years of NCLB and school district budget crises. Laura's gift of her time, research, gigantic intellect, and sense of humor made a huge difference in the lives of our arts teachers and students, and I will be forever grateful. But it was no more than Laura would have done in the support of the arts for any of her hundreds of colleagues, and especially those included in this email chain. —Roger Tomhave
---
My association and friendship began with Laura during the time of the Penn State Conference of 1965. That was during the time of "The Great Society "legislation and ESEA shaping a major influence upon educational policy and financing across the Nation.
From the vantage of my position in State Government, I began support for a comprehensive, "all of the Arts" strategy. Laura, from her academic point of view, expressed serious doubts about the readiness of disparate arts education efforts to unify and be effective. Our conversations and presentations at conferences were spirited. As time went by, we became close friends and corresponded about many of our interests, such as her special interest in children's art as well as that of contemporary artists of her personal circle. My painting and art history background shaped at Carnegie Tech, now CMU, brought our interests together.
During an NAEA conference held in Dallas Texas during the early 1970s, Laura and I went "head to head" debating and arguing about policy and leadership problems of Arts Education vs Art Education. Several tape recordings of those exchanges made their way to university classrooms where students had a chance to review the seriousness of our positions as well as the humor of it all. My mailbox delivered the last letter from Laura, two weeks before she died. I don't know if she ever had a chance to read mine. I'll always think of Laura as a powerful leader among us who wanted only the best in education for all children. —Clyde M. McGeary
---
Laura Chapman and Manuel Barkan originated the Arts in General Education program through the results of a study funded by Ohio State University and CEMREL that created the aesthetic education curriculum for improvement of arts education in our schools during the late '60s. She played a major part in having arts specialists collaborate with classroom teachers in developing an elementary curriculum for students in kindergarten through sixth grade using a multimedia approach to instruction. Themes for teaching units could be created by students, teachers, schools, and communities into a curriculum reflecting their educational values and objectives.
I was an art specialist in the University City Schools, a suburb of St. Louis, when Dr. Chapman led curriculum sessions and mentored arts and classroom teachers in the creation of aesthetic education curriculum. She was direct yet empathetic with feedback for classroom teachers who had never written curriculum in the arts and with arts specialists who had studio backgrounds that did not focus on general education.
With the tenacity and leadership of Jack Davis, who was the Arts and Education Project Evaluator, Stan Madeja, the Aesthetic Education Program Coordinator, and Laura Chapman, Schools and Community Coordinator for the Arts in General Education, the concept of school development through the arts provided a comprehensive plan for school change that resulted in a model that has improved the quality of education for students. —Maggie Peeno