SchoolArts Room
Experiencing Paper
It's not every day you are invited to attend a workshop with an internationally known artist. Crystal
Wagner came to Southeast Missouri State University to create an installation piece in their Crisp
Museum. While she was there, she offered a workshop for local art teachers on new techniques for
working with paper.
---
Kayla
from SchoolArts Magazine April 2016
Wagner's website contains photos of her works both small and large. They are
colorful, large-scale "happy," pieces of art that you want to touch or to walk through. She is a very
skilled artist who loves to explore new techniques and create new experiences.
Since I was eager to include in my teaching fresh ideas I had learning in the workshop and I knew my students loved learning and experimenting with new techniques, I shared her techniques with my students.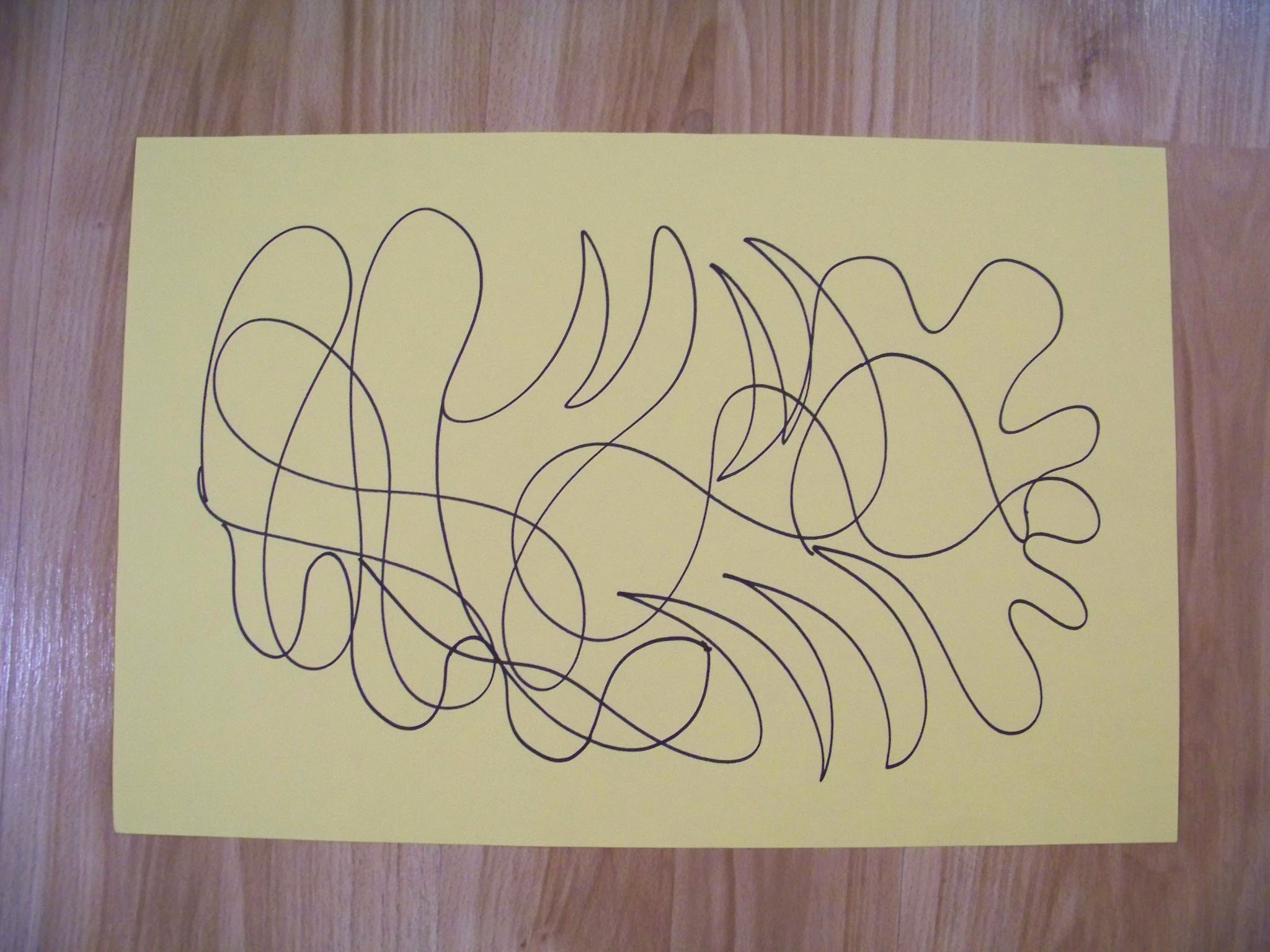 Step 1
After sharing her artworks with my students, I gave e
ach student a practice page of Manila paper and asked them to each create a freeform drawing of loops, curls, edges, and flowing lines. Scribbles wouldn't work; they needed to draw lines that were "flowing," like a whimsical, moving path on paper.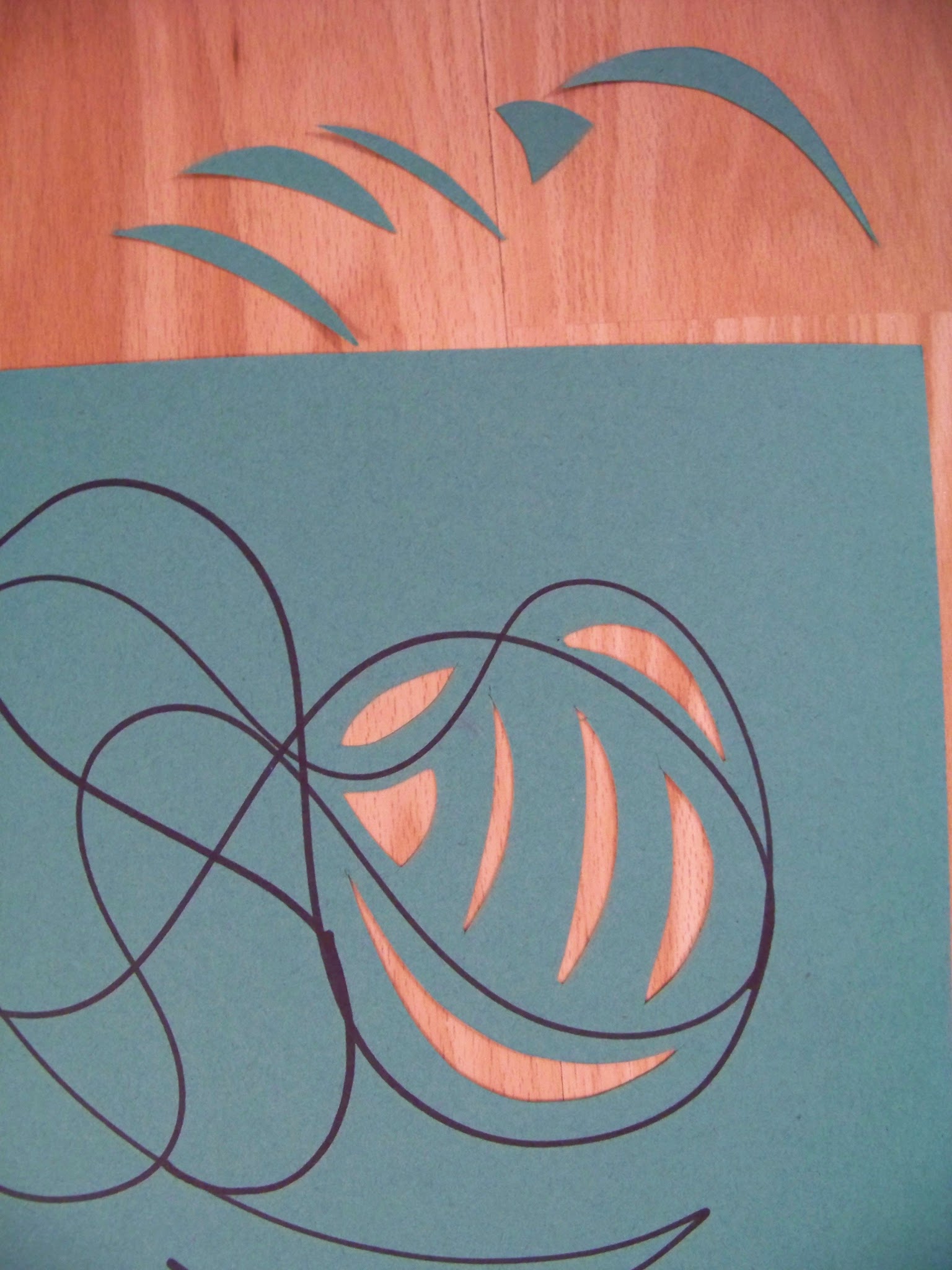 Step 2
Next, they placed old magazines under their paper (so as not to cut the tables) and used craft knives to cut out the freeform shapes they drew.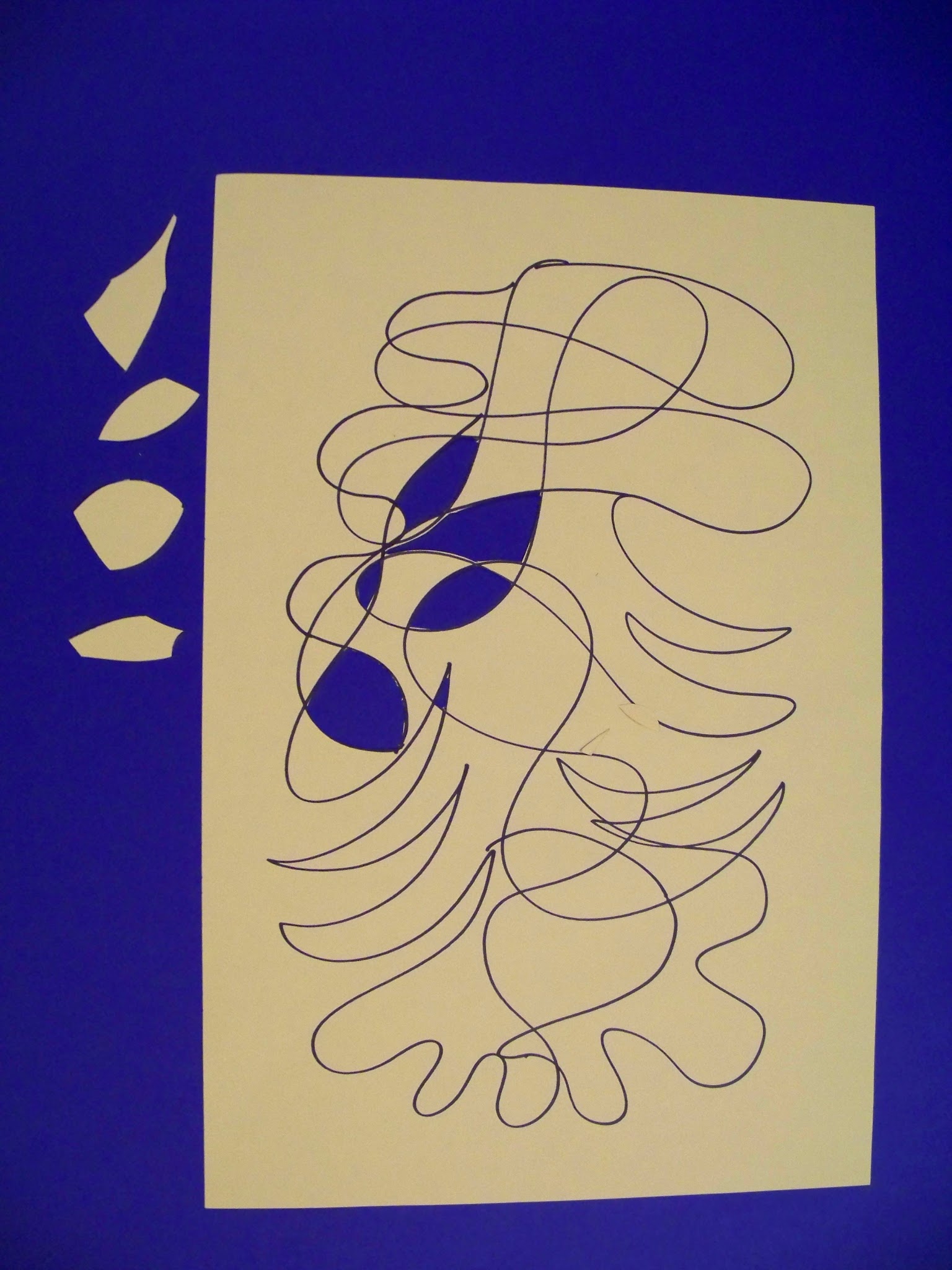 Step 2 option
They cut out the entire freeform drawing, creating an interesting border to the cutouts.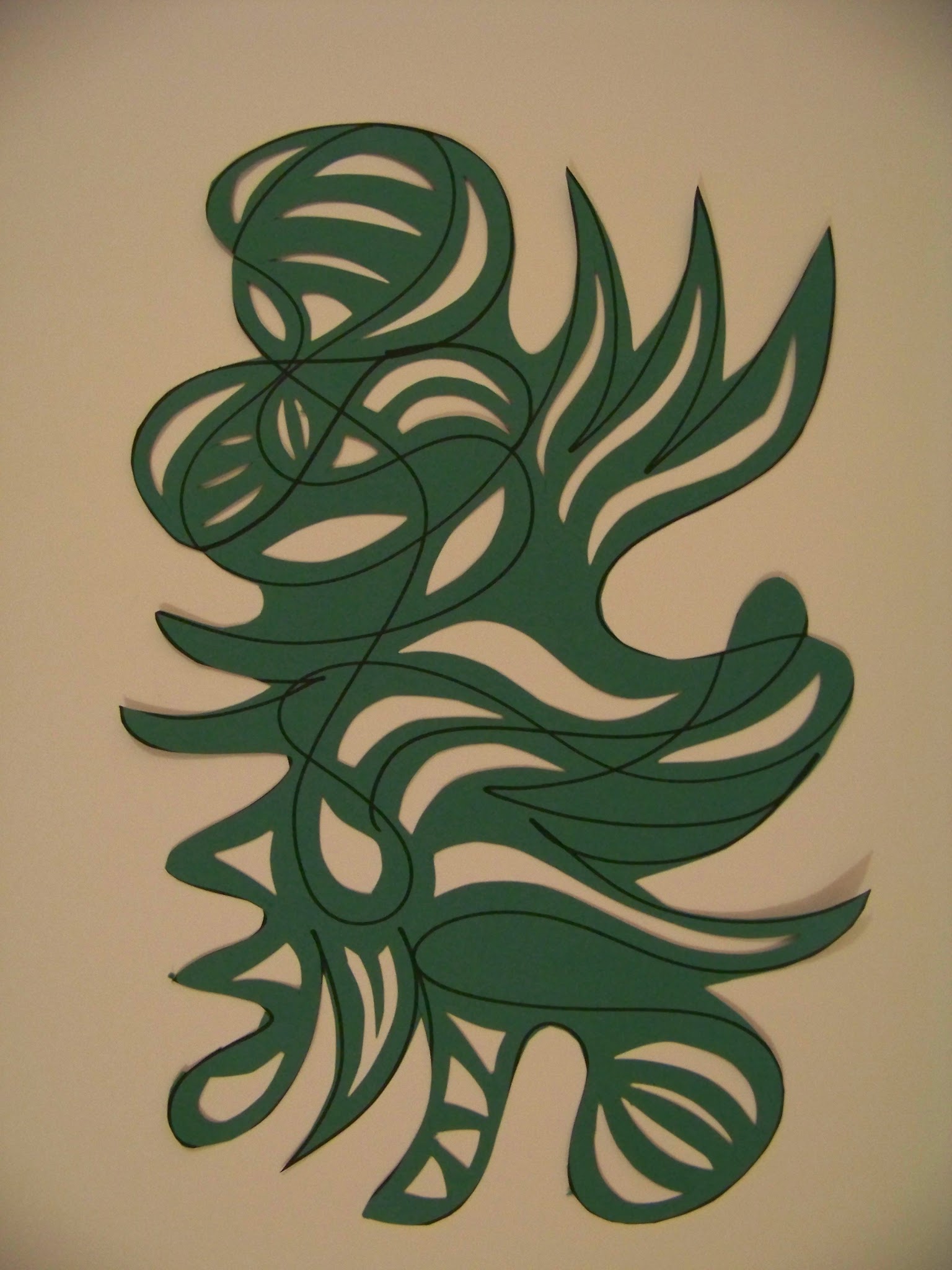 Step 3
Next, students each chose three different colors of construction paper. On each one they again made preliminary freeform drawings. They then used the knives to cut out freeform shapes and patterns from all three sheets. They also kept the background pieces that were cut out.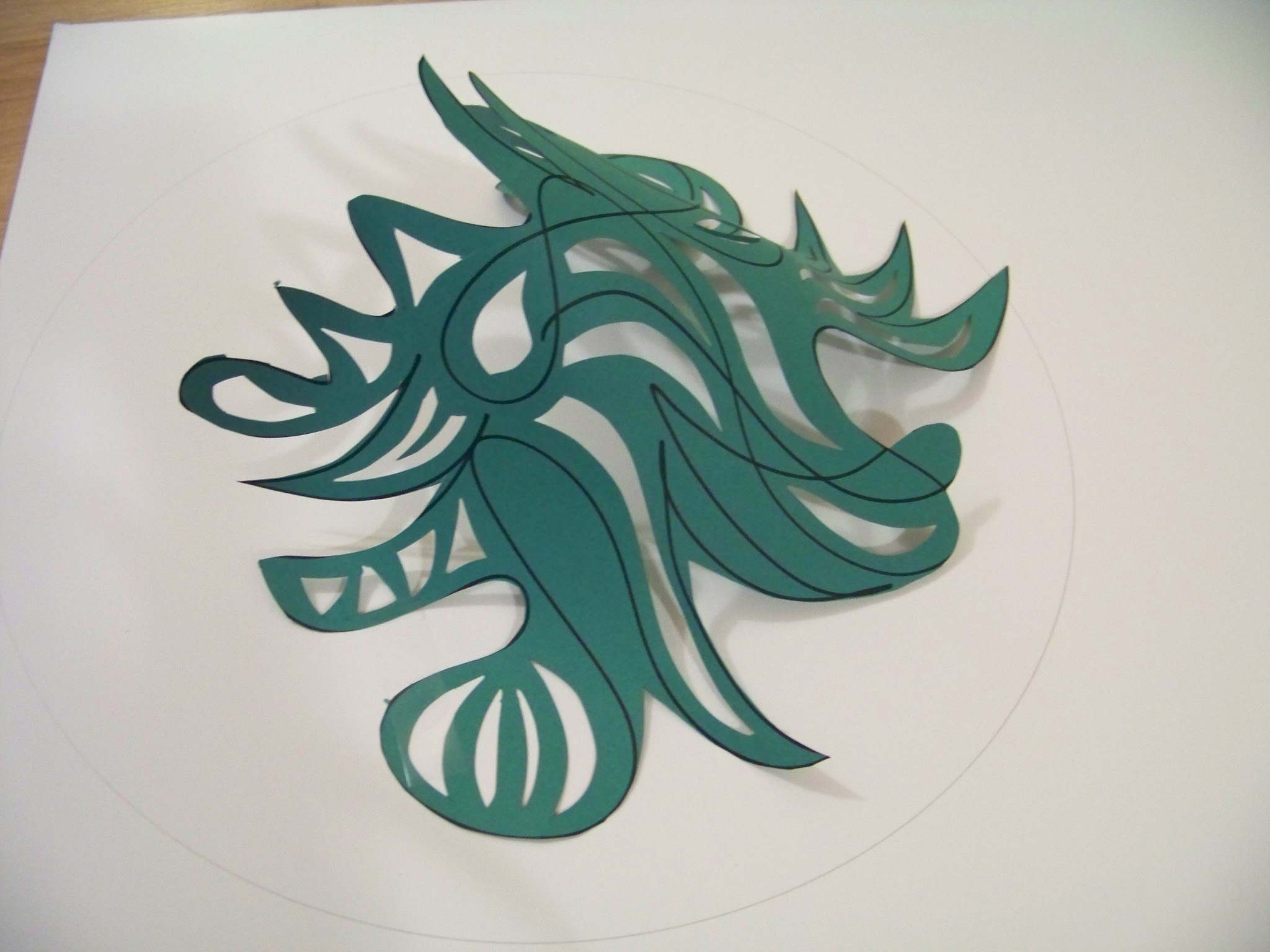 Step 4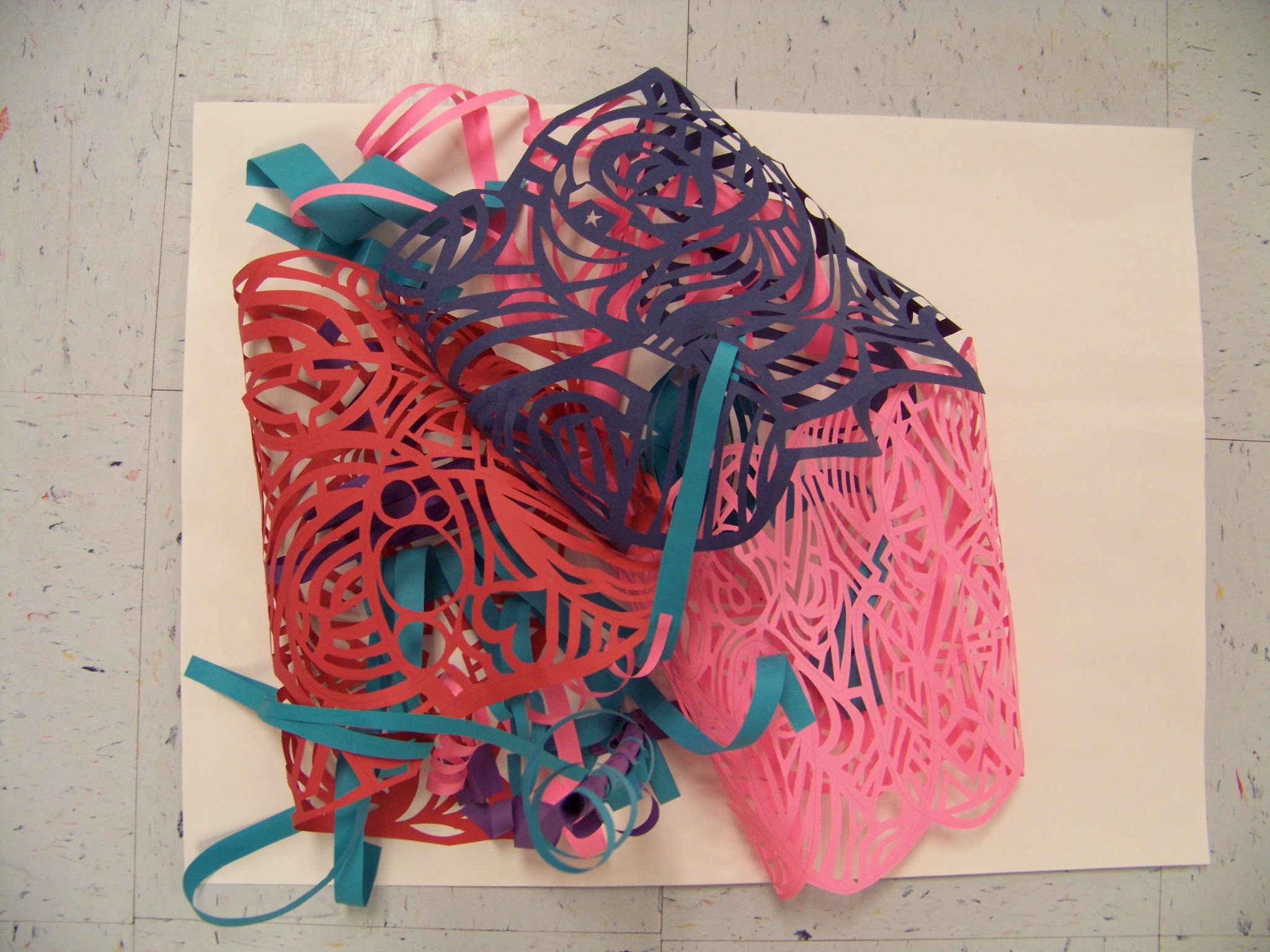 Samantha
Now the next challenge was to combine all three cut out papers to make a three-dimensional form. Students had to figure out a way to combine all three of their sheets and to make them stand up from a background paper. I encouraged them to experiment with bending, cutting, and looping the paper so that each sheet interacted. Students started playing around with the possibilities on a background of poster board.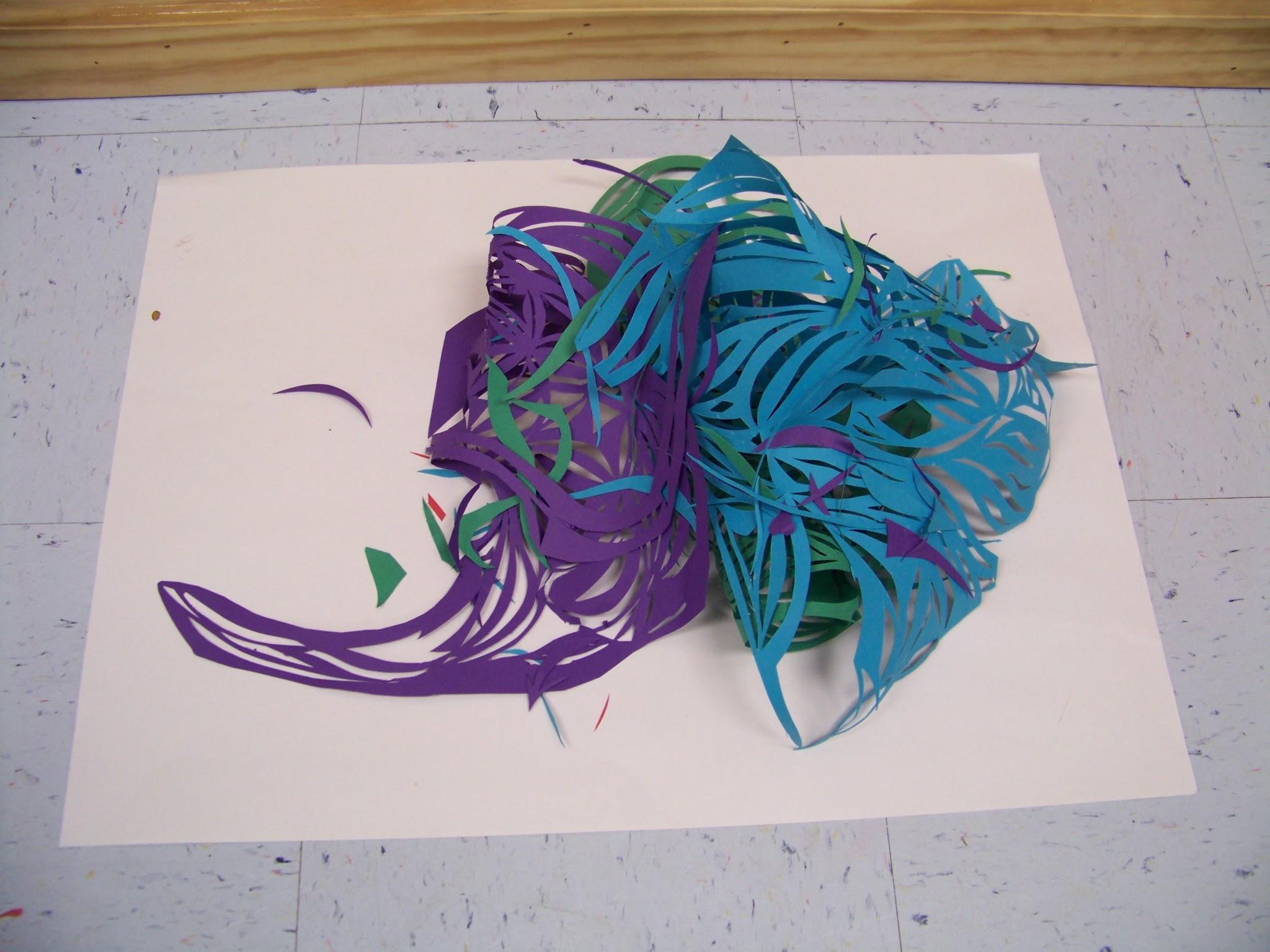 Kennasja
On the poster board, they bent, twisted, cut, folded, creased, curled and combined the papers in interesting shapes. They glued down the places that needed "help" staying in place. If needed, paper clips were used to hold papers together until the glue was dry. From time to time, students turned the forms to view them from all angles to make sure each angle was interesting. Leftover pieces were used to fill in empty spots or to connect bigger pieces. Using only three colors helped to unify the sculptures.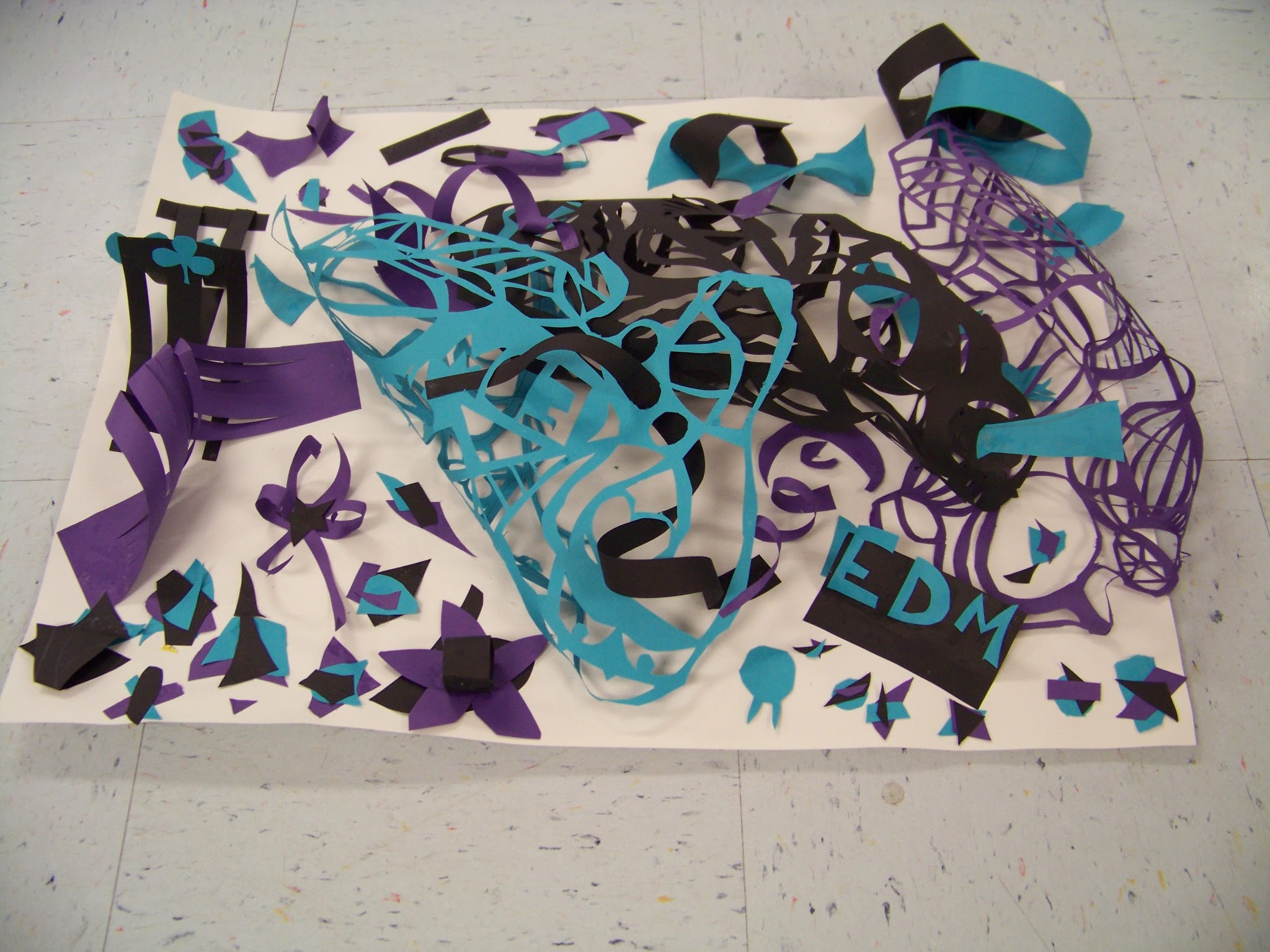 Erika
I recommend that the teacher should make an example piece beforehand, so that he/she can experience the challenge first and be better able to explain and help the students with their work. After the students got started with their papers, they needed little or no encouragement from me. The results were projects that were miniature environments inviting the viewer to travel into with their eyes. Students in other classes asked more than once if the sculptures were meant to be playgrounds. In a case of serendipity, they were.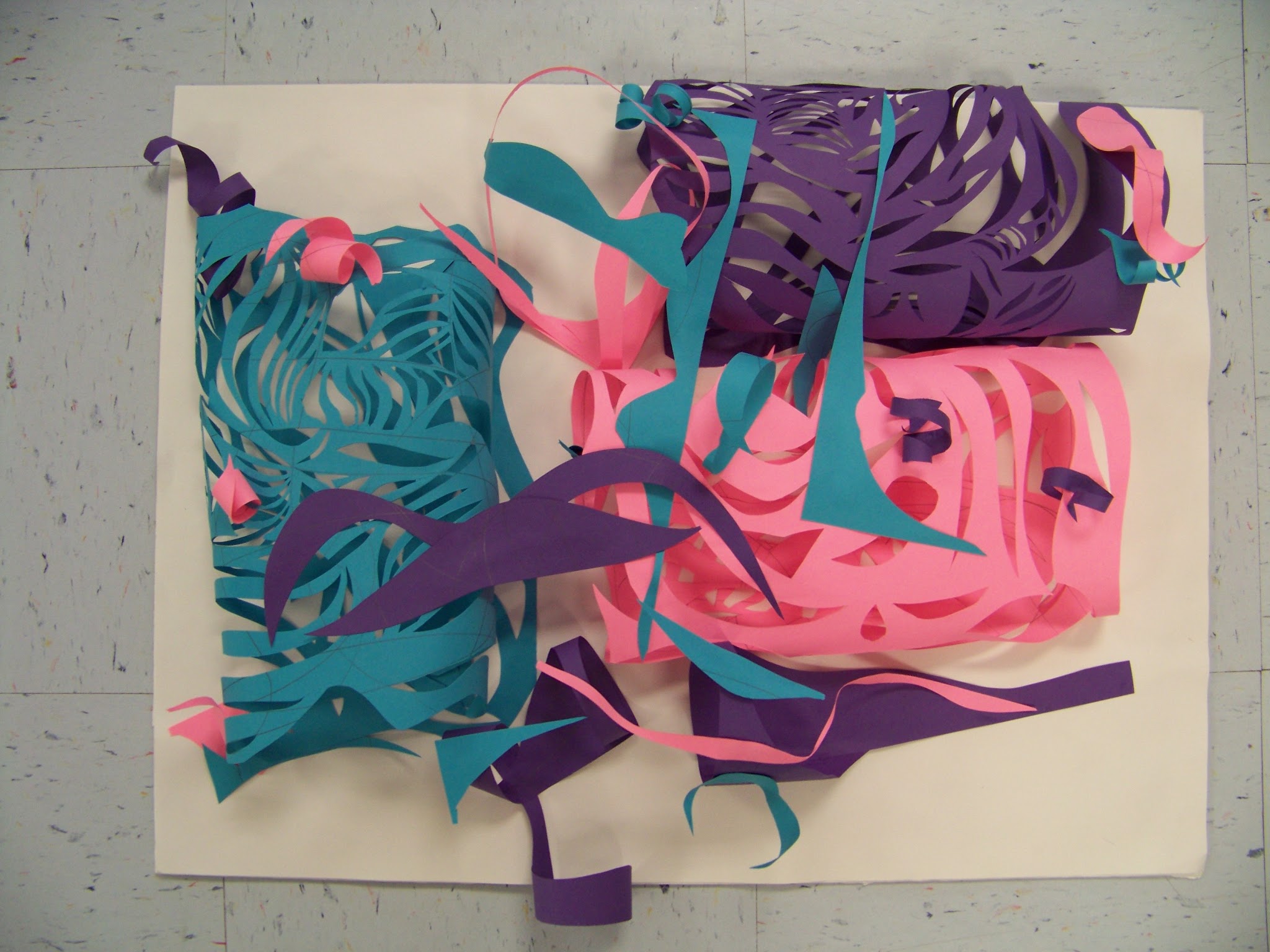 Victoria
·
12" x 18" colored construction paper,
Manila paper,
craft knives,
old magazines (to use for cutting pads),
glue,
paper clips,
scissors,
pencils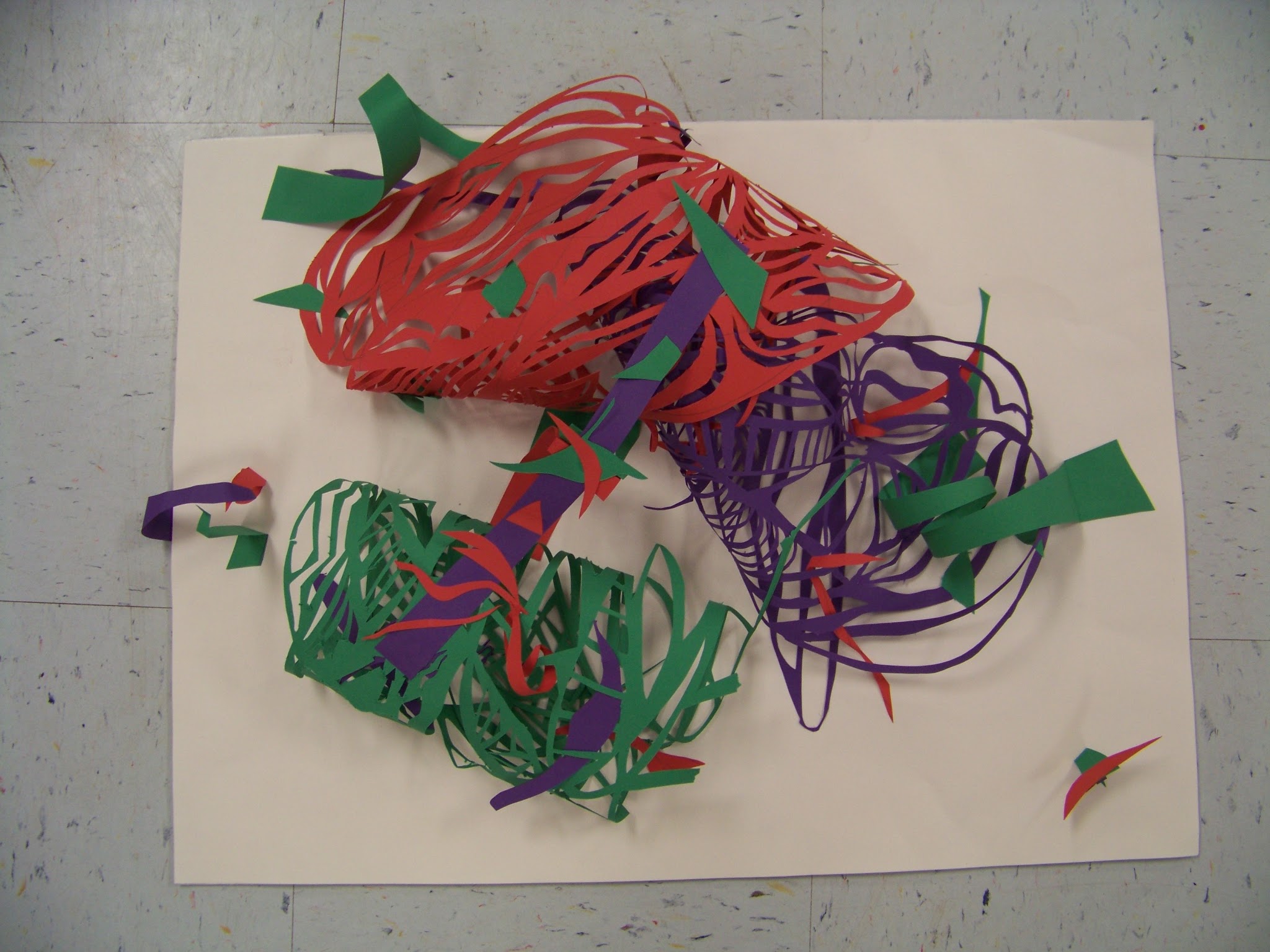 Gavin
Karen Sellars is an art teacher in the

North Pemiscot School District in Wardell, Missouri.