SchoolArts Room
Empathy
What does it mean to be empathetic? Simply put, empathy is the ability to understand and experience the feelings of others. Research has shown that empathy can be taught. According to "4 Proven Strategies for Teaching Empathy," written by Donna Wilson and Marcus Conyers (Edutopia, edut. to/30XUf9w), one of the best ways to teach empathy is for the teacher to model empathy.
---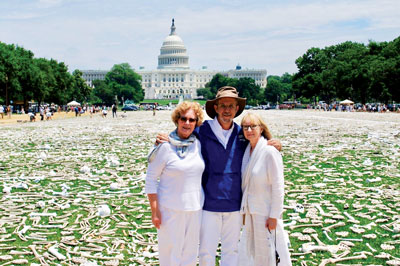 The authors also recommend that teachers help their students understand different points of view, use literature (and art) to teach different perspectives, learn to actively listen to others, and develop metacognitive awareness, the awareness of their feelings and thoughts about their own abilities to understand and share in the feelings of others.
How better to develop empathy in your students than through art? Art can provide an empathetic, meaningful catalyst to engage individuals and communities to take action around social issues. Because SchoolArts believes such efforts are important, each month we highlight an arts-based social justice or service learning nonprofit organization in a feature we call Focus In.
Incredibly, most of them were started by only one or two dedicated visionaries, often art teachers. The internet has enabled many arts-based social justice projects to grow into global efforts in which your students can participate.
One such regional project is the Creative Growth Art Center, a nonprofit based in Oakland, California, that serves artists with developmental, intellectual, and physical disabilities by providing a professional studio environment for artistic development, gallery exhibition, and representation. Faciliated by professional artists, the studio provides artistic support, high-quality materials, and space for painting, ceramics, wood-working, digital media, and more. creativegrowth.org.
Another project, One Million Bones, was a large-scale social arts practice, combining education, hands-on artmaking, and public installations to raise awareness of ongoing genocides and mass atrocities in places like Sudan, South Sudan, Somalia, and Burma. One million handcrafted bones were created, collected, and installed in a three-day event on the National Mall in 2013. The bones are now installed in Silver City, New Mexico. onemillionbones.net.
We invite you to explore these projects and others and find what most appeals to you and your students. Participating in such projects promotes the development of empathy and takes your students' hearts, minds, and art far beyond your artroom. Perhaps such projects will inspire you to create one of your own! See this month's highlighted organization, Artists for World peace, on page 38.
Many thanks to this month's guest co-editor Joe Fusaro for his many contributions to this issue.