SchoolArts Room
Contemporary Art
Amy Sherald, Nick Cave, Jeff Koons, Beth Cavener, Yung Jake—these are just a few of the contemporary artists SchoolArts has recently featured in its pages. Every month, we present contemporary artists and artwork in our Looking & Learning centerfold feature. Why? Because we believe it is critically important for students to learn about, respond to, and create contemporary art.
---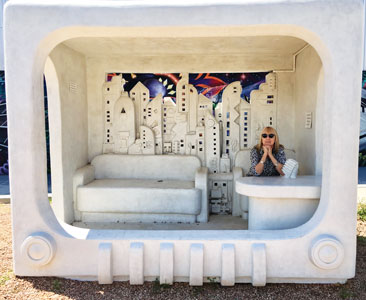 Nancy in the Big Picture T.V. Talk Show by David Rudolph, 1999, steel reinforced concrete in the Santa Fe Rail Yard.
What Is Contemporary Art?
Contemporary art has no signature style, but it may include media art, conceptual art, text-based art, installation art, site-specific art, performance art, surrealism, minimalism, and emerging styles that don't have names yet. It broadens the scope of what art can be, how it's made, and what materials are used. Contemporary art can be made collaboratively, over time, be permanent or temporary, tangible or digital, or performance-based. In contemporary art, content and process can be more important than skills and techniques.
My favorite definition of contemporary art comes from Art21, the groundbreaking organization behind the PBS series, Art in the 21st Century:
Contemporary art [is] the work of artists who are living in the twenty-first century. Contemporary art mirrors contemporary culture and society, offering teachers, students, and general audiences a rich resource through which to consider current ideas and rethink the familiar.
The work of contemporary artists is a dynamic combination of materials, methods, concepts, and subjects that challenge traditional boundaries and defy easy definition…In a globally influenced, culturally diverse, and technologically advancing world, contemporary artists give voice to the varied and changing cultural landscape of identities, values, and beliefs.
Why Should We Teach with Contemporary Art?
Contemporary art deals with issues, ideas, themes, or subjects in present-day life that are engaging and meaningful to students who are growing up in an ever-changing world. Contemporary art introduces students to diverse global, national, and local artists who may have similar cultural backgrounds, beliefs, and concerns. Contemporary art emphasizes visual and media literacy and encourages students to ask meaningful questions. For an intro to teaching with contemporary art, visit bit.ly/teachingcontemporary.
How can you help your students engage with contemporary art? We hope the articles this month will help.