SchoolArts Room
Diego Romero: Cartoonist in Clay
Diego Romero, an artist self-described as "a chronologist of the absurdity of human nature," has made a life's work of constructing ceramic vessels that elevate Pueblo Indian life to the highest stature.
---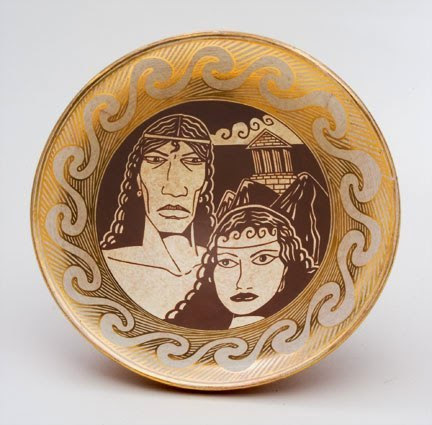 Paris and Helen
An interview with artist Diego Romero by Sharon Warwick, a high school art teacher at Winfree Academy in Denton, Texas.
He is a third generation artist who was born and raised in Berkeley, California, to a father from Cochiti Pueblo in New Mexico and a non-Native mother.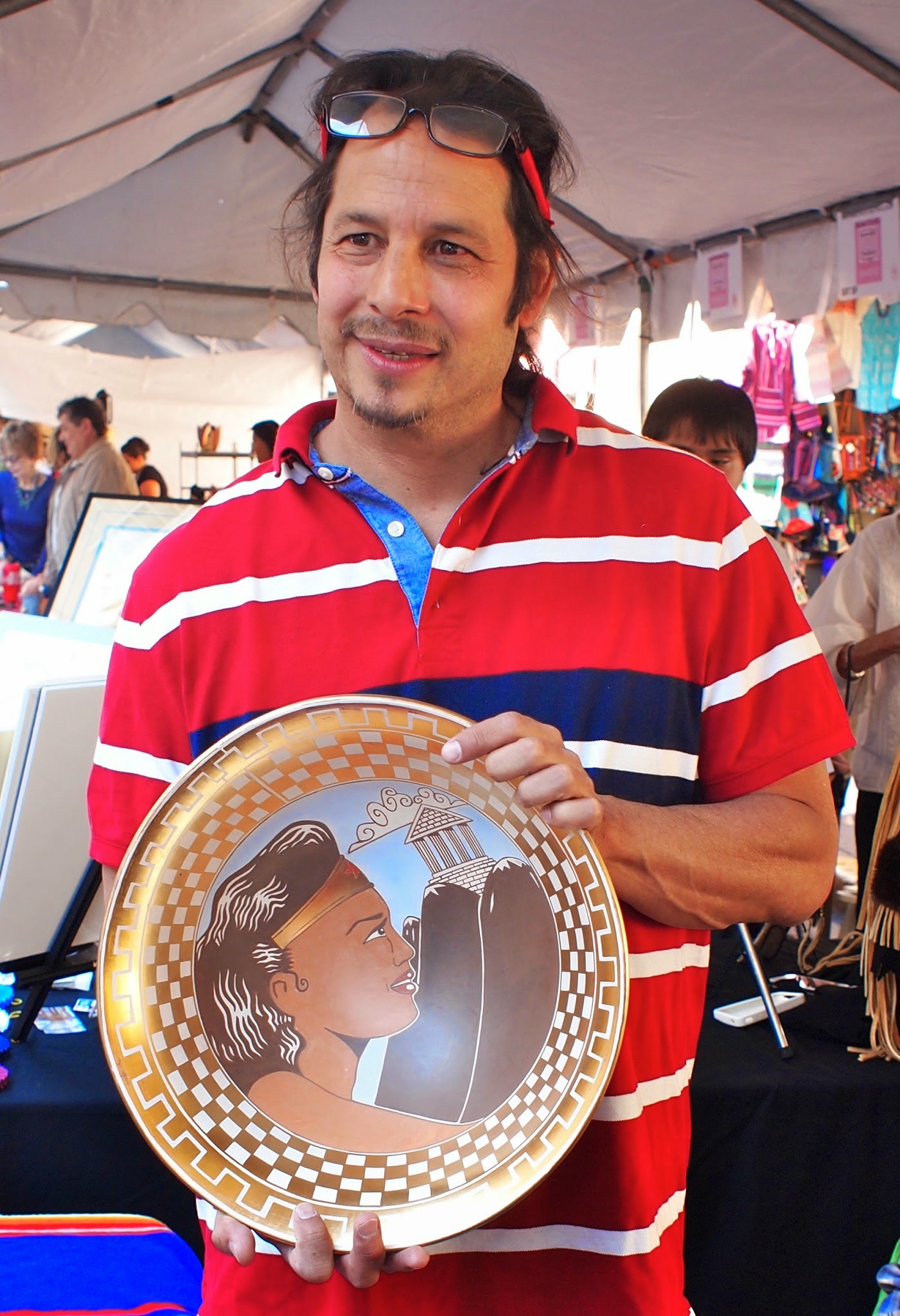 Romero at the 2013 Indian Market in Santa Fe. He sees Wonder Woman as an earth goddess.
After graduating from high school, Romero attended the Institute of American Indian Arts (IAIA) in Santa Fe, New Mexico. (IAIA
is the only four-year degree fine arts institution in the nation devoted to contemporary Native American and Alaska Native arts.)
He later attained degrees from Otis College of Art and Design (BFA) and University of California, Los Angeles (MFA).

He now lives and works in Cochiti, New Mexico.
Manscape
Since his graduation from UCLA in 1993, Romero has developed an extensive exhibition record with artworks that often humorously contrast historical Pueblo traditions with contemporary notions about super heroes and comics. His work is found in significant public collections such as the Metropolitan Museum of Art, the Cartier Foundation, the Peabody Essex Museum, the Denver Art Museum, the Heard Museum, the British Museum, and the Scottish National Museum.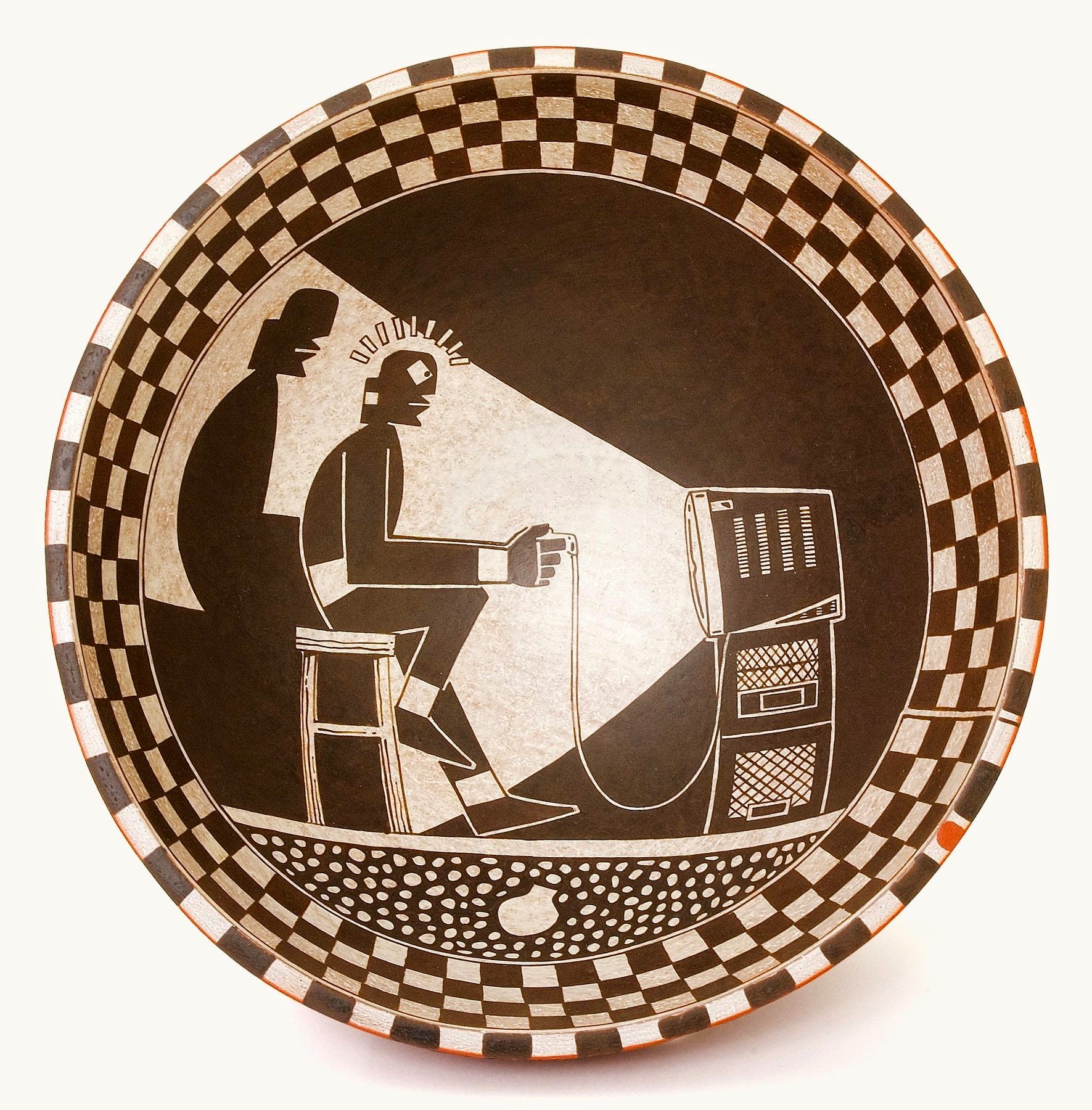 Instead of using indigenous traditions as insulated from historical change, Romero consciously evokes "the historic as a point of departure to reinterpret the contemporary."

He uses historically situated oral traditions as source material, a narrative style related to popular culture and comic books, and a healthy regard for social critique in his work.

There is an obvious sense of humor with a biting edge.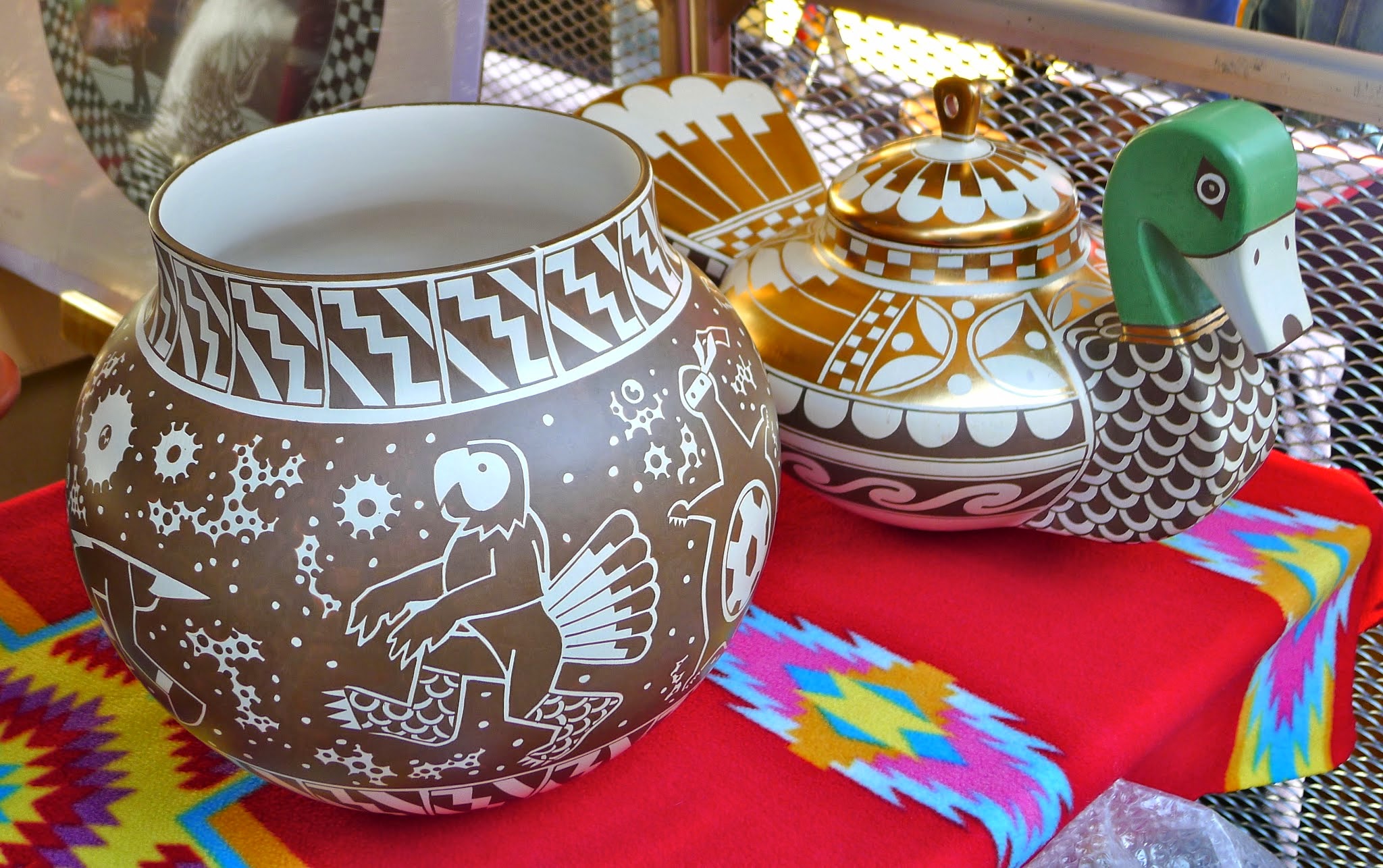 Two of Romero's pieces at the 2013 Indian Market in Santa Fe
Audiences and collectors find intrigue in his anti-colonial humor and appreciate his excellent artistry and craftsmanship.

He is one of a handful of potters, the so-called Free Spirit potters, whose work takes on contemporary Pueblo reality instead of the traditional ceramic forms that dominate the traditional Native American art market.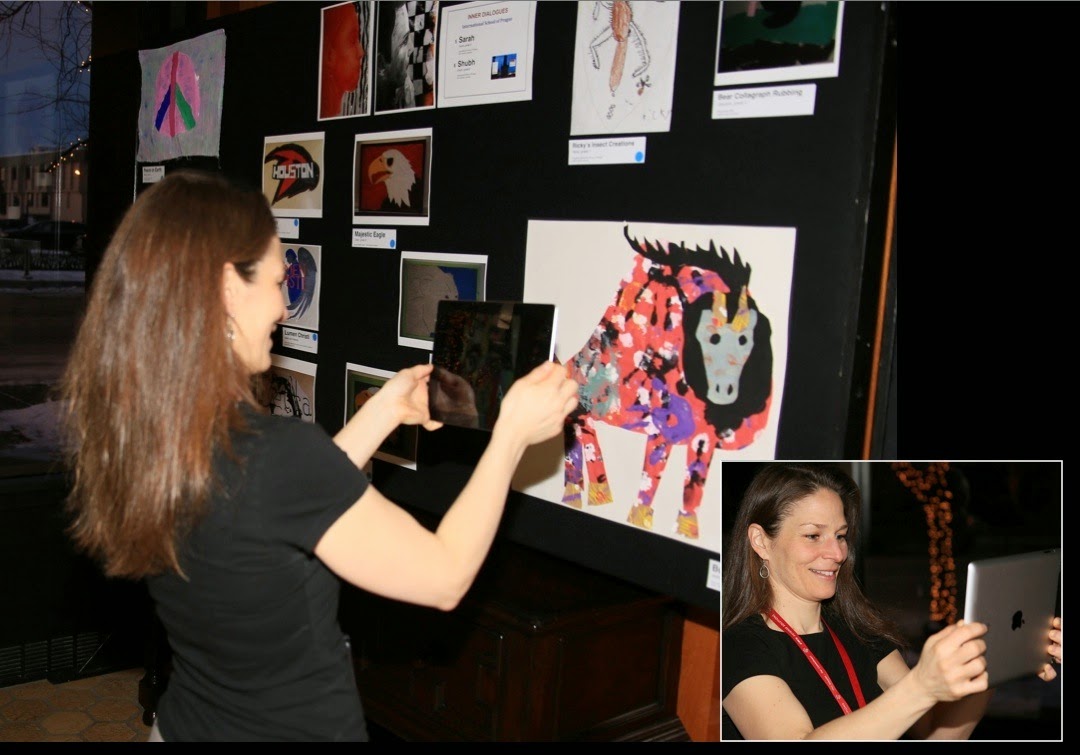 In my interview with Diego Romero I found him to be both funny and philosophical.

Romero's knowledge of art and art history and a piercing perception of the world combine in a particularly rich fusion of cultures and worldviews.

The sense of humor in both the man and in his work comes from a positive and clear-eyed view of humanity and its foibles and is quite evident in a video found here.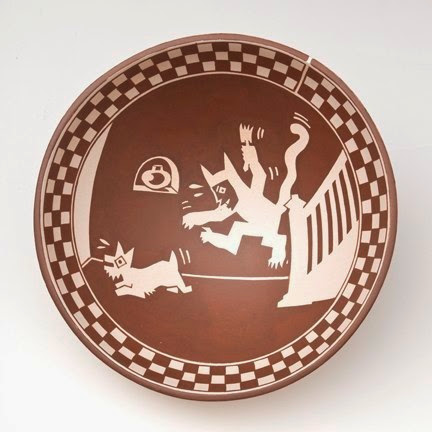 Max
SW:
How would you describe the evolution of your work?
DR:
My work began as narratives specific to the stories of the Indian people, their real lives and the church, but it has evolved to the more universal narrative about the nature of mankind.
SW
:

What are your central themes, narratives and symbols?
DR:
My characters, the "Chongo Brothers,"
are a mixture of a lot of Native individuals, but beyond that they're disenfranchised. They're disjoined. They're an aboriginal people in a 20th century consumer society. The work narrates the pitfalls and dualities of that dichotomy through stories of urban Indian life.
Since then my work has evolved into industrial landscapes, cartoon character bottles, Gold Trophy pieces, and Pop art icons after the style of Andy Warhol and Roy Lichtenstein. It has become a hybrid of comic book superheroes and Indian traditions and contemporary design today.
SW:
How does your work reflect both your knowledge of art history and your personal history?
DR:
My work started out as autobiographical, incorporating old narratives and stories from friends and family and tradition.

After I went to art school, I approached art history like a salad bar from which to pick and choose and mix imagery and motifs.

I fuse Greek pottery and Mimbres ceramic traditions with Pop Art iconography and comic book style. My narrative is that of the super hero and heroine in a contemporary mythology.
SW
:

What are your clay techniques and processes?
DR:
At the
Institute of American Indian Arts I learned to work with clay in the Hopi tradition from a woman who was like a grandmother to me.

We ground the clay from the earth, used native paints to color the ware, and fired the work outside in a pit. I like clay because it has an infinite shelf life.

I like to think that my pots will be around after the exploding and contracting of the universe in a big bang.
In art school at Otis I decided to be a contemporary potter and tossed out the old dogma and tradition.

I still do my own chemistry of mixing clay and slips and I use the traditional coil method with stone polish but I am free to fire in electric kilns and use gold lusters in a no holds barred attitude.

If I am going to show at Indian Market I follow the tradition using native clays and paints, but if I am showing in a gallery or museum I may use electric kilns or slips or lusters any way I like.
SW
:

How would you like young people to understand your artwork?
DR:
I like to say that I am a chronologist on the absurdity of human nature in life.
It gives me great pleasure to watch people crack up laughing in the gallery when they are looking at my artwork.
If we lose the ability to laugh, then we lose the ability to heal.