SchoolArts Room
Connecting through Art in a COVID World
The COVID-19 pandemic changed all of our lives in different ways. Because we were isolated in our homes and unable to go to school together, we had the opportunity to spend more time with family and find things to do of our choosing. Making art rose to the top of children's lists as home studios became busy places and online art supply stores had difficulty keeping up with demand. During our isolation, children and adults often created together and used art to find new ways to connect to the broader community.
---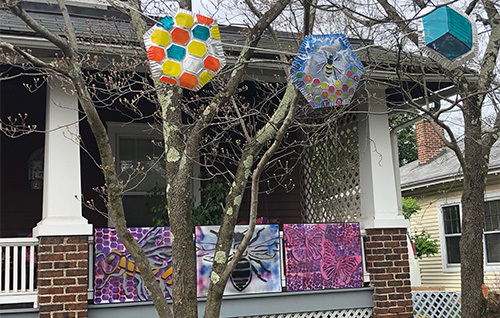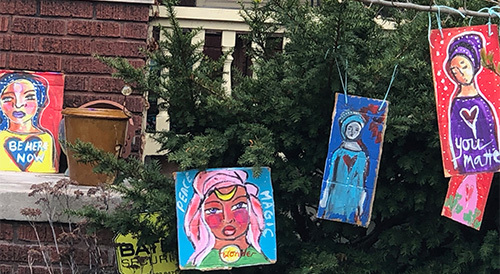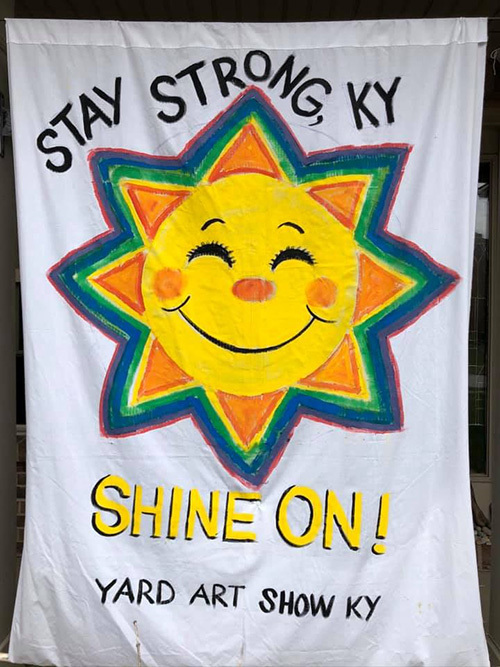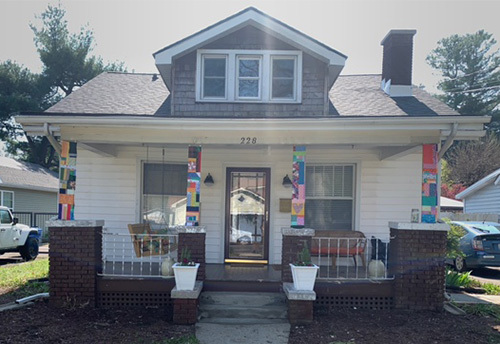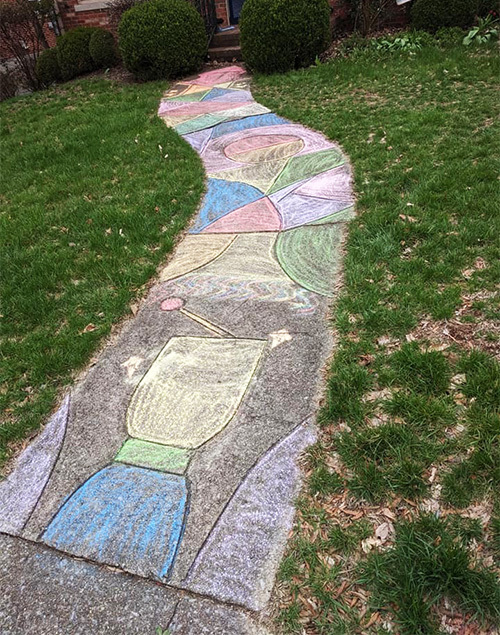 The Power of Home Art
Noticed by local and national media and through social media, the outpouring of creative energy was richly documented in an unusual wave of outdoor art events. Children, adults, and professional artists communicated with the outside world in numerous unexpected ways, making works of art to be viewed by people from sidewalks and passing cars.
For children, this moment was not about creating art for school projects or for grades, but for personal meaning and message. Home windows became picture frames and exhibition spaces. Front lawns and driveways were the backdrops for vast canvases that sent poetic and private messages to inspire hope. Our art became the voice of the people, a wellspring for communication with friends and neighbors.
Children have always made art as a meaningful gift to parents and others they care about rather than as a commodity for sale. The harmful virus brought forth the good in all of us, as experienced young artists led the way by showing their humanity and caring for others.
Sharing and Connecting
The pandemic showed the true meaning of art to our student artists and taught the most valuable lesson to art teachers. These acts of home art showed that school art should not just be about assignments, art skills, and techniques—it should also be about allowing children to speak and express their shared humanity and the need for giving and connecting with people and society. Perhaps school art will experience a seismic shift, encouraging young artists to find their language and motivations through making connections and creating art as personal gifts. What a powerful message for art teachers to inspire and give to the world!
Gifts of Art
In our city of Lexington, Kentucky, there were days when giant teddy bears, many uniquely handcrafted by children, were put on front stoops to engage other kids. "Yard Art Shows" were regularly held on weekends, where one could walk or drive around and see an individual's art and family efforts in front-yard installations. Art was suspended from trees and bold rainbow-style paintings were placed in windows. Sidewalks became large canvases, and yard signs, saved from past elections or garage sales, were adorned with a new layer of original art. Parents worked with kids on the front porch; children made art from steps and using railings. Our governor was inspired by the blossoming of hope led by young artists and encouraged art signs to be made and used as platforms to communicate.
Doors became gallery panels, and lines between structures and trees suspended art to be animated by the wind. Motivated to action by making a difference, students' artistic voices were heard loud and clear.
Home Art at School
For art teachers working online or returning to schools, the question now becomes, how do we use this moment as a lesson for the classroom? Can we evoke the feelings and motivations of children for art-making, giving our students' voices validity to create a space where they know their art is not merely an exercise? Art teachers can always embrace the lessons of home art by understanding that our students need to create through personal reflection, significant individual events, and issues facing our society.
IIona Szekely teaches art education at Eastern Kentucky University. Ilona.Szekely@eku.edu
This article was published in the April 2021 issue of SchoolArts magazine.