SchoolArts Room
Changing the World, Changing Ourselves: Folk Art Extravaganza
Somehow I have just looked up and discovered that it is the middle of July! I have been going nonstop since school was out but now have some time for reflection.
---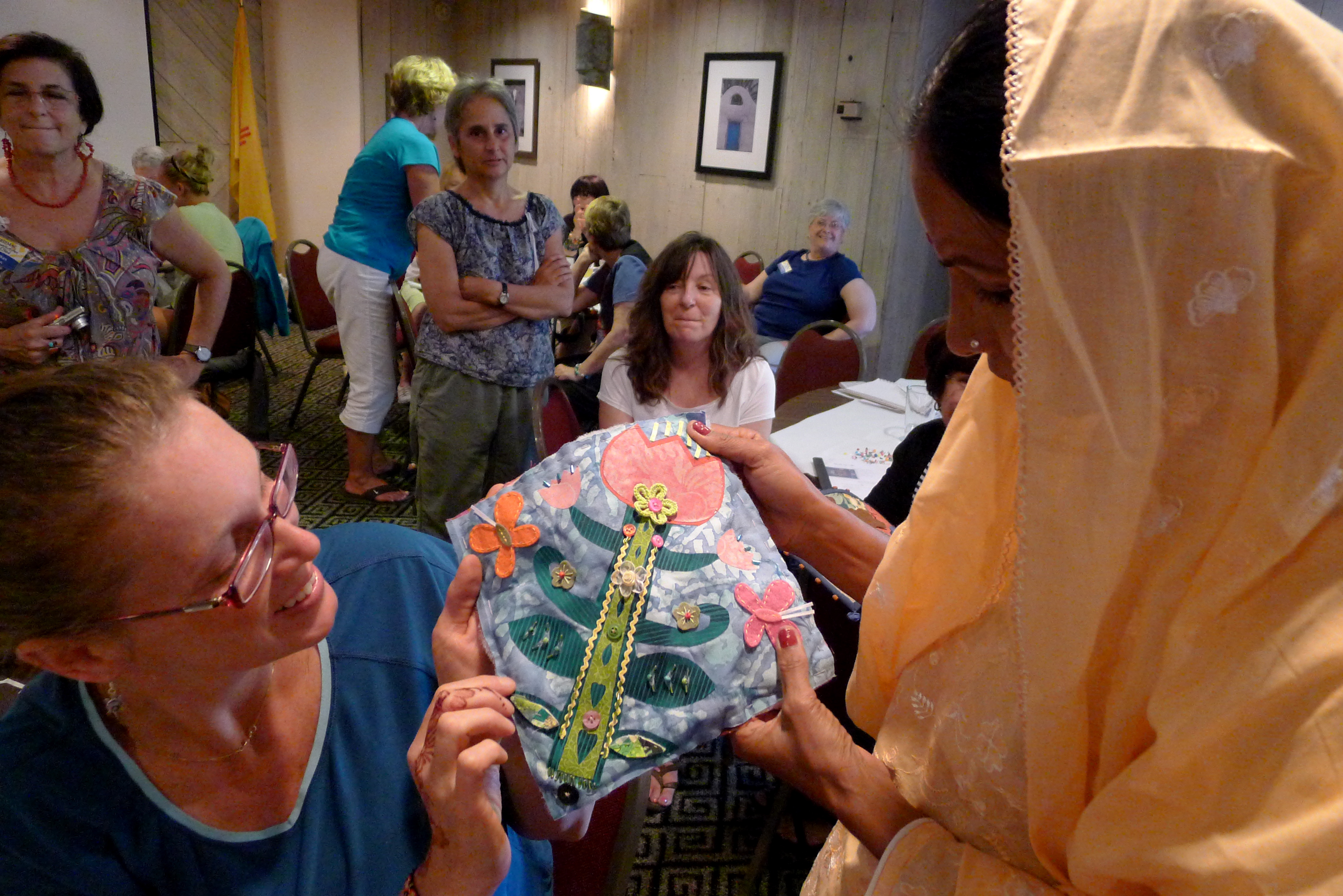 Our Folk Art Extravaganza, our joint SchoolArts/CRIZMAC workshop, was a rewarding experience for us, with 37 eager participants. The highlight, for all of us, I believe, was meeting Pakistani quilter Naina Surendar and her husband Surendar Valasai. Naina was representing Ralli Quilts, a cooperative of women from her village and surrounding area in Pakistan.
Though Ralli Quilts has been represented for many years at the Santa Fe International Folk Art Market, this is the first time one of the quilters has been able to come to the Market. This trip was also the first time Naina had ever been out of her rural, isolated village.
Trish Stoddard, a modest woman who has made such a difference in the lives of these quilters, brought Naina and her husband to meet us and help us learn about the Ralli quilts. Naina doesn't speak English, but her husband does, so he translated. Trish also brought many examples of historic and contemporary Ralli quilts to share with us.
Prior to their visit, our members each began a personal quilt square that was intended to be a souvenir of the week. It could be quilted or appliqued, sewn or glued. We chose the quilt square as a project because of the number and variety of fiber arts we knew would be at the market. We started it as a group but the participants could work on it throughout the week on their own.
On our final day, after we had experienced the Folk Art Market, we were displaying everyone's work so it could be shared and photographed. Then we had a surprise visit! Thanks to an invitation from one of our group, Naina, Surendar, and Trish and her husband returned to say goodbye. Naina was very curious about the finished quilt squares and looked at every one. We couldn't have had a better conclusion for our time together. Though we wondered how Naina would be changed on her return to Pakistan, we knew we would never be the same. She opened our eyes to another world and we will never forget her.