SchoolArts Room
International Interdependence Hexagon Project
The International Interdependence Hexagon Project VI is an opportunity for teachers of students ages 10-18 to have their students participate in an international effort to promote interdependence, social justice, collaboration, women's and children's rights, ecology and the environment, poverty, civil society and democracy.
---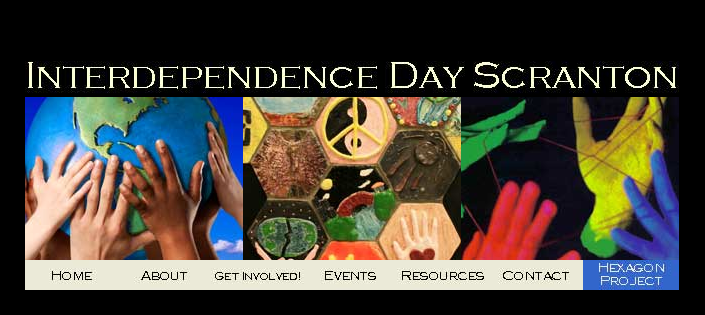 Encourage your students to think inside, outside and around the hexagon, a metaphor for human interconnectedness, by participating. Your students can create in any media inside a downloadable hexagon
template
, along with other materials. The deadline for entries is June 30, 2012.
The exhibit will open Friday, September 7, 2011 in Scranton, PA at The Vintage Theatre and virtually on-line. A student Recognition Event on Sunday, September 16.
The Hexagon Project has been featured twice in SchoolArts Magazine and in the InSEA
Newsletter
.
In keeping with the concept of Interdependence – understanding and practicing skills that lead to solutions, statements, understanding and outcomes that are greater than any one individual can produce, the Hexagon Project challenges students and teachers to think of ways they might approach the project with an element of collaboration, teamwork, group interaction, and/or problem-solving.
Recognition will be given to students who demonstrate outstanding responses to the themes of interdependence in a variety of media. Questions? Please feel free to contact Beth Burkhauser, Hexagon Project Chair, at bburkhauser@msn.com.
Look for the Hexagon Project at NAEA in NYC!