SchoolArts Room
"Boxed Humans" Project
When planning this "Boxed Human" project, I wanted to give my students freedom to create pieces that reflect their own developing styles. The goals for this project were for students to explore drawing different parts of the human body with a sculptural presence. I also wanted students to learn how to plan their projects using large scale drawings which helped students in experimenting with colors, materials, and ideas. This project seemed to take on a life of its own as students worked. Students ran into issues and had to come up with solutions for challenges such as hanging their artwork for display. This project kept my students engaged and challenged. Kala Phelps
---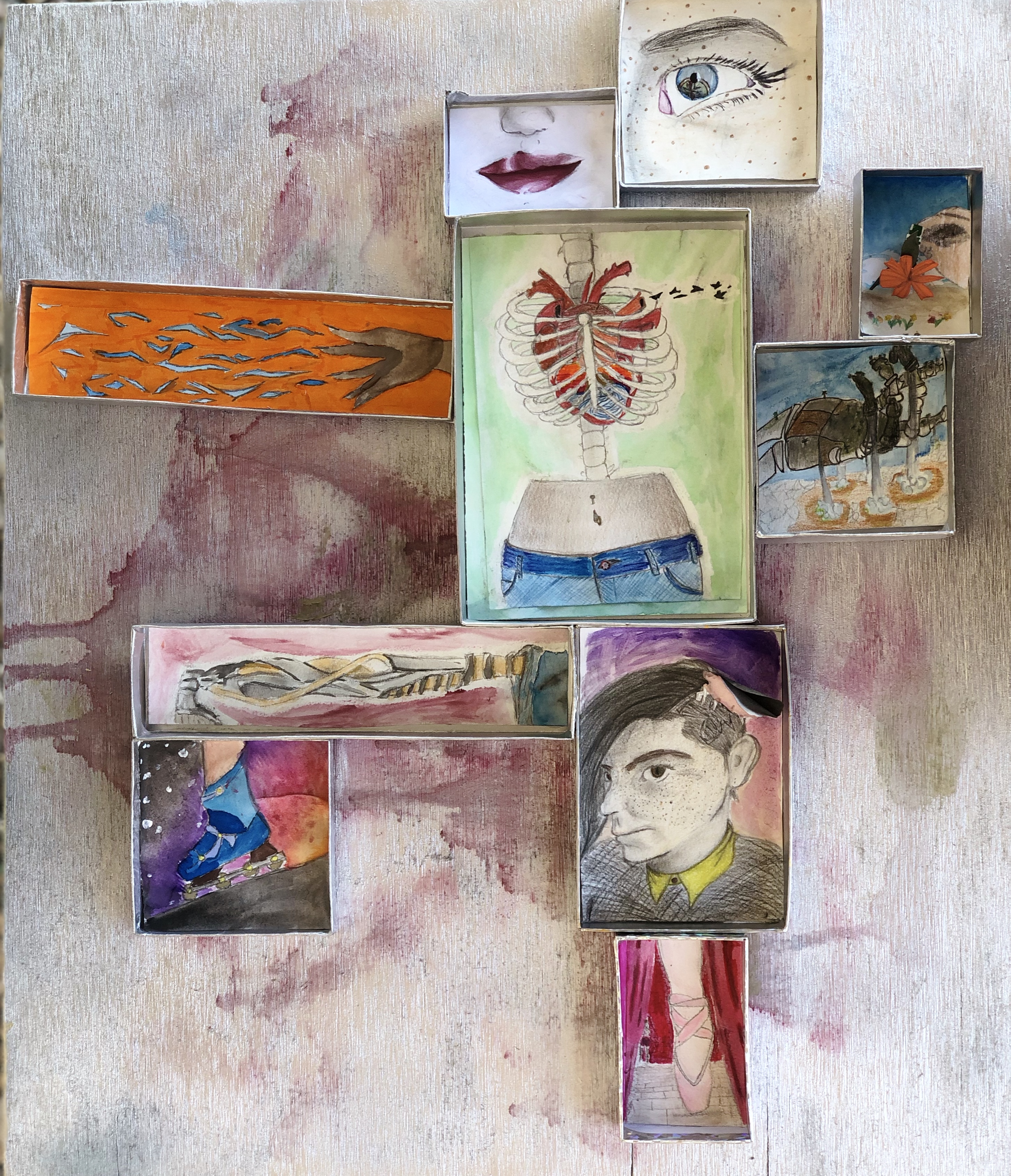 Caidence
A mixed media challenge to representing the figure, written by Harrison Dodge, a 7th grader, with his art teacher, Kala Phelps, published in the October 2018 SchoolArts Magazine.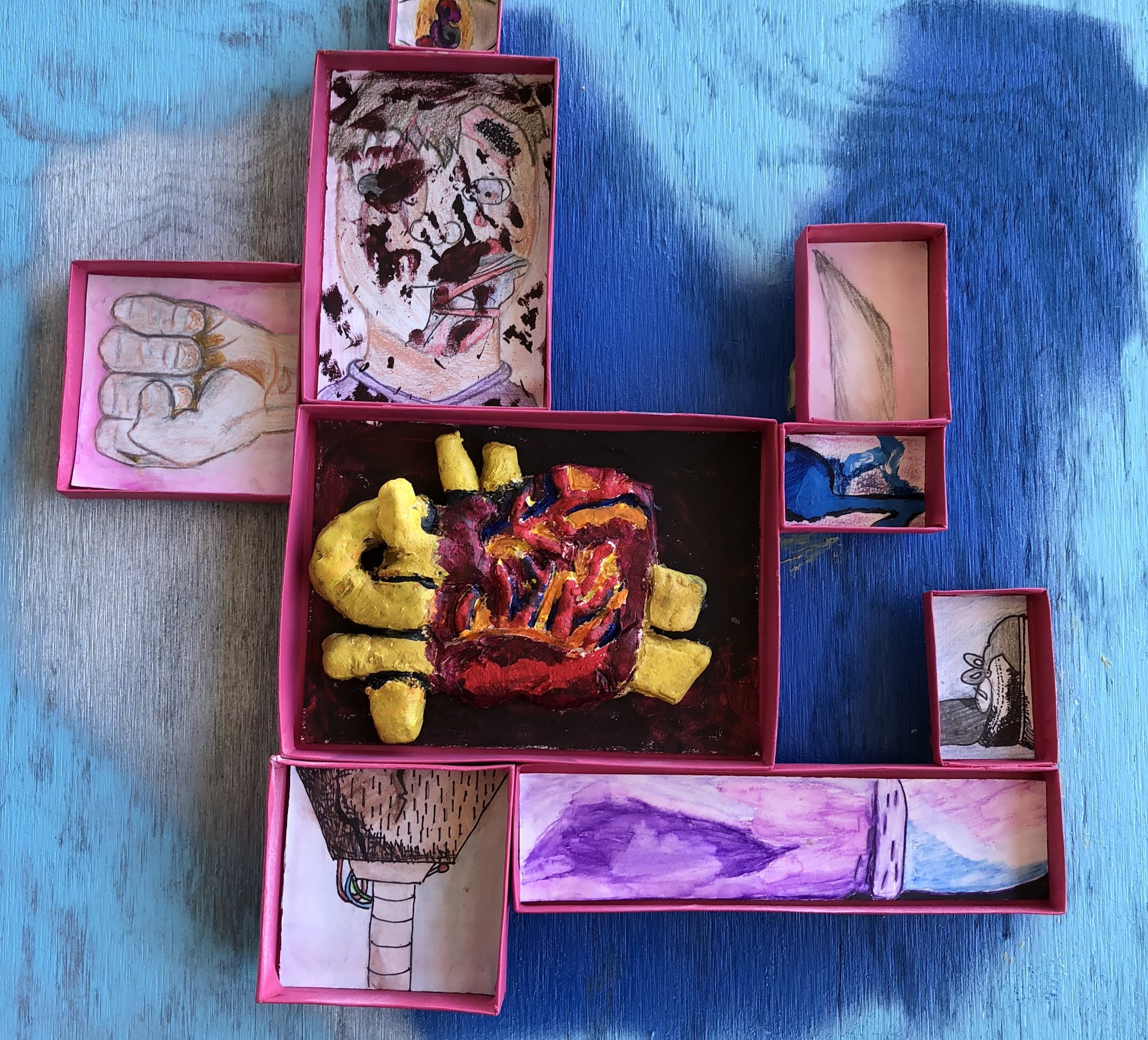 Harrison
Student Introduction
Class with Mrs. Phelps is not your ordinary art class. We often enter the classroom and have a new layer of our project waiting at our desks. This keeps the class interesting throughout the year, and our projects this semester have been no exception.
Boxed Humans is a mixed media project combination that required drawing the different parts of the body (human body study) and sculpture making. We learned to draw, paint, sculpt, and print the body parts we chose including hands, legs, faces, and whatever else we wanted to add to our sculptures. Studying the human anatomy was a vital part of this project. The process of drawing involves mistakes and art that the students are not always proud of, but the encouraging words of Mrs. Phelps makes the students want to persist and keep trucking along with their projects and overcome obstacles.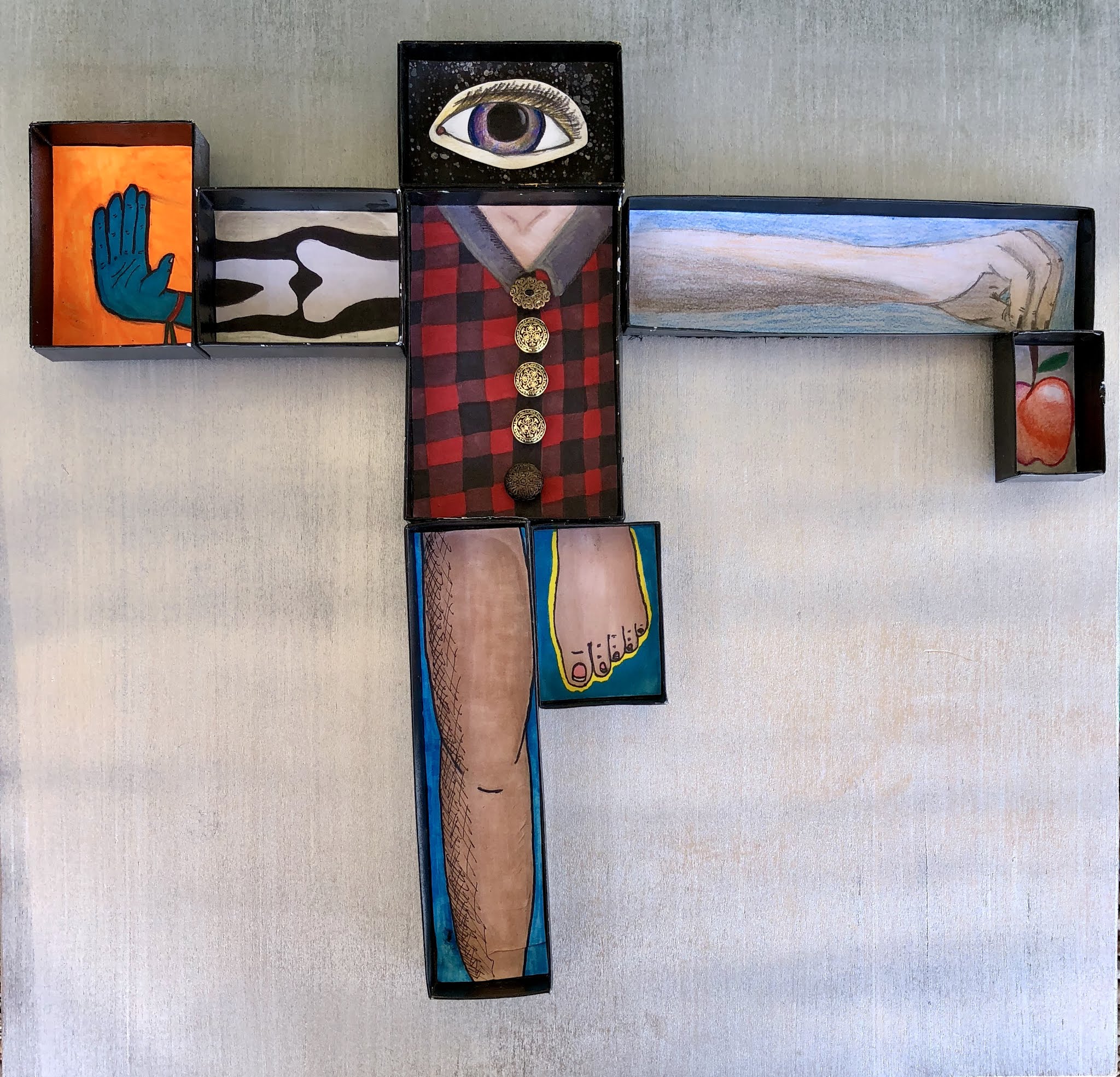 Alizae
Media
The requirements were simple: create a boxed figure that loosely resembles the human body and create a picture of the body for each one of those boxes. As for the media we use, the project turns into a whole other story. We were required to use different types of media and drawing styles for each box, those styles including realism, color scheme, and lines and texture. Some students expanded the project by doing sculpting with clay and printmaking! One student, Jack McDougall, calls back to past projects and incorporates them in his themes and medias, like steampunk and a blind contour drawing. We challenged ourselves so we were satisfied with our outcome.
Art comes with mistakes, and all artists should know that. Alex Garcia for one, a student involved in the art program, says this, "Mistakes are meant to be built off of", and these words are very true. All artists should know that it is okay to mess up and all artists have to start out somewhere.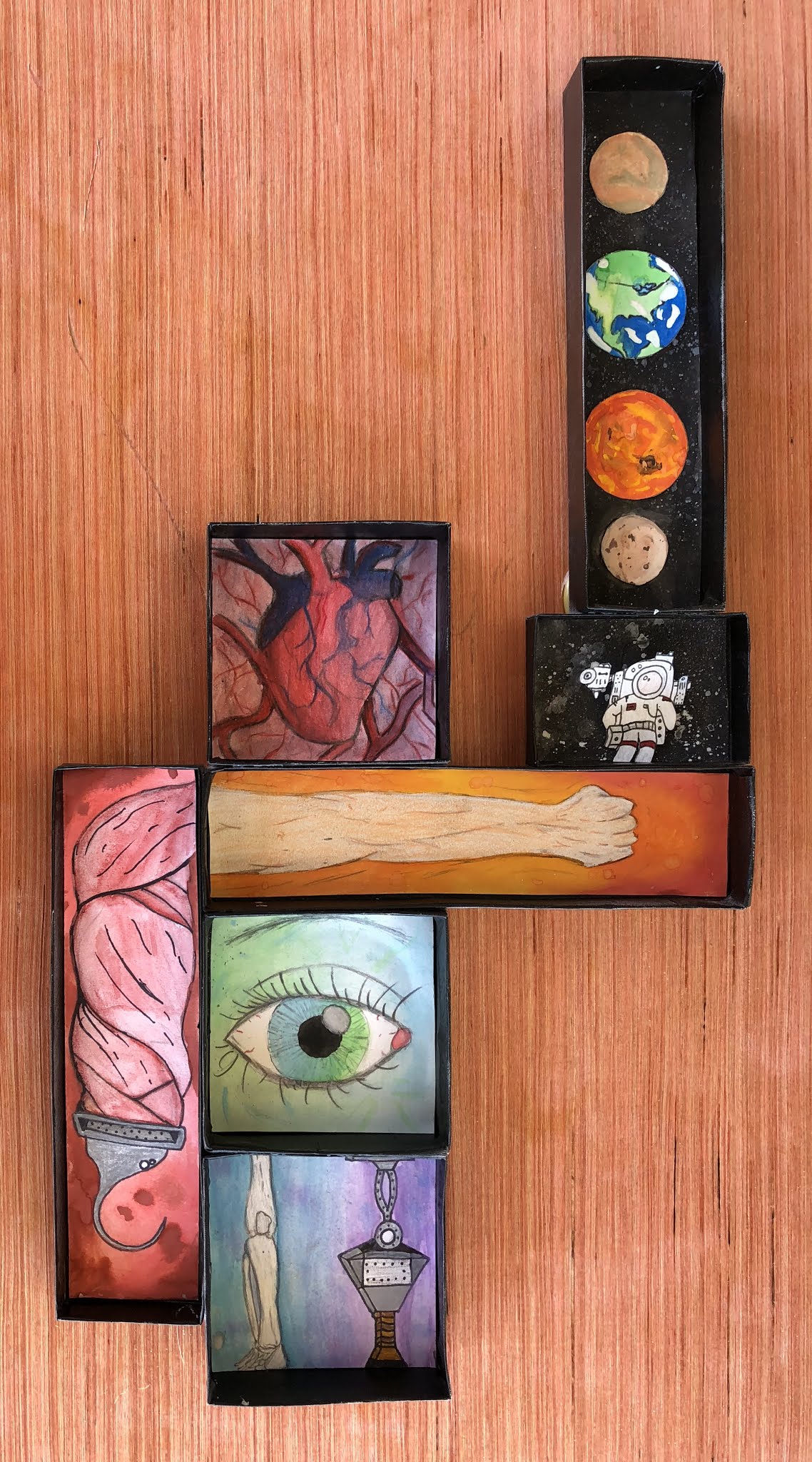 Brady
Planning with Large Scaled Drawings
The start of this project set the whole classes' brains on fire; on fire with ideas, that is. In order to start the project we took recycled jewelry boxes and positioned them in a way that somewhat related to the human body. We traced our boxes on a huge piece of drawing paper, then filled them with different ideas for body parts and how we could make our art unique. These large-scale drawings showed samples of colors, textures, and bulleted notes. These rough drafts became artwork on their own, ending up being completely different from the final form. This gave them their personality and their ability to be unique.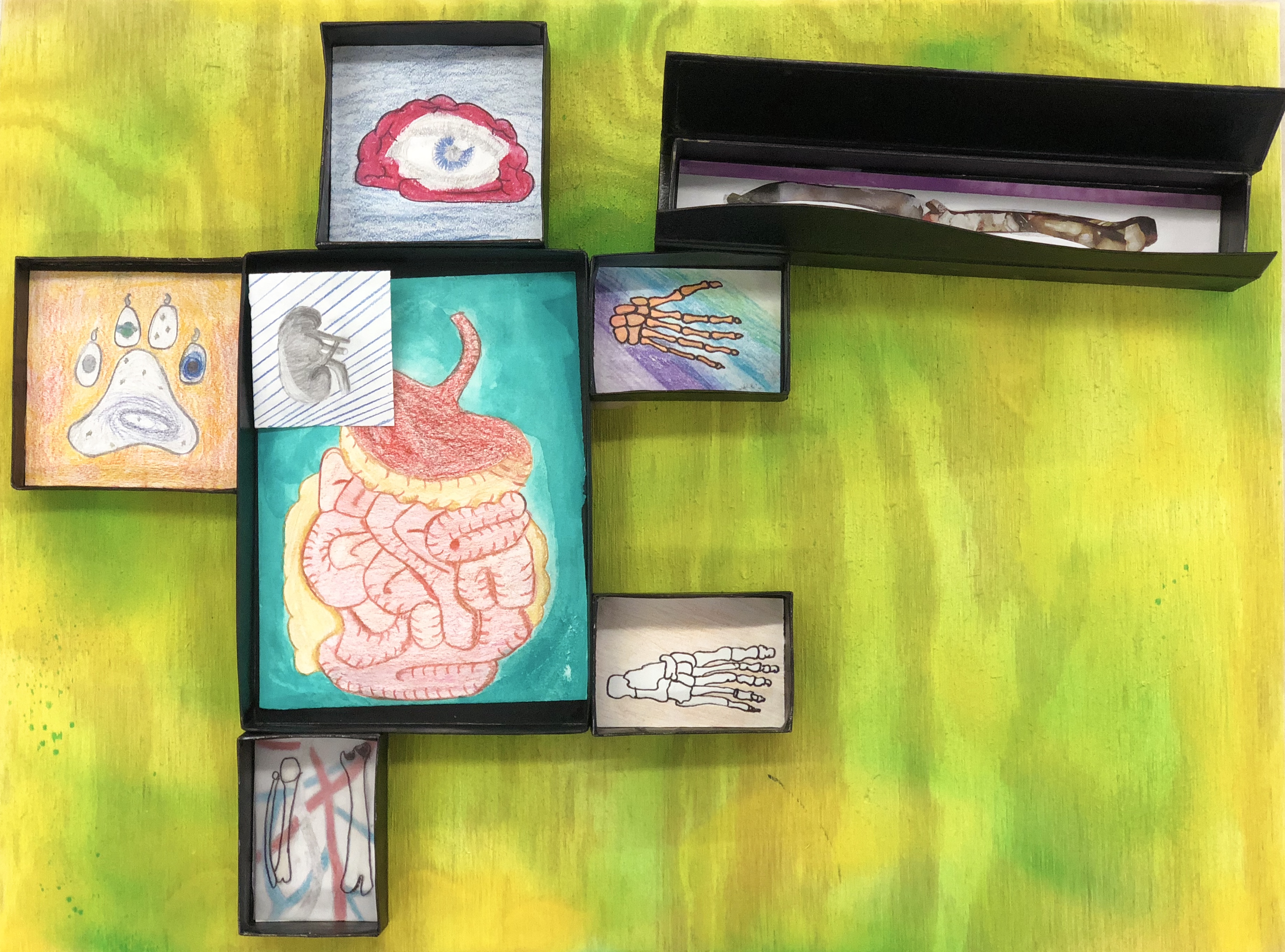 Ethan
Adding the Form of a Square
Pushing boundaries is what an art class is for, and adding ideas to expand our knowledge is a great way to develop our minds as children and adults. This is why Mrs. Phelps had us add ideas that kept the form of a square, and then include those ideas in our drawings. These themes of things in "squares" or "four's" could include the four elements, the four times of the day, the four dimensions, and the four choral parts of singing. This posed a challenge to some of the kids and made us think about our art, not just pass it off without any effort. This became one of the many requirements of the project that the class adapted to.
While creating the final product, many students decided to change their drawings and ideas midway. This created a challenge for them as they came up with new ways to create their art. This is why Mrs. Phelps emphasizes change, and the fact that it is okay to change your ideas so you love what you have created.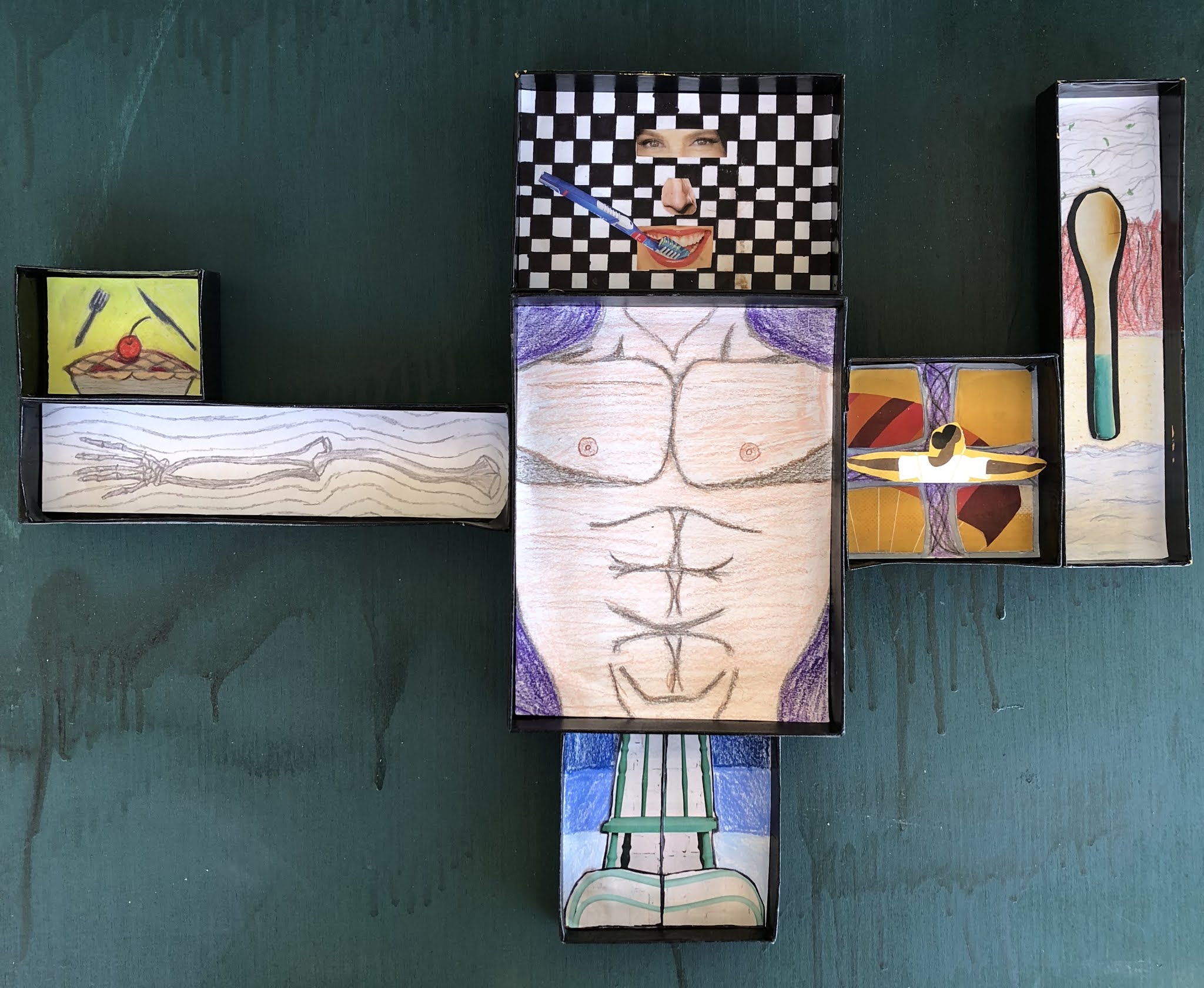 Esteban
The Project Results: Teacher Perspective
The project results were assembled pieces that reflected each students' personal styles and learning goals. This project surpassed my expectations. What I thought would be a two-week project meeting every day, turned into a month-long project with a few small breaks for other small projects. I followed the students' lead as they wanted to expand their box project ideas and experiment with materials, adding layers by developing their drawing skills. Boxed Humans acted as a final project for the semester, since it had so many elements incorporated into the learning.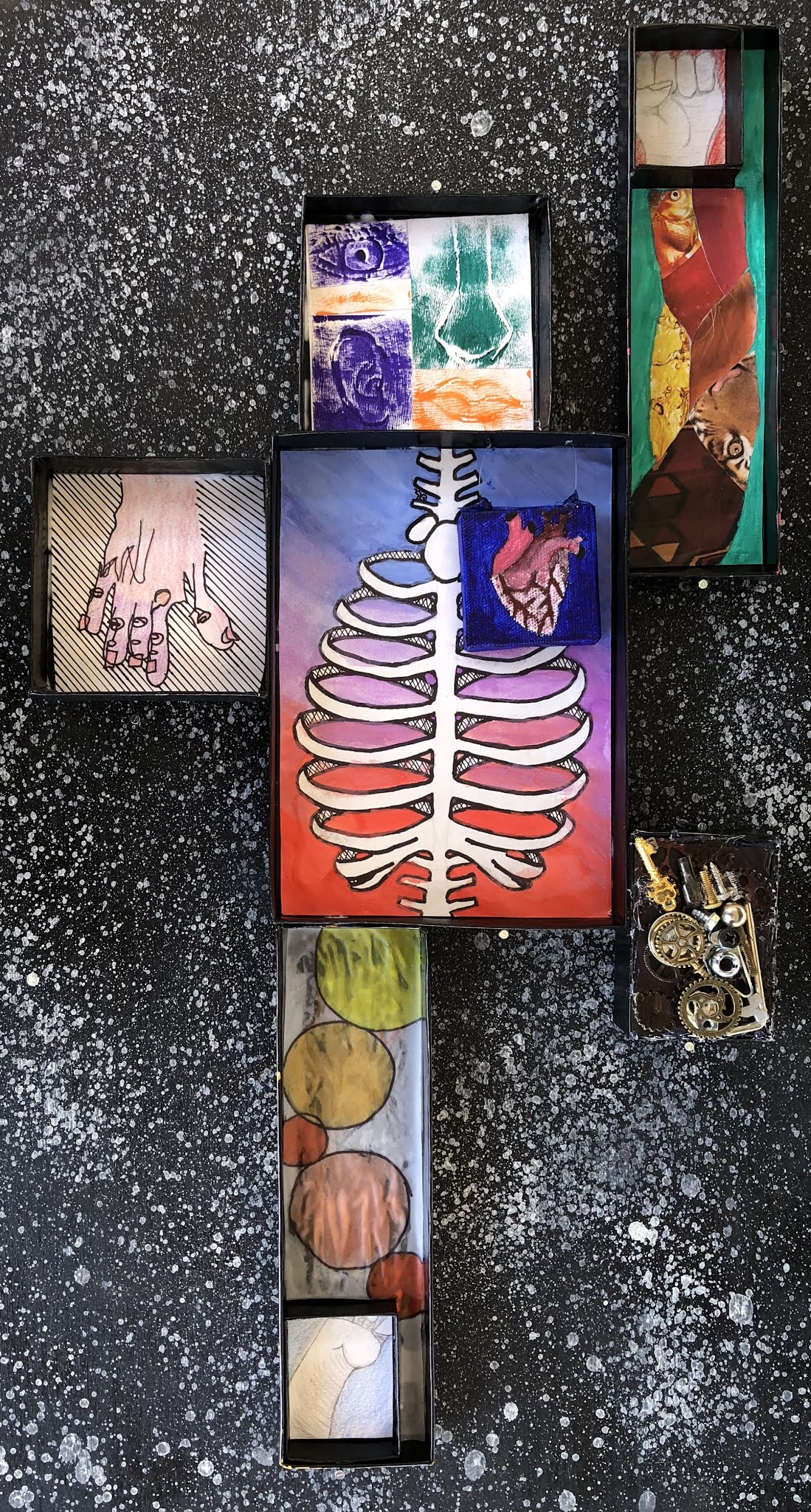 Jack
Process
Human body study
Arranging recycled jewelry boxes
Scale drawing on large white paper
Creating boxes with mixed media
"Square" Activity added to project
Refining the final product
Assembling on board background
Written artist statement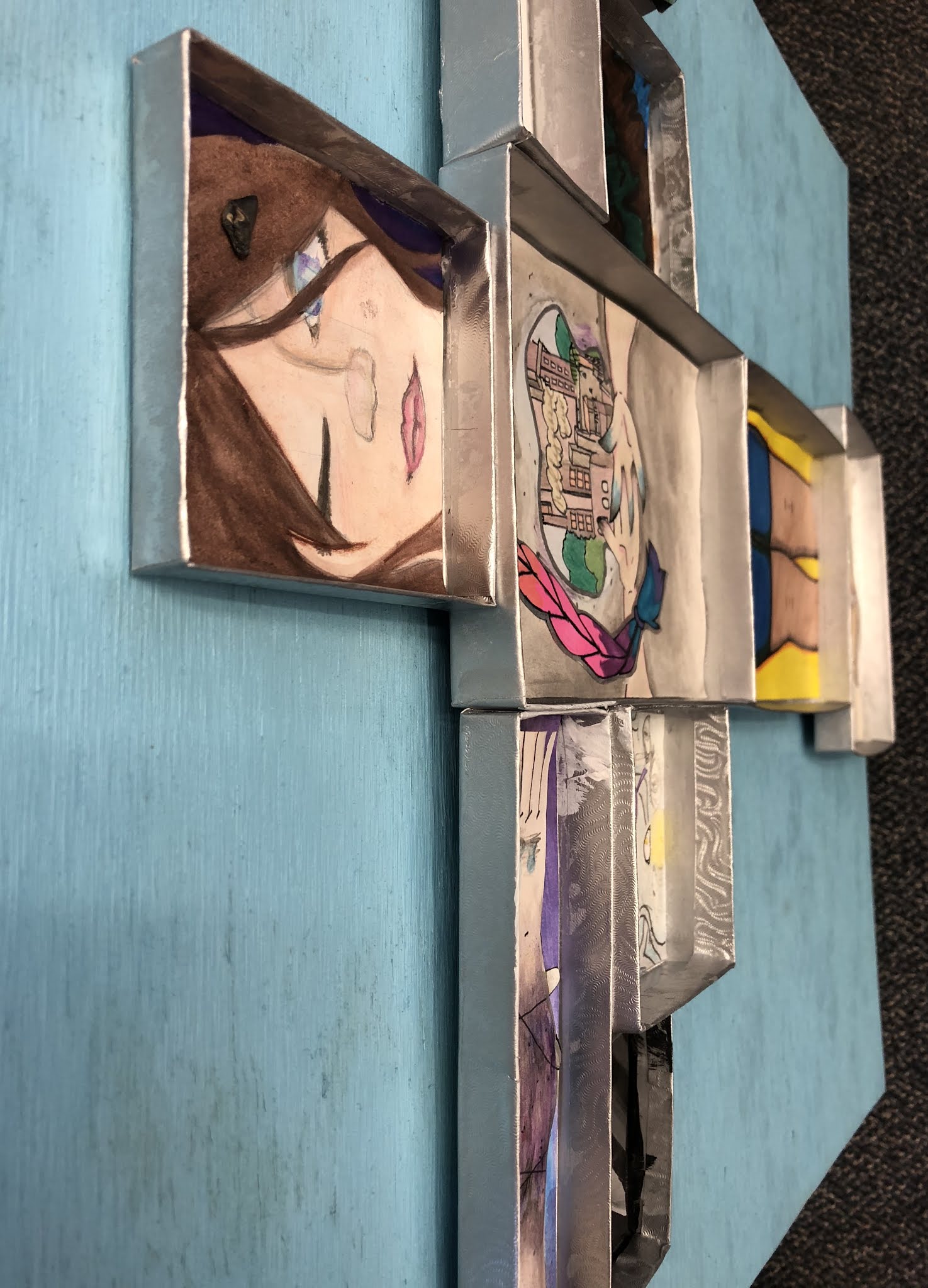 "This lesson is one that I will for sure be using again, it kept growing and students really took charge during the creative process. Harrison Dodge, the co-author, is a 7th grade (soon to be 8th graders) student in my middle school elective class. I shared with the class a copy of SchoolArts magazine and told them teachers often publish their lessons. Anyway, it ended up that they said that they should write an article. So I challenged them to start and told them I would join in and help. Harrison then went home and got started and I helped him with some formatting, etc. During class time Harrison involved other students by asking them questions, asking them for feedback and help with editing. I then took a final look at article, added my introduction and closing before submitting. This article was really about students taking the lead. It was beautiful watching students grow as leaders and want to share their lesson. I say their lesson because they surpassed my own visions for the lesson. The "Boxed Humans" project for sure has a life of its own! Projects like this where students take on challenges and grow are what make we want to continue teaching." Kala Phelps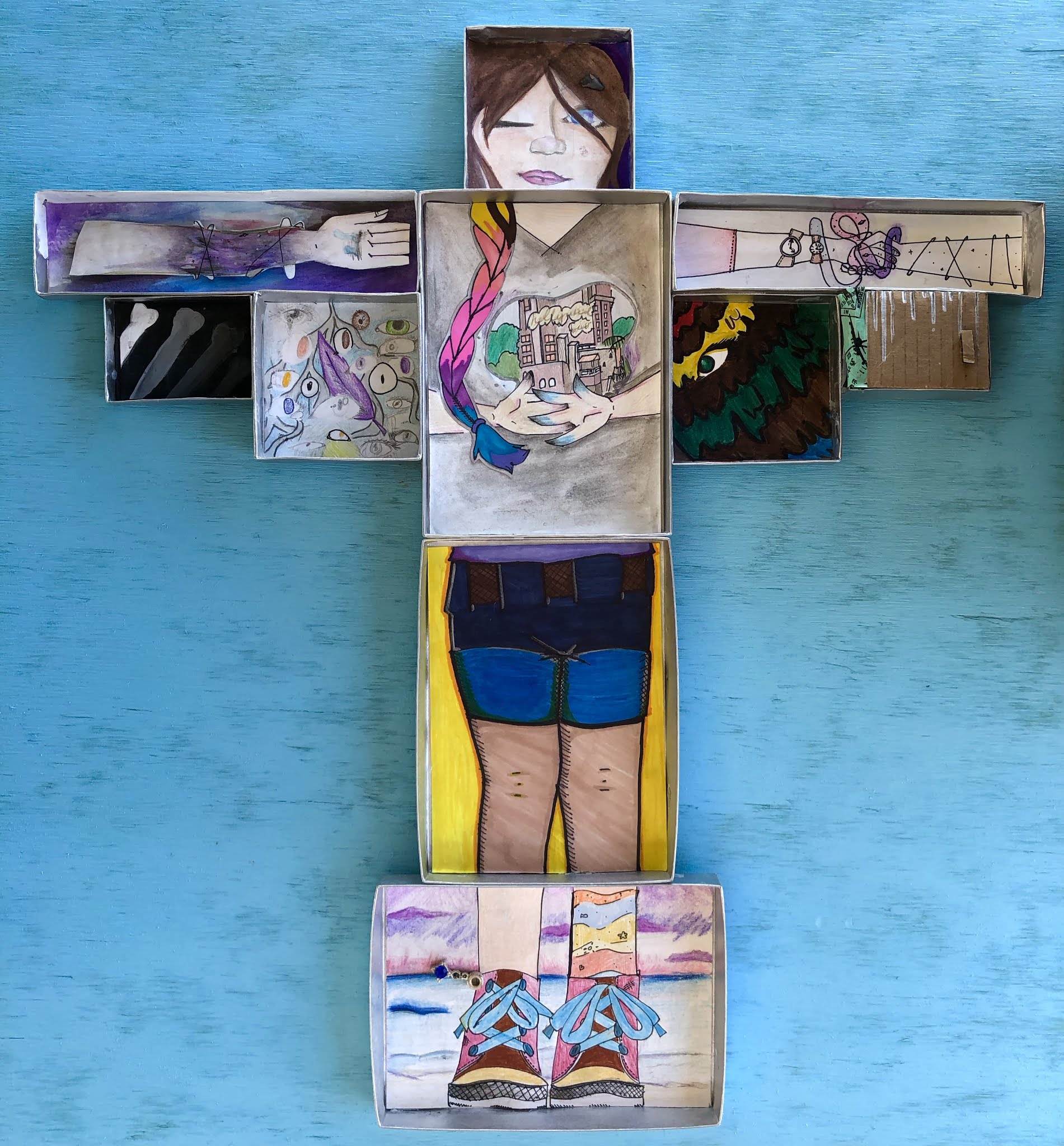 Sarah
Harrison Dodge is a 7th grader at Tucson Country Day School. Kala Phelps is an art teacher at Tucson Country Day School in Tucson, Arizona. KalaFPhelps@gmail.com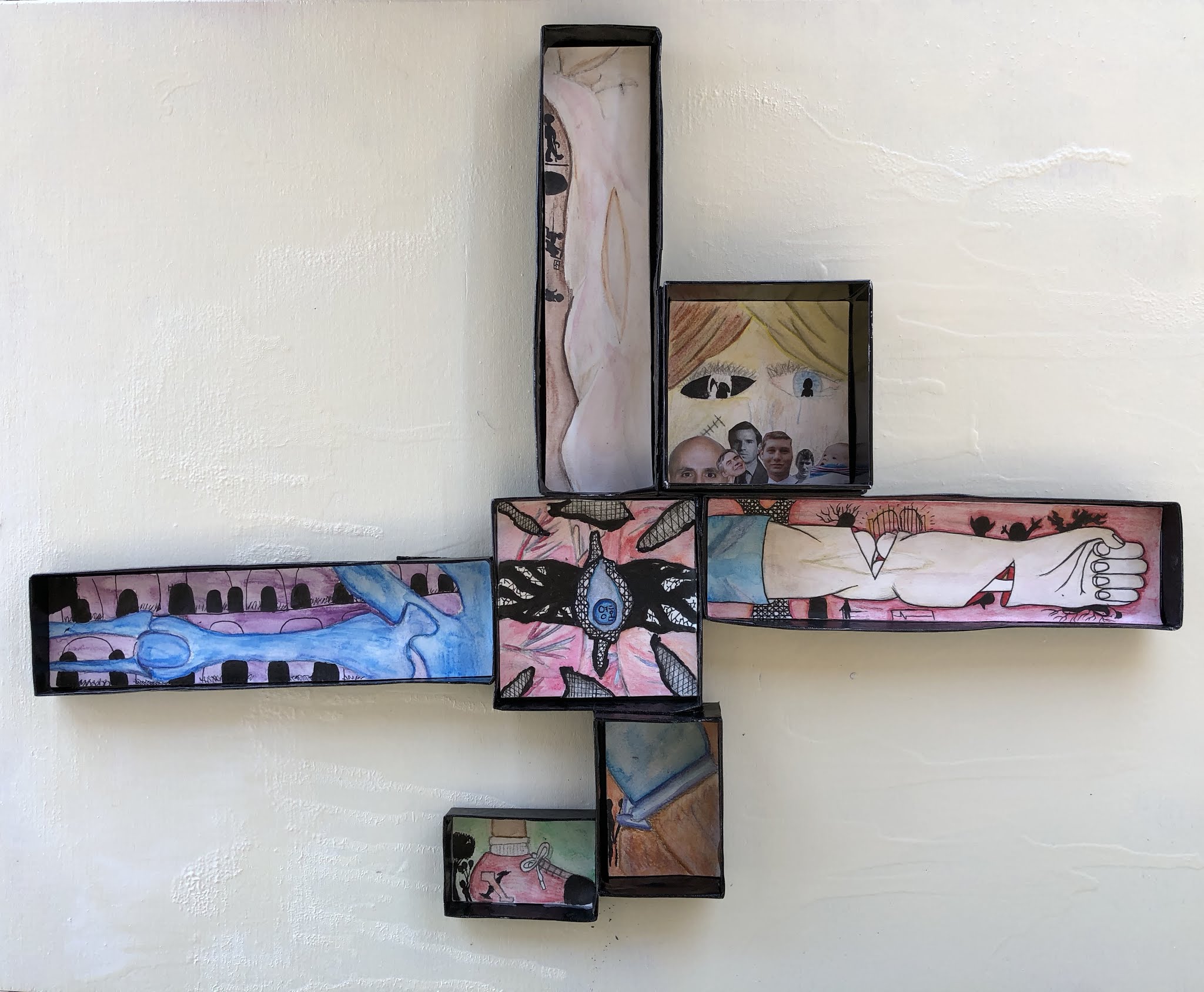 Matthew