SchoolArts Room
Back to Chimayo: Part One
It is always fun to introduce newbies to New Mexico as we get to see it fresh through their eyes, but we also get to visit old friends, make new ones, and explore new places that we can then visit with the groups in our SchoolArts/CRIZMAC Journeys of Art and Soul. Yesterday we went back to Chimayo after being there with other friends only a week ago.
---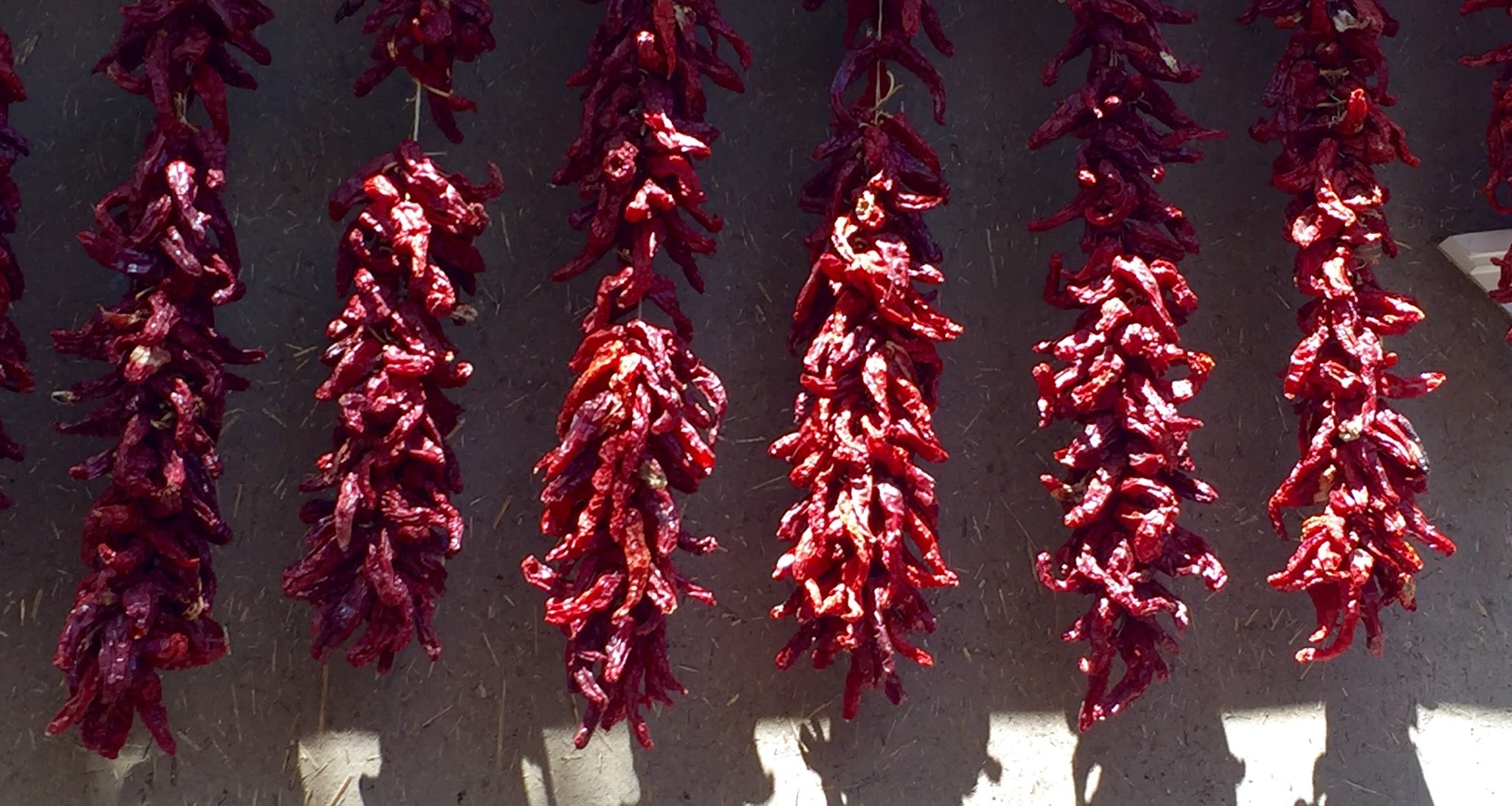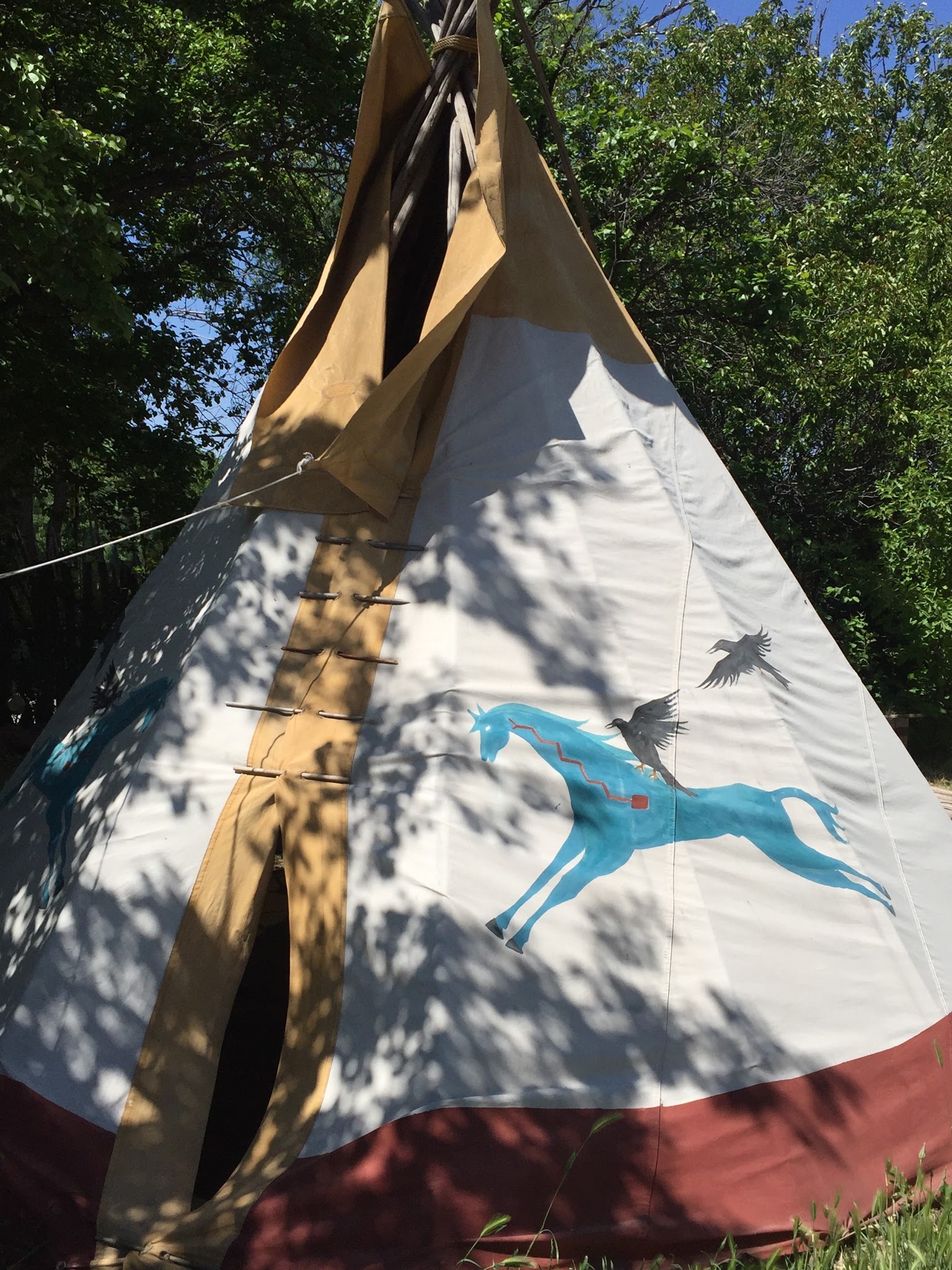 On the way we stopped again on the high road to Taos at the Nambe Trading Post, an historic site that is now run by Cathy and Jesse Smith. Cathy costumes Western movies and television shows such as Dances with Wolves and Longmire and her daughter is an equally talented jeweler.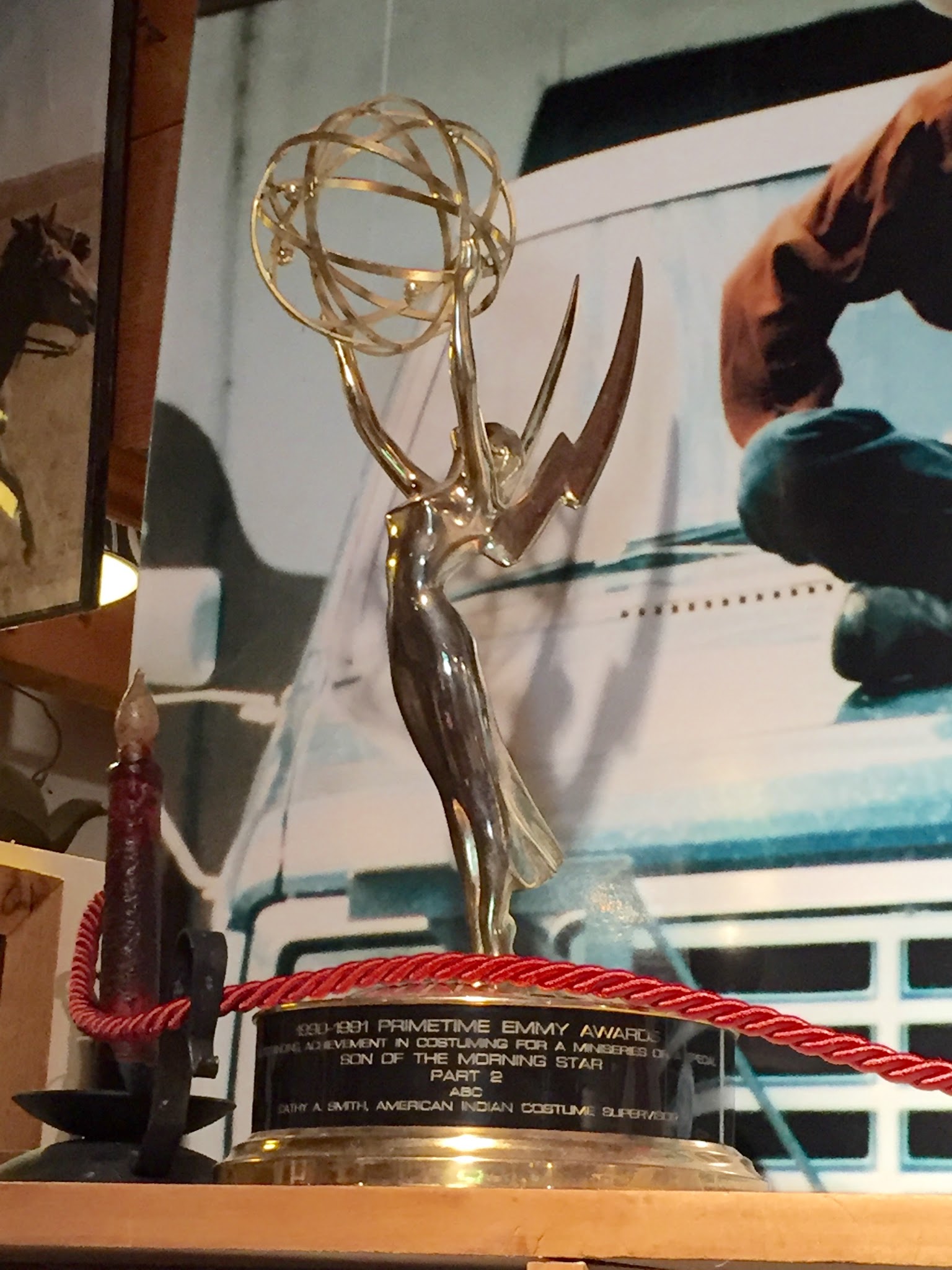 Hopefully they'll have ice cream for sale by when we return this summer. You can see many costumes from movies (available for rental) and Cathy's Emmy.
Next we continued on to Chimayo and the church known as the Lourdes of America, a major pilgrimage site for Catholics, especially at Easter. Dirt from the church is considered to have healing powers and a side chapel is filled with discarded crutches, photos, and written prayers.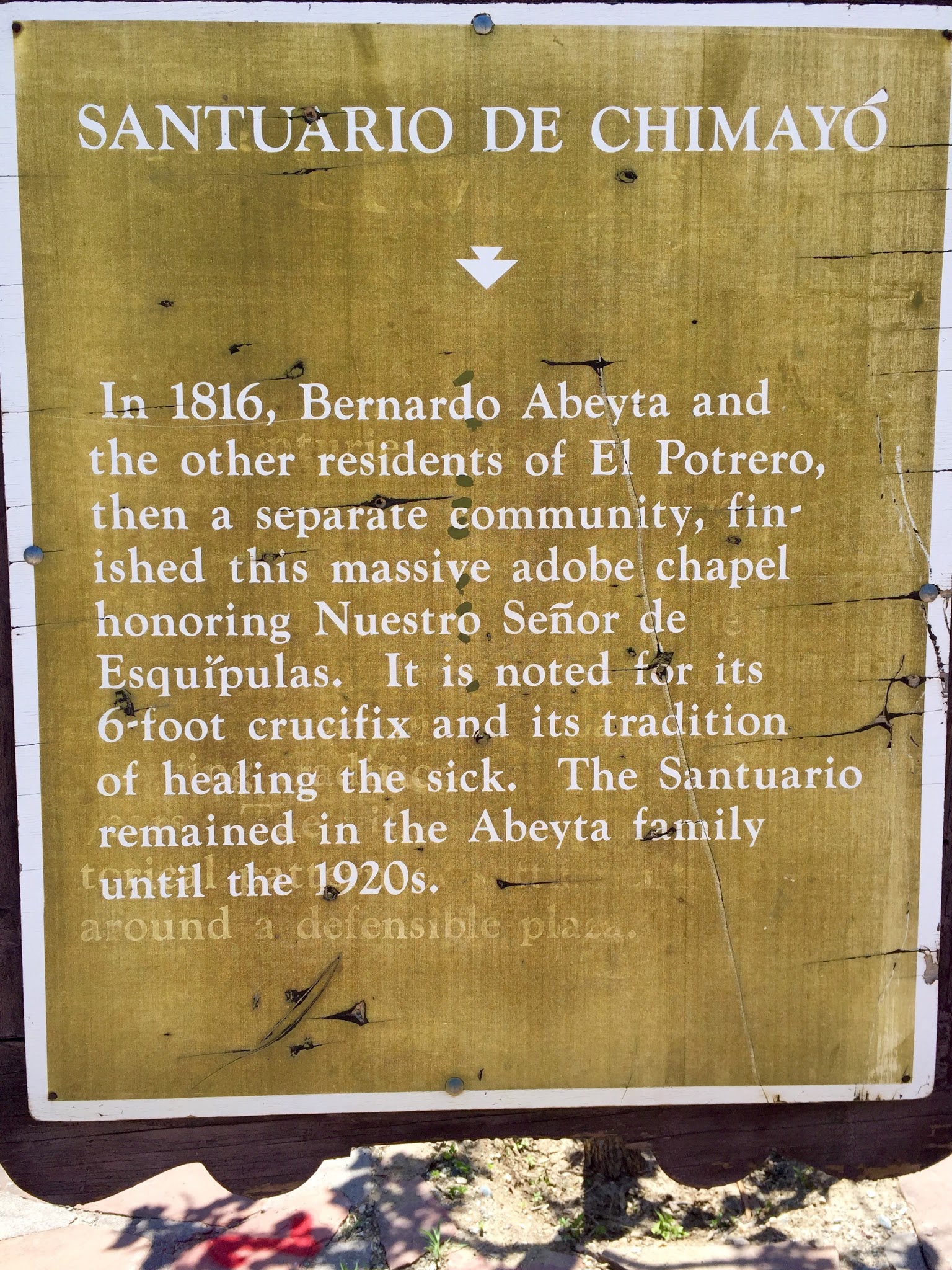 The altar, altar pieces, and other embellishments are original to the church. A mass was ending when we arrived.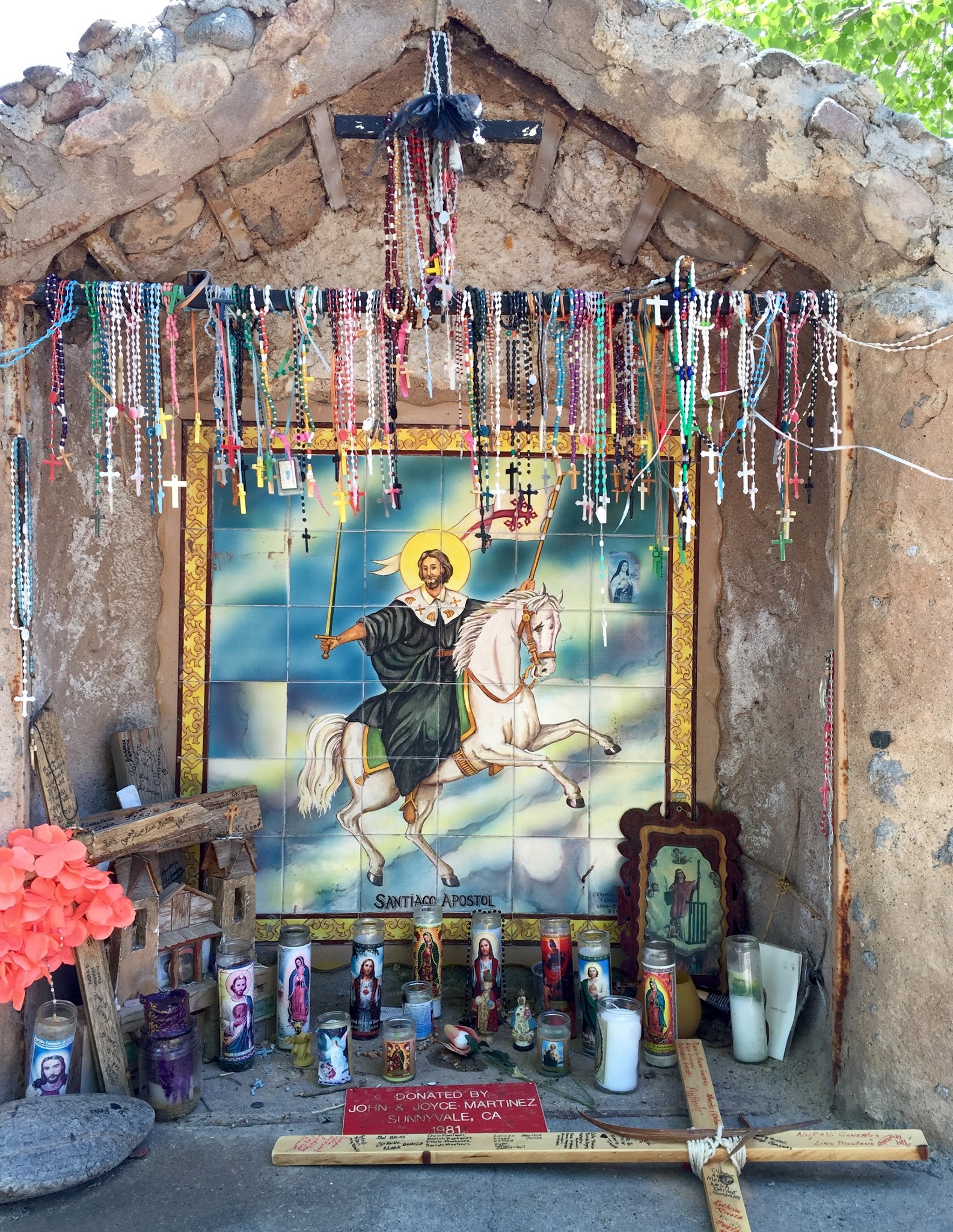 Personal shrines can be found all around the church and grounds, left by parishioners and pilgrims as evidence of faith, hope, prayer, and thanks.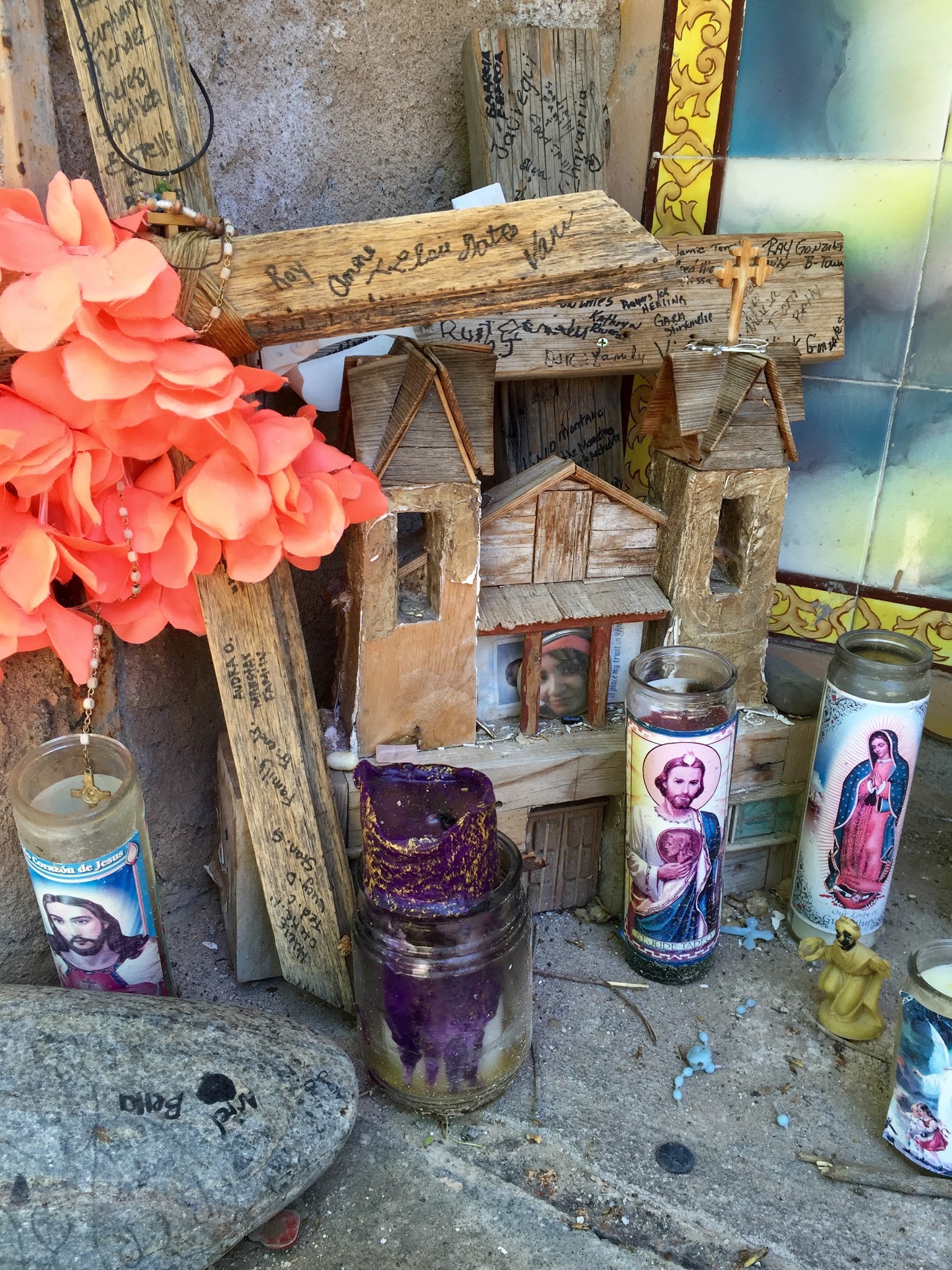 Here you can see a handmade version of the church. Can you see the photo in the middle?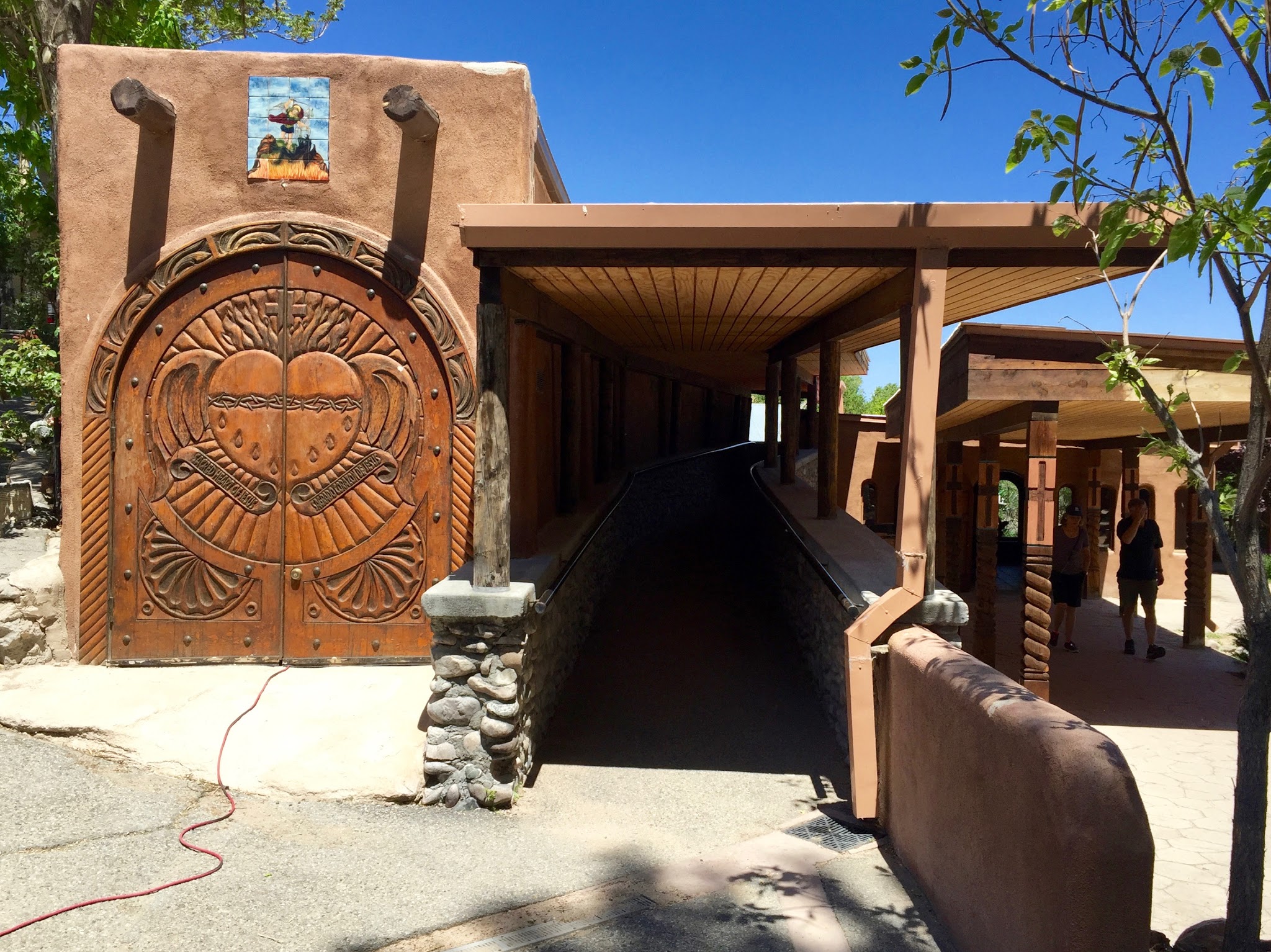 Over time the church has added more structures to accommodate the numerous visitors and to be able to hold mass outdoors for a larger number of people that the small church can hold.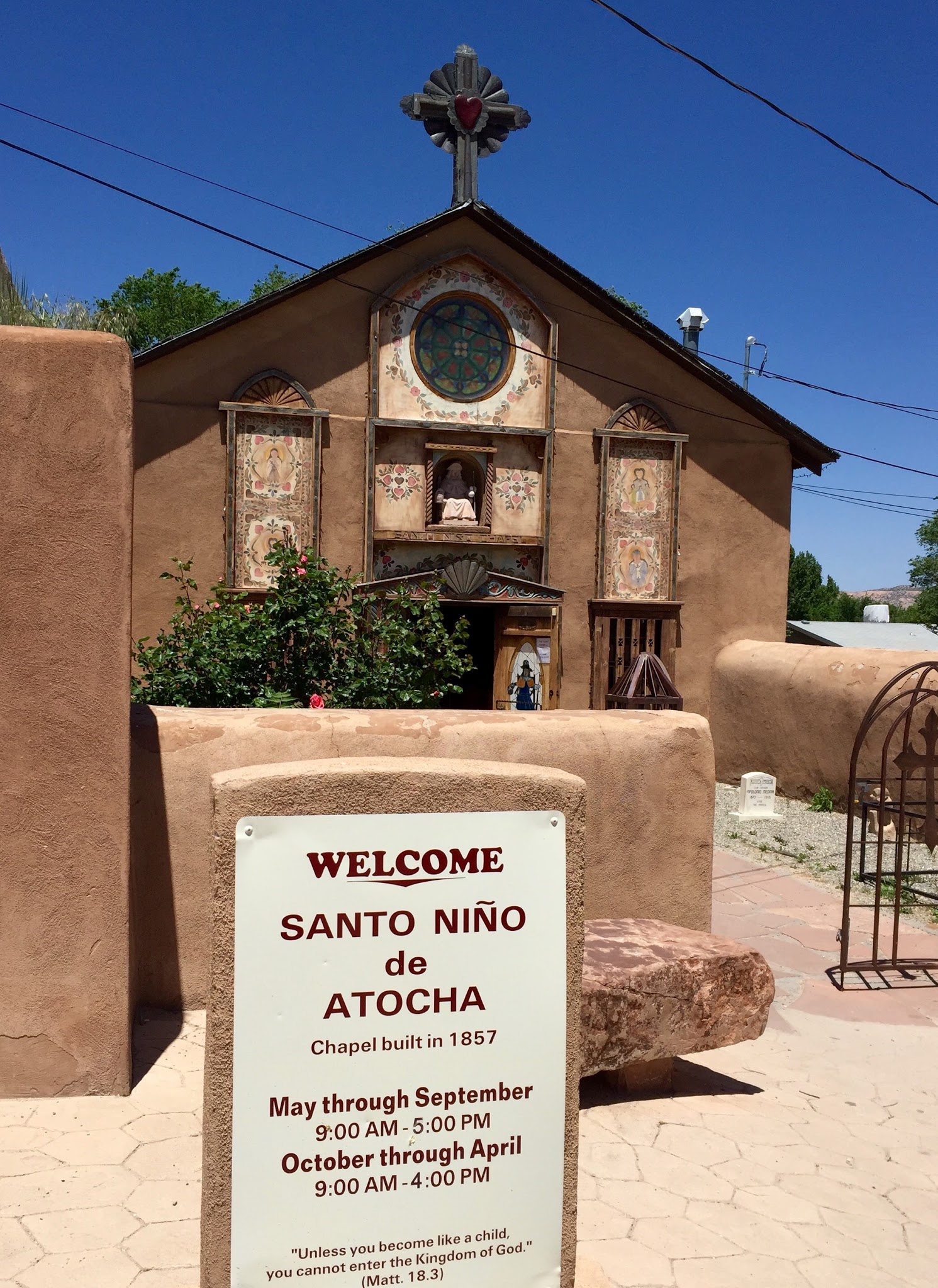 Also in Chimayo is the Santo Nino de Atocha chapel, originally built by the Medina family but now maintained by the Church. Santo Nino de Atocha is known as the child Jesus and the patron saint of prisoners. The chapel is filled with photos of babies and children and offerings such as baby clothes and shoes. Photos are not allowed inside the church or the chapel, just experiences.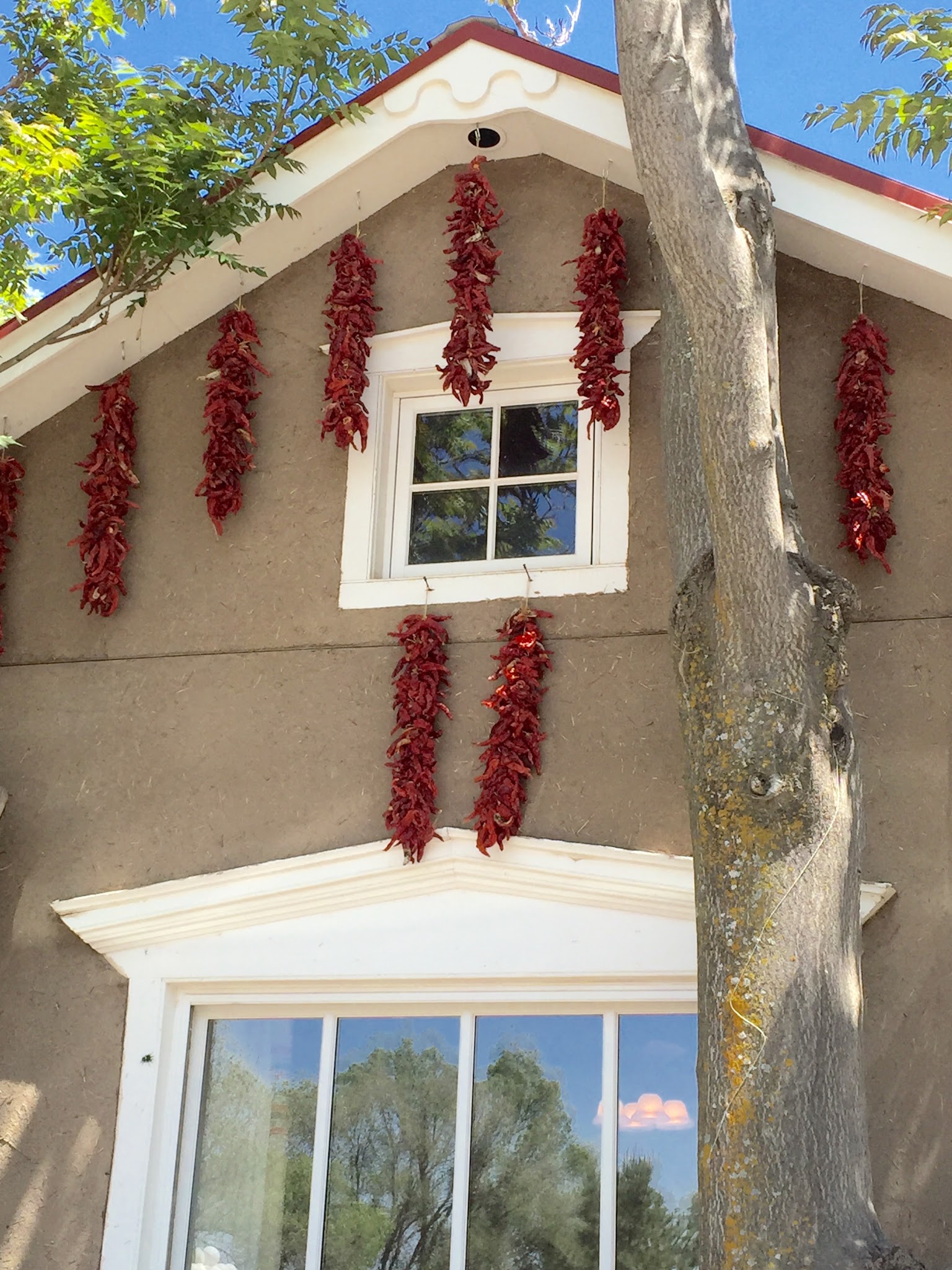 Before we left Chimayo, we had a wonderful, leisurely lunch at the best restaurant around, Rancho de Chimayo.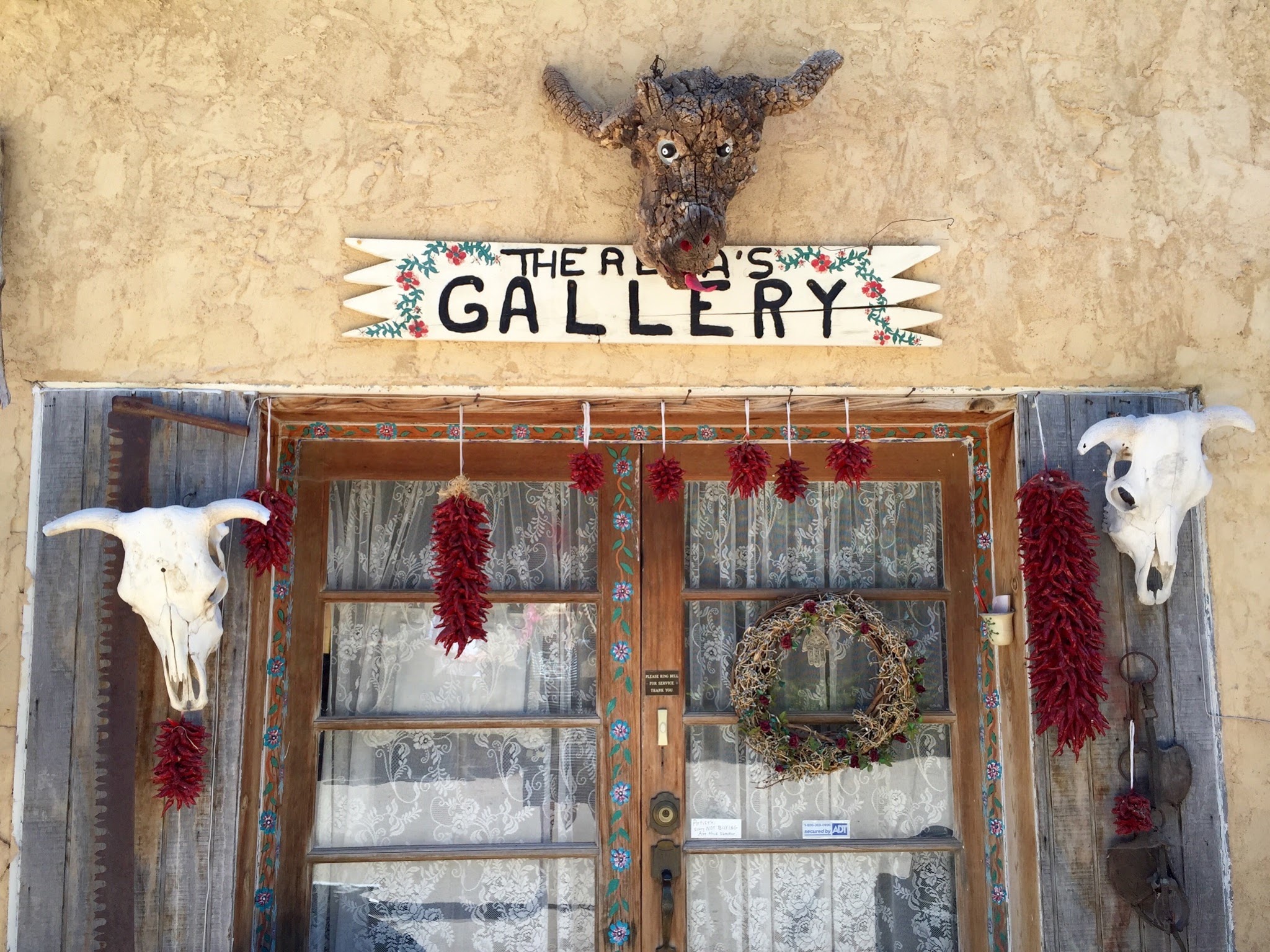 On leaving Chimayo, after a suggestion from a Facebook friend, we stopped at the Theresa's Gallery, a wonderful small gallery with interesting, intriguing, and well priced retablos, wood carvings, Native American pots, and more for sale.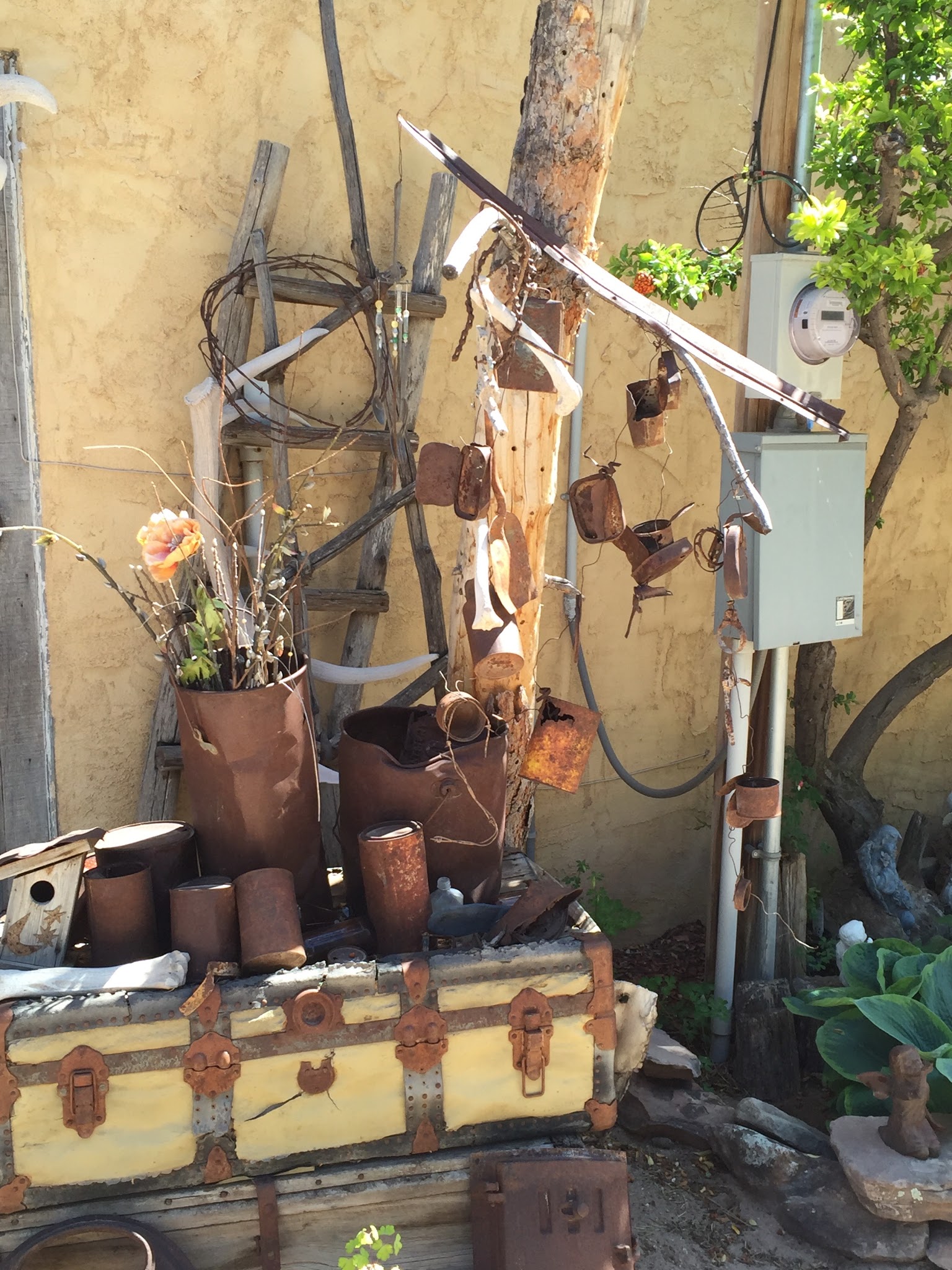 From the Gallery's website: In 1987, Theresa Montoya, quit her job as a medical assistant to open an art gallery in her home on the road to Chimayo in New Mexico. The art gallery first showcased Theresa's southwest oil paintings and her husband Richard's retablos, an art form he had learned from watching his father and grandfather. The art gallery walls began to fill with an array of art from various local artists. The business grew, and the Montoya family became well known and gained numerous achievements.
The Montoya's' work is represented in books, publications and posters. Their art is displayed in numerous churches, museums and galleries including the Smithsonian in Washington D.C. and the Los Angeles Folk Art Museum. Theresa's retablo "The Guardian Angel, has traveled the United States with the show "Santeras of New Mexico." Their children have won awards at Spanish Market and have pieces in the Children's Permanent Art Collection at the Folk Art Museum in Santa Fe, New Mexico.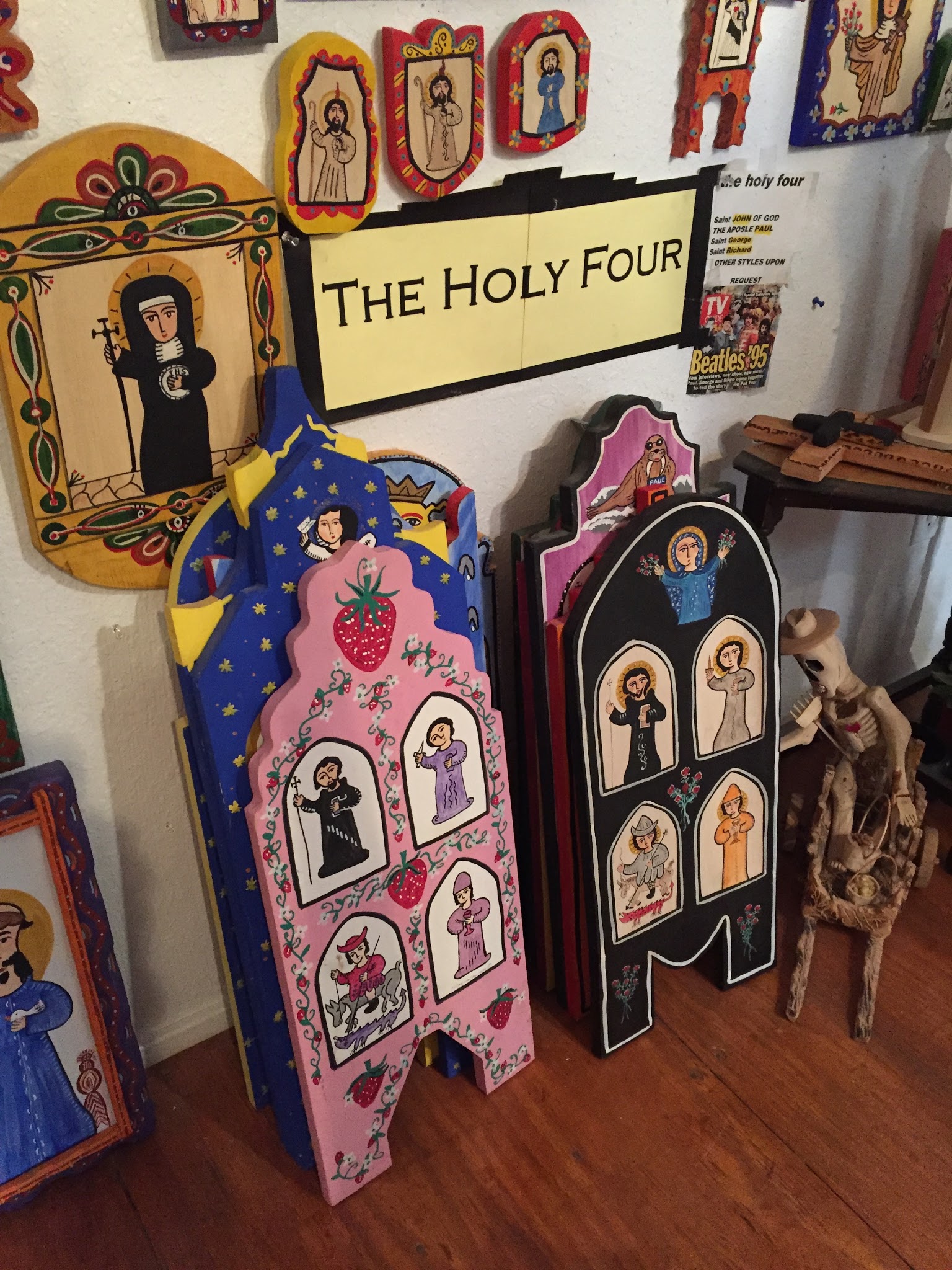 The artworks at Theresa's include retablos, images of saints painted on wood panels, a traditional Northern New Mexico art form, here with a twist. Here you can find retablos for patron saints for every day of the year (birthdays), any profession (doctor, lawyer, etc.), any hobby (fishing, boating), illness (eyesight, cancer), needs (finding a husband, recovery of a lost item and fun (against procrastination, hangovers).
One especially unique art form you will find at the Gallery is found in the collection of retablos based on songs and albums of the Beatles. They will even make a custom one for you!
Tomorrow: Abiquiu.