SchoolArts Room
An Invitation to a Summer Journey of Art and Soul
This past summer, a terrific group of educators, artists, and art lovers from all over the country attended our SchoolArts/CRIZMAC seminar in Santa Fe and Taos, New Mexico. Together we met incredible artists in their homes and studios, visited historical sites, and enjoyed museum visits,
---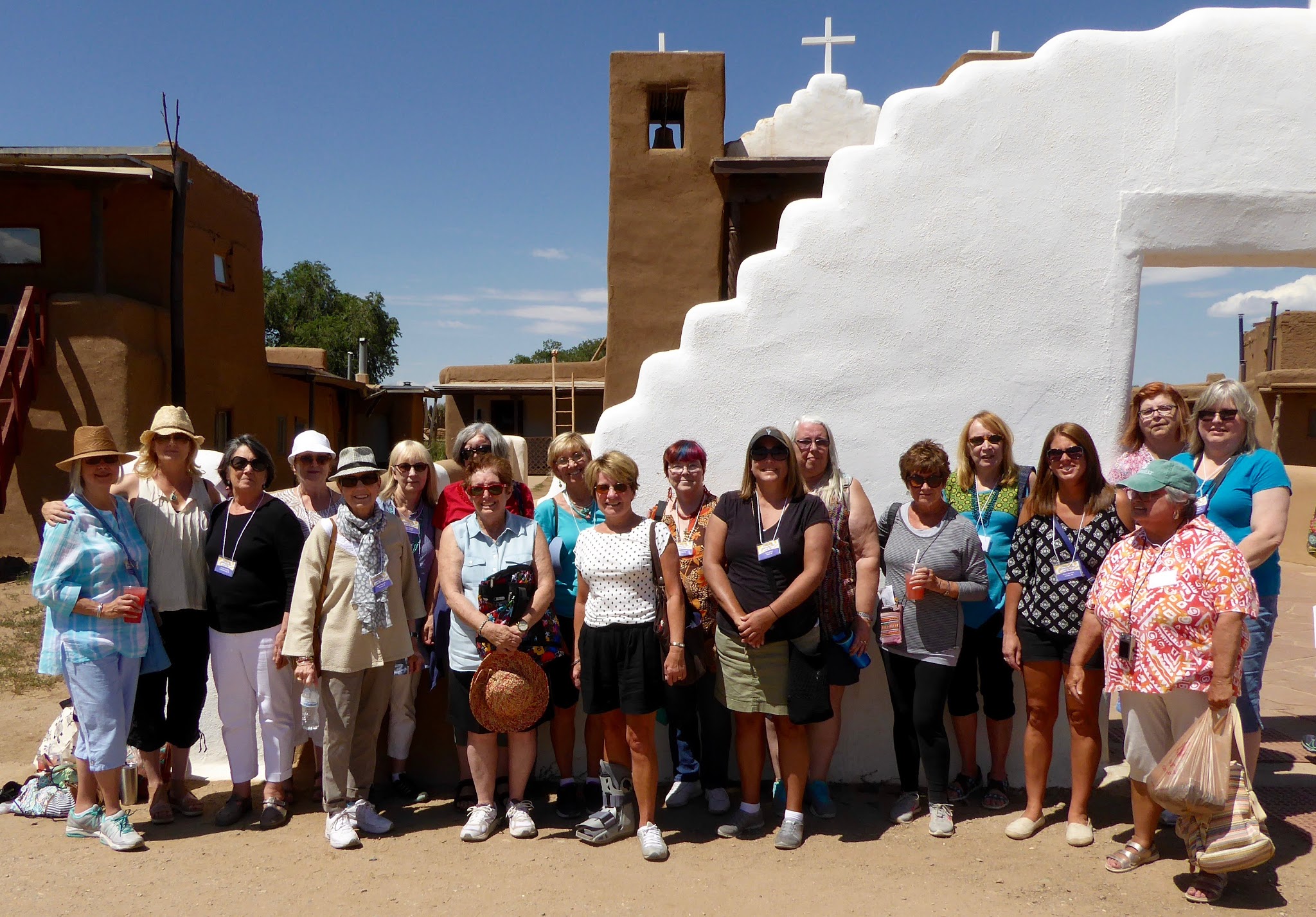 Our 2016 group at Taos Pueblo, a UNESCO World Heritage Center
Next summer we again are offering a new twist on Tres Culturas. Join us as we explore the artistic spirit of Santa Fe and Albuquerque, July 17-23, 2017, adding some new destinations for our repeat participants (One hardy traveler has joined us 18 times!). For example, in Albuquerque we'll visit the
Petroglyph National Monument and the Pueblo Indian Cultural Center.
The spirit of New Mexico may best be captured through the senses – the distinctive smell of wet earth during a storm, the scent of burning pinon, the incredibly turquoise sky, and the rough, organic texture of rounded, organic forms. This spirit finds expression in a unique way of life created from the contributions of three cultures: Pueblo Indian, Hispanic, and Anglo.
Tres Culturas is designed to help curious travelers explore and understand the diversity of New Mexico's artistic heritage from ancient times to the present. Planned highlights include a tour of Georgia O'Keeffe's home in Abiquiu; a celebration at a living history museum; the Petroglyph National Monument, and the Indian Pueblo Cultural Center in Albuquerque; a visit to Roxanne Swentzell's Tower Gallery, and much more. Anyone is welcome to join us; you do not need to be an educator. For pricing and other details, click here.
A Note from One of Our Participants:
CAROL & I REALLY ENJOYED OUR TRIP W/YOU TO SANTA FE, SO MUCH ART & CULTURE! I ESPECIALLY LOVED THE TIME WE SPENT AT MABEL DODGE'S HOUSE, FELT LIKE ALL THOSE CREATIVE PEOPLE & THEIR LIFE STYLE WAS STILL THERE, WITH US! THANKS FOR ASKING US TO JOIN YOU! YOU DID A GREAT JOB IN THE TRIP ORGANIZATION, EVERYTHING WENT SO SMOOTHLY, WHAT A FUN WEEK, I HOPE I CAN JOIN YOU SOMETIME IN THE FUTURE ON ANOTHER ONE OF YOUR TRIPS.