SchoolArts Room
Folk Art to Go!: Making Puppets at MOIFA
As former elementary art teachers, my husband and I enjoy helping out with the studio experiences at the Museum of International Folk Art in Santa Fe (MOIFA).
---
Through the program Folk Art to Go! school groups come to the museum to tour the collection, eat lunch in the atrium, and have a studio experience. Making puppets is one such activity that is adaptable to any grade student.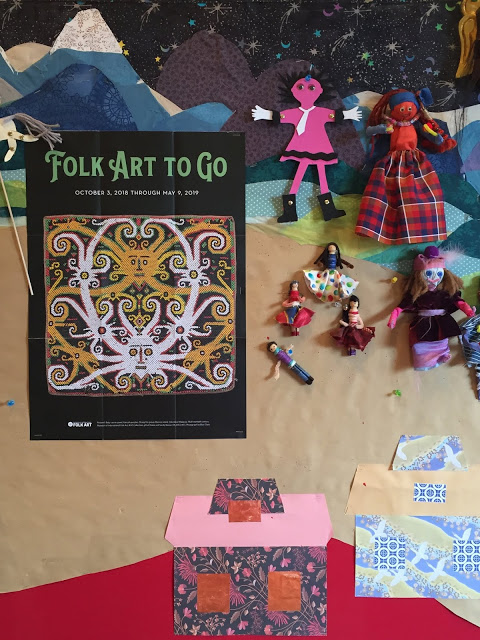 The Folk Art To Go! program consists of a 45-minute pre-museum visit by a museum educator with an introduction to the museum, and hands-on objects. Once at the museum, a 60-minute exhibition tour and 90-minute hands on art project, designed for two classes, (with a maximum of 50 students) takes place. The program begins in October and ends in May, happening on Wednesdays and Thursdays. Funds are available to help off-set the cost of transportation. Folk Art To Go! is available on a first-come, first-serve basis to designated Santa Fe Public Schools. To register for Folk Art To Go!, you can download this form, and return it to Patricia Sigala, Educator/Community Outreach Coordinator via e-mail patricia.sigala@state.nm.us.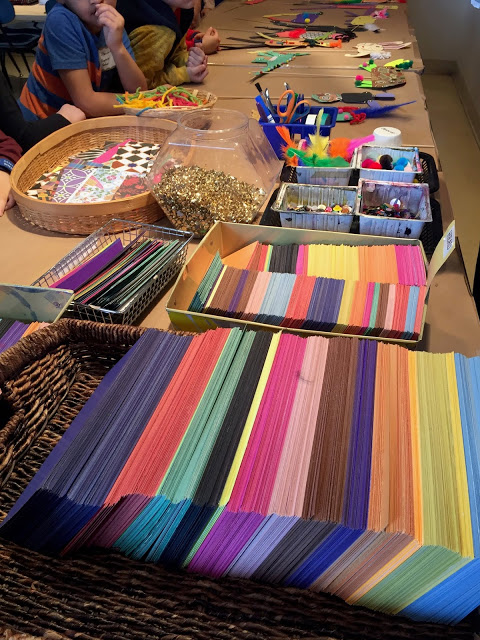 To make puppets, colored tag board is precut in convenient sizes for the different parts of the puppets: body, head, arms and legs.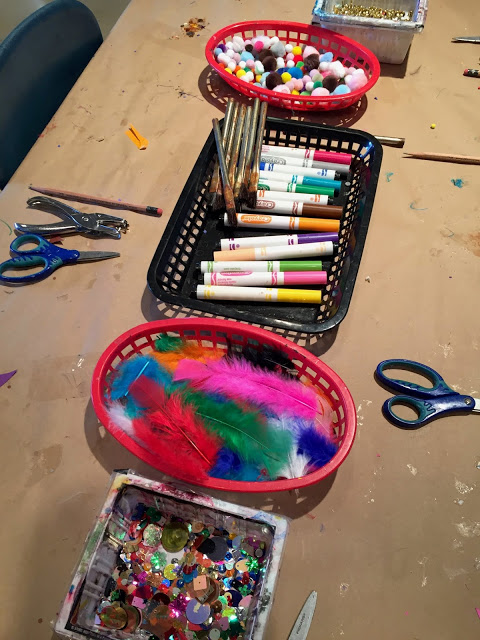 Other supplies and embellishments are ready on the tables in the art studio.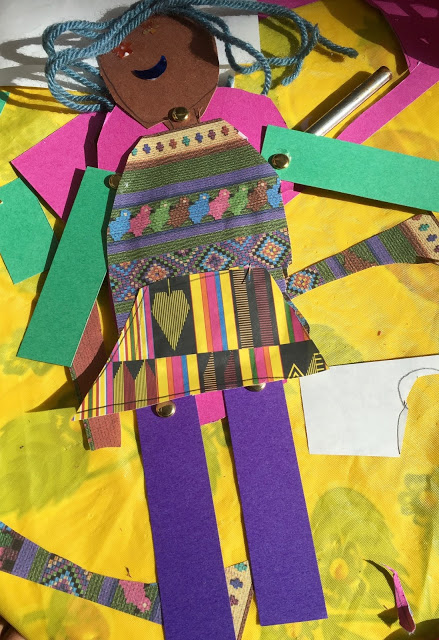 Students can add patterned clothing and yarn.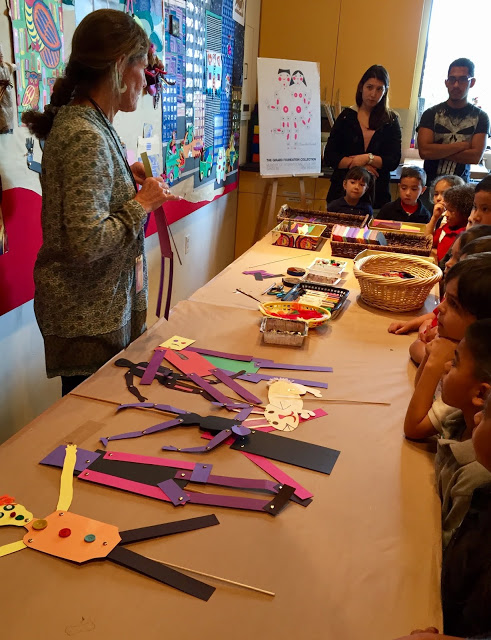 Art teacher Shelley Robinson demonstrates the steps for making a puppet first for students, showing how to draw a peanut or oval shape for the body.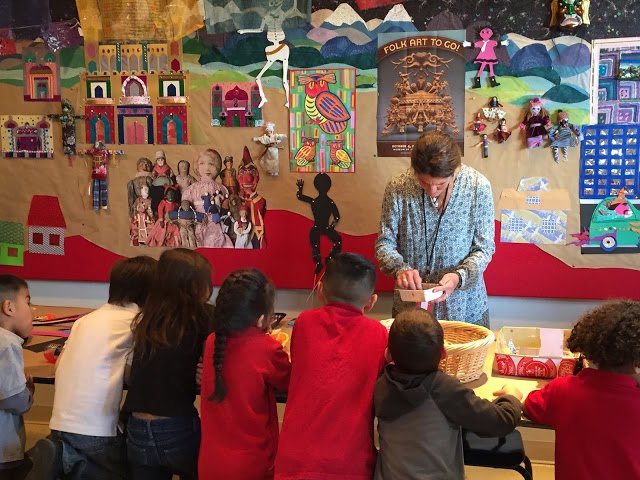 Students can't wait to get started!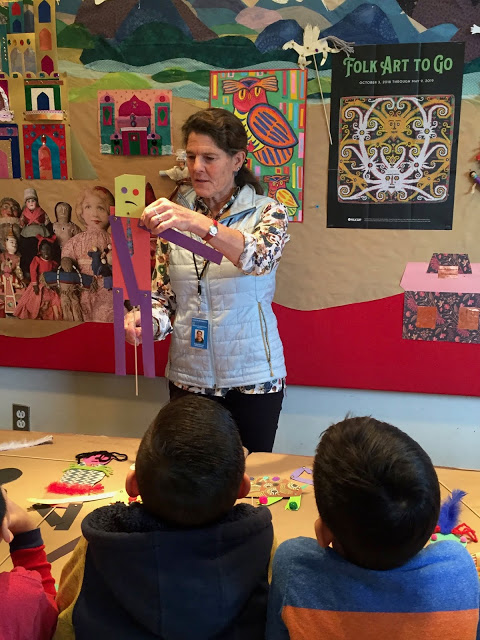 Shelly shows how a wooden dowel will be taped to the back as the last step of the puppet.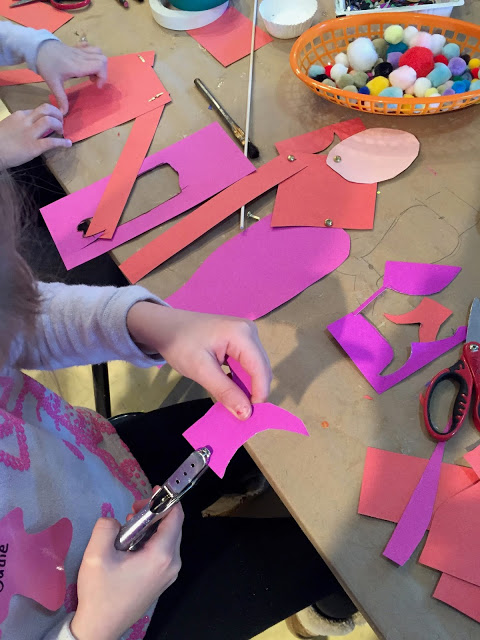 Students draw and cut out their bodies, heads, and arms and legs, connecting the parts with brads so the puppets can be manipulated.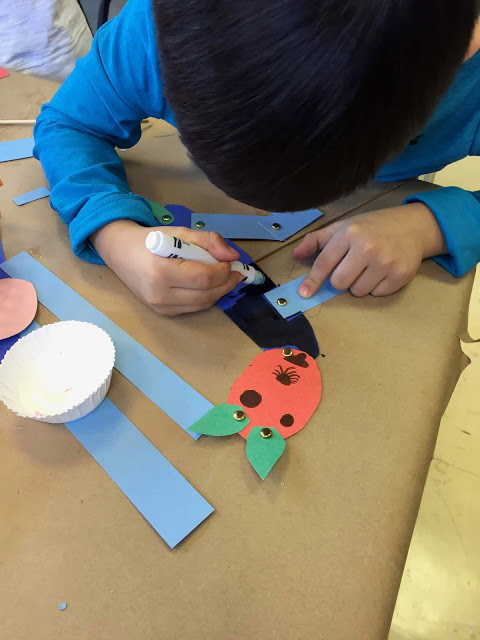 Students can embellish their puppets with markers, sequins, feathers, pompoms, buttons, and other materials. Glue sticks are used to attach paper; tacky glue for heavier items.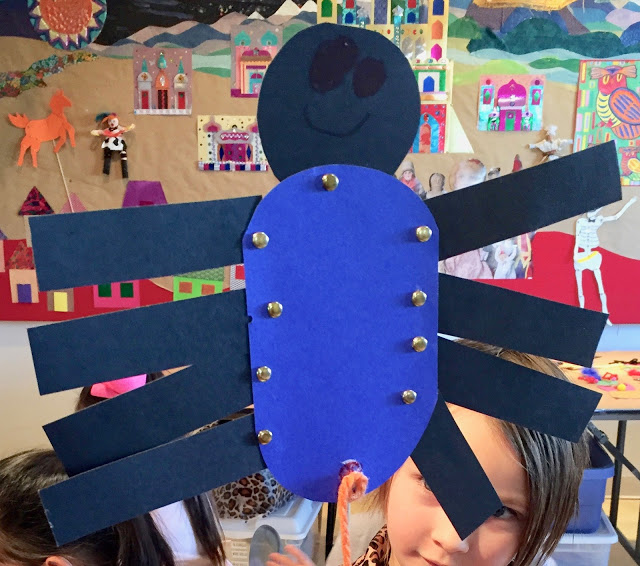 A spider, a first! Animals offer other possibilities. Dogs, cats, and rabbits are popular.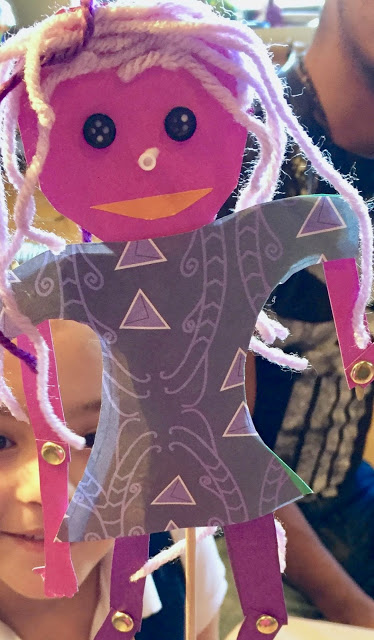 At the end, students take their puppets back to school and then home. A wonderful experience for all!