SchoolArts Room
Art Teachers At Naea New Orleans
Whether you are a newbie or a veteran art teacher, the beginning of the school year always offers a fresh new start and an opportunity for setting high expectations for your students. To renew or reinforce your enthusiasm for teaching art, it is a good time to reflect on the reasons you became an art teacher.
---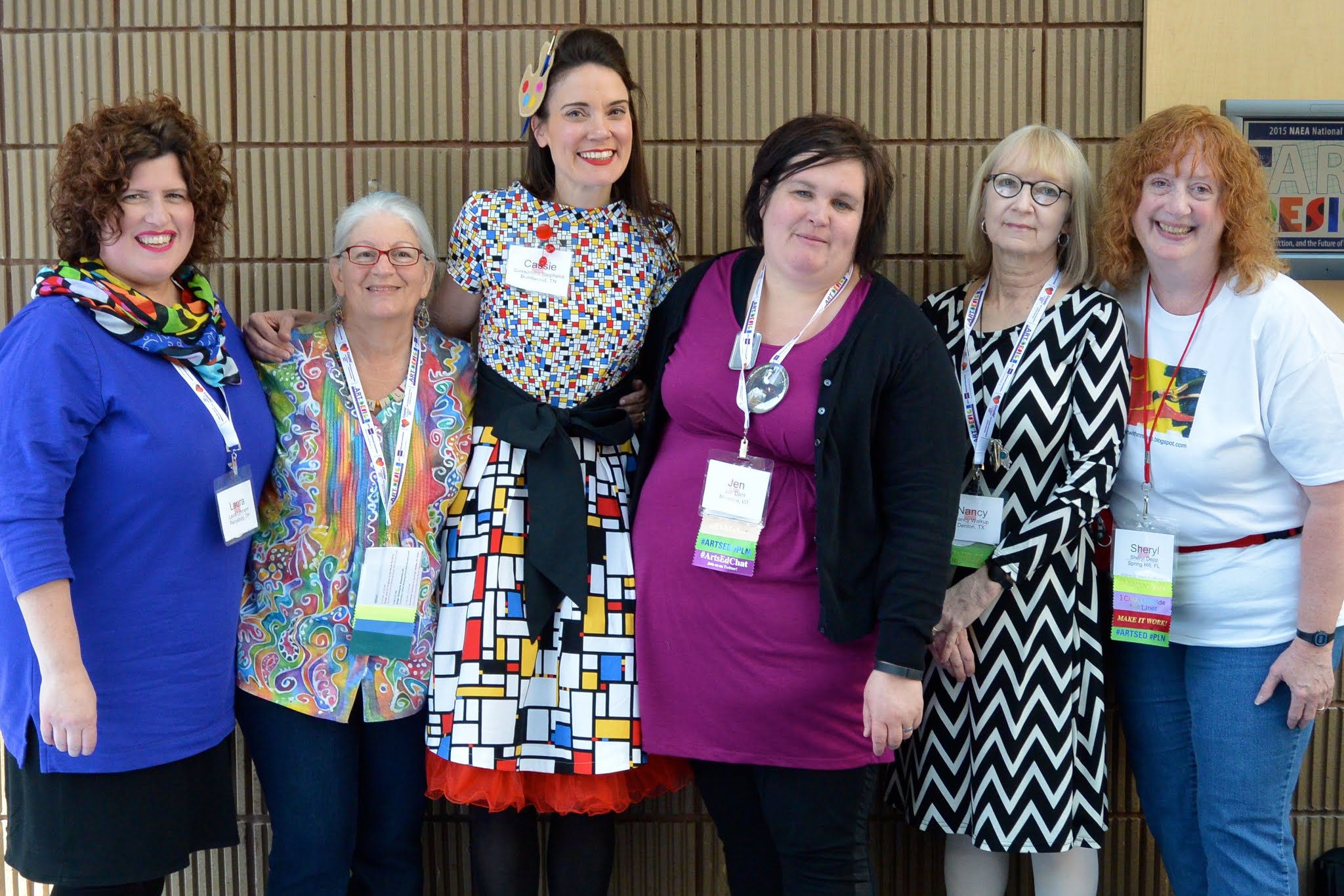 Art teachers at NAEA New Orleans getting charged up.
I asked this question on several Facebook groups and received some engaging and thoughtful responses:
Why Are You an Art Teacher?
When I step into my art room, I am home. When I am with other art teachers, I am with family.
Ted Daniel Edinger tededinger@gmail.com
I originally got into art because I felt I had a talent in making art and really liked working with kids. Today, after being an art educator for 27 years, I can say I have stayed an art educator because I feel a calling to serve others, especially those who will someday impact our world in incredible ways. n addition, art is such a powerful form of expression and I want to be an educator who brings that experience to young people.
Bob Reeker breeker@lps.org
Because creativity needs to thrive, and I see it declining and I wanted to bring that spirit of art to all, and to show it's more than painting or drawing.
Kerri Rodenbaugh kerrir3@gmail.com
I became an art teacher to empower children. As an art school college student I felt ill prepared for the level of rigor expected of me, and yet I also felt that my college teachers were ill prepared to teach effectively. I thought there was much room for improvement in the field of art education, and my goal was to prepare students for art school. Now, I see my job as educating students to empower their self-confidence. Often, visual art seems to be created only for the arts educated. My job is to make sure my students are arts educated, and that they, too, belong in the world of art.
Suzanne Nall suzanneenall@gmail.com
I am an art teacher for many reasons. First, I had an amazing art teacher when I was young. He inspired me and made me feel talented, and he passed his love for art along to me. Secondly, I am a people person. I cannot stand sitting at a desk all day, staring at a computer screen. There is a bit of a performance element to teaching, and it lends itself well to my extroverted tendencies. Finally, there are a lot of kids who struggle academically, and it makes me happy to know that for the 45 minutes they spend in my room they have the freedom to try new things and simply create.
Kaitlyn Palumbo kaitlyn.strang@gmail.com
I am an art teacher because the arts are essential in today's society, and play an integral role in people's lives. Art helps people learn about different cultures, and communicate with others. Many children benefit from participating in art classes and I love teaching them about it. I love helping boost their imagination and creativity!
Katelyn Black katelynblackartist@icloud.com
When I could finally take high school art it didn't fit my "pathway" (the test freshmen take to see what studies they should focus on based on prior knowledge). My pathway was a lawyer, social worker or musician. I tried for two years to get into art and finally my art teacher went to the counselor and told them that I was spending every free minute in the art room so they may as well let me take a class. The atmosphere, materials, smells and freedom to express myself were just what I needed as odd duck in a small school. I knew I wanted to make that space available to others, so I do.
Karen Cooper kcooper@abileneschools.org
Without naming any names, I became one because I did not like my high school art teacher. I learned from her student teachers, but not from her. I knew then that I could be a better teacher than her. I retired last year after over 40 years in art education.
Marylu Flowers-Schoen luedart@icloud.com
In 5th grade when we were asked to write what we wanted to be when we grew up I wrote that I wanted to be an artist or a teacher. My district didn't have art until high school so I didn't know they could be put together! I wanted to help and work with people and to be a good role model, like my teachers had done with me, and when I found out that I could do that with art, I made up my mind pretty quickly.
Katie Lehmkuhl Morrislehmreallykuhl@yahoo.com
I became an art teacher because I get to share my love of art with kids. I am a working artist and a middle level art educator. My former high school art teacher was my biggest inspiration, so I could only hope to inspire one of my students the same way. She inspired me to go to art school and accomplish my goals of studying ceramics and art education. Having summers off allows me to focus on my ceramics business so that I can continue my professional practice while still teaching 9 months of the year.
Lindsey Ostafy Lindsey.Ostafy@redclay.k12.de.us
I was born to be a teacher. Call it destiny, purpose, calling.... but I knew in first grade that I was going to be a teacher when I grew up. loved science, social studies, history, and music. wasn't sure which I'd choose when my senior year arrived. Then I realized that art would allow me to combine all my interests and passions into one. When I step into my art room, I am home. When I am with other art teachers, I am with family.
Ted Daniel Edingertededinger@gmail.com
I became an Art teacher through a rather untraditional route and have never looked back. After receiving a liberal arts bachelors and a Masters in Education, I became a 3rd grade teacher. I taught in the traditional classroom for a few years and felt the intense pressure to produce standardized test scores. My last year in the classroom, I had a student whose mother was dying and her test scores were less than desirable. At the end of the year my principal asked me over and over again how did I fail this child? Why were her scores so low? I stated that her mother was dying and she didn't have a stable living situation, my principal wasn't hearing it. That summer, I studied and passed the Art Praxis to add an Art endorsement to my teaching license. I took an Art job at a new school and have been successfully teaching art for the last twelve years. I have always loved Art and am so happy to be out of the pressure cooker of standardized testing.
Kathryn Vaughn kathryndinuzzo@yahoo.com
As for me, I share many of these sentiments. Wanting to make a difference for my students by teaching art was most meaningful and rewarding to me. Now that I am out of the classroom, I want to make a difference for teachers just like you by sharing your efforts, ideas, joys, successes, and concerns through SchoolArts. Let's get started.