SchoolArts Room
Re-Connecting in Rhode Island
I'm back from a wonderful visit to the Rhode Island Art Education Association conference where I presented my favorite presentation, Art Saves Lives, about art-based social justice projects that art teachers can participate in with their students. Most of them were started by one or two art teachers and have become international projects due to the connectivity of the Internet. You can download this presentation here.

---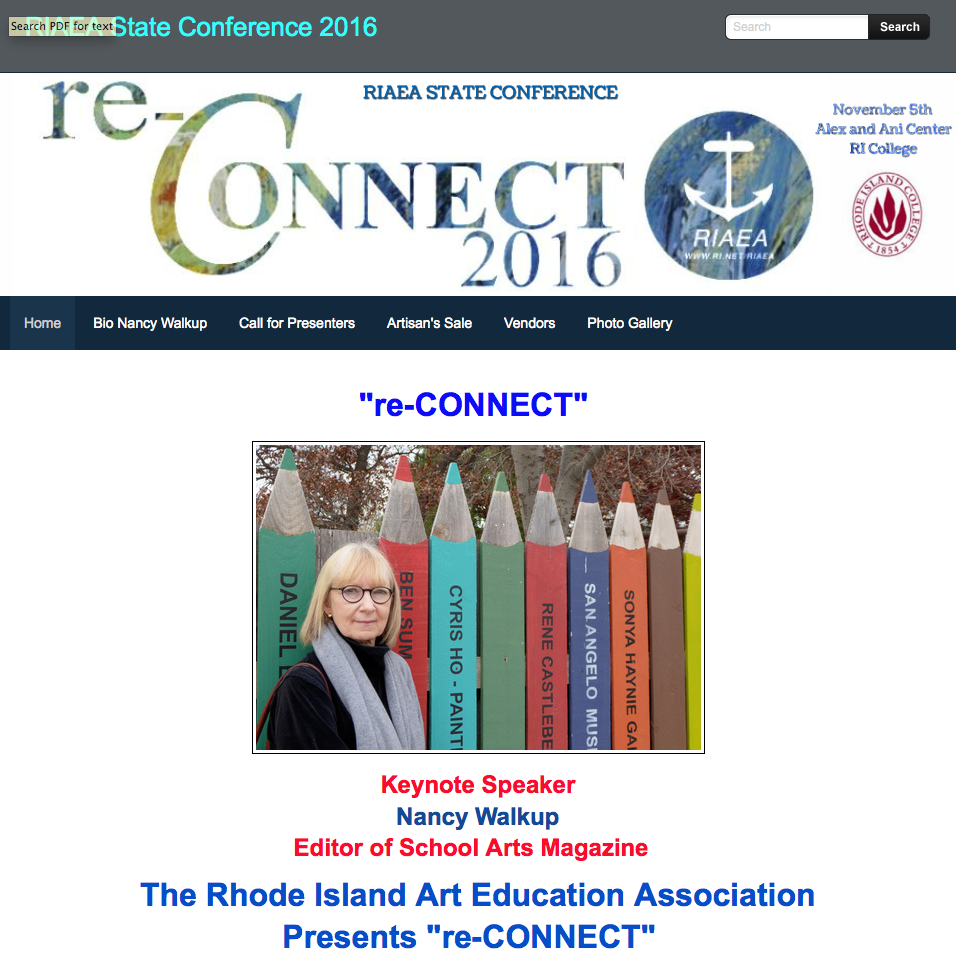 My presentations here were inspired by NAEA position statements I worked on when I was the NAEA Elementary Director. Position statements are available on the NAEA website and are intended to help art teachers with advocacy and support.
Position Statement on Art Education and Social Justice [Adopted March 2015]

NAEA recognizes the importance of art education to raise critical consciousness, foster empathy and respect for others, build community, and motivate people to promote positive social change. Service learning is one approach to education in which social justice is addressed through service with others, often in arts-based projects.

Artists often engage with the issues of their time, and some treat the creation of art as a social practice. Art can provide a meaningful catalyst to engage individuals and communities to take action around a social issue. The processes by which people create and interact with art can help them understand and challenge inequities through art education and social justice.

The interconnectedness of the Internet has enabled many social justice and service learning projects to grow into global arts-based efforts. Visual art educators are encouraged to have their students participate in pre-existing social justice/service learning projects or to develop their own.

Resources:
Visual Art Educators may find this quote useful in their social justice work.
"Never doubt that a small group of thoughtful, committed citizens can change the world; indeed, it's the only thing that ever has." Margaret Mead
NAEA Anthology: Art Education for Social Justice, Editors: Tom Anderson, David Gussak, Kara Kelley Hallmark, and Allison Paul, NAEA, 2010.
I also presented on another favorite topic, STEAM. You can download that presentation here.

Position Statement on STEAM Education [Adopted April 2014]
STEAM education refers to teaching and learning in the fields of Science, Technology, Engineering, Art, and Mathematics. The STEAM approach is the infusion of art and design principles, concepts, and techniques into STEM instruction and learning. This is achieved through the use of STEAM curricula, collaboration of non-arts educators with certified/licensed art educators, teaching artists, and community-based arts organizations. It includes educational activities across all grade levels in both classrooms and in community-based settings.
STEAM approaches support the inclusion and involvement of professionals and resources from the community to support STEAM programs. Artists and designers experienced with STEAM are integral to driving workforce innovation in a variety of fields.
Visual arts content and artistic ways of thinking are fundamental and valuable components of high-quality STEAM education. NAEA believes that:
STEAM education values all STEAM disciplines equally

STEAM education is implemented through a wide variety of approaches

STEAM education encourages creativity and innovation

STEAM education acknowledges the rigor found in visual art
NAEA believes that to be successful in STEM related career fields, students must be proficient in visual thinking and creative problem-solving facilitated by a strong visual art education.