Curator's Corner
Summer (Unofficially) Over
Well, summer is on its way out, so how about a little color to lift spirits? Robert Motherwell is my favorite of the artists associated with Abstract Expressionists, because I get a sense of joy that he imparts to his work in the way he uses color and brush stroke. And he really seems to have loved his four months a year in Provincetown, where this work was painted.
---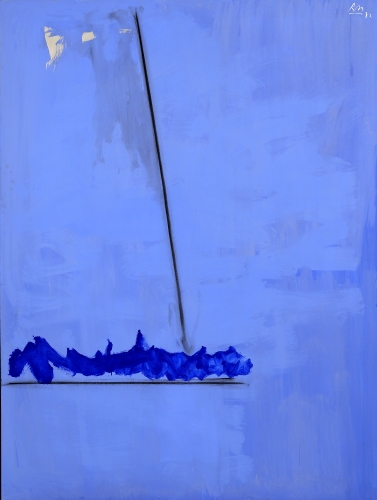 Robert Motherwell (1915–1991, US), The August Sea #6, 1972. Acrylic on canvas, 71 3/4" x 53 7/8" (182.24 x 136.84 cm). Albright-Knox Art Gallery, Buffalo, NY. © 2016 Estate of Robert Motherwell / Licensed by VAGA, New York. (AK-539movg)
Motherwell went to Stanford University in California, Columbia University in New York, and Harvard. He studied art history, literature, philosophy, and painting. He also studied with the Swiss Surrealist Kurt Seligman (1900–1962) in New York. Otherwise, he was primarily self-taught as an artist. In 1941 he met a number of European Surrealists who had fled the madness of World War II (1939–1945). This convergence of abstract modernists and Surrealists in New York during the war would be critical to the development of America's first indigenous modern movement, Abstract Expressionism.
Motherwell's earliest paintings reflected attempts to reconcile the total abstraction of Constructivism or De Stijl with the spontaneity of Surrealism. By 1948, with the first of his series Elegy to the Spanish Republic, Motherwell had arrived at a signature abstract style that was neither color field or action painting, but, like Adolph Gottlieb (1903–1974), a synthesis of both approaches, on a large scale.
Like the Elegy series, Motherwell did several paintings on the theme of the sea, most likely influenced by his summers on Cape Cod. He also produced series dedicated to Mexico, Africa, and to painting (la Pintura) itself. The following are some more gorgeous examples of the artist's joy in color: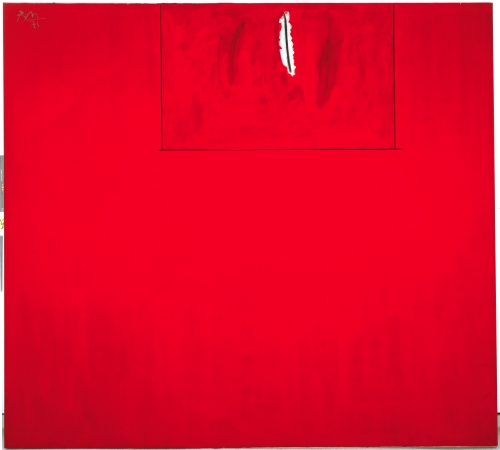 Robert Motherwell, A la Pintura #XII, 1971. Acrylic on canvas, 108" x 120" (274.3 x 304.8 cm). Albright-Knox Art Gallery, Buffalo, NY. © 2016 Estate of Robert Motherwell / Licensed by VAGA, New York. (AK-401movg)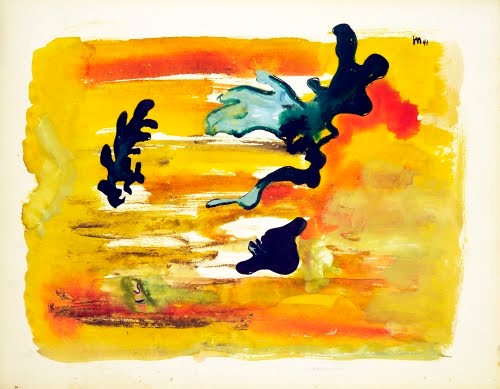 Robert Motherwell, Untitled, from the Mexican Sketchbook, 1941. Watercolor on paper, 9" x 11 9/16" (22.9 x 29.4 cm). The Museum of Modern Art, New York. © 2016 Estate of Robert Motherwell / Licensed by VAGA, New York. (MOMA-P4059Jmovg)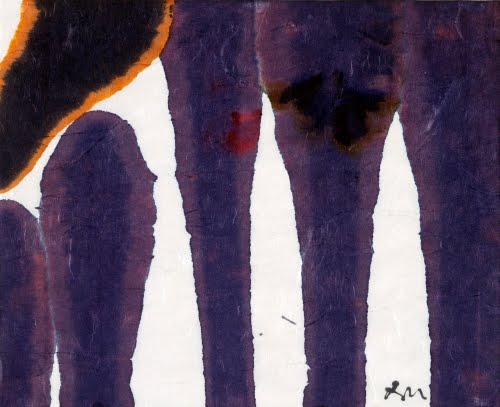 Robert Motherwell, Untitled, from the Lyric Suite series, 1965. Colored ink on Japanese paper, 8 15/16" x 11 1/16" (22.8 x 28.1 cm). The Museum of Modern Art, New York. © 2016 Estate of Robert Motherwell / Licensed by VAGA, New York. (MOMA-P3234movg)
Correlations to Davis programs: Explorations in Art Grade 4: 6.35; Explorations in Art Grade 6: 5.25; A Community Connection: 6.2, 8.4; Experience Painting: 4, 5; Exploring Painting: 12; Exploring Visual Design: 4; The Visual Experience: 9.3, 9.11, 16.7; Discovering Art History: 17.1